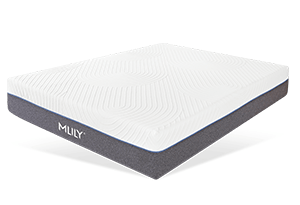 Even though sleep is a universal need of all higher life forms,[1] it's surprising how most individuals know nothing about it. Since not only the quantity but also the quality of sleep matters, you should always choose a comfortable mattress based on your personal needs.
You probably know that a proper mattress provides you not only with comfort but also ensures healthy spine alignment, whereas old, uncomfortable mattresses can create even more health issues, even lead to crooked spine.
If you're looking for a suitable mattress, Mlily mattresses might be the right option. Mlily is a Chinese mattress maker that was founded back in 2003. The company became really successful in 2011 when it was recognized as the biggest memory foam manufacturer in China. Five years later, in 2016, Mlily became the Manchester United partner, which made the company more visible.
Even though Mlily offers multiple mattress models to choose from, in this Mlily mattress review, I will focus on the Mlily Fusion Luxe hybrid mattress, which is the most popular among different sleepers. I will focus on its performance, features, prices and additional information.
Without further ado, let's get to Mlily mattress reviews.
Verdict at a Glance
Mlily Fusion Luxe is a medium firm hybrid mattress that's designed with individually-wrapped pocketed coils. The mattress has a reliable structure, manages to maintain neutral body temperature throughout the night, isolates the motion transfer to a significant extent and offers quite good pressure relieving properties. However, you might lack some edge support and bounciness. Also, some Mlily mattress reviews claim that the mattress is too expensive.
Pros
Breathable mattress
Hybrid construction
Good pressure relief
Cons
Lacks edge support
Not so good for sex
Mlily Mattress Review: Introduction to the Company's Mattresses
As I already mentioned, Mlily is one of the mattress brands that offer multiple beds to choose from. At the moment, the company is offering three mattress collections: AirCell Technology, Hybrid Design and Dream Series. Each of them features a different structure.
Instead of rushing straight into the Mlily mattress review, I would like to shortly introduce you to each of the Mlily collections:
AirCell Technology. This collection offers mattresses that are made of advanced Mlily foams. They should be able to isolate the motion transfer to a significant extent, provide good support and healthy spine alignment as well as hypoallergenic and antibacterial properties.
Hybrid Design. These mattresses feature an innerspring system, they manage to provide good cooling properties, breathability, and individually-wrapped pocketed coils.
Dream Series. These mattresses are designed particularly for athletes and active people, they provide quick recovery and improve sleep quality. It's the Global Partner of Manchester United Football Club.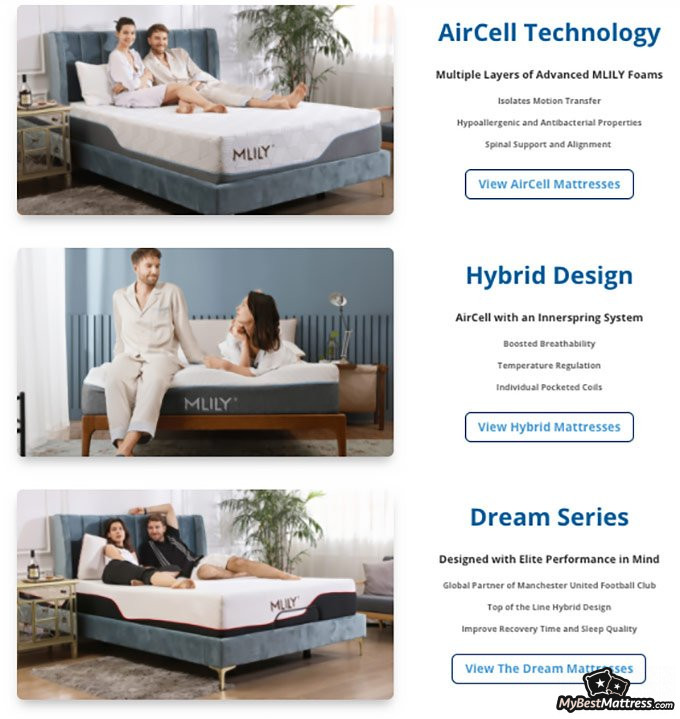 As you see, there are multiple options that you can pick from, so you can find an option based on your personal wants and needs. The Mlily Fusion Luxe is one of the hybrid mattresses offered by the company. Since it's the most popular option offered by the company, we'll be focusing only on this model from now on.
Mlily Mattress Review: PROS
I will start off this Mlily mattress review with the positives. Pay attention to each of them and it will be easier to decide if this bed is suitable for you.
Reliable Construction
Mlily Fusion Luxe is a medium firm 12" thick hybrid mattress that is designed using pocketed coils, foam, memory foam, latex-like polyfoam and a high-density polyfoam. The mattress is made from multiple layers.
To understand what effect each of the layers gives and how they work together, let's take a closer look at the Mlily mattress construction:
Cooling Knit Fabric. The Mlily mattress fabric is made of polyester and spandex as well as polyethylene Phase Change Material. It's really breathable and manages to regulate sleep temperature.
AirCell Technology. This layer is designed of gel memory foam, which is known to be cooler. It not only increases airflow but also provides you with a slight sinkage.
Bamboo Charcoal Memory Foam. This layer provides quite good support and bounciness. It also doesn't trap heat.
Flex Comfort Foam. The transitional layer provides the mattress with support and firmness. It works quite well at distributing the body weight throughout the entire mattress evenly.
1000 Pocketed X-Springs. Pocketed springs provide stability and bounciness, it ensures that you're not sinking too deep into the mattress.
Flex Foam Support Border. Surrounds the pocketed coils and provides additional support to the mattress edges.
Flex Support Foam Base. Supports the entire mattress structure.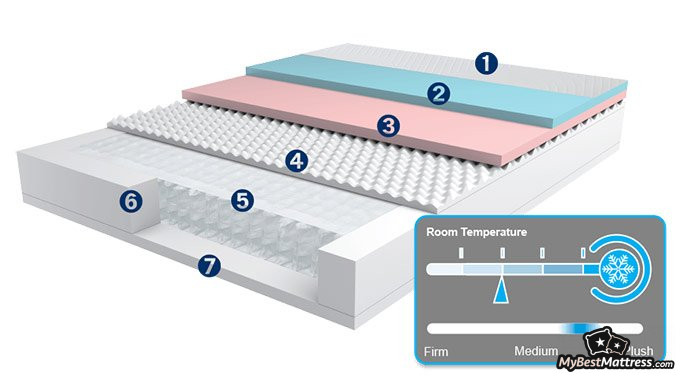 Mlily Fusion features a very complex structure that seems to be really reliable at first glance. However, in order to provide you with honest information, I would like to focus on each feature and evaluate it based on the Mlily mattress reviews.
Without further ado, let's get right into it.
Latest Saatva Coupon Found:
UP TO $500 OFF
Limited-time Saatva Sale
We're sharing a limited-time Saatva mattress discount with our readers! Grab this deal & enjoy your new mattress with huge discounts.
Expiration date: 12/12/2023
4,042 People Used
Only 83 Left
Quite Good Pressure Relief
Pressure relief is somewhat the most important aspect when it comes to high-quality rest. If you wake up feeling painful spots in your body that's probably because you're either sleeping on an old uncomfortable mattress or your bed is just not suitable for you.
Mattresses that have pressure-relieving abilities ensure that your body weight is distributed evenly and there's no pressure in unwanted areas. Based on Mlily mattress reviews, the Fusion Luxe mattress sleeps the most comfortable for side sleepers. It manages to distribute weight evenly and ensures that there's no pressure at shoulders and hips that are the most problematic areas.

When sleeping on the back, heavier individuals might feel some tension in the hips. However, lighter sleepers should sleep comfortably enough. Now, I wouldn't recommend Fusion Luxe mattress for stomach sleepers, further in this review, I will explain why.
So, considering all the aspects, the Mlily mattress offers quite good pressure relief properties, however, some sleepers might still find it not comfortable enough.

Did you know?
Minimal Motion Transfer
Motion transfer is one of the most significant aspects that couples should pay attention to. When a mattress is not capable of absorbing the motion, every movement that your partner makes can be transferred to your side of the bed. Trust me, that's not something that you want to experience every night.
Once again, to evaluate the motion transfer, I took advantage of honest Mlily mattress reviews. The majority of people seemed to be really pleased with the Fusion Luxe motion isolating properties. Even though there might be some motion, it's very minimal compared to their previous mattresses.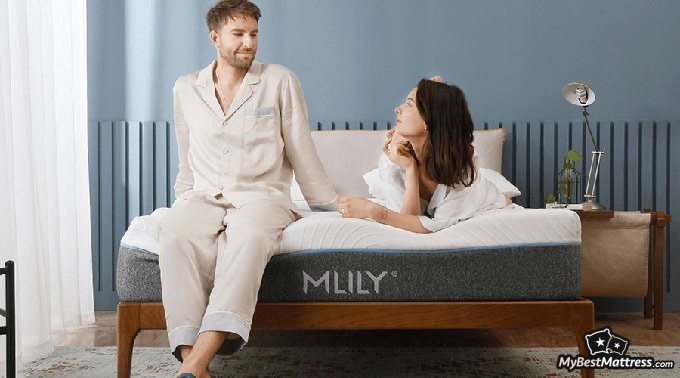 What is more, even though the Fusion Luxe is a hybrid mattress, it won't produce a lot of noise. While it's slightly noisier than memory foam mattresses, individually-wrapped pocketed coils are almost completely silent.
Thus, the Fusion Luxe mattress allows both you and your partner to sleep comfortably without any interruptions.
Breathable
The temperature can affect the quality of your rest by interfering with your sleep cycles. If you want to sleep without interruptions, you should maintain an optimal room temperature, which is from about 19° to 21°C. [2]
However, room temperature is not the only thing that matters. If you're sleeping on a foam mattress that traps your heat, then it's something that you should take into consideration as well.
Now, what about the Fusion Luxe mattress? One of the major benefits that Mlily mattress reviews distinguish is breathability. Since the bed is designed using cooling materials as well as features pocketed coil construction, it shouldn't trap heat.

However, since the mattress is a bit on the softer side, heavier-sleepers might sink deeper and feel as if being trapped. This feeling is also associated with sleeping too warm. Thus, even though it's unlikely, some sleepers might lack temperature regulation properties.
Mlily Mattress Review: CONS
So, we covered all the positive aspects of this Mlily mattress review, now it's time to take a look at the less pleasant part and see what the Fusion Luxe mattress is missing. Make sure to take a look at each of the aspects and think if they won't be interrupted with your sleep.
Not the Best Edge Support
The lack of edge support is usually associated with soft foam mattresses that do not have edge support systems. However, some memory foam mattresses that are made of high-quality materials manage to deal with this issue pretty well.
Even though the Mlily Fusion Luxe mattress features hybrid construction, customers claim that it doesn't provide good edge support. When sleeping near the side of the mattress you might feel as if rolling out of the bed, which makes it really uncomfortable.
So, even though it's slightly surprising, you can expect the lack of edge support from the Mlily mattress.
Not the Best for Sex
If you're looking for a mattress that could improve your sex life, there are a few aspects that you should take into consideration. Bounciness and responsiveness are the most important ones.
You see, bouncy mattresses do not sink, they rebound instead and provide you with additional bounce back that makes the whole experience even more enjoyable. When it comes to responsiveness, mattresses that are good for sex manage to quickly respond to the movement and different body positions instead of slowly sinking in.
Since the Fusion Luxe mattress provides a generous amount of sinkage, you can feel like sleeping in the mattress rather than on top of it. Since it makes you feel like being trapped in the mattress, you'll find it difficult to move around and change positions.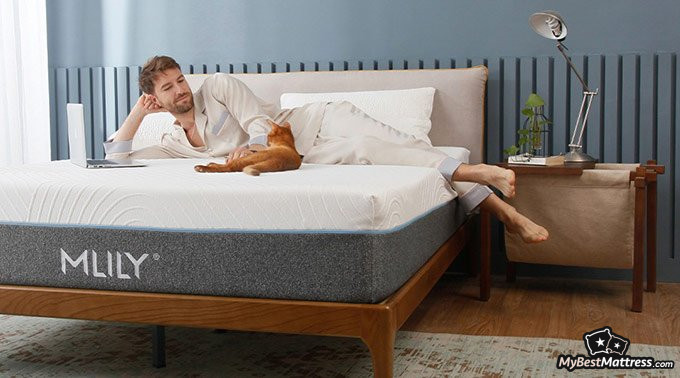 Noise also matters when it comes to the best mattresses for sex. You probably know that some beds can be really loud, which makes it really unpleasant if you have any guests visiting. The good part is that Mlily Fusion Luxe is very silent, so you can enjoy quality time with your partner without worrying about someone hearing you.
Pricing and Additional Details
Since I already introduced you to Mlily mattresses and provided you with all the pros and cons, it's time to move further and focus on additional details.
What are Mlily Mattress Prices?
Here's the pricing list for the Mlily Fusion Luxe mattress:
Note that the prices are changing all the time and by the time you'll be reading this Mlily mattress review, they might be slightly different.
There are many complaints when it comes to the prices of Mlily mattresses. Even though the Mlily Fusion Luxe mattress comes with some really attractive features, you can find mattresses that offer similar qualities and maintain an average pricing point.
The Mlily Fusion Luxe mattress can be purchased in brick and mortar stores as well as on Amazon. The mattress comes together with a 10-year warranty that will protect you in case any manufacturing flaws appear. However, you should make sure to keep the receipt as a warranty record.
What is more, according to Amazon Return Policy, you get a 30-night sleep trial. I have to say that it's quite a drawback because the majority of top-tier mattress companies that allow you to purchase products online offer at least a 100-night sleep trial.
Finally, the shipping is completely free, the mattress will come compressed in a box, which makes it quite easy to move around and set up in your bedroom. After unpacking the mattress, you should wait for at least two hours for it to completely expand.
So, now that we covered this information, it's time to move to the very end of this Mlily mattress review - conclusions.
Here is The Best Saatva Offer I Found:
UP TO $500 OFF
Limited-time Saatva Sale
We're sharing a limited-time Saatva mattress discount with our readers! Grab this deal & enjoy your new mattress with huge discounts.
Expiration date: 12/12/2023
4,042 People Used
Only 83 Left
Conclusions
Therefore, the Mlily Fusion Luxe is a hybrid mattress that comes with some great features. It works really well at alleviating pressure points, promotes breathability as well as manages to absorb the motion transfer pretty well.
However, the Mlily Fusion Luxe is not the best option when it comes to bounciness and you might also lack edge support.
Knowing that Mlily offers really high prices, I would recommend you to pick from the list of the most reliable mattresses that won't cost you a fortune. It's fair to say that they offer a better price-quality ratio.
I hope that this Mlily mattress review was useful and helped you to make a decision!
Scientific References
1. Sleep Disorders and Sleep Deprivation: An Unmet Public Health Problem.
2. Edward C. Harding, Nicholas P. Franks, and William Wisden: 'The Temperature Dependence of Sleep'
Leave your honest Mlily review
Leave your genuine opinion & help thousands of people to choose the best mattress. All reviews, either positive or negative, are accepted as long as they're honest. We do not publish biased reviews or spam. So if you want to share your experience, opinion or give advice - the scene is yours!