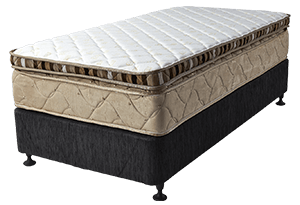 The company that I would like to focus on in this article is called Makin Mattresses. It's an Australian mattress provider that offers different types of beds for multiple sleepers. However, today I won't be focusing on all of them but will instead provide you with thorough information on the Bellissimo mattresses - the company's most popular options.
That being said, in this Makin Mattresses review, I will focus on the Bellissimo collection that includes The Duo and The Duet mattresses, their pros and cons, pricing, shipping information, warranties, and other details.
Before jumping straight into Makin Mattresses review, I can tell you that there are definitely less expensive options that offer similar qualities to choose from, so if you want to check them out, you can find an entire list here.
Of course, we should still check out Bellissimo mattresses, so let's get right to it.
Verdict at a Glance
Makin Mattresses offer multiple mattress options, however, the most recommended collection is called Bellissimo. It provides you with the Duo and Duet mattresses that both are made of high-quality materials, are breathable and really supportive. However, compared to other similar mattresses, they're pretty expensive.
Pros
Very breathable
Supportive
Strong edges
Cons
Expensive
The Duet mattress might lack pressure relief
Makin Mattresses Review: PROS
Just like with any other mattress review, I would like to begin this Makin Mattresses review from the positive aspects.
Note that the company is selling multiple mattress models, however, in this review, I'll be focusing on their exceptional collection - Bellissimo. This collection provides two different mattresses - Duo and Duet, that also come in different firmness options.
Before starting this Makin Mattresses review, I would like to tell you the difference between Duo and Duet. They both have a similar construction, except for the support layer - Duet features pocket springs, whereas Duo is using seven-zone latex support. Each of the features that I'll be discussing is focused on both of these mattresses.

Now, let's jump right into it.
Superior Materials
The first that should be mentioned is the quality of the materials. I have to say that both Bellissimo mattresses have a superb construction. Let's take a look at each of the layers:
Removable pillow top - you can keep it or remove it based on your personal preferences.
Micro coil technology - 4000 tiny springs provide you with temperature regulation and ensure that the mattress doesn't trap heat.
Latex middle layer - provides you with comfort and support.
Super soft quilting - premium stretch fabric creates a luxurious mattress surface.
Double-sided mattress layer - allows the mattress to conform closely to your body, support your hips and shoulders, which ensure spinal alignment.
Unique ventilation systems - maintains neutral body temperature throughout the night, provides you with a hygienic and healthy sleep environment.
DuoEuropean 7-zone latex support/Duet 5-zone pocket spring support - latex is very supportive, hypoallergenic, antimicrobial and highly resilient. Pocket spring support ensures that there's no partner disturbance and you get the right amount of support.
High-density box foam edge supports - ensures edge support that helps to maintain the mattress its initial condition longer.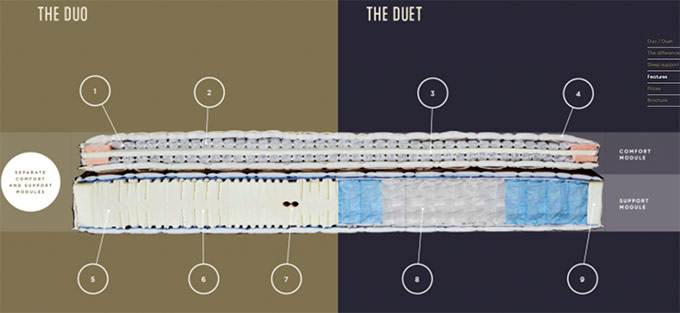 As you can see, Bellissimo mattresses have truly great and reliable construction. However, to make sure that everything works as intended, let's focus on different features and see what Makin Mattresses reviews have to say.
Latest Saatva Coupon Found:
UP TO $500 OFF
Limited-time Saatva Sale
We're sharing a limited-time Saatva mattress discount with our readers! Grab this deal & enjoy your new mattress with huge discounts.
Expiration date: 08/12/2023
4,042 People Used
Only 83 Left
Good Support
When choosing a mattress, comfort is not the only aspect that you should take into consideration. After all, you should also make sure that you're sleeping healthy and get enough support for your shoulders, hips and back. That being said, a suitable mattress should ensure spinal alignment.
When it comes to Duo and Duet, Makin Mattresses reviews claim that they both provide really good support. The Duo model is using a European latex core in the support unit that has a seven zone support system and manages to provide the right amount of support to different parts of your body.
The Duet mattress is designed using a five-zone pocket spring technology that has individual cushioning springs encased in pockets. Needless to say, it works really well at providing you with the needed support.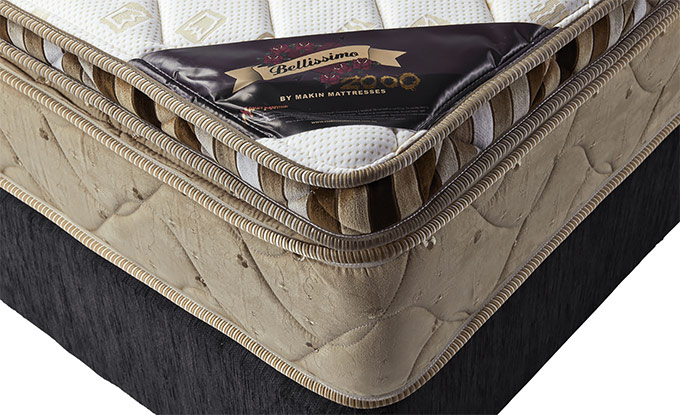 If you're experiencing issues, such as chronic back pain, then you should always choose mattresses that provide enough support.[1] Soft and unsupportive mattresses can do even more harm.
Quite Good Pressure Point Relief
One of the most important aspects that you should be looking for in every mattress is pressure point relief. Everyone who appreciates a good rest knows that it's crucial in order to wake up rested and without any sore in your body.
Pressure relief means that your body weight is distributed evenly and there are no pressure spots that get more pressure than the rest of your body.
According to multiple Makin mattresses reviews, the Duo mattress provides better pressure point relief than the Duet model. The Duo mattress is designed using a double-sided latex layer that allows the mattress to conform closely to your body and alleviate pressure points.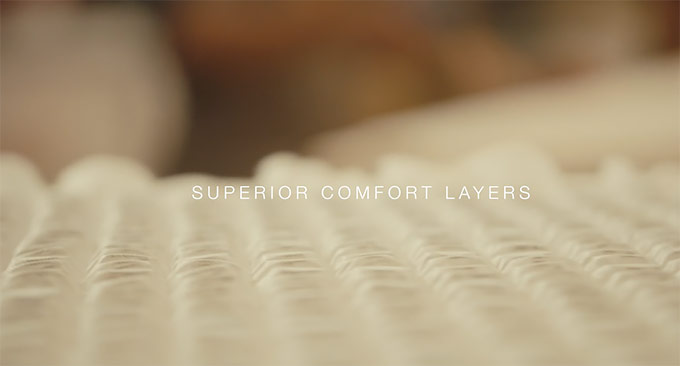 When it comes to the Duet, it also performs pretty well and manages to distribute your body weight evenly, however, it doesn't adapt to your body curves as good.
Bouncy = Great for Sex
Bounciness is one of the qualities that many people forget. Now, while it may not affect the quality of your sleep directly, it can improve your sex life, which is something that all couples appreciate.
If a mattress is not bouncy and responsive enough, you'll be feeling as if your body is sinking down, which is definitely not the best feeling. However, when it's bouncy and responsive, you'll get that initial bounce back that makes the whole process for both you and your partner more pleasant and enjoyable.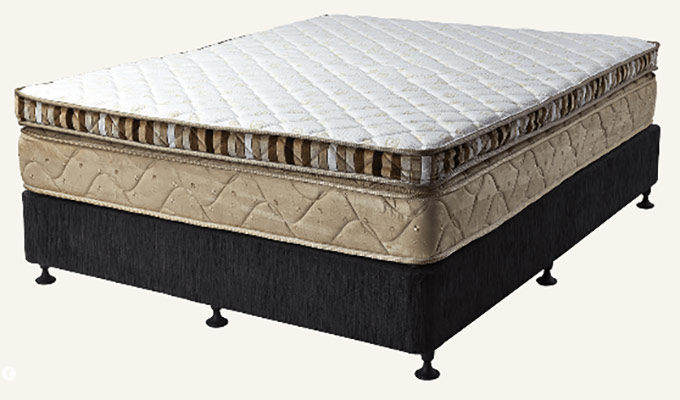 According to Makin Mattress reviews, couples are really pleased with bounciness. Both Duo and Duet models are performing really well. However, it seems that the Duet is slightly better at this point. It has to do with the fact that instead of latex it's using pocket springs.
Therefore, if bounciness is what you're looking for in a mattress, both of the Bellisimo models will be suitable.
Strong Edge Support
There are a few main reasons why you should pay attention to the edges support when choosing a new mattress. First of all, the majority of mattresses that have strong edges are able to maintain the mattress's initial shape longer. That being said, they tend to be more durable.
What is more, strong edges mean that there's either no or very minimal sagging towards the edges of the bed. It allows you to feel safe even when sleeping on the very sides of your mattress. As you probably know, when there's no edge support, it can make you feel as if falling out of the bed, which is definitely an unpleasant feeling.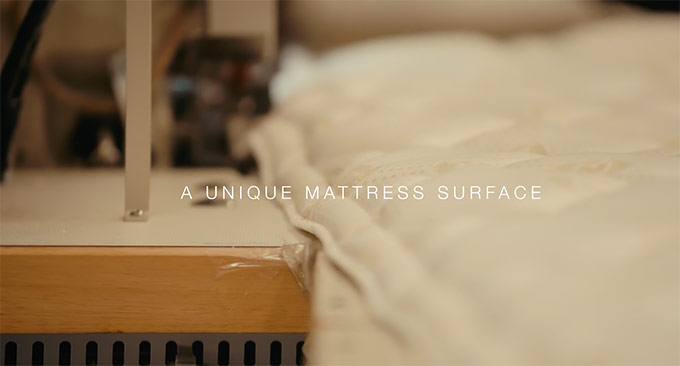 The final reason why edge support is needed is the fact older individuals or those who experience hip or joint pain can find it difficult to get out of the bed from a low position. When there's enough support, they can use edges almost as a pillar.
Bellissimo mattresses are designed using high-density box foam edge supports that make sure the edges maintain their firmness even after years of sleeping. Makin mattresses reviews can agree that Bellissimo mattresses have really supportive edges.
Cooling Properties
Sleeping too warm is one of the issues that many people are experiencing. Nightly sweats are linked to multiple health issues and conditions, such as malignancies, autoimmune diseases, infections and menopause.[2] However, it can also mean that you're sleeping on an unsuitable mattress that traps heat.
When it comes to sleeping too warm, this issue is usually associated with foam mattresses. However, since both Bellissimo mattresses are designed with 4000 tiny springs that promote airflow and ensure that the mattress doesn't trap heat, you won't be experiencing this issue.
Makin Mattresses Review: CONS
We're done with the most pleasant part of this Makin mattress review, now it's time to take a look into the aspects that some customers distinguished as issues.
Lacks Motion Isolation (The Duet)
Since both Bellissimo mattresses have a slightly different construction, they don't perform as well in different situations.
Motion isolation is one of the aspects that are very important for couples. If you have a partner that keeps tossing and turning throughout the night, you probably know the struggle.
When it comes to the Bellissimo Duet mattress, some customers report that it doesn't perform that well when it comes to motion isolation. Since the mattress has pocket springs in the construction and is really bouncy, it transfers some movement.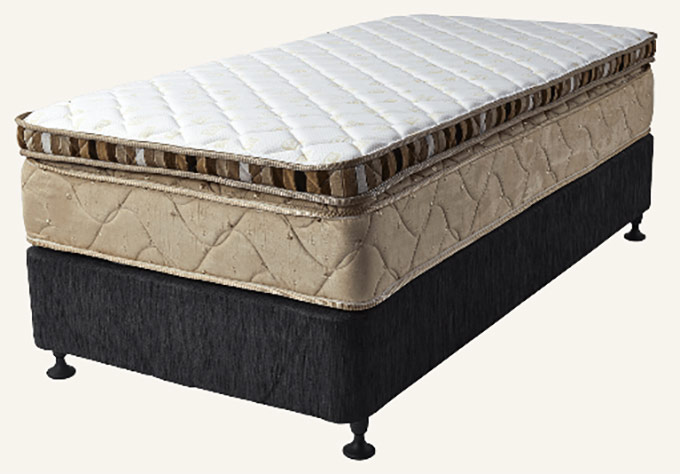 While the issue is not very noticeable, some sleepers distinguished it as one of the concerns.
Not the Best Pressure Relieving Properties (The Duet)
I already talked about pressure relieving properties previously in this Makin Mattresses review, however, it's important to mention it once again, in case you missed it and find pressure relieving properties super important.
If you really like both Bellissimo mattresses, but want to find an option that would be able to conform closer to your body and alleviate pressure points, then it's recommended to choose the Duo mattress that features a latex layer in its construction.
When it comes to the Duet, some Makin Mattresses reviews reported that it doesn't alleviate pressure points as good as they were expecting. Considering the fact that it's really pricey (you'll see that in the further section), you would assume that it performs better.
Makin Mattresses Prices and Additional Details
Now that we discussed both positives and negatives in this Makin mattress review, let's take a look at the additional details, such as pricing, warranties, shipping and other aspects that will help you to make a final decision.
What are Makin Mattresses Prices?
Let's take a look at the prices of both Bellissimo Duo and Duet mattresses. First, the pricing list for the Duo:
And here are the prices for the Duet model:
Note that the prices are changing all the time, thus, by the time you'll be reading this Makin Mattresses review, they might be slightly different.
As you can see, Makin mattresses prices are pretty high, to say the least. These were the prices of the medium options of both Duo and Duet, however, since you can also choose from plush and firmer alternatives, they might be slightly different.
Now, I have to say that even if the majority of Makin mattresses reviews are happy with the comfort they get, there are also many concerns about the prices, they're definitely way out of the price range for some. That being said, I know that there are many other mattresses that offer similar qualities and are way more affordable, for example, Eva or Koala.
Getting back to Makin Mattresses review, I was pretty surprised that the company doesn't provide you with a free trial. Since their beds are expensive, you would hope to at least have such a possibility. After all, the majority of reliable mattress brands provide you with a money-back guarantee, no questions asked.
When it comes to the mattress warranty, the majority of mattress manufacturers give you 10 years, while there are some that manage to provide you with 15 or even 20 years. Makin is no exception, the company gives you a 10-year warranty that should protect you in case you notice any manufacturing defects or a mattress starts sagging noticeably and more than it normally should.
When it comes to the shipping, it's completely free, unless you miss your scheduled delivery, then the company might charge you. Also, if the delivery is missed within 14 days, you will have to take care of mattress delivery on your own. Needless to say, that's not the most customer-friendly policy.
Now that the position of Makin mattresses reviews is clear, let's move into conclusions.
Here is The Best Saatva Offer I Found:
UP TO $500 OFF
Limited-time Saatva Sale
We're sharing a limited-time Saatva mattress discount with our readers! Grab this deal & enjoy your new mattress with huge discounts.
Expiration date: 08/12/2023
4,042 People Used
Only 83 Left
Conclusions
Therefore, Makin offers mattresses for different sleepers and needs. Their most popular options are from the Bellissimo collection - The Duo and The Duet. These beds are made of durable and really high-quality materials that should serve you quite long.
When it comes to the features of Bellissimo mattresses, they're both supportive, breathable, responsive and have firm edges. What is more, you can pick from different firmness options based on your preferences.
The only major drawback is that they're pretty expensive. I believe that you can find mattresses that perform as good but are way less pricey.
Scientific References
1. Martin C Normand, Martin Descarreaux, Caroline Poulin, et al.: 'Biomechanical effects of a lumbar support in a mattress'
2. James W Mold, Barbara J Holtzclaw, Laine McCarthy: 'Night Sweats: A Systematic Review of the Literature'
Leave your honest Makin Mattresses review
Leave your genuine opinion & help thousands of people to choose the best mattress. All reviews, either positive or negative, are accepted as long as they're honest. We do not publish biased reviews or spam. So if you want to share your experience, opinion or give advice - the scene is yours!