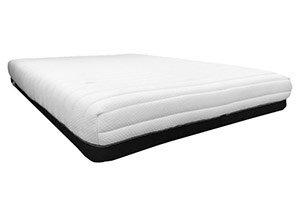 We spend one-third of our lives sleeping, it's a behavioral state that's completely natural to every individual[1] and is not an option but rather a necessity. It's surprising how some people do not take rest seriously and sleep on old, saggy mattresses.
If you're concerned about the quality of your sleep and want to improve it, then you should always look for a mattress based on your weight, sleeping position and personal preferences. The Luxi mattress might be just the right option for your needs.
Luxi was founded in 2015 by a father and a daughter who wanted to create something meaningful that could be used with a purpose - a mattress. Since one mattress can be hardly suitable for all sleepers, they created an adjustable mattress that comes packed in a box.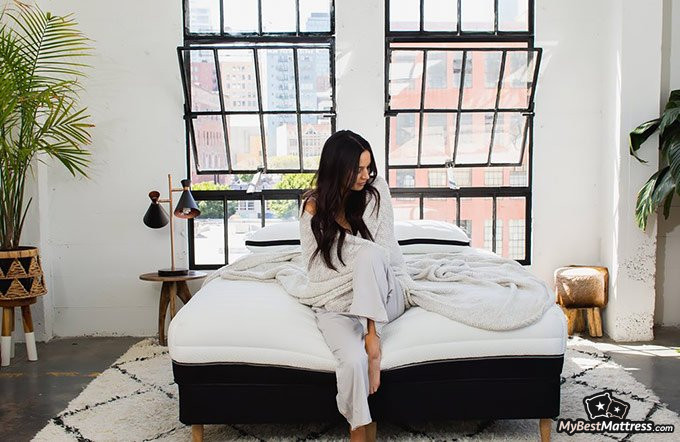 Even though the company offers two mattresses - the Luxi One and Luxi 3-in-1 mattress, in this Luxi mattress review, I will focus on the latter option, including thorough information on its structure and the most important features. What is more, we'll find out how it performs based on Luxi mattress reviews.
Verdict at a Glance
Luxi is an adjustable mattress that's made of memory foam and latex layers. Luxi features a unique design that allows the mattress to sleep cool, provide a good amount of comfort and absorb the motion. However, it lacks some edge support and could be more responsive.
Pros
Adjustable firmness
Breathable
Completely noiseless
Cons
Not bouncy
Lacks edge support
Luxi Mattress Review: PROS
I will start off this Luxi mattress review with the positive aspects. You'll see that the Luxi 3-in-1 mattress has quite a few of them. Since the Luxi mattress has quite a unique structure, its features won't be similar to traditional innerspring or memory foam mattresses.
Exceptional Design
When looking for a mattress with the most attractive features, it's important to take a look into the mattress design. After all, not only mattress comfort but also durability depends on the quality of the materials that are used in the construction.
Luxi mattress is designed from memory foam and latex layers that can be adjusted to make the mattress firmer or softer. Here's how the Luxi mattress layers look like:
Cover - memory foam-padded cover that's made of polyester and viscose. It provides instant comfort and relief.
Comfort layer - called the SBT layer that stands for "support, bounce and technology". It manages to respond quickly, provides close conforming and promotes airflow.
Pressure relief layer - 1" of memory foam that provides pressure relieving properties and close contouring. This layer allows you to sink slightly deeper into the mattress.
Support layer - 1" of the exceptional LuxiTex foam that's similar to latex. This layer doesn't trap heat and ensures that you're not sleeping too warm.
As you can see, the Luxi 3-in1 mattress has quite a unique structure that seems to be reliable. However, since the mattress hasn't been in the market for that long, it's really difficult to evaluate its durability. Based on the Luxi reviews, it seems that customers are pretty pleased with the quality at least for now.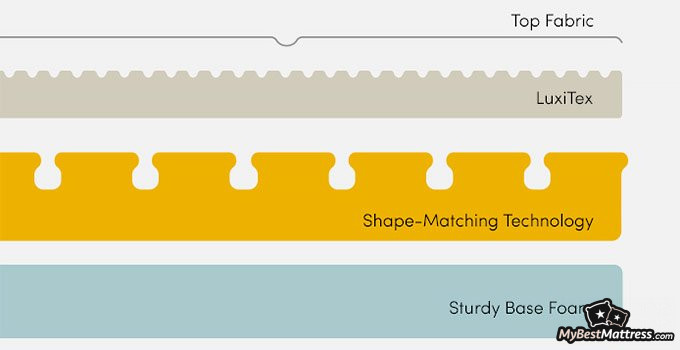 So, we already covered the Luxi mattress structure, however, there's still a long way to go and many features to evaluate.
Latest Saatva Coupon Found:
UP TO $500 OFF
Limited-time Saatva Sale
We're sharing a limited-time Saatva mattress discount with our readers! Grab this deal & enjoy your new mattress with huge discounts.
Expiration date: 05/12/2023
4,042 People Used
Only 83 Left
Adjustable Firmness
Firmness is considered to be one of the most important aspects that you should take into consideration when choosing a mattress. A suitable mattress can provide you with the right amount of support and alleviate pressure points in your back, hips, and other areas of your body. If you choose an unsuitable mattress firmness, on the other hand, it can create more issues, including back and shoulder pain.
You'll rarely find a mattress that's comfortable for every sleeper, however, one of the main reasons why the Luxi mattress could be one of them is the adjustable design. You can adapt Luxi mattress firmness (soft, medium and firm) by changing the order of the layers.
Even though you should choose the mattress firmness not only based on weight but also on sleeping position, there are some general recommendations. If you're a light-weight sleeper, choose a softer option that's from 3 to 5 on the mattress firmness scale. Average-weight sleepers should consider firmness that varies from about 5 to 7, while heavier individuals should choose firmer options.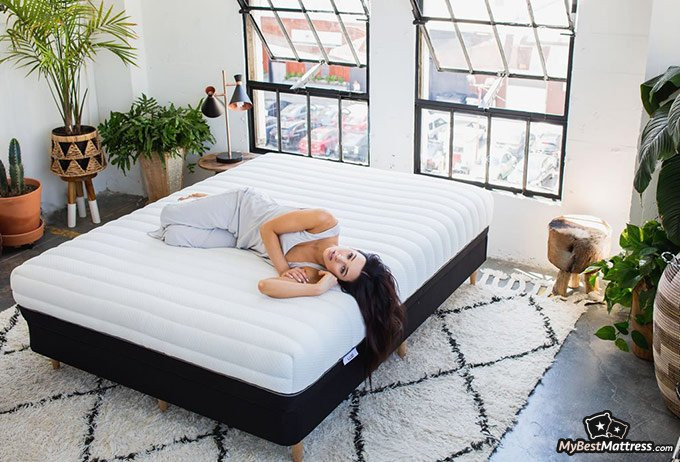 However, these are only recommendations, you should always look for a mattress that provides you with comfort and also manages to promote a healthy spine alignment.
According to multiple Luxi mattress reviews, adjustable firmness is one of the best aspects when it comes to this bed. If you want a medium firm mattress, you should put the LuxiTex foam on top. However, if you want a firm bed, you should put the high-density poly foam layer first and then the SBT layer. Finally, if you prefer a softer alternative, you should position the memory foam layer first.
Therefore, it doesn't matter how much you weigh or which sleeping position you prefer, Luxi mattress is adaptable based on your personal needs.

Did you know?
Pressure Relief
If you wake up feeling sores in your body, it's a sign that your mattress doesn't work well at alleviating pressure points. This issue is mostly associated with old, saggy mattresses that are unable to distribute your body weight evenly.
According to multiple Luxi mattress reviews, it manages to conform closely to your body and alleviates pressure points. Back sleepers claim that the Luxi mattress manages to distribute body weight evenly and the quilted cover provides comfort for their lower back area, making sure that there are no aching spots.
When it comes to people who are experiencing back pain issues, there are many controversial opinions. While some say that the mattress should be conforming, other studies indicate that the firmer the mattress, the more benefits you get.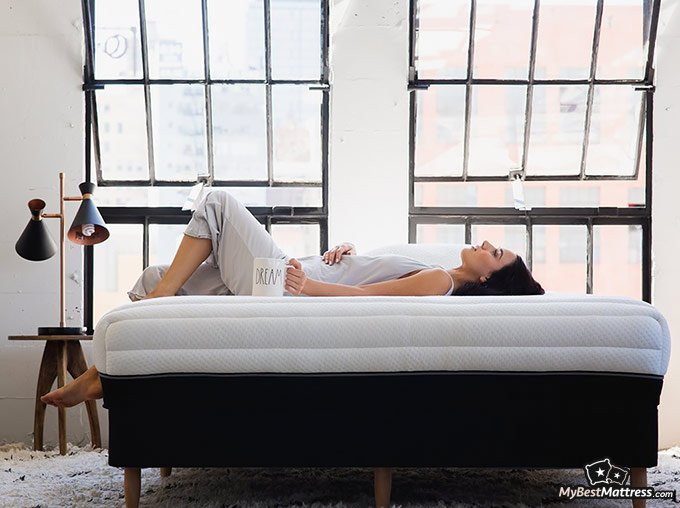 Now, side sleepers usually experience too much pressure in their hips and shoulders, however, many Luxi reviews claim that this mattress manages to support both hips and shoulders without creating any tension.
Finally, stomach sleepers. Even though the firmness of the Luxi bed can be adapted, many Luxi mattress reviews claim that this bed isn't the most comfortable for stomach sleepers. You might feel some sinkage in your hips area, which can lead to unhealthy spine alignment.
Completely No Noise & Minimal Motion Transfer
If you're a very sensitive sleeper, you should always pay attention to noise and motion transfer. These two aspects can disrupt your sleep. According to the study,[2] chronic sleep loss can lead to cognitive impairment, depression, and have negative effects on cardiovascular, endocrine, and immune function.
According to Luxi reviews, this mattress is completely silent when bearing weight. That being said, you won't be hearing any squeaks or creaks that are common to mattresses with spring construction.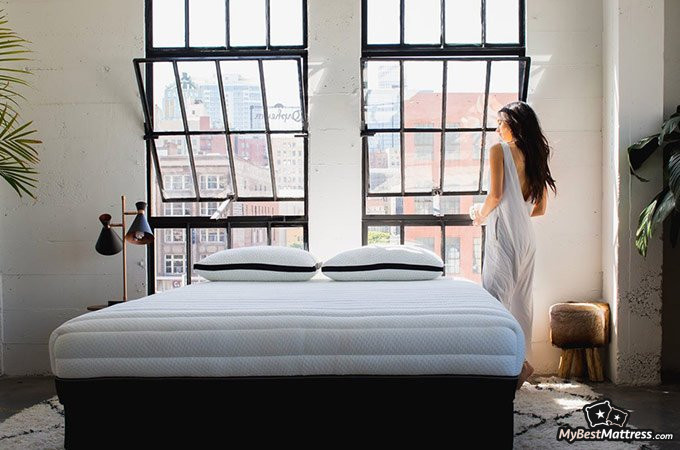 Motion transfer is not as important to single sleepers as it is to couples. If you have a partner that keeps tossing and turning throughout the night, you should know the struggle. The good news is that the Luxi mattress manages to absorb the motion pretty well. Even though you might still feel some movement that your partner makes, it's very minimal.
Quite Good Temperature Regulation
If you're sleeping on a foam mattress, you may have noticed that it traps some heat. The fact is that the lack of breathability is usually associated with mattresses that provide a close conforming, such as memory foam. They provide some sinkage and make you feel more like sleeping "in" the mattress rather than on top of it.
I thought that this would be an issue with Luxi bed as well, however, Luxi mattress reviews prove otherwise. According to customers, the Luxi bed works pretty well at promoting a neutral body temperature throughout the night.
However, if you want to sleep cooler, you should choose the LuxiTex layer on top. The other two layers can sleep pretty warm.
Luxi Mattress Review: CONS
So, by now you know all the positives that come with the Luxi 3-in-1 mattress. Now, it's time to take a look into the Luxi mattress complaints. Make sure to pay close attention to each of them and choose wisely.
Minimal Edge Support
Even though you don't always pay attention to the mattress edge support, there are a few reasons why it's important.
First of all, edge support allows you to take advantage of the entire mattress surface. Secondly, when a mattress lacks edge support, you might feel as if rolling and falling out of the bed in the middle of the night.
Finally, edge support allows you to sit comfortably on a mattress, without being afraid of falling onto the ground. Thus, this aspect is truly necessary for every mattress.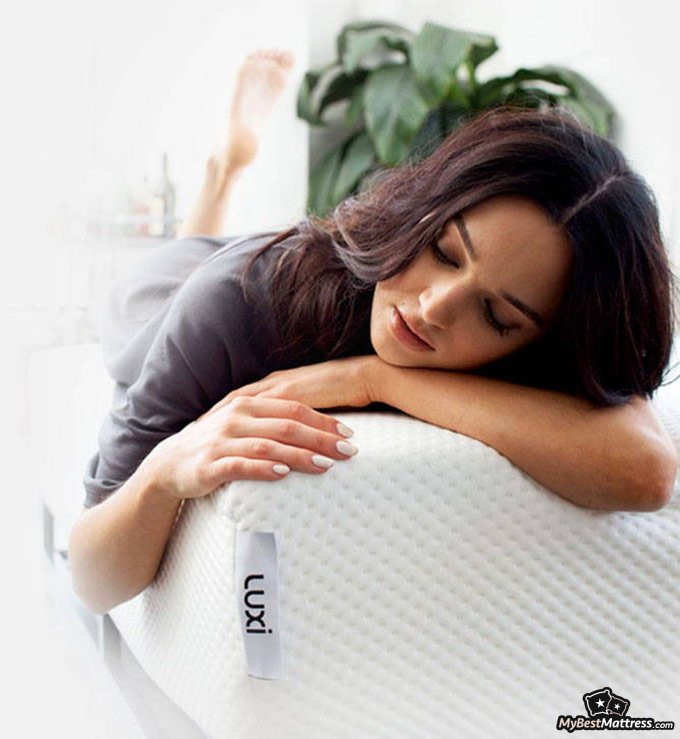 Even though memory foam mattresses do not have edge support systems, some of them manage to provide quite a good edge support. Unfortunately, Luxi mattress reviews are quite disappointed with the bed edge support. Just like in the majority of all-foam mattresses, there's no support at all.
Lacks Bounciness
While bounciness is not really important when it comes to the quality of your sleep, this aspect matters for couples. Bouncy and responsive mattresses can positively affect your sex life. Such beds do not allow you to sink too deep into the mattress but instead provide you with a quick bounce back, which makes the whole experience way more enjoyable.
Unfortunately, there are some Luxi mattress complaints when it comes to bounciness as well as responsiveness. Couples claim that the mattress doesn't respond to the pressure as quickly and can make it pretty difficult to move around despite the order of the layers.
Luxi 3-in-1 Pricing and Additional Details
Luxi mattress complaints and positives are all clear by now. That being said, it's time to move further and discuss all the additional details that are important when choosing a mattress.
What are the Prices for Luxi Mattress?
It's time to take a look into Luxi mattress prices. Take a look at the full list for prices and size options:
Note. All the prices are provided at the time of writing Luxi mattress review. You can expect them to be slightly different by the time you'll be reading this review. If you want to find the most up to date information, you should check out the company's official website.
Luxi 3-in-1 mattress prices are relatively high. However, with every mattress purchase, you also get 1 or 2 free pillows (depending on the mattress size) that can also improve the quality of your sleep significantly. Also, since you can come across different discounts and promotions, you can get the Luxi mattress together with the pillows for less.
Now, even though the Luxi mattress should be suitable for everyone due to adjustable firmness, it might still be risky to purchase it without trying. For this reason, the company offers a 100-night trial, which is a standard in the industry. During this time, you'll be able to try the Luxi mattress out and see whether or not it sleeps comfortably for you and your partner.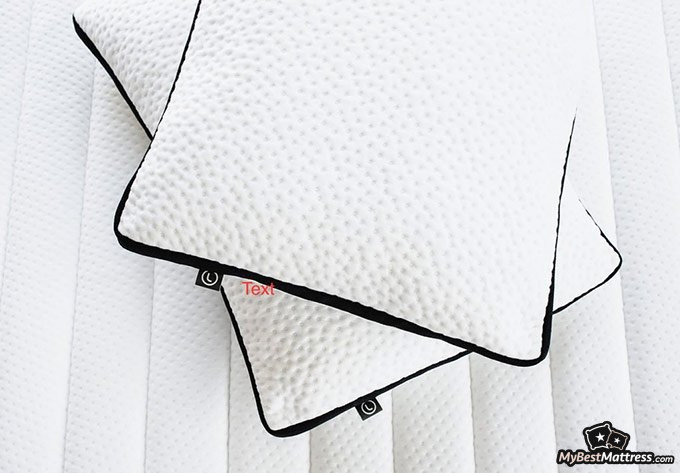 If you're wondering whether the company charges for shipping additionally, you can be completely assured that both shipping and returns won't cost you anything. The Luxi mattress will be delivered in a box straight to your doorstep, so you'll be able to easily move it around and place where needed.
The final aspect that's worth mentioning is a 10-year warranty that the Luxi mattress comes with. The warranty covers all the manufacturing defects, including visible flaws, indention that's greater than 1.5". However, the warranty does not cover natural deterioration. If you want to find out more about the company's warranty information, you should check it out on the company's official website.
Here is The Best Saatva Offer I Found:
UP TO $500 OFF
Limited-time Saatva Sale
We're sharing a limited-time Saatva mattress discount with our readers! Grab this deal & enjoy your new mattress with huge discounts.
Expiration date: 05/12/2023
4,042 People Used
Only 83 Left
Conclusions
Therefore, Luxi mattress reviews evaluated the company's bed pretty well. The majority of customers love the fact that the firmness can be adjusted based on their personal needs by simply changing the order of the layers, which makes it suitable for different sleepers.
What is more, the Luxi mattress manages to alleviate pressure points pretty well, it's completely noiseless and absorbs the motion transfer to a significant extent. However, you can expect it to sleep slightly warm, lack edge support and responsiveness.
If you want to find even better mattresses for similar prices, you can check out this list.
Scientific References
1. National Institutes of Health (US); Biological Sciences Curriculum Study. Bethesda (MD): National Institutes of Health (US); 2007.
2. Mia Zaharna, Christian Guilleminault: 'Sleep, Noise and Health: Review'
Leave your honest Luxiagi review
Leave your genuine opinion & help thousands of people to choose the best mattress. All reviews, either positive or negative, are accepted as long as they're honest. We do not publish biased reviews or spam. So if you want to share your experience, opinion or give advice - the scene is yours!