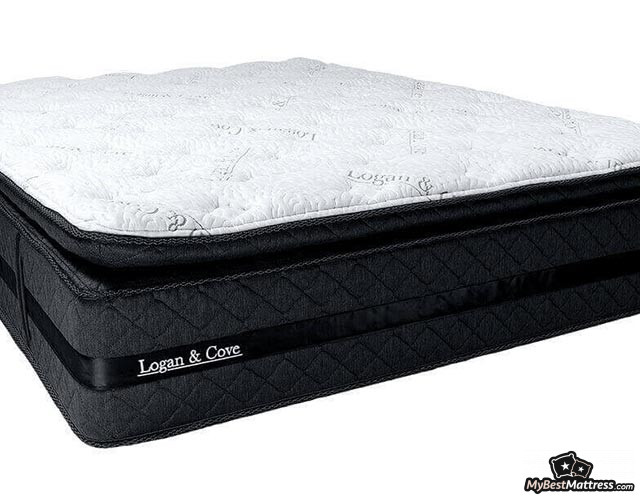 Luxury mattresses aren't all that common to come across - this is especially true if you don't reside in the United States. That being said, in this Logan and Cove review, we're going to take an in-depth look into one such product - a luxury hybrid bed.
The mattress that we'll be talking about today is sold by Logan & Cove, but this brand, same as many other Canadian brands, belongs to one, big corporation - GoodMorning.com. The company has a variety of different beds and bedding accessories under its name, all with their own, unique features.
While most products sold by GoodMorning.com are quite affordable and aimed at the "general consumer", the mattress that we're looking at in this Logan and Cove review is of a more luxurious kind. Let's not waste any time and get right to it, shall we?
TL;DR: The Logan & Cove mattress is a foam and spring hybrid - it offers customers great responsiveness and cooling, and has sturdy edges, too. That said, some customer Logan and Cove mattress reviews aren't too fond of the product's pricing, and there are some reports about a lack of pressure alleviation capabilities.
Pros
Very breathable
Two firmness options
High-quality, sustainable materials
Well-design and built to last
Bouncy
Durable and possesses strong edge support
Cons
Relatively high price point
Lacks pressure relief capabilities
Logan and Cove Review: PROS
To start things off on a positive note, let's take a closer look at some of the main praises that customer Logan and Cove reviews give to the product in question.
Great Cooling and Breathability Capabilities
Breathability capabilities… I swear, there's a hip-hop joke in thee somewhere…
Lousy attempts at being funny aside, yes - there are quite a few customer Logan and Cove reviews that talk about this particular mattress - the foam-spring hybrid - possessing some great cooling and breathability, especially when compared to some other mattresses in this same league.
What makes the bed in question all that breathable, though? The answer is quite simple - the coils at its base.
While the upper layers of the mattress utilize some different types of foam for differing functionalities and features, the core is all based out of metal coils. Innerspring mattresses, in general, are surely the most breathable beds that you may come across - very similar remarks can be made about some spring-possessing hybrids, too.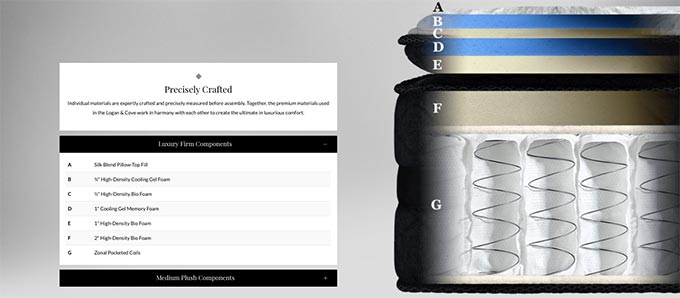 Whatever the case might be, judging by multiple customer Logan and Cove mattress reviews, it does appear that the product in question is very breathable and isn't going to trap heat within itself.
Needless to say, this is superb. Sleeping hot is arguably the bane of many sleepers out there. While some cooling features of a mattress aren't going to help you solve some sleep issues that are there due to, say, fibromyalgia[1], they will certainly make the entirety of your sleeping experience that much better and enjoyable.
Latest Saatva Coupon Found:
UP TO $500 OFF
Limited-time Saatva Sale
We're sharing a limited-time Saatva mattress discount with our readers! Grab this deal & enjoy your new mattress with huge discounts.
Expiration date: 29/09/2023
4,042 People Used
Only 83 Left
A Durable Mattress with Some Strong Edges
The topic of a mattress' durability is one that's become somewhat controversial in recent years. That's because, while being the core aspect of any reliable bed product, durability is also the feature that a few mattress providers try to sweep under the rug, masking their products in some flashy features instead.
Worry not - that's definitely not the case in this Logan and Cove review.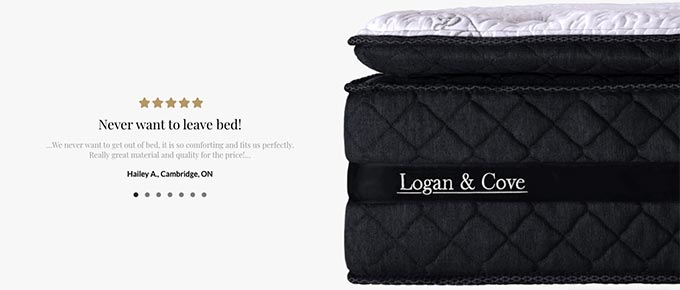 Having said that, however, you should always pay very close attention to this particular aspect of the mattresses that you're looking into. I mean, think about it yourself - say, you purchase a bed that has some incredible motion isolation, pressure relief and even responsiveness features. You're happy, excited, and can't wait to start sleeping on it.
You receive your bed, everything seems awesome, and… It breaks down in just a couple of months, right after the end of the sleep trial period. Oh, and the warranty doesn't cover such events, either.
In this type of a scenario, no flashy and "cool" features matter - if your bed breaks down, that's the end of it. That's exactly the reason why, be it this Logan and Cove mattress review or any other, it's always crucial that you check out the durability aspects of the bed through and through.
Having said all of that, let me repeat - you have nothing to worry concerning the Logan & Cove hybrid mattress. The product is made out of different types of high-quality foam, utilizes sturdy springs and is built in a very durable fashion - it is a luxury bed, after all.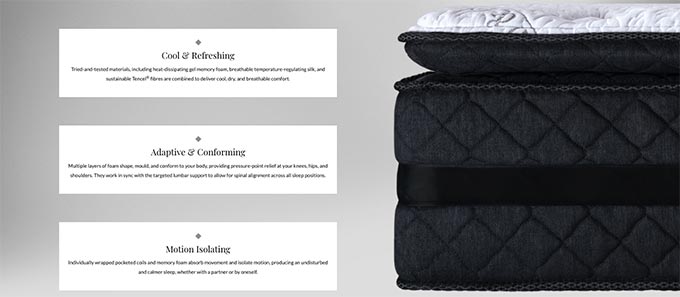 On top of that, customer Logan and Cove reviews also note that the mattress has some rather sturdy edges to complement its overall design. Strong edges are nothing to scoff at! They will allow the product to retain its shape for a long period of time, thus avoiding possible sinkage and other potentially-annoying issues.

Did you know?
Bouncy and Great for Sex
Well, this is something that you're probably going to have a pretty difficult time finding out from customer Logan and Cove reviews…
While it appears to be somewhat of a taboo topic online, it's still a notable feature of the bed, and is thus definitely worth talking about.
The Logan & Cove luxury mattress is going to be great for sex. There, I said it.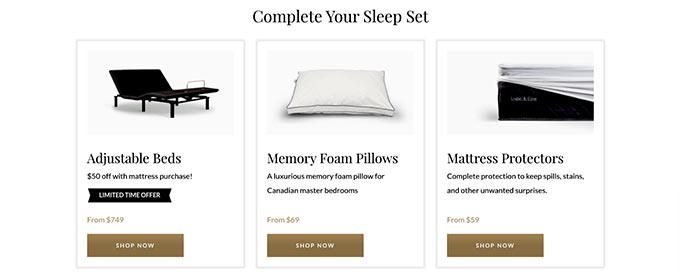 In all seriousness, though, customers do report this bed to be quite bouncy and responsive. While this does make sense when you think about the coil part within the product, it may still appear to be relatively odd, since the entirety of the top part of the mattress is made out of foam.
It would appear, however, that the particular design of the bed allows it to retain bounciness even while having a foam-based top layer construction.
Sustainability - Check!
While this isn't a feature that many customer Logan and Cove reviews would talk about, it's actually a big part of the product in question, and is definitely worth mentioning, nonetheless.
When it comes to the mattress industry, in general, sustainability refers to the products being made out of sustainable, eco-friendly (often - recycled) materials. It can also refer to some "sustainable" production processes, too - this is especially true with any process that saves water.

It's actually pretty cool to be able to state that, in this Logan and Cove review, the product that we're covering is of a sustainable kind. Whether it be bio-foam or Tencel fibers used in the construction of the bed, it's surely more eco-friendly than many other mattresses in this category.
What does this mean to the average customer? Well, not a whole lot. That said, if you're someone who cares about the environment, and wants to purchase a luxury mattress, then Logan & Cove has your back.
Logan and Cove Review: CONS
While not many of us get the chance to participate in various sleep-oriented assessments[2], there's a pretty good chance that, if we did, everyone and their mothers would have to start getting much more worried about their quality of sleep.
Stress, poor diet choices and everyday problems can damage our sleep health, which can then also result in some less-than-ideal issues in our daily lives, too. While it's definitely not the only way, one of the simpler methods of how you can improve your chances of getting enough high-quality rest is by choosing the best possible mattress (and other sleep accessories) for yourself.
I'm putting all of that out there simply because each and every single mattress is going to have some pros and cons. That latter part - the cons - is exactly what we'll be talking about now, at least as much as it concerns this Logan and Cove review.
Mediocre Pressure Alleviation Features
Pressure alleviation is an area in which many foam mattresses exceed in. To put it very simply, this refers to the mattress alleviating and relieving some built-up pressure points on your body - lower back region, hips, and so on.
Since the entirety of the upper part of the L&C mattress is based out of foam, you'd think that the bed in question is going to have amazing pressure relief features, too, right?
Well, reading through customer Logan and Cove reviews, this does not appear to be the case.

While there aren't any complaints that would point out the product being outright bad at alleviating pressure, many customers seem to note that most foam mattresses are going to be better at doing so. That's rather odd!
This could, in part, be due to the coil base of the bed. I've eluded to this earlier on in the Logan and Cove review, but while many innerspring mattresses are great in regards to bounciness and breathability, they will also lack features that would otherwise be provided by a foam bed.
May Produce Some Sound as It Ages
Whenever you're looking to purchase an innerspring mattress, or any other bed that has a coil base, this is something that "comes with the territory" - you can expect springs to make sounds.
Now, the question here is not whether or not the Logan & Cove mattress is going to make noise - rather, it's JUST HOW MUCH noise is this product going to make.
If you were to judge solemnly by the customer Logan and Cove reviews, it does not appear that there's too much noise coming from the bed, at least upon initially receiving it. You can tell that there are springs inside, but that's about it.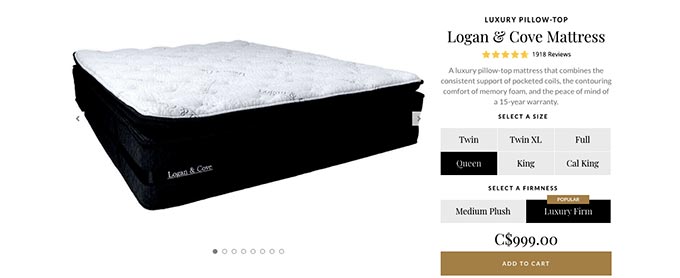 Now, the catch here, however, is that this is usually the case with many spring-based beds, too. What happens is that the sound makes itself increasingly more noticeable as time goes on and the mattress wears down. Quite frankly, it's going to be close-to-impossible to find out the extent of this issue without actually spending some time with the bed.
All of that being said, though, while there aren't many such complaints online, there are still a few customer Logan and Cove reviews that have pointed out the potential noisiness of this hybrid mattress. Just something to keep in mind!
Price
Lastly, let us finish off this Logan and Cove mattress review by talking about the pricing options of the product.
If you were to purchase the Logan & Cove luxury hybrid mattress from the company's official website, these would be the pricing options that you could expect to see:
The mattress also comes in two separate firmness options - medium plush and luxury firm. The price points for both of them are the same, though.
Now, it's quite obvious that this particular bed is not a very affordable one. While it still beats most of the high-end mattress brands out of the water, compared to some other Canadian mattress options (especially foam-based ones), the Logan & Cove product does appear to be a pricier variant. That said, it's a luxury mattress, after all.

The brand also provides customers with free shipping and returns, a 120-night sleep trial, and 15 years worth of warranty. Not too bad! The warranty period is especially great - most of the time, you'll only receive 5-10 years.
Here is The Best Saatva Offer I Found:
UP TO $500 OFF
Limited-time Saatva Sale
We're sharing a limited-time Saatva mattress discount with our readers! Grab this deal & enjoy your new mattress with huge discounts.
Expiration date: 29/09/2023
4,042 People Used
Only 83 Left
Conclusions
Now, look - if there's one thing that's pretty obvious from this Logan and Cove review, it's that the mattress in question isn't going to be a product for everyone.
Admittedly, Logan & Cove does create some high-quality, luxury mattresses - that's obvious. The mattresses have great breathability and cooling features, are well-built and designed to last. On top of that, as far as luxury beds go, the prices of this particular mattress are quite in-line, too.
That being said, however, if you're looking for a proper mattress that could help you get rid of some pressure points or simply provide top-tier motion isolation for you and your partner, there are definitely some better options on the market, even as far as the Canadian market goes!
Do make sure, however, that you're definitely making the right choice - consult some best mattress lists, learn about the different types of mattresses that there are, and take your time.
With that, I thank you for reading this Logan and Cove review. Good luck in finding the best product for yourself!
Scientific References
1. Climent-Sanz C, Marco-Mitjavila A, Pastells-Peiró R, et al.: 'Patient Reported Outcome Measures of Sleep Quality in Fibromyalgia: A COSMIN Systematic Review.'
2. Rabin JM, Mehra R, Chen E, et al.: 'Assessment of sleep health in collegiate athletes using the Athlete Sleep Screening Questionnaire.'
Leave your honest Logan and Cove review
Leave your genuine opinion & help thousands of people to choose the best mattress. All reviews, either positive or negative, are accepted as long as they're honest. We do not publish biased reviews or spam. So if you want to share your experience, opinion or give advice - the scene is yours!