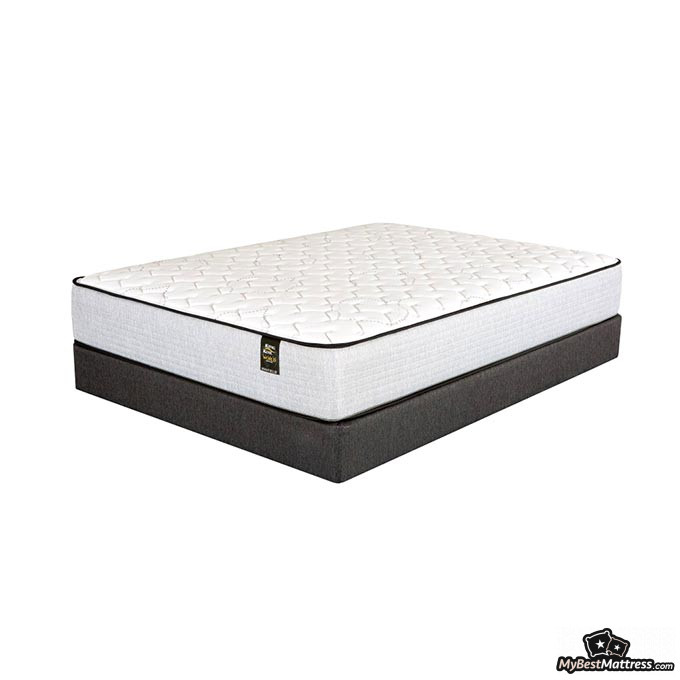 With a huge variety of mattress brands currently circulating the industry, it's becoming increasingly difficult to find a reliable mattress for yourself. Well, somewhat - if you're looking at the best options on the market, then you shouldn't have a problem. In this article, however, we'll take a look at some King Koil mattress reviews.
King Koil mattresses, while not being as well-known as some other beds out there, still have some things to bring to the table. We'll discuss both the pros and the cons in the chapters ahead, and see if the products are worth paying attention to, in the first place.
To tell you the truth, you can definitely find better mattresses in the market. Saatva, Puffy and Layla are considered to be the leading providers. They offer free shipping, sleep trials, money-back guarantees, and exceptional warranties. You can see how these three brands compare with King Koil mattress below.
TL;DR: While customer King Koil mattress reviews note that the brand has been around for the longest time now, and is quite well-known on the global scale, the products offered by the company leave a few things to be desired. The beds aren't durable, and won't suit those looking for pressure alleviation.
Pros
Good cooling and breathability
Bouncy
Global brand
Cons
Not available to be purchased online
High price tags for bigger mattress sizes
Poor durability
Little-to-no pressure relief
King Koil Mattress Reviews: PROS
Quality sleep has many different benefits - it reduces the risks of developing a wide range of diseases[1], helps you concentrate and feel more energized, and helps your body recover, in general. A great mattress can provide you with just that - some amazing sleep.
Are King Koil mattresses fit for this task? Well, in this article, we'll be focusing on answering that question while looking at the World Edition of the brand's beds - since the company has a huge array of mattresses to offer to the general public, we'll focus on the seemingly most popular collection.
That being said, let's start off with the benefits that many customer King Koil reviews point out.
Very Cool to Sleep On
One of the main features of the World Edition is cooling - customer King Koil mattress reviews emphasize the fact that the brand provides super-cool and breathable mattresses within this collection.
Given the construction of the beds, that does make perfect sense.
The products from the Word Edition are spring-based - innerspring mattresses with polyfoam layers of comfort. While there is a certain discrepancy here, such mattresses are still usually considered to be the coolest-sleeping ones.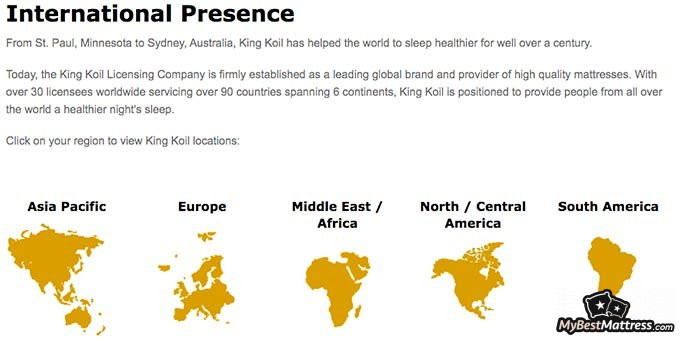 The discrepancy is because of the polyfoam material in the mattress. Foam, in general, does a very poor job of keeping heat away from a sleeper's body. Most brands that sell foam mattresses try to infuse it with some sort of cooling gel - sometimes it works, sometimes it doesn't.
Judging by the King Koil mattress reviews found online, however, it would seem that this brand doesn't face the same problem. That's all thanks to the coil-based construction.
Depending on the design processes of a mattress, even coil beds can sleep relatively warm. Thankfully, King Koil's World Edition houses some cool-sleeping and breathable (or at least temperature-neutral) beds.
Latest Saatva Coupon Found:
UP TO $500 OFF
Limited-time Saatva Sale
We're sharing a limited-time Saatva mattress discount with our readers! Grab this deal & enjoy your new mattress with huge discounts.
Expiration date: 05/12/2023
4,042 People Used
Only 83 Left
Great Edge Support
While many people, to this day, think that strong edges aren't an 'essential' feature when it comes to high-end mattresses, I'd beg to differ.
Depending on the strength of the edges, you can tell quite a bit about the mattress itself. Well, most of the time - some King Koil reviews would tell you that these beds are an exception, but we'll talk more about that later.
Now, why are strong edges important? Well, if your mattress has great edge support, you can rest at ease knowing that you won't fall out of your bed in the middle of the night. While that might sound funny, these things do happen - if anything, edge support will at least minimize the motions that you might make towards the sides of the bed while sleeping.

Also, since customer King Koil mattress reviews note that the World Edition comes with some great edge support parameters, the products should be able to minimize the sinkage towards the middle or the sides that many beds out there have.
Yup, that's a thing - a pretty significant shortcoming, too.
Whatever the case might be, let me reiterate once more - if you were to listen to the majority of the King Koil reviews, and purchase yourself one of the brand's spring mattresses, you shouldn't have to worry about the strength of the edges.

Did you know?
Quite Bouncy
Bounciness is, admittedly, one of the more niche features when it comes to selecting the best mattress for yourself. That said, if you're looking for a reliable innerspring, chances are that you've already thought about it.
Perhaps you've guessed it already by yourself, but multiple King Koil mattress reviews point out that the bounciness of the World Edition mattresses is going to be great for sex.
In all honesty, though, that's actually the main reason why people search for bouncy mattresses - well, that, and simply wanting a responsive bed that wouldn't be prone to sinking down with age.
While bounciness might not help you with sleep sensitization (according to research, that's the thing that's linked to the perpetuation of insomnia[2]) or quality sleep, overall, the fact that your limbs won't sink into the bed while you're spending time with your partner is definitely a huge benefit, nonetheless.
King Koil Mattress Reviews: CONS
Before we get into the topic of the King Koil mattress price, we still need to discuss some of the more negative customer King Koil mattress reviews. And, in all honesty, the mattresses do have a few significant issues.
Not Available Online
While there aren't many mattress brands that would be selling their products exclusively in physical stores, these things do happen. Unfortunately, customer King Koil mattress reviews note this as one of the main shortcomings of the product, and the brand in question.
To be completely frank, this is actually a huge drawback for King Koil, and for all of the other companies that choose to exclude their products from online sales. Nowadays, everyone knows that driving to the nearest mattress store just to awkwardly sit on a random bed for a few minutes doesn't really cut it.

In fact, salespeople can actually sway your opinion, and get you to purchase a product that's not exactly up to your standards. That's why purchasing a bed online is much more worthwhile than doing it in an actual, physical mattress store.
That said, it's also worth mentioning that, as far as high-end mattresses go, all of the top brands of the industry sell their products online. Now, what would you choose - mediocre beds that require you to go out of your way to be checked out, or an industry leader that's available at a few clicks of the mouse button?
Poor Quality (Durability)
For most people, the quality of the bed that they sleep in is the number one priority. And it should be - any one of the customer King Koil mattress reviews can tell you that if your mattress lacks in quality, it won't serve you well.
Why do I say that many of the King Koil mattress reviews found online can tell you this? Simple - customers note poor build quality as one of the main (if not the main) problems of the King Koil mattresses.
Whether it be the material from which the beds are made, or some intricacies with the production processes themselves, customer claim that King Koil beds really don't hold up to the test of time. Needless to say, that's a rather serious dealbreaker - something worth keeping in mind when you're looking for King Koil mattresses.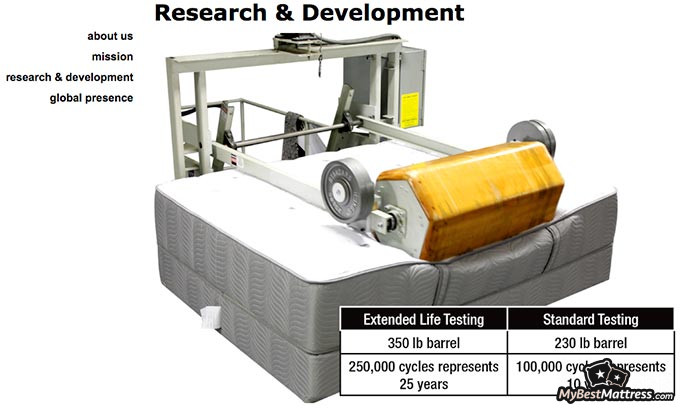 Do keep in mind, though, that the term "durability" refers to the mattress' longevity - how long and how well it holds up to the tests of time and wear. In this case, the mattress in question has a very poor life expectancy, especially when compared to other innerspring beds on the market.
To put it short, if you're looking for a product for every-night sleep, King Koil's World Edition won't serve you for an extended period of time.
Lack of Pressure Alleviation Features
When you're searching for a new mattress, pressure alleviation should probably be one of those features that you really pay attention to.
While many people might not think about it, it's definitely a topic that pops up as soon as you spend a night on the wrong mattress. You'll feel all sore in the morning - the hips, shoulders and lower back are the usual spots that hurt. Whether it's your old mattress giving you problems, or an uncomfortable bed over at a friend's house, it's surely not a nice feeling.
Most modern beds come equipped with some sort of pressure alleviation features. This is especially true for foam and latex products - these types of mattresses are naturally good at dispersing pressure all throughout, without trapping it at any certain, singular spots.

Admittedly, some customer King Koil mattress reviews will tell you that many innerspring products, in general, aren't all that great at pressure reduction. If it's a top-tier innerspring or a hybrid, however, you might be lucky!
That being said, there's no luck to be found when it comes to King Koil World Edition beds. According to reports, they offer little-to-no pressure relief. If you're a younger person, this might not be something that's TOO concerning. Even so, though, you should take it into account.
Price
In the absolute majority of the cases, this would be a standalone part where I tell you about the price tags of the mattress in question.
Yet again, however, a single look at the King Koil mattress reviews will tell you that it's not really possible. Since the company does not sell its products online, you won't be able to find the King Koil mattress price estimations, either - they all depend on the retailer.
As mentioned earlier in the article, King Koil is a global brand - this means that the price tags are likely going to vary by quite a bit, too. This isn't really useful information to anyone who wants to actually check the bed out, but is still interested in the price ranges before going out to a shop.

If we were to believe different online sources, however, the prices might linger within the $500 - $3800 ballpark, depending on your preferred sizing option.
I can tell you already - the prices really do stick out. The lower part does seem to be in-line with things, but paying over $3500 for a bed that isn't available to be checked out online, but also lacks some of the essential features is, well… Not quite worth it.
With that being said, however, it's worth noting that many of the issues discussed in this article are mitigated by the other King Koil collections. Even so, they won't have the features and benefits described when talking about the World Edition - it's basically a 50/50 kind of a scenario.
Here is The Best Saatva Offer I Found:
UP TO $500 OFF
Limited-time Saatva Sale
We're sharing a limited-time Saatva mattress discount with our readers! Grab this deal & enjoy your new mattress with huge discounts.
Expiration date: 05/12/2023
4,042 People Used
Only 83 Left
Conclusions
While many people aren't sure of what it is that they are looking for in a mattress, most of use are rather certain about the things we DON'T want.
Unfortunately, reading through the various customer King Koil mattress reviews, it would seem that the company's products tend to have more of the negatives than the positives.
The thing, however, is that if you were to look at some of King Koil's other collections, you'd notice that they are the opposite of the World Edition - for example, those beds might have great pressure relief but suffer in the cooling department. That's because they're based out on different materials - the durability issues, however, remain the same.
Finally, everything might still be somewhat manageable, but the fact that you're not able to purchase the mattresses online, combined with a high King Koil mattress price tag on the bigger sizes, makes the mattress a poor choice in most situations.
If you're looking for a truly reliable bed that you would not only be able to buy online, but also save a lot of money while doing so, I highly suggest you take a look at our list of the best mattresses of the year, or simply check out top-rated mattress providers, such as Saatva and Puffy.
With that, however, we've reached the end of our King Koil review. I hope the article was useful to you, and that you've learned something new about the different types of mattresses that are out there. Thanks for reading, and good luck!
Scientific References
1. Orfeu M. Buxton, PhD, Soomi Lee, PhD, Miguel Marino, PhD, et al.: 'Sleep Health and Predicted Cardiometabolic Risk Scores in Employed Adults From Two Industries'
2. David A. Kalmbach, PhD, Vivek Pillai, PhD, J. Todd Arnedt, PhD, et al.: 'Sleep System Sensitization: Evidence for Changing Roles of Etiological Factors in Insomnia'
Leave your honest King Koil review
Leave your genuine opinion & help thousands of people to choose the best mattress. All reviews, either positive or negative, are accepted as long as they're honest. We do not publish biased reviews or spam. So if you want to share your experience, opinion or give advice - the scene is yours!