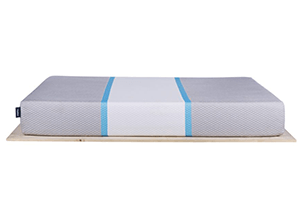 Looking for a new mattress but can't find a suitable option for your needs? Maybe you cannot find a detailed review that would answer all of your questions? If so, I believe that I can help by providing you with a thorough Hyphen mattress review.
Hyphen Sleep was launched in 2015, the company aimed to create a mattress that would promote better sleep and could benefit people who have an active lifestyle. At the moment, they're offering not only the Hyphen mattress but also bases, pillows, protectors and other products.
In this Hyphen mattress review, I will take a look at the Hyphen bed while focusing on multiple features that sleepers find really important. What is more, I'll provide you with pricing, shipping information, warranties and additional information.
Without further ado, let's jump right into the Hyphen mattress review and focus on what matters most.
Verdict at a Glance
Hyphen is a medium firm polyfoam mattress that's built of three different layers and features an anti-microbial and hypo-allergenic cover that limits allergens. Hyphen mattress is suitable for the majority of individuals, especially for back and side sleepers. What is more, since it's made using copper-infused polyfoam, it doesn't trap as much heat as regular all-foam mattresses. However, the Hyphen mattress may not be bouncy enough for couples and could lack edge support.
Pros
Suitable for back and side sleepers
Breathable
No noise or motion transfer
Cons
Lacks bounciness and responsiveness
Quite soft edges
Not as Good as Memory Foam When it Comes to Pressure Relief
Hyphen Mattress Reviews: PROS
I would like to start things off by introducing you to the Hyphen mattress pros. You should remember that features usually depend on the mattress type. Since the Hyphen mattress is made of foam, it has all the perks and quirks that are similar to other foam mattresses.
Medium Firm Mattress - Suitable for Many Sleepers
Since sleeping comfort and healthy spine alignment are the most important aspects when choosing a mattress, it's crucial to consider the mattress firmness and choose an option based on your personal wants and needs.
Hyphen mattress is medium firm, which is, according to multiple Hyphen mattress reviews, suitable for side and back sleepers. However, light-weight people might find this mattress slightly too firm.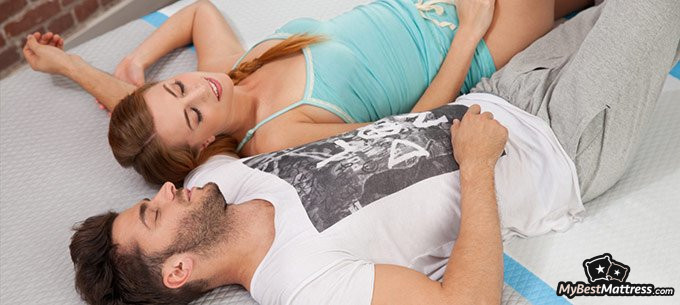 Now, since the mattress firmness depends on its structure, I would like to take a quick glance into it:
Cover that's made of polyester and spandex, it's anti-microbial and hypo-allergenic.
2″ 3.5 PCF Polyfoam - provides comfort and pressure relieving properties.
2″ 2 PCF Polyfoam - contours your body.
6″ 1.8 PCF HD Polyfoam - provides your body with support.
As you can see, the Hyphen mattress is made of three different polyfoam layers. Its structure seems to be really simple, however, it doesn't mean that it's bad.
Now that this part of Hyphen mattress review is clear, it's time to move further and discuss the rest of the features that truthful Hyphen mattress reviews distinguished as the mattress's good sides.
Latest Saatva Coupon Found:
UP TO $500 OFF
Limited-time Saatva Sale
We're sharing a limited-time Saatva mattress discount with our readers! Grab this deal & enjoy your new mattress with huge discounts.
Expiration date: 12/12/2023
4,042 People Used
Only 83 Left
Infused With Copper - Sleeps Cooler
One of the major issues with foam and memory foam mattresses is that they're sleeping really warm. Since the majority of sleepers prefer cooler nightly temperatures this could be a real problem.
Studies suggest that an optimal sleep temperature should be somewhere between 19 and 21°C.[1] Anything below or higher than this could lead to lower quality sleep. Of course, it's important to remember that each of us is different and might prefer cooler or warmer temperatures than recommended, which is also completely fine.

When I saw that Hyphen is an all-foam mattress, I initially thought that it traps heat. However, since it's infused with copper, it makes a whole lot of difference. The copper manages to draw excess heat away from your body and balance temperatures.
According to Hyphen mattress reviews, the mattress provides quite good ventilation and breathability. That said, you shouldn't experience issues with sleeping too warm, even if Hyphen is a polyfoam mattress.
If you want even better breathability, you might want to check out innerspring or hybrid mattresses. They're known to be the most breathable ones due to the coils that promote airflow and cool off your body.

Did you know?
No Noise or Motion Transfer
It's known that both noise and motion transfer can affect the quality of your sleep significantly.
Motion transfer is not as important to single sleepers as it is to couples. If you have a partner that keeps tossing and turning throughout the night, you're probably tired of feeling every movement that he or she makes, and completely understand the struggle.
In most cases, memory foam mattresses are the best options when it comes to isolating the motion transfer. Even though polyfoam mattresses are not as good at conforming as memory foam beds, Hyphen mattress reviews claim that it manages to absorb the motion pretty well. Don't get me wrong, you might still feel some motion, however, that's nothing compared to old spring mattresses.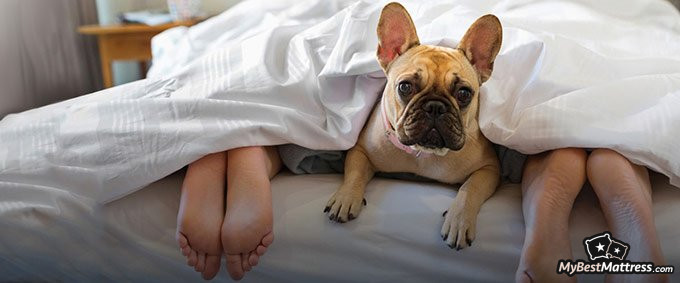 Talking about noise, Hyphen mattress reviews say that there's no sound when bearing weight. The thing is that all memory foam and polyfoam mattresses tend to be virtually silent. This issue is associated more with old squeaky mattresses that you can rarely find in the market.
According to the studies,[2] environmental noise can lead to more arousals and it's even associated with cardiovascular disease and stroke in the elderly. Therefore, it's clear why mattress noise should be taken seriously.
Now that you know all this information, you can be completely assured that there will be no sleep disruptions when sleeping on the Hyphen mattress.
Hyphen Mattress Reviews: CONS
So, we have covered all the perks that the Hyphen mattress comes with. However, there are always some negatives that might ruin the sleeping experience. Since they're just as important as all the positives, let's get to each of them.
Doesn't Conform as Close as Memory Foam Mattresses
If you're sleeping on an old, saggy mattress that sleeps uncomfortably, you might wake up feeling painful points in your body. They're called pressure points. When a mattress is unable to distribute your body weight evenly, one area of your body gets more pressure than others and you end up feeling aches in your back, shoulders or hip area.
Memory foam mattresses tend to conform closely to your body and eliminate the chance of painful pressure points completely. That's why people who want a closer conforming usually choose memory foam mattresses.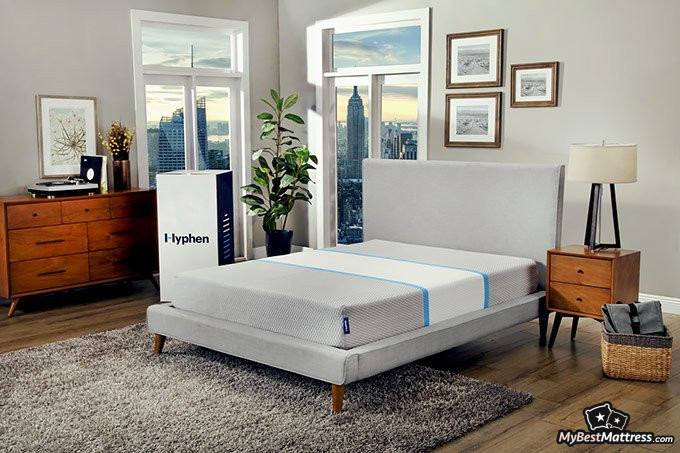 When it comes to Hyphen mattress that's made of polyfoam, customers say that it conforms closer than innerspring or hybrid mattresses, however, not as close as memory foam beds. That being said, Hyphen mattress may not provide you with as much pressure relieving properties as you were hoping for.
The sad part is that the company claims that the Hyphen mattress helps to improve blood circulation and supports muscle recovery. However, it seems that top-tier memory foam mattresses can perform better.
Might Lack Edge Support
Have you ever noticed that the sides of your mattress are a bit saggy and uncomfortable to sleep on? Maybe you even found yourself rolling out of the bed at night? If so, then your mattress probably lacks edge support.
Even though many sleepers do not understand the importance of edge support, it's a necessity if you want to sleep comfortably. Solid edge support not only ensures that you can take advantage of the entire mattress surface but also helps to maintain its initial shape longer.
What is more, if you ever noticed that you might fall out of the bed when sleeping on the sides, edge support can make sure that this doesn't happen. Finally, since we not only sleep but also use our bed for sitting, firm edges allow us to sit comfortably.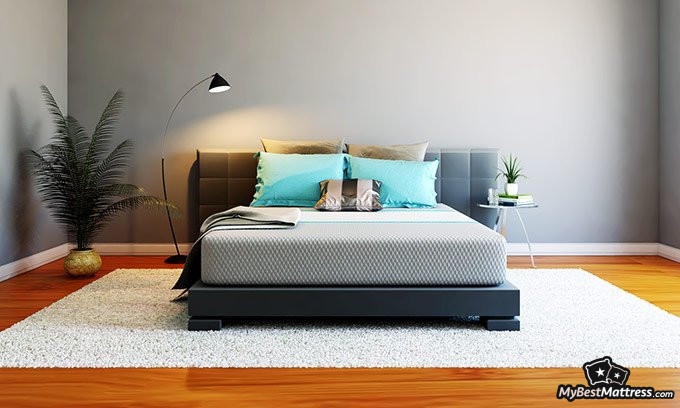 In most cases, the lack of edge support is associated with foam mattresses. Unlike innerspring mattresses, they do not have edge support systems that provide additional firmness. However, if a memory foam mattress is designed using top-tier materials, then it shouldn't be too saggy in the edges.
Some Hyphen mattress reviews are concerned about the lack of edge support. Since it's an all-foam mattress, there's no edge support system that can ensure mattress stability. However, the fact is that it's difficult to evaluate how quickly the mattress edges get saggy because Hyphen hasn't been in the market for that long.
Some Couples Might Lack Bounciness
Mattress bounciness is one of the topics that not many people talk about. You see, it has to do a lot with your sex life. Bouncy mattresses do not allow you to sink too deep and feel as if being trapped but instead help you to create a consistent rhythm that makes the entire experience a whole lot enjoyable.
Responsiveness is also something that you should take into consideration if you're looking for a mattress that would improve your sex life. Responsive mattresses manage to adjust to your body position quickly and allow you to change positions without much effort.
Hyphen mattress reviews are not very pleased with mattress bounciness. Some of them claim that it can be pretty difficult to move around because the mattress takes time to adapt to their body position.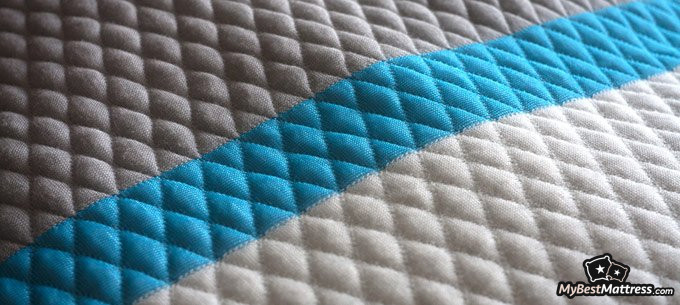 What is more, heavier-weight sleepers say that it can get pretty saggy and make them feel as if being stuck. Needless to say, this can be uncomfortable not only when having sex but also when resting.
At least the Hyphen mattress is completely silent, so you don't have to be worried about your neighbors or guests hearing your mattress squeaking and can enjoy quality time with your partner.
Prices and Additional Details
Finally, all the information regarding Hyphen mattress reviews is clear, so it's time to move further and focus on the prices, warranties and additional information that matters when picking a bed.
What are the Hyphen Mattress Prices?
Let's begin with the prices. Here's the pricing list for the Hyphen bed:
Note that prices might be slightly different by the time you'll be reading this Hyphen bed review due to the fact that you might come across different discounts and promotions.
If you're looking for a good mattress that wouldn't cost you a fortune, Hyphen might be one of the options. You can get a queen- size mattress for less than $1000, which sounds to me like a good deal.
Now, if you're not completely sure if the Hyphen mattress is the right option for you, you should take advantage of a 100-night free-trial that will allow you to sleep on the company's mattress for more than 3 months before making the decision. Also, there's no break-in period that requires you to sleep on a mattress for a certain amount of time.
You probably know that all reliable companies are offering warranties for their mattresses. Most of them provide you with a 10-year warranty, however, sometimes you can find mattresses come with a lifetime warranty.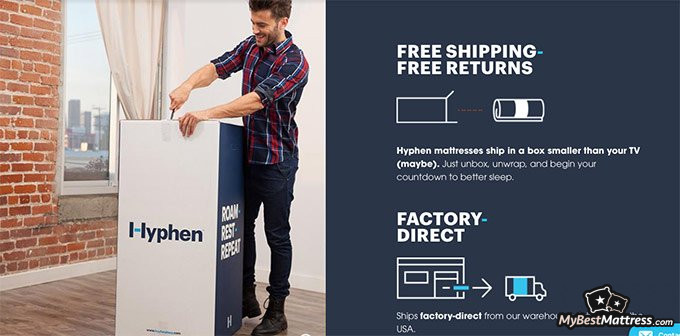 Now getting back to Hyphen mattress reviews, many customers choose this bed because it provides a 20-year warranty that protects against any manufacturing defects or significant sagging.
The final aspect that's important to discuss is delivery. Hyphen mattress comes packed in a box that's very easy to move around, so you can easily set it up in your bedroom. Once you unpack the mattress, you should wait for at least a few hours before it fully expands. Shipping and warranties are completely free.
Here is The Best Saatva Offer I Found:
UP TO $500 OFF
Limited-time Saatva Sale
We're sharing a limited-time Saatva mattress discount with our readers! Grab this deal & enjoy your new mattress with huge discounts.
Expiration date: 12/12/2023
4,042 People Used
Only 83 Left
Conclusions
Therefore, Hyphen is a medium firm polyfoam mattress that's made of three different comfort and support layers. The mattress has a breathable cover that's anti-microbial and hypo-allergenic. So, if you're suffering from allergies, such cover is suitable.
Since the mattress is medium firm, the majority of sleepers will be able to sleep on it comfortably. Based on Hyphen mattress reviews, it works especially great for back and side sleepers. Also, the Hyphen mattress is infused with copper, which allows it to sleep cooler compared to other foam mattresses.
However, the mattress also comes with a few drawbacks that sleepers are not happy about. You can expect Hyphen mattress to lack some edge support that's needed to sleep comfortably as well as business and responsiveness, which can improve your sex life.
I have to say that for the same price that Hyphen Sleep is offering, you can find better mattresses. If you're interested, you can check out this list.
Scientific References
1. Edward C. Harding, Nicholas P. Franks, and William Wisden: 'The Temperature Dependence of Sleep'
2. Kenneth I Hume, Mark Brink, Mathias Basner: 'Effects of Environmental Noise on Sleep'
Leave your honest Hyphen Sleep review
Leave your genuine opinion & help thousands of people to choose the best mattress. All reviews, either positive or negative, are accepted as long as they're honest. We do not publish biased reviews or spam. So if you want to share your experience, opinion or give advice - the scene is yours!