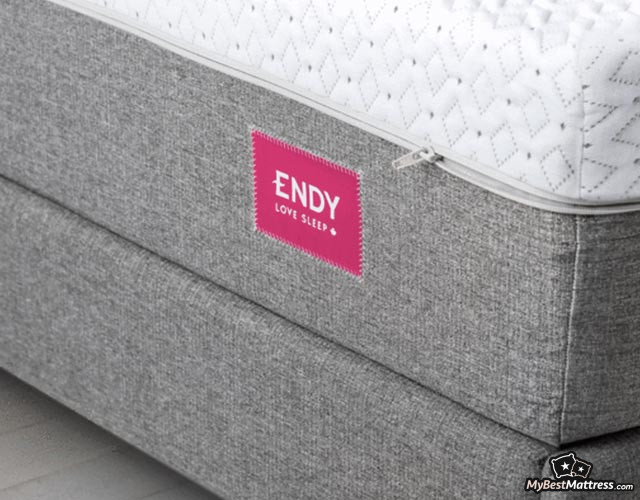 In some places around the world, the health system isn't necessarily well-equipped to help people facing some issues with their sleep[1] - in order words, having sleep disorders. That is why it is more so important to take measures into your own hands and do what you can to improve your overall quality of sleep. In this Endy mattress review, we'll talk about a product that can help you do so.
That's right - a mattress can, in fact, improve your quality of sleep. It's actually one of the bigger factors concerning that quality, in general. That said, it's important to choose the best bed for yourself.
Is this Canadian brand right for you, or is the Endy mattress Canada not really the best option for your sleep health? Well, that's what we'll try and find out in the upcoming article.
TL;DR: Most customer Endy mattress reviews are going to tell you that the Endy mattress Canada is an all-foam bed that has great pressure relief features, is good at isolating motion and even possesses decent edge support. What the mattress seems to lack, however, is cooling capabilities and bounciness.
Pros
Decent pressure alleviation features
Good motion isolation
Affordable
Does not make noise when bearing weight
Surprisingly good edge support
Cons
Sleeps warm (or even hot) for some customers
Lacks bounciness
Endy Mattress Review: PROS
We'll start off this Endy mattress review by talking about some of the more positive aspects of the Endy mattress. Truth be told, Endy's beds are actually quite special, at least as far as the memory foam mattress industry is concerned.
While many different mattress companies out there offer customers a few different bed options, Endy is different - this Canadian brand only deals in a single mattress, and some additional sleep accessories, too. This makes things pretty simple and straightforward, since the entirety of this Endy mattress review will be dedicated to that single product.
Surprisingly Good Edge Support
If there's one thing that foam beds aren't famous for (at least not in a good way), it has to be edge support. Well, that, and temperature neutrality - but we'll get to that in due time.
So, edge support - why don't foam mattresses usually have it, and why should they?
Well, when it comes to "not having it", customer Endy mattress reviews will tell you the same thing as I will - all-foam beds simply do not have certain elements in their construction to uphold the edges and make them strong enough to withstand heavier objects or people.
Take innerspring beds, for example - due to the coils found at the base of their construction, these mattresses are going to have much stronger edges than a foam or a latex bed would (although, that said, many latex mattresses do have decent edge support, too).

As for reasoning why you should care about edge support, in the first place, it's actually pretty simple - some Endy reviews will point out that a mattress that possesses strong edges will also maintain its shape much better, and won't be as prone to sinking as time goes on.
Now, we've established that while edge support is an important part in a mattress' design, most foam beds possess mediocre (or less than that) edge strength. What makes the Endy mattress Canada so special, then?
Well, customer Endy mattress reviews point out that this particular bed has a layer of high-density polyfoam. While not all foam mattresses are able to pull this off, Endy's product is actually designed in a way that allows it to maintain some sturdy edges, even though it's made up of three layers of polyfoam.
Naturally, the edges aren't going to be as "strong" as they would be in an innerspring bed, but for an all-foam mattress, it's still pretty good, nonetheless.
Latest Saatva Coupon Found:
UP TO $500 OFF
Limited-time Saatva Sale
We're sharing a limited-time Saatva mattress discount with our readers! Grab this deal & enjoy your new mattress with huge discounts.
Expiration date: 08/12/2023
4,042 People Used
Only 83 Left
Good Motion Isolation
While foam-based mattresses might not be all that well-known for edge support, they sure are going to be decent in regards to motion isolation - foam is literally one of the best materials for achieving this feature.
Motion isolation is mainly just like it sounds - the mattress absorbs and isolates the motion that a person would make on it, be it to a lesser or a more significant extent.
Why is it important, in the first place? Well, for two reasons, really.
If you're reading this Endy mattress review, chances are that you belong to one of two groups of people - those who sleep alone, and others who sleep with a partner. The benefits of motion isolation are going to be different for both of these types of sleepers.
For anyone who sleeps solo, good motion isolation features are going to works as a preventive tool when it comes to making motion, in general. Quite a few Endy reviews will note that the mattress in question is rather decent at contouring around the sleeper's body - this, in turn, minimizes any potential motion that you might make while being asleep.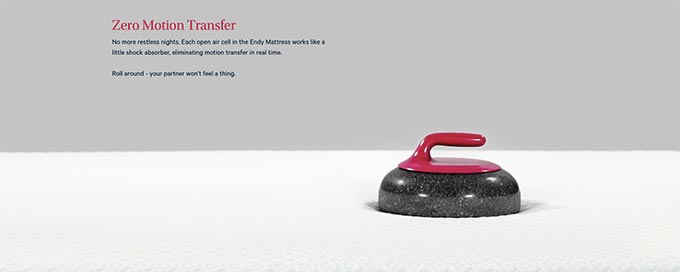 The other group of sleepers, though - those who sleep with their partners -, will surely appreciate motion isolation the most. If you or your partner makes a lot of motion at night (tossing and turning around, going to the bathroom, being restless, in general), the mattress is going to isolate motion to either side of the bed, and not disturb the other person's sleep.
To put it simply, whenever you're looking to buy a foam bed, you should always make sure that the product has at least above-average motion isolation - customer Endy mattress reviews will tell you that this is exactly the case with Endy's products.
Relieves Pressure Points and Prevents Their Further Formation
While there have been various different sleep-related studies floating around in recent times[2], not that many of them address the issue of pressure points disturbing a person's quality of sleep.
A "pressure point" is a certain part of your body that's always in contact with the bed when you're lying on it, and that experiences the most pressure in that situation. Think about your shoulder, lower back and hip region - you can probably see where I'm coming from.
Whether it be this Endy mattress review or any other foam bed review, it's quite well-known and understood that products made from this particular material are going to exceed in regards to pressure point alleviation. Well, somewhat - they can also cause pressure points, too.

You see, it's all in the construction of the mattress, and the quality of materials used. If your mattress is a cheap bed that's made from the lowest quality foam, it will sink down immensely, and thus break your proper spine alignment and cause pressure points to form.
Contrary to that, high-quality mattresses will do the opposite - they will maintain proper spine alignment, and alleviate any already-present pressure points, while also preventing their further formation. Truth be told, latex mattresses are actually best at this, but foam can be a good alternative, too.
As far as this Endy mattress review is concerned, it surely is!
Customer Endy reviews do talk about the pressure alleviation benefits of the product in question. It would seem that the mattress is actually quite good at it - beds made exclusively out of foam (in this case - polyfoam) are usually a hit or miss in this regard, so it's definitely a win on Endy's part!
Endy Mattress Review: CONS
As far as all-foam mattresses go, up to this point, the product offered by Endy does appear to be rather decent. That being said, however, we've only discussed the best parts of the mattress in question - in order to get the full picture, we should also take a look at some of the less-ideal aspects of what Endy has to offer.
May Sleep Hot
Temperature neutrality is always going to be one of the most important features of a well-rounded bed. Mattresses, in general, are among the leading products as far as "responsibility to retain coolness" is concerned. Most beds do so via the feature of breathability.
A breathable mattress is one that's going to not allow heat to be trapped inside of it, and promote airflow through the entirety of its construction. While foam beds are famous for being really bad at this, some providers that deal in these products do come up with ways of how to alleviate this issue - cooling gel layers, cooling covers, and so on.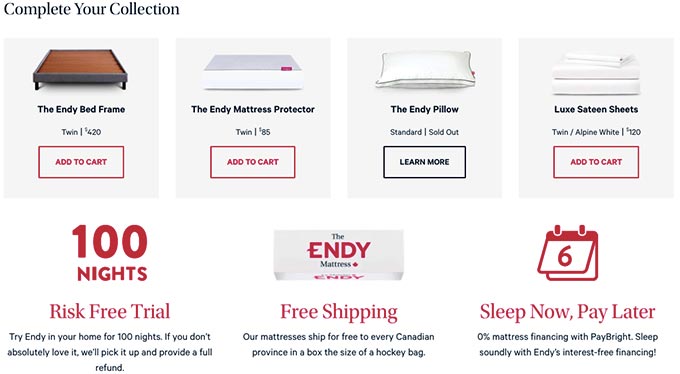 Seeing as the product discussed in this Endy mattress review utilizes a polyester cover, you can probably see where I'm going with this.
That's right - Endy's mattresses are far from being the coolest and most breathable beds in the foam mattress industry. Customers report that these mattresses do actually sleep quite warm, and if you're a hot sleeper, by default, you're not going to have a great time.
Lacks Bounciness
Same as the previous point (the "sleeps warm" one), this con is also one that's very common in the foam mattress industry.
Bounciness is a feature that you'd want whenever you're doing something more than just sleeping on your mattress. Something… Let's just something that requires active participation in physical activity.
Now, a bouncy mattress is going to help you in this regard - it will take away part of the physical load off of your shoulders, and transfer it to the bounciness aspect. As opposed to that, though, a foam mattress is usually going to make things even harder - due to its natural sinking abilities, a foam bed will try and "trap" you, often making things much more difficult than they should be.

As you might have gathered already, this is an issue that's quite prominent while reading customer Endy mattress reviews, too. I have to say, though, - it's not at all surprising.
You see, this comes back to the whole "foam thing" - foam-based mattresses are usually great at alleviating pressure and contouring around your body (and isolating motion), but in exchange for that, they will lack bounciness - big time. On the flip side, an innerspring bed is going to be quite bouncy, but won't isolate motion all that well.
Price
To finish off this Endy mattress review, let's discuss the Endy mattress price options, and see if the prices match the quality of the bed.
If you were to purchase it from the brand's official website, the price tags of the Endy mattress are going to be look something like this:
Well, all things considered, it's probably safe to say that the Endy mattress is a decently-priced product! It's far from being an "expensive" option, and considering all of the pros and cons discussed in this Endy mattress review, the Endy mattress price does seem appropriate.
The bed also comes with a standard 100-night sleep trial. It would seem that, for most customers, 100 nights is enough to figure out whether or not the mattress suits their wants, needs and expectations.
Here is The Best Saatva Offer I Found:
UP TO $500 OFF
Limited-time Saatva Sale
We're sharing a limited-time Saatva mattress discount with our readers! Grab this deal & enjoy your new mattress with huge discounts.
Expiration date: 08/12/2023
4,042 People Used
Only 83 Left
Conclusions
In today's mattress market, there are many different beds that cater to a huge variety of people. Keeping that in mind, what's the actual conclusion of this Endy mattress review - is the bed worth it?
Well, it actually depends on a few different factors.
The Endy mattress is going to be a decent alternative for anyone who resides in Canada, and is looking for a Canadian mattress. The bed is affordable, and offers some decent features for its price range.
That being said, though…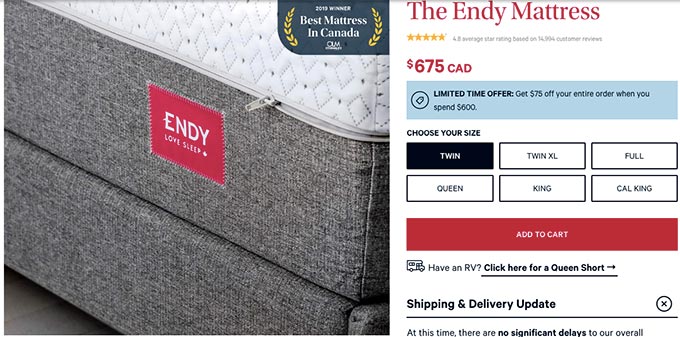 If you're looking for the best mattress for yourself, then there are definitely better options available on the market - a single look at our list of the top mattress brands will reveal that in a heartbeat.
Naturally, most of the mattresses mentioned in that list are going to be more expensive than the Endy bed. Still, if the Endy mattress price wasn't too concerning to you, and you're ready to invest some more money into a durable, high-quality product that will last you for many years to come, I'd highly advise you to check out the aforementioned list.
That being said, I do hope that this Endy mattress review was useful to you. Best of luck in finding the best sleep accessories for yourself!
Scientific References
1. Malhotra V, Harnett J, Wong K, Saini B: 'The Perspectives of Australian Naturopaths about Providing Health Services for People with Sleep Disorders.'
2. Saçmacı H, Tanık N, Özcan SS, et al.: 'Evaluation of sleep-related respiratory disorders in patients with multiple sclerosis.'
Leave your honest Endy review
Leave your genuine opinion & help thousands of people to choose the best mattress. All reviews, either positive or negative, are accepted as long as they're honest. We do not publish biased reviews or spam. So if you want to share your experience, opinion or give advice - the scene is yours!