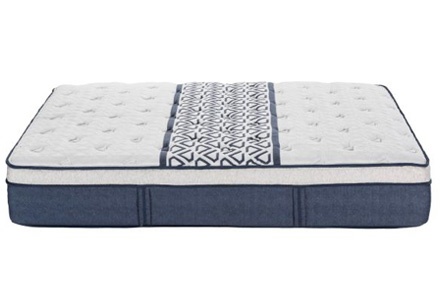 Let me start this Diamond mattress review by saying that Diamond is a fourth-generation family business. Additionally, it's also worth noting that the company has been around for 80 years. Therefore, they probably know what sleepers seek the most.
As the founders said themselves, they're devoted to developing innovations in order to improve lives and change our sleep habits. Diamond is establishing a better way of life by creating the art of sleep hygiene, which is more than simply creating mattresses.
Furthermore, in this article, I'll be talking about the most popular one of their mattresses - the Intention Hybrid. Is the bed worth all of that fondness? Perhaps it's overrated? Or maybe it's underrated and could stand next to Saatva, Puffy, or Layla, some of the best mattresses out there?
In regards to that, let's stop speculating and get right to investigating! I hope you have your Sherlock Holmes attire ready.
TL;DR: Diamond is a brand manufacturing a lot of different memory foam and hybrid beds. Diamond Intention Hybrid mattress has 3 different firmness options to choose from. The mattress is also great at pressure relief, temperature control, and body support. Moreover, side and back sleepers should find this bed very comfortable.
Pros
Pressure relief
Temperature control
3 firmness options
Perfect for side, back and combination sleepers
Cons
Complaints about durability
Average motion isolation
Diamond Mattress Review: PROS
As usual, we'll begin by looking at the sleeper Diamond Mattress reviews and investigating the mattress from the positive side. Let me remind you that we'll be focusing solemnly on the Intention Hybrid mattress.
The Intention Hybrid is considered the most popular and well-liked product among sleepers. And there is a lot of good things to talk about, believe me.
3 Firmness Options
Without a doubt, having 3 firmness options is a huge advantage. Well, we know that every sleeper is different and unique. So, it's a challenging task to please everyone at once. Nonetheless, as the sleeper Diamond mattress reviews would tell you, the firmness options work.
Look at Saatva, a fantastic bed, that's very popular in the mattress industry. This one also has a few options - Plush Soft, Luxury Firm, and Firm. These choices equate to soft, medium-firm, and firm on the firmness scale. Additionally, Saatva comes in two different heights - 11.5 inches and 14.5 inches. So, maybe customization is the key?
Table: Features of the Saatva mattress
Going back to the Diamond Hybrid mattress, let's take a look at the 3 firmness options:
Medium (best-seller)
Plush
Firm
Your preferred firmness can depend on your weight and the feel you like the most. For instance, people on the heavier side should choose the firm option while the light-weight folks should choose the Plush one. Furthermore, if you're in a need of a soft hug - plush or medium-firm is the best option. Therefore, if you like a little bit more firmness and support - firm is the way to go.
The next important question I would like to address in this Diamond mattress review - what the bed is made of?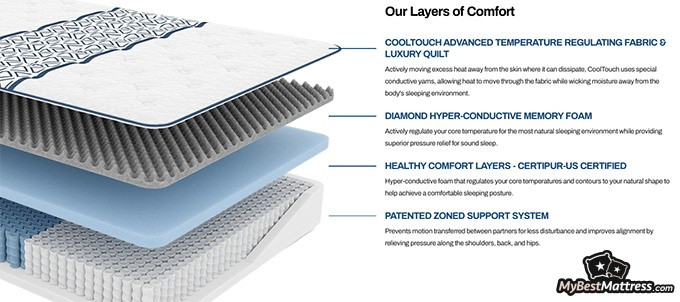 I believe we might think alike, so I'll answer this question right away, by looking at the layers.
Starting from the bottom we have the patented zoned support system or pocketed coil system, that takes up the majority of the bed's construction. This part is the most crucial when talking about a hybrid mattress.
The pocketed coil layer ensures the bed is responsive, bouncy, and has decent body contouring features. By the way, the Diamond Hybrid mattress is a bit more unique by placing stronger coils in the center of the bed to help support the hips. This gives the structure a bit more lift, which might be a significant bonus for combination sleepers. Thus, easier movements are a guarantee.
As the Diamond mattress company says themselves - the patented zoned support system reduces disruption by preventing motion transmission between couples and improving alignment by easing pressure along the shoulders, back, and hips.

Moving on from this part, we have the transition layer which is made of poly foam. This layer helps contour the outline of the sleeper's body making the bed a bit more universal and suitable for different sleeping positions. Also, this particular foam is known to regulate temperature.
Next up is the comfort layer of memory foam. The foam is infused with graphite and the surface of it is convoluted, or in other words, has a lot of waves. This structure is a unique approach to temperature regulation which is a common problem with memory foam layers. Also, this comfort layer adds a bit more softness, pressure relief, and the illusion that your body is as light as a feather.
Last, but not least, is the CoolTouch advanced temperature regulating fabric and luxury cover, which works together with the comfort layer at a task to defeat overheating.

The Intention Hybrid's cover is composed of a particular CoolTouch temperature-regulating fabric that, according to the company, actively moves excess heat away from the body. It's also quilted with foam, which gives soothing results and relaxation.
So, this is it. We know what the Diamond Hybrid mattress is made from. But let's dive a little deeper to see what else this bed has to offer.
Latest Saatva Coupon Found:
UP TO $500 OFF
Limited-time Saatva Sale
We're sharing a limited-time Saatva mattress discount with our readers! Grab this deal & enjoy your new mattress with huge discounts.
Expiration date: 29/09/2023
4,042 People Used
Only 83 Left
Soft, Yet Provides Body Support
When it comes to feeling supported, a lot of folks out there immediately assume that the bed has to be very firm. Nonetheless, not everyone is fond of the excessively firm feeling.
However, you can feel well supported and gently hugged at the same time. That's the result of the mattress construction we've talked about above. Particularly due to the zoned support system, and comfort layers.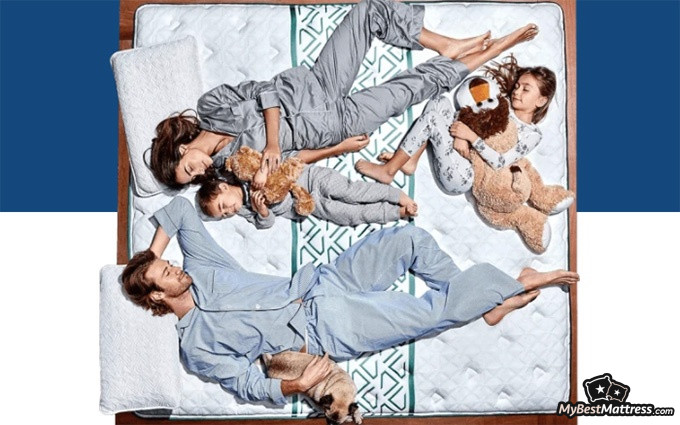 A zoned support system or in other words, pocketed coils make the bed bouncy and responsive, which is one of the things that increase the supportive feel as opposed to all-memory-foam beds.
Furthermore, some hybrid mattresses do lack softness. Nonetheless, it's not the case with this one. Diamond hybrid mattress contains coils as well as foam layers, that provide a soft feel, and great body contouring.
Pressure Relief
Perhaps you're familiar with that weird headache, shoulder ache, lower back pain, or hip soreness in the morning? If so, you know the drill. If you aren't yet familiar, then you probably would prefer to avoid it. Luckily, this bed can be a prevention tool, as well as a helping hand to alleviate already existing, unpleasant symptoms.
As the owner Diamond mattress reviews would tell you - the bed is good at pressure relief. And you know what that means? Pressure relief has a big influence on sleep quality as well as diet, exercise, and even mental health[1].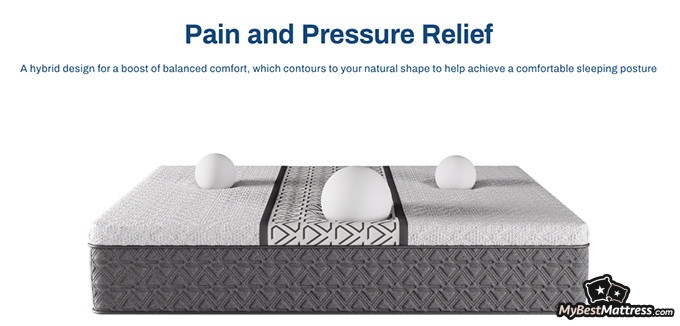 The quilted top cover does an essential job of relieving pressure from the lower back area. The pocketed coil system ensures responsiveness and bounce, making it easy to move and change sleeping positions.
By minimizing resistance and eliminating any "pressing back" sensation caused by sleeping on one's side, the bed also relieves pressure from the neck and shoulders. Additionally, the comfort layers do a great job of body contouring.

Besides that, even though there are three firmness options, all of the beds make sure the sleepers' spine is aligned correctly, preventing pressure point formation, bad posture, and morning pains.
Well, I believe you cannot avoid feeling certain bodily discomfort, but that should occur in your later years, not in your twenties or thirties. Do you agree with me?
Perfect for Side, Back, and Combination Sleepers
One sleeper Diamond mattress review has resonated with me, therefore I feel inclined to share it with you. Well, it was by a woman who slept on a very thin, old mattress prior to purchasing the Diamond Hybrid mattress.
She said that she was used to feeling the sore, stiff sensation from her mattress. The woman slept on her side and had been suffering from shoulder problems for quite some time. Furthermore, the sleeper believed it was just a problem with her body. She tried exercising, undergoing massages, and using pain-relieving lotions. Needless to say, the outcomes were invariably temporary.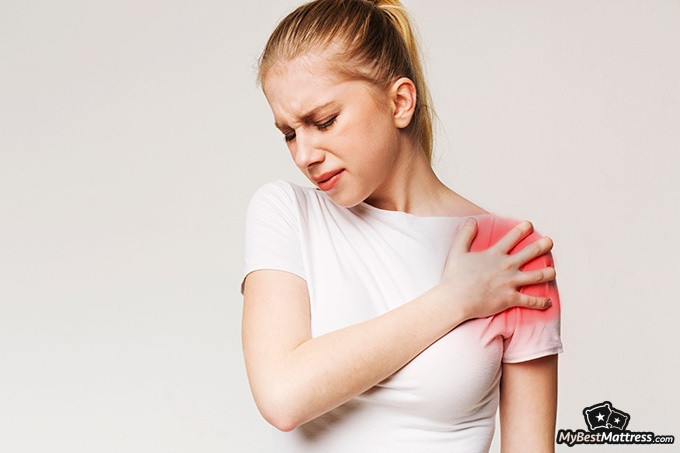 This isn't going to be one of those ridiculous commercials where the new product turns the buyer's life upside down, helps them grow wings, or cures a fatal sickness. As you may already know, that's absurd.
Nonetheless, the bed really made a difference. The reviewer said that for the first time, she found out what it feels like to sleep on a bed that doesn't form any pressure. Furthermore, she felt zero resistance to her sleeping position, movements and etc. "Sleeping became easy",- she said.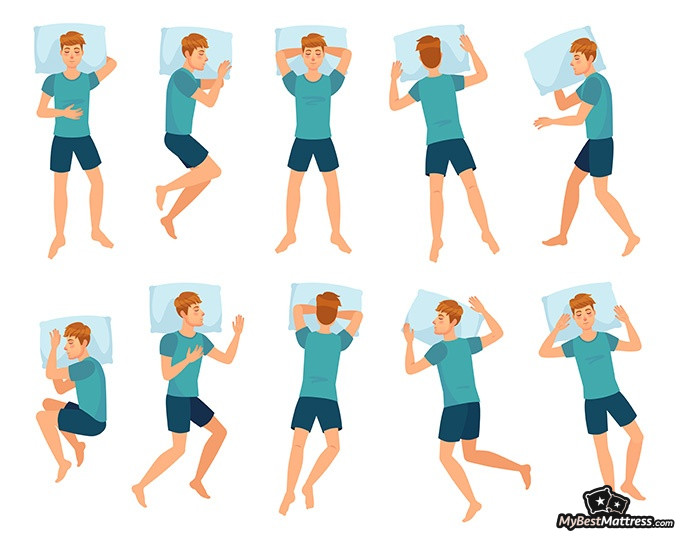 There are more sleeper Diamond mattress reviews that indicate this bed is perfect for side, back, and combination sleepers. The mattress is responsive, which is crucial for combination sleepers who move a lot during nighttime. Side sleepers need a bit more softness and body contouring which makes the soft version of the Diamond Hybrid mattress the most suitable.
For optimal spine alignment, back sleepers require a firmer mattress, which is why the firm choice is ideal.
All in all, the bed is quite versatile when it comes to sleeping positions.
Controls Temperature
Perhaps you've been searching for the one thing that makes lying on your bed feel like being boiled as a seasoning in a vegetable soup? No, it's probably not the temperature of your room (well, it could be, but it might not be the main thing), no it's not your sheets, and no, it's not just you.
What I'm trying to say is that the villain here might be the mattress.
On a scale from 1 to 10, how much would you rather eat a pickle dipped in chocolate than wake up drenched in sweat every morning? Just as I thought, a chocolate pickle doesn't seem to be as bad now.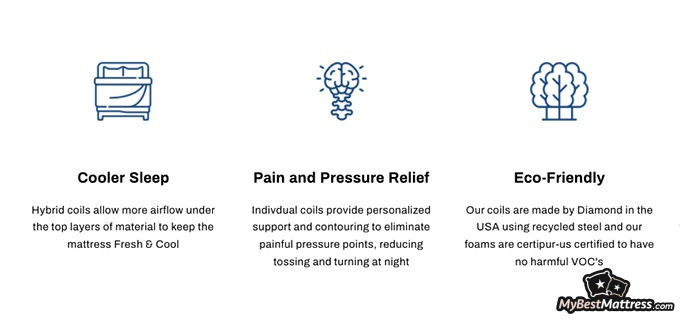 Nonetheless, sleeper Diamond mattress reviews indicate that this bed is amazing when it comes to temperature control.
Firstly, the CoolTouch top cover employs unique conductive yarns that allow heat to travel through the fabric while quick-drying and eliminating moisture away from the body's sleeping environment, actively transfering excess heat away from the skin, where it can disperse.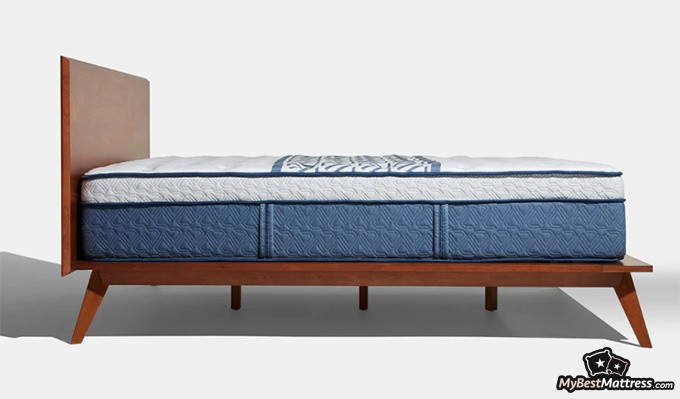 Not to forget to mention the pocketed coil section, which is an essential part of the bed's "breathing". The air circulates freely across the length of the individually wrapped coils, also allowing heat to easily transfer from the sleeper's body to the air.
So, no overheating is a guarantee. You might even be able to touch toes with your partner without getting overly hot.
Diamond Mattress Review: CONS
All things must come to an end. The pros as well. Don't worry though, you can always come back to the positive side as much as you wish.
Also, this section of the Diamond mattress review will not be long, since there isn't a lot of negative stuff to talk about.
But let's be real, there are aspects, that the bed lacks. Every product out there does. Even the best ones like Saatva.
So, without further ado, let's get right to it.
Not Good for Stomach Sleepers
Stomach sleepers are a bit problematic, in some cases. They might have a hard time getting comfortable since their belly is squished, and the neck is turned a bit unnaturally. In some cases, that might even lead to insomnia. Insomnia, if left untreated, can end up evolving into some serious mental and physical health problems.[2]
Unfortunately, sleeper Diamond mattress reviews say the bed isn't suitable for belly sleepers. All of the options are simply too soft, which might result in your neck bending even more than it already is.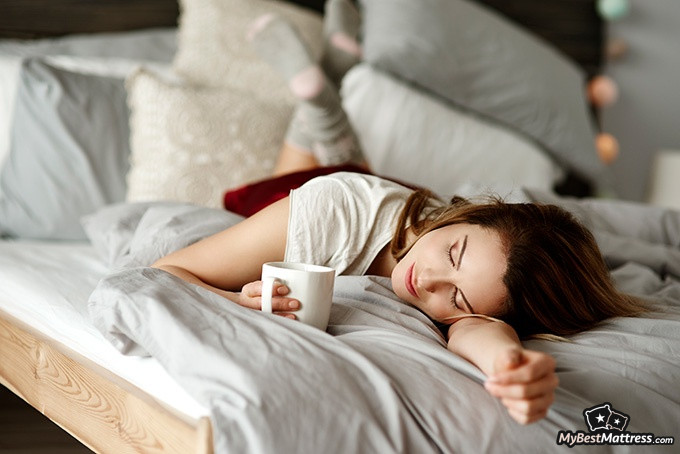 But wait! Don't go! If you or your partner is a stomach sleeper, there are alternatives that I would like to share with you.
Saatva. You've already seen this name here, somewhere. But do you know why this bed is mentioned so often? No? Great, that gives me a reason to talk about it more. Or if you know something already, you might find additional information useful.
Table: Pressure points of the Saatva mattress
Saatva is a luxury, hybrid mattress that's considered one of the best mattresses in the market. The bed is made from eco-friendly, high-quality materials, which of course, reflects the price, starting from $887.
Additionally, the main reason I'm talking about the Saatva mattress in this section of the Diamond mattress review, is that it's universal. Meaning, suitable for all sleeping positions. Even the stomach one. Now, I know you might not be a stomach sleeper. But perhaps you lie on your stomach occasionally? Perhaps your partner is a stomach sleeper? Even if you're a back sleeper - this bed is the superior choice, believe me.
It's equally as comfortable for all types of people. Additionally, Saatva is very responsive and bouncy (making it great for sex), and has amazing temperature control.
So, make sure to check this one out for yourself.
Average Motion Isolation
"OMG, will you stop moving for once?" A phrase that might be heard by those with sleeping companions. And it's no surprise, since a lot of beds don't have the best motion isolation.
Or perhaps this is news to you? If so, you're probably single. But will it stay like this for long? Hopefully not. And when you'll find a sleeping companion that tosses and turns constantly, you'll know what I was talking about here.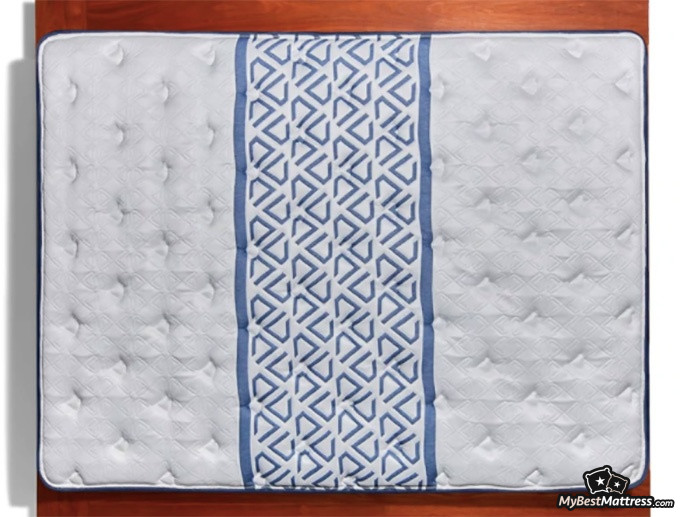 Unfortunately for sensitive people, sleeper Diamond mattress reviews say that this Intention Hybrid bed has average motion isolation. While, it might not be an issue to some, for me, this is a deal-breaker. I can be woken up from every tiny squeak in the house, not to mention someone else's movements.
If you're like me, you probably should look into Puffy, one of the top-rated beds in the market. The bed has two models, Puffy (memory foam) and Puffy Lux (hybrid). Both of them have top-notch motion and sound isolation. It's no surprise that the memory foam model is great at absorbing motion transfer, nonetheless, it's a rare occurrence that the hybrid one doesn't disappoint as well.
Table: Main features of the Puffy and Puffy Lux mattresses
Speaking of which, the Puffy mattress is very well-liked among sleepers not only because it isolates disturbances to the fullest extent, but also because it has a lot of other benefits. Such as being suitable for most types of sleepers, pressure relief, and outstanding comfortability.
Let's not forget, the lifetime warranty and affordability, comparing pricing nowadays.
Complaints About Durability
Any major thing you buy should have a long life expectancy. If it's durable, you'll save money, time, and energy. If it isn't, you may find yourself on the same rollercoaster again, shortly.
Sadly, there are a few sleeper Diamond mattress reviews that complain about durability. Although it's rare that hybrid beds aren't durable, nonetheless, it doesn't change the fact about this particular one.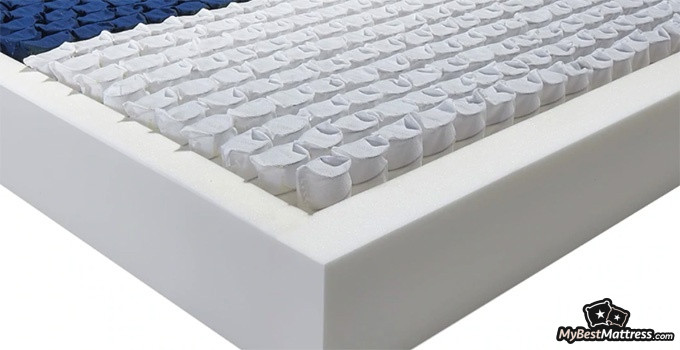 Lack of durability might also indicate that the bed has weak edge support. This means that the edges of the bed might sag drastically after a short period of time. I would hope that it isn't the case with this Diamond hybrid mattress, but we can't know for sure, can we?
In regards to that, make sure to check out long-lasting beds like Saatva, to ensure that the mattress will serve you for at least five years to come.
Diamond Mattress Dream Collection: Sunrise
Another thing people seem to be searching for is the Diamond mattress Dream collection. The collection is manufactured by Diamond, nonetheless, there isn't a lot of information about these beds out there. Also, you would most likely only be able to purchase the Diamond mattress Dream collection Sunrise model.
To be fair, the collection is sold by Diamond mattress retailers such as MattressPavilion, so the buying process might not be as easy. When it comes to clients looking to buy the right bed, the websites of the mattress retailers lack information, clarity, and comfortability.
The same goes with the Diamond mattress Dream collection. Moreover, the prices can be different among different websites.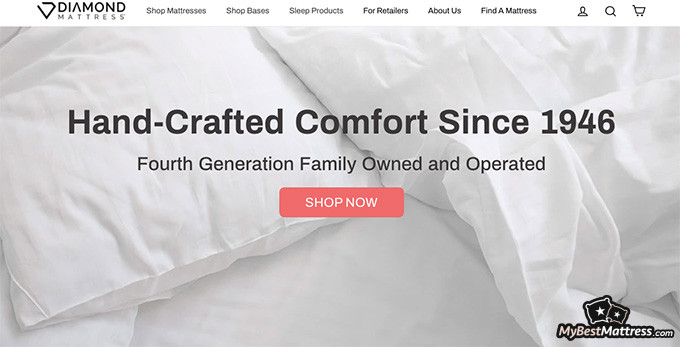 The Sunrise model is also available at three firmness options - firm, medium-firm and plush. The bed is made out of individually wrapped coils, comfort layers of certified foams, and an allergy-resistant removable cover. Additionally, the foams are infused with cooling gel.
The mattress is designed to provide affordable luxury, and according to the Diamond mattress retailers, it's a fairly high-quality product.
If you'd ask me whether I would purchase this bed, I would honestly say no. Lack of information and a wide range of resellers don't give me confidence. Additionally, it's hard to find any kind of sleeper reviews about the Dream collection.
So, my recommendation would be to choose an option that's well-tested and known to be good. Like the most well-liked beds on the market - Saatva, Puffy or, Layla.
Diamond Memory Foam Mattress
Let's put a cherry on top and talk a little about the Diamond memory foam mattresses. To be fair, the brand's hybrid models are way more popular. In regards to that, there aren't a lot of sleeper reviews about the memory foam beds.
Nonetheless, there are five options - Onyx Ice, Align Gel Foam Mattress, Restore Plus Foam Mattress, and Highlight 2.0 Foam Mattress.
The most high-priced model is the Onyx Ice, starting at $1899, while the most accessible variants are Align Gel Foam and Highlight 2.0 Foam, which start at $999. However, the price tags are still above-average.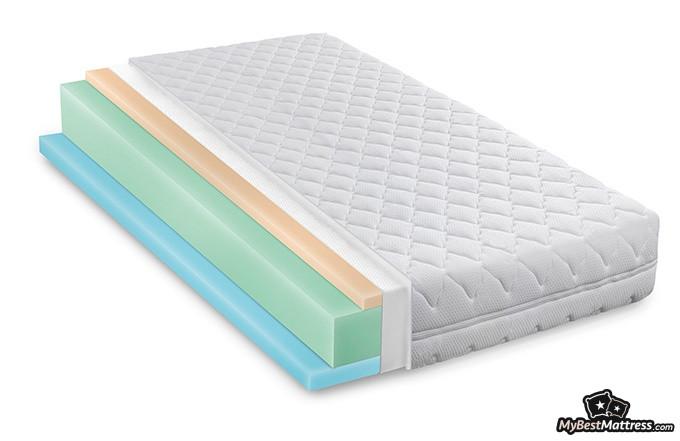 All of the models are of decent quality and the foams are CertiPUR-US certified. The beds should be good at motion isolation and pressure relief since all of them have a lot of different foam layers. The Onyx Ice has a supportive base layer foam, gel-infused foam, hyper conductive HD foam, and graphene-infused memory foam. The focus is mainly on temperature control.
To be fair, all of the models seem to concentrate on temperature control. Furthermore, The Onyx Ice has the most layers dedicated to it.
Looking at the Diamond memory foam mattresses' design, I reached the conclusion that they should feel like simple, conventional memory foam beds that are wonderful at body contouring and pressure alleviation. Nothing out of the ordinary.
Moreover, if you are fond of the memory foam mattress I would suggest a better option, that's tested and approved by a lot of sleepers - Layla.
Table: Features of the Layla mattress
Layla is a flippable memory foam mattress that offers two firmness options. So, an amazing alternative for the indecisive folks out there. Also, it's made out of high-quality materials and is suitable for all, back, side, and stomach sleepers.
Additionally, Layla finds motion and sound isolation to be child's play. The bed is that good at it. Are you interested already?
What's the Diamond Mattress Price?
So, we've talked about everything I could think of in this Diamond mattress review. The pros and cons of the Intention Hybrid bed, the Diamond memory foam mattresses, and even the Diamond mattress Dream collection. Furthermore, if you are opting for a mattress with a lot of specifications, sometimes the price can shock you. Therefore, let's see if this is the case.
Diamond mattress Intention Hybrid prices:
So, as you can see, the Diamond mattress prices truly are above-average. Yes, the bed does have a lot of great features and positive reviews. Which justifies the premium price tag a little bit. Moreover, the construction of individually wrapped coils and several comfort foams can be another indicator.
Furthermore, let's not forget the Diamond mattress warranty. You'll get 20 years of time to be calm about any defects or accidents.
Nevertheless, if you have the ability to purchase a mattress in this price range, I would still suggest going for the ones that are on top of the best quality list. Saatva's prices start from $600 and Puffy's from $795, and Layla is even more affordable, starting from $599. So, you'll save some money and still get an amazing, widely-known bed.
Table: Pricing of the Saatva, Puffy and, Layla mattresses
I think that's the smartest solution overall. Would you agree?
Here is The Best Saatva Offer I Found:
UP TO $500 OFF
Limited-time Saatva Sale
We're sharing a limited-time Saatva mattress discount with our readers! Grab this deal & enjoy your new mattress with huge discounts.
Expiration date: 29/09/2023
4,042 People Used
Only 83 Left
Conclusion
So, to sum up, let me give an honest answer to the question - is Diamond mattress worth it?
It depends.
Don't get me wrong, the Intention Hybrid has a lot of benefits and specifications, different firmness options, temperature control, pressure relief and etc. Nonetheless, the mattress does lack motion isolation, durability and isn't suitable for stomach sleepers.
Maybe these cons can be overlooked? Well, seeing the above-average prices, I don't think so. If the bed would be a bit more affordable - sure. However, it's not the case.
If affordability isn't a major concern for you, then great, this bed can be a nice option.
However, for a lot less, you may have an excellent, well-liked mattress with a lot of positive reviews and only a few drawbacks. Saatva, Puffy, and Layla are some of the greatest mattresses on the market, and they're all less pricey than the Intention Hybrid, as I noted earlier in my Diamond mattress review.
Table: Company information of Saatva, Puffy, and Layla mattresses
For example, Saatva is a hybrid mattress made from eco-friendly materials. The bed is suitable for all types of sleeping positions, is very responsive, durable, and firm. Layla, on the other hand, is a flippable memory foam mattress that's also of great quality. Additionally, this bed is great at isolating motion and sound.
Well, whatever the case might be, on our best beds' list, you'll find mattresses that are nowhere near as expensive as some of the Diamond ones - that's for sure.
Good luck and see you in my next article!
Scientific References
1. Roo Killick, Siobhan Banks, Peter Y 'Implications of Sleep Restriction and Recovery on Metabolic Outcomes'
2. Jason G. Ellis, Michael L. Perlis, Célyne H. Bastien, et al. 'The Natural History of Insomnia: Acute Insomnia and First-onset Depression'
Leave your honest Diamond review
Leave your genuine opinion & help thousands of people to choose the best mattress. All reviews, either positive or negative, are accepted as long as they're honest. We do not publish biased reviews or spam. So if you want to share your experience, opinion or give advice - the scene is yours!