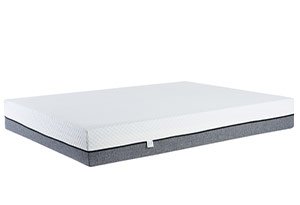 We spend about one-third of our lives sleeping. Since an old rough mattress can do more harm than good, it's necessary to invest in a high-quality and comfortable mattress that would suit your needs.
There's a common misconception that top-tier mattresses are very expensive. The thing is, actually, some affordable mattresses are way more comfortable than luxurious alternatives. All that matters is that you choose a mattress based on your personal preferences. This way you can not only get better rest but also solve multiple health issues.
Since you came here for the 624 mattress review, I'll provide you with its pros and cons, pricing, and additional information that should help you decide whether or not it's right for you.
Without additional ado, let's jump right into the 624 mattress product review.
Verdict at a Glance
624 offers a very well-evaluated memory foam mattress that comes packed in a box. You can adjust its firmness based on your needs - medium-soft or medium-firm. 624 mattress conforms closely and alleviates pressure points, it isolates the motion transfer and is very quiet when bearing weight. On the other hand, it's not very responsive and you can expect soft edges. However, all things considered, it offers good value for money.
Pros
Adjustable firmness
Latex layer promotes breathability
Hypoallergenic cover
Even body weight distribution
Cons
Quite soft edges
Lacks bounciness
624 Mattress Review: PROS
All mattresses come with their perks and quirks, however, the features and quality depend on the mattress type and the materials that were used. Let's begin this 624 mattress review from the positive aspects and find out what it has to offer.
Unique Structure, Good Materials
The first thing that matters is the mattress structure. After all, that's the only thing that matters when it comes to mattress durability, comfort, and other features. Therefore, let's take a look at 624 mattress structure:
Protective Inner Cover - this antimicrobial mesh weave cover provides an additional layer of security to your mattress.
30mm Natural Latex with Activated Charcoal - small quantities of activated charcoal is added to natural latex. It works as a natural filter that absorbs all the impurities from your body. It's known that latex is very elastic and responds quickly to pressure, also, due to the natural origin, it works amazingly for people who are suffering from allergies.
40mm High-Density Memory Foam (Visco Elastic) - works like regular memory foam, adapts closely to your body and alleviates the pressure points.
190mm High compact resistant Kantec ® foam - a support layer that ensures zero partner disturbance. Open molecular construction ensures that 624 mattress doesn't trap heat.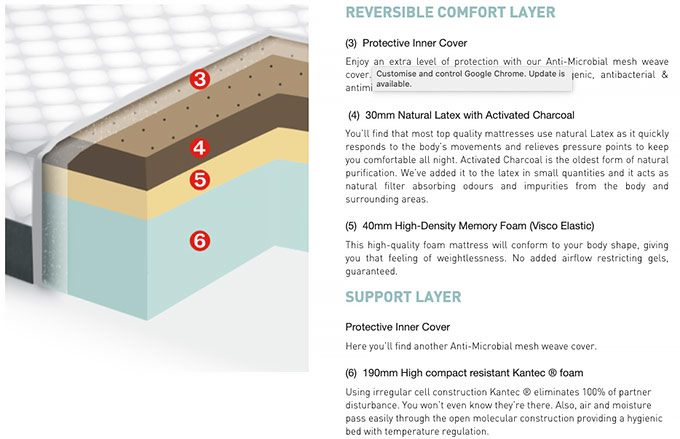 From the first glance, the mattress structure looks really good, it seems that it should sleep too warm, should relieve the pressure points and provide quite a good responsiveness. However, to find out if that's actually the case, let's focus on each aspect and see what 624 mattress reviews have to say about it.
Latest Saatva Coupon Found:
UP TO $500 OFF
Limited-time Saatva Sale
We're sharing a limited-time Saatva mattress discount with our readers! Grab this deal & enjoy your new mattress with huge discounts.
Expiration date: 27/09/2023
4,042 People Used
Only 83 Left
Adjustable Firmness
Choosing the right mattress firmness can be quite a difficult task. You have to take into consideration your weight, sleeping position and other personal preferences. Also, if you're sleeping with a partner, his or her needs also matter.
When it comes to the 624 mattress, it provides you with two firmness options in one. You would assume that it's one of those flippable mattresses that's firm on one side and softer on the other, however, it works differently. You can reverse the first two comfort layers of this mattress and, this way, adapt firmness based on your personal needs.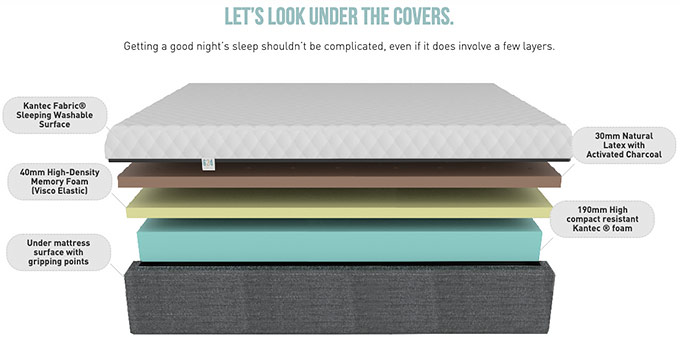 If you choose the latex top layer, you'll get a mattress that's about 6 out of 10 on the mattress firmness scale. Latex is also known to be breathable and quite responsive to pressure. Also, I think that natural materials are always better. If you choose the memory foam layer and the top one, your mattress will be about 4 out of 10 on the mattress firmness scale.
Even though changing the layers might take longer than simply flipping the mattress, it won't take that long, multiple 624 mattress reviews also claimed that it's not an issue.
Now, if you're not sure which option suits you, simply try them both. Since latex feels so much different from memory foam, you might find one of them so much more suitable for your needs!
Conforms Closely to Your Body Shape and Suits All Sleepers
One of the major benefits that multiple 624 mattress reviews mentioned is that it conforms closely to the body and alleviates pressure points. Needless to say, every reliable mattress should offer pressure point relief because it changes the entire sleeping experience.
When it comes to the 30mm thickness latex layer, which is medium-firm, 624 mattress reviews revealed that it's suitable for the majority of sleepers, no matter if you sleep on your side, back or stomach.
According to the research[1] on the effects of mattress material on body pressure profiles in different sleeping positions that compared latex and polyurethane, latex managed to alleviate pressure points so much better. Also, it managed to maintain an even body weight distribution.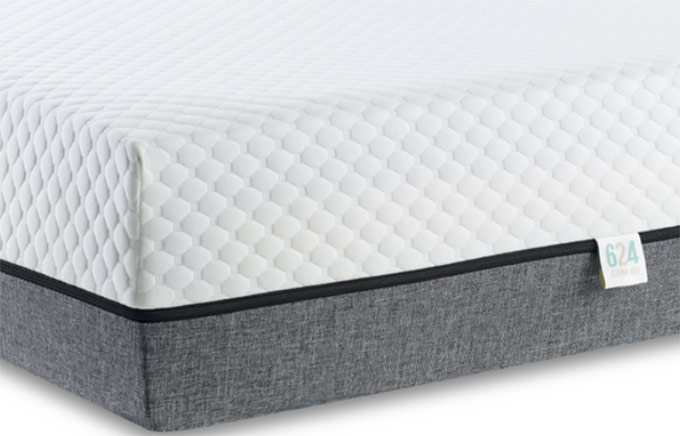 Latex provides quite good support that is needed for your spine. What is more, if you prefer sleeping on your stomach (which is not the most recommended sleeping position), it will still provide enough support and won't let your hips sink too much. Natural latex is even good for side sleepers because it will ensure an even distribution of your weight, so you won't be feeling pressure in your shoulders.
If you prefer softer alternatives, then you can switch to the memory foam side. Based on 624 mattress reviews, it's better for light-weight sleepers as well as for those who prefer sleeping on their side. Since it's softer, it will hug your shoulders better but will also provide enough support for your hips. This way, your spine will remain straight.
No Partner Disturbance
Even though some of you don't even think about it, nightly disturbances can be an issue when it comes to high-quality sleep. If your partner keeps tossing and turning throughout the night, and your mattress doesn't provide you with motion isolation properties, you can expect to wake up tired.
This issue is usually associated with innerspring mattresses because they're bouncy. However, since the 624 mattress doesn't have springs in its construction, you shouldn't have issues with sleep disturbances.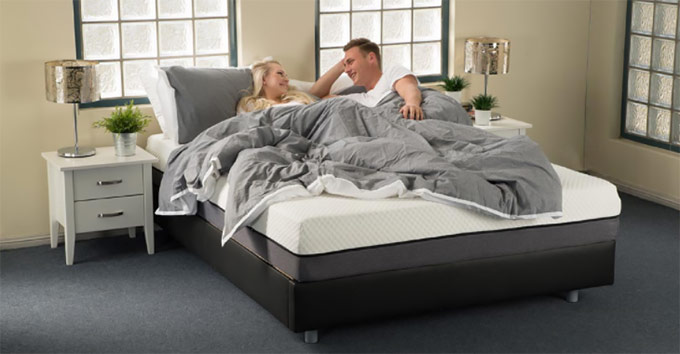 Just in case, I checked multiple 624 mattress reviews to see what customers have to say. The majority of them seem to be really pleased with how well the 624 mattress manages to isolate motion transfer. Although, it's fair to say that the memory foam top layer works better.
Latex - Naturally Cooling
No one likes to sleep how. Nightly sweats are one of the worst experiences that can interfere with the quality of sleep. That being said, a good mattress has to be breathable and manage to maintain neutral body temperature throughout the night.
One of the best aspects of the 624 mattress is that it comes with a latex layer. Latex has a natural open-cell structure that promotes airflow and ensures that your mattress doesn't trap heat. [2]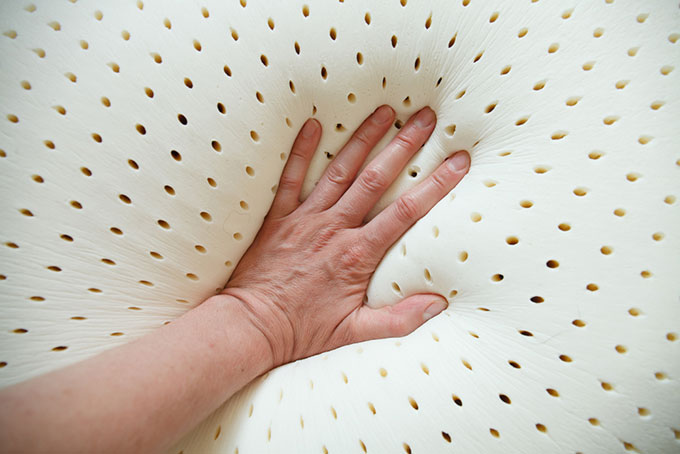 Needless to say, temperature regulation is one of the most crucial factors when choosing a mattress in Australia, that's why you should always consider it.
Hypoallergenic Cover
Not only what's inside the mattress matters. Mattress covers can also influence the comfort and breathability. That's why I would like to have a quick look at the 624 mattress cover fabric.
Let's take a look at the cover fabric:
The Kantec Fabric® Sleeping surface - very soft, wicks away moisture, and is fast-drying. You can easily remove it, wash it and put it back on.
Under mattress surface - this fabric is very breathable and ensures that your mattress stays in place.
Protective inner cover - antimicrobial mesh weave cover that provides an extra layer of protection, in case there's any spills or dirt.
It seems that 624 have thought all of this through and focus not only on the quality of comfort and support layer but also on the cover that seems to be making a huge difference in sleep quality and comfort.
624 Mattress Review: CONS
All the positive aspects of this 624 mattress product review are clear. However, it's time to move to the less pleasant part and discuss the aspects that this mattress is missing.
Not Very Bouncy
Although bounciness won't affect your sleep quality directly, there's a reason why I'm talking about it.
Sleep is not the only thing that we're doing in our beds, that's why mattress bounciness and responsiveness is important. It's known that these two aspects can be very beneficial to your sex life.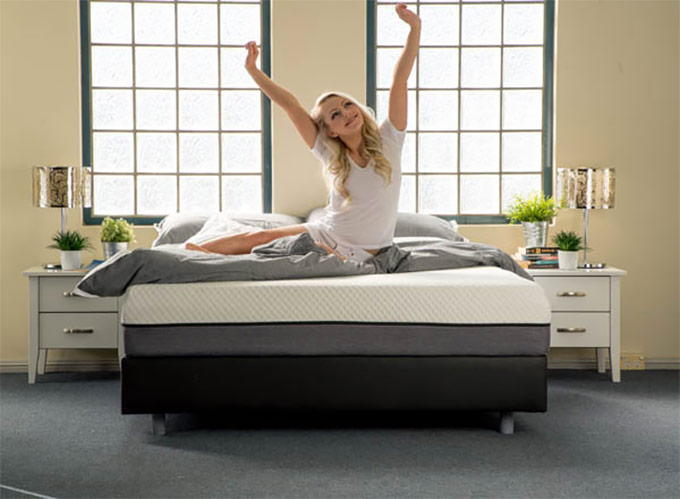 When a mattress is bouncy and responsive it doesn't allow you to sink in too deep into it but rather provide you with an instant bounce-back that's exactly what's needed to make the whole experience so much more pleasurable.
Talking about the 624 mattress, some sleepers say that it's not very bouncy, especially when it comes to the memory foam top. However, the latex layer can be so much better if you want that instant bounce back.
Quite Soft Edges
Even though latex and memory foam mattresses are comfortable, they usually have soft edges, which is not very comfortable. You probably know that feeling when you lay on the side of the mattress and it seems as if you could fall down any second. That's how soft edges feel.
Even though 624 mattress reviews say that it's not a huge issue, some say that it can get really uncomfortable, especially when it comes to the elderly. When there's no edge support, it can get pretty difficult to get in and out of the bed.
Therefore, just like the positive aspects, you should take these 624 mattress flaws into consideration.
624 Mattress Pricing and Additional Details
I believe that by now you already know whether or not the 624 mattress is suitable for you. However, there are a few details that you should be aware of, including pricing, warranties, free trials and shipping cost. Needless to say, this information can completely change your mind for better or worse.
What Are the Prices of 624 Mattress?
Let's take a look at 624 mattress prices. Here's the whole list for prices and size options:
Note that prices are an object of change. Thus, they might be different by the time you're reading this 624 mattress review.

As you can see, 624 mattress maintains an average pricing point, however, some 624 mattress reviews claim that they're slightly too high. The good thing is that the company offers discounts and promotions on a regular basis. Thus, you can easily come across amazing discounts and promotions.
What is more, considering the fact that with the mattress purchase you get 2 pillows and a sheet set, it's completely worth it.
Now, if the thought of purchasing a mattress online scares you, you should know that a 624 mattress is delivered in the box completely free. Additionally, you get a risk-free 125-night sleep trial. This means that you get about 4 months to try it out and before the trial is over decide if it suits your needs.
What is more, 624 mattress comes with a 10-year warranty, which means that you're protected against any manufacturing flaws. If you notice a significant sagging, you can also contact the company and they will solve this issue.
The only drawback is that before returning the mattress you have to sleep on it for at least 30 days. That's because your body needs some time to adjust to it.
By now, all the aspects of this 624 mattress product review should be crystal clear, so let's jump to conclusions.
Here is The Best Saatva Offer I Found:
UP TO $500 OFF
Limited-time Saatva Sale
We're sharing a limited-time Saatva mattress discount with our readers! Grab this deal & enjoy your new mattress with huge discounts.
Expiration date: 27/09/2023
4,042 People Used
Only 83 Left
Conclusions
Therefore, do I recommend the 624 mattress?
Definitely, yes!
This mattress is made of high-quality materials, it's breathable, alleviates pressure points and you can change its firmness based on your personal needs by choosing a latex or memory foam top. That's also perfect when you're not sure which firmness option to choose.
The 642 mattress maintains an average pricing point and also comes with two pillows and sheets for free. That being said, you get all you need for high-quality rest.
If you want to check some other mattresses, you can also take a look at the most recommended options for different types of sleepers.
Scientific References
1. Fan-Zhe Low, Matthew Chin-Heng Chua, Pan-Yin Lim, et al.: 'Effects of Mattress Material on Body Pressure Profiles in Different Sleeping Postures'
2. Fatemeh Fazli, Behshid Farahmand, Fatemeh Azadinia, et al.: 'A preliminary study: The effect of ergonomic latex pillow on pain and disability in patients with cervical spondylosis'
Leave your honest 624 review
Leave your genuine opinion & help thousands of people to choose the best mattress. All reviews, either positive or negative, are accepted as long as they're honest. We do not publish biased reviews or spam. So if you want to share your experience, opinion or give advice - the scene is yours!