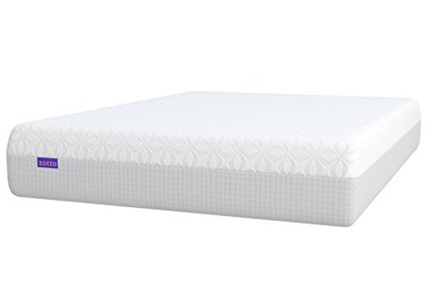 "I do things my own way!" - said Zorro. While the brand Zotto has two "Ts" and not two "Rs", they could relate to the quote said by the famous, fictional character.
Zotto is a company that's trying to enhance the traditional, all-foam mattress. Moreover, in this Zotto mattress review, we'll look at how the bed relieves pressure to the maximum extent, while still maintaining support. Although by sticking with the usual memory foam mattress construction and features, they'd be in the "safe zone", the goal is to reach for something better. Nonetheless, no big sacrifices are needed.
To be honest, Zotto only offers one, main mattress, which we'll focus on in this review.
It's worth noting that the company calls it the hybrid-foam mattress. Which doesn't indicate the traditional meaning of a hybrid mattress - coils or innerspring. The bed is simply all-foam, and I'll refer to it as all-foam throughout the article, for the sake of clarity.
If you're looking for other, best beds on the market, make sure to check out Saatva, Puffy or, Layla. Since they sure won't disappoint.
TL;DR: Zotto has one main memory foam mattress that has a lot of benefits. The bed is medium-firm and suitable for side sleepers. Additionally, it's temperature neutral and has decent motion control which makes the mattress a great choice for couples. However, the bed isn't suitable for belly sleepers and creates sinkage.
Pros
Pressure relief
Temperature neutrality
Excellent for side sleepers
Motion control
Cons
Lacks bounce
Not suitable for belly sleepers
Sinkage
Zotto Mattress Review: PROS
I believe it's always ideal to begin on a good note. In regards to that, we'll be looking at the positive sleeper Zotto mattress reviews, and see what do people appreciate the most.
We'll focus, on the main, down-to-earth features, and leave the numbers and the technicalities behind.
So, before you click the button "shop Zotto mattress" make sure to read the most important points below.
Medium-Firm
Let's start with the Zotto mattress density. Usually, there are plush/soft, medium-firm, and firm mattresses. It's common that hybrid beds are on the firmer side, and memory foam beds are a bit softer. This Zotto mattress model falls somewhere in the middle, by being medium-firm. Nonetheless, the bed might be a little bit softer than the regular medium-firm feel you are used to.
However, it isn't a plush bed.
I know, it can get confusing, but bear with me.
The sleeper Zotto mattress reviews indicate that the bed is very snuggly and soothing. Besides, the Zotto mattress density level is also beneficial for body contouring, and pressure reduction. Moreover, this bed is an excellent option for individuals who don't want to be bothered by aches and pains caused by their mattress. Yes, it's more common than you would think.
Obviously, the layers are the indicators of how firm the mattress will be. So, to get a better idea, I suggest we investigate them.
There are 4 layers in total. Each of them are made to add a specific feature to the mattress.
The foundational layer is made from 4-inches of high-density polyfoam. The foam provides a steady base and support throughout the whole extent of the bed, also increasing durability. And, let's be honest with ourselves, durability is SUPER important when it comes to saving money and time.

Following the foundational layer is the transitional one. This layer is a 2-inch Zotto Springtex foam, that supposedly mimics the responsiveness of coils. We'll discuss later whether it works or not.
On the transitional layer, lies the contour layer. This is the 2-inch CoolFlow memory foam, that has slow responsiveness, more sinking, and great body contouring properties that provide pressure relief.
Also, the open cell feature helps to regulate the temperature and keep the heat from the body.
Lastly, on top of the mountain is the comfort layer. This one is all about temperature control. Knowing that sleepers tend to complain about memory foam mattresses being hot, the Zotto company is trying its best to avoid it, as we can see.
The 2-inch Therma phase comfort layer is made from cooling gel-infused memory foam. It's also made of two materials that assist in distributing the heat away from the body of the sleeper. Furthermore, this layer focuses on pressure alleviation, hugging sensations, and slow responsiveness.

From what we've seen so far, I would suggest that the bed seems to be exceptionally gentle with those who sleep on it.
Before moving on to the other section of this Zotto mattress review, there is one last addition to the bed. The cover, to be exact.
The cover is made from a thicker material called polyester-rayon. The material has a soft, cozy feel to it, according to the sleeper Zotto mattress reviews. Besides, the cover is removable and washable, so it's easy to make sure your bed feels fresh all the time.
Latest Saatva Coupon Found:
UP TO $500 OFF
Limited-time Saatva Sale
We're sharing a limited-time Saatva mattress discount with our readers! Grab this deal & enjoy your new mattress with huge discounts.
Expiration date: 29/09/2023
4,042 People Used
Only 83 Left
A Great Choice for Couples
Now, I don't really know who you are. It's hard for me to admit, but I can't see you through the screen. Nevertheless, sometimes, I take out my crystal ball from the old, dusty cabinet, to see the future. And let me tell you, there is a lot of sunny days, chocolate ice cream, and fluffy puppies ahead of you.
In all seriousness, this section is essential to both - the single pringles and the double troubles. Well, we're all looking forward to finding our true love sooner or later, would you agree?
What do you think couples need the most when it comes to their mattress? Bounce? Sure. Responsiveness? Sure. But what else?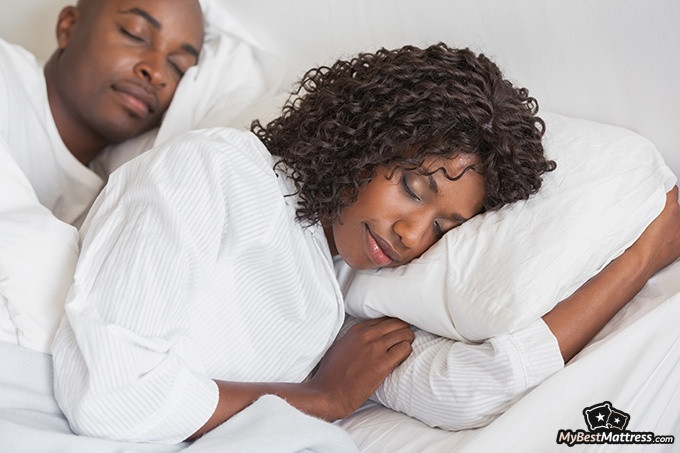 You don't know? Well, you could have told me sooner, that's what I'm here for, by the way.
Okay, now, really, let's get serious.
Couples also need motion isolation. It doesn't matter how much you love and appreciate your significant other, they can get annoying from time to time. But when that annoyingness affects your sleep quality, it really is bad news. Even yoga before bed won't help.
If the bed doesn't control motion transfer, you'll feel every movement from their body - leg, arm, head, sleeping position change, everything. And if you're a sensitive sleeper, this factor can prevent you from having your high-quality snooze. In regards to that, studies show that sleep loss and dream loss, lead to an overfitted brain that can still memorize and learn but fails to generalize appropriately. [1]

We don't want that, right?
Nonetheless, let me announce that the sleeper Zotto mattress reviews say the bed is good at controlling disturbances. The four foam layers are designed to absorb the motion as much as possible. So, if you were to feel any motion transferring from one side of the bed to the other, it shouldn't disturb you as much.
Exceptional for Side Sleepers
Those who come across this Zotto mattress review are likely to be side or back sleepers. Depending on the numbers you can find on the internet, these sleeping positions are the most common. The one that's not common though, is the stomach one. These folks are quite rare somehow.
Furthermore, according to sleeper Zotto mattress reviews, the bed is exceptional for side and good for back sleepers.
Side sleepers are the ones that require a bit plushier surface and pressure relief. That's exactly what this mattress does, additionally preventing the so-called - "painful spots" on your body, and alleviating pressure along the way.

And it works. As soon as you'll put the Zotto bed in your room, the first thing you'll notice when you test it out for the first time, is how pleasant it is to sleep on your side. No pushing sensation and resistance in your shoulder and hip area.
Speaking of back sleepers. These dudes don't need much since they sleep like mummies without anyone forcing them. Interesting people for sure. Furthermore, the bed provides a steady support for the back and pressure relief in the hip area. Therefore, the spine is aligned correctly, which is the most essential factor.
Additionally, studies show that to reduce neck fatigue, it's desirable to use materials like latex or memory foam that provide neck support, which can improve sleep quality[2]. This Zotto brand ultra-premium memory foam mattress sure does that.
Temperature Neutral
Do you daydream? Of course, you do. Probably at night, while lying in your bed before falling asleep. Or in the morning, before getting up. Perhaps you're daydreaming of running around on the beach, feeling the sun gently kiss your skin, and the hot sand underneath your feet. The wave of the ocean smoothly taps you from time to time, so you don't get too hot.
Or perhaps you daydream of climbing a snowy mountain while the storm brushes your hair, closes your eyes, and tries to dance with your body? Well, these scenarios aren't hard to imagine if your bed is helping with the special effects.
But it's bad if your mattress is a mess when it comes to temperature neutrality. If it doesn't control the temperature you'll get hot. All. The. Time. After that, you'll get sweaty and then cold, and then hot again. Sounds like a nightmare? Well, it is.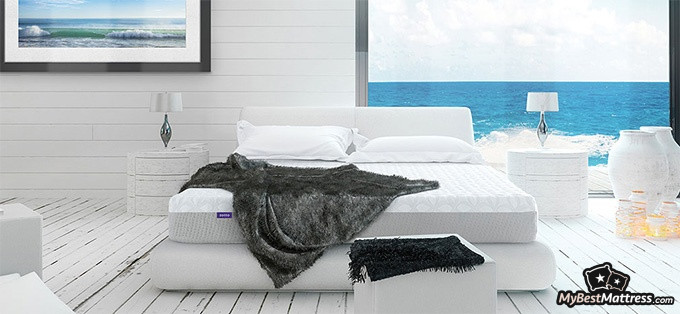 It's for a reason that the best beds on the market Saatva, Layla, and Puffy, are good at temperature control. It's THAT important.
Luckily, the sleeper Zotto mattress reviews indicate that the bed has no problem with temperature control. Phew, right?
The Zotto mattress model features a variety of cooling technologies, to ensure that you enjoy the finest night's sleep possible. Open-cell foam, which enhances ventilation, and a combination of a few materials, keeps the mattress at a neutral temperature. Not to forget to mention the gel-infused memory foam.
They really do be trying to break the cycle of memory foam mattresses being hot. Overall, great news for everyone.
Zotto Mattress Review: CONS
Now that we're done with the praising, let's scold a little. Although this section is not as fun and bright as the pros one, it's still very essential. Besides, you have to know every piece of information whether it's bad or good before making a big purchase.
So, let's do just that, and switch to the negative sleeper Zotto mattress reviews for a moment.
Hard to Move
We know it's a mattress with a sinking surface, even more so than the average memory foam bed. The feature is great for pressure relief and motion isolation, but there are some drawbacks. One of the drawbacks is the overall inability to move freely.
It's hardly surprising, given that the mattress is made up of numerous layers of foam. Hence, your separate body parts will sink into the bed's surface with every movement, making it impossible to easily change sleeping positions. Keeping that in mind, it's a major issue for combination sleepers.

It depends on a person, but combination sleepers are the ones that tend to move the most. Changing sleeping positions, tossing, and turning overall. So, they do need a steady surface.
If you prefer a bed with a little more responsiveness and ease of movement, or if you're a combination sleeper - don't worry, I've got you covered.
Saatva would be a great alternative. If you never truly investigated the mattress, you're probably confused as to why it's mentioned a lot. Well, take a quick glance:
Saatva is a popular innerspring mattress, that's a lot of people's first choice, when it comes to the point of purchasing a new bed. The mixture of two coil layers makes the bed exceptionally bouncy and responsive. As a result, it's super easy to move around. If you're curious to learn more about Saatva, don't hesitate to read our review on the topic.
Not Suitable for Stomach Sleepers
We know the bed is good for back sleepers and even great for side sleepers. Sadly, for stomach sleepers, it's not the same. Let's see why.
Sinkage can assist with pressure relief, in some cases. In other cases, it may potentially aggravate the situation. By the look of it, a stomach sleeper's hips would sink into the mattress almost instantly, causing an abnormal back bending. Keeping that in mind, you may experience a bit of discomfort straight away, or after a few nights.
Besides that, the neck will also bend more than it already is, and the unnatural position can cause neck and shoulder pain.
As you already know, Zotto mattress density makes it feel like you are sleeping "in" the mattress, which is completely unfitting for stomach sleepers.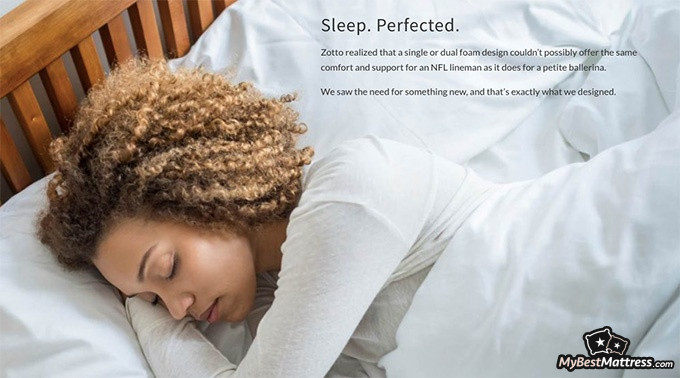 To prevent pain and discomfort, I would suggest choosing a different mattress. Therefore, the first one would be Saatva.
Besides the numerous benefits we know so far that Saatva provides, this bed is very universal. Meaning suitable for all sleeping positions. Truth to be told, you'd probably notice by reading the sleeper Saatva reviews, that the bed has a few firmness options. These options are - Plush Soft, Luxury Firm, and Firm. Please note though, that this bed is very different from Zotto.
Keeping that in mind, Layla would be the all-foam alternative, if you want something not that far from Zotto. Take a look at both of the mattresses side by side:
Table: Pressure points of the Layla and Saatva mattresses
Layla is a flippable mattress that's one of the best beds on the market. Why is that, you may ask? Well, it's made of high-quality materials. Furthermore, Layla is versatile, suitable for all sleeping positions, and even controls temperature.
Zero Bounce
Bouncy and responsive beds are on the complete opposite side from the Zotto mattress. As the sleeper Zotto mattress reviews indicate, the bed really lacks this feature, despite that it has a Sprintex foam layer that supposedly should increase the bounciness.
To be fair, it doesn't particularly work.
You see, responsiveness makes it easier to get in and out of the bed, change sleeping positions and move around in general. Therefore, if you enjoy lying on your bed while watching a movie or reading a book, you're probably moving, tossing, turning, getting up to drink a glass of water, placing the snacks on the bedside table, etc.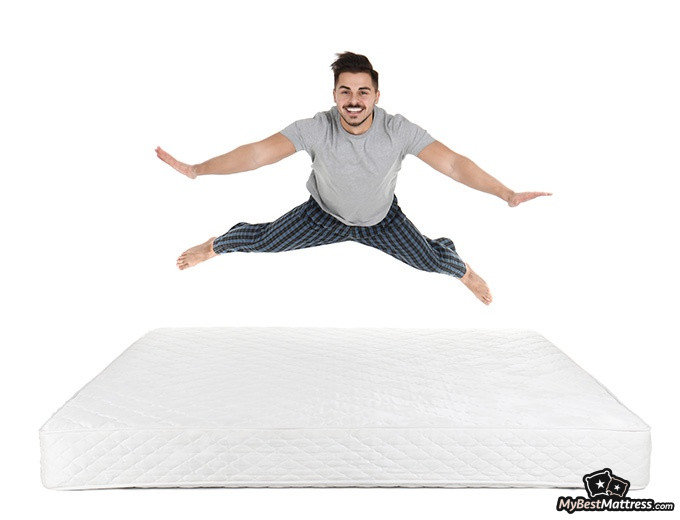 It shouldn't be challenging to do these simple tasks, yet it is.
While some people might have zero problems with the sinking and zero bounce, others could get a little frustrated, to say the least.
Having that said, besides the fact that I've mentioned Saatva numerous times above, this is the part where this mattress fits in the best.
Table: Main features of the Saatva mattress
The mattress is rather bouncy thanks to the two layers of coils, which are overlaid with sevelar layers of memory foam. Besides, Saatva is considered to be very comfortable when it comes to moving around on your bed or even engaging in couples' activities.
What's the Price of the Zotto Mattress?
This is the part of the Zotto mattress review where we'll see some numbers. Well, there is no other way to put the prices, unless we lived in the medieval ages where you could trade your sheep for it or whatever.
I'll admit, that took a weird turn.
So, let's look at the price of Zotto mattress:
The prices of the Zotto mattresses are, indeed a little bit on the high-end. Nonetheless, they aren't the highest on the market, for sure. There are some additional benefits like 100-day trial and a 10-year warranty.
If you're looking for a Zotto mattress coupon you can take a glance at our after-Christmas, 4th of July, or any other sales. Who knows, you might find a Zotto mattress coupon there.
I want to note that there are Zotto mattress retailers that sell the same bed, but label it as the Zotto brand ultra-premium memory foam mattress. So, don't get confused if you see that title, and make sure to purchase the bed from the brand's website.
Zotto mattresses come wrapped in plastic and bundled up in a box, making the setup effortless. Simply place the mattress, break the air-tight barrier, and let it unroll. Expect a minor off-gassing scent that will fade in a few hours or less than a day.
However, I think you are curious to see the prices of the famous Saatva bed that I've mentioned here a lot.
Alternatives
While governing the internet for the right kind of mattress, I would suggest having a few options. Therefore, you'll have the opportunity to compare the features of other, similar beds.
In this part of the Zotto mattress review, we'll be looking at Layla and Puffy - the two memory foam bed alternatives.
Layla
Layla is my first, closest to the Zotto choice. It's a copper-infused memory foam mattress that's also one of the best beds in the industry.
The mattress gives you 2-in-1. One side is soft and the other is medium-firm. Both of the sides target pain points to relieve any pressure. Mostly in your shoulder, hips, or lower back areas.
Additionally, if you feel like your preferred sleeping position did change, let's say from sleeping on your back to sleeping on your side, you can always flip the mattress to the softer side (more suitable for side sleepers).
When it comes to the materials of the mattress, Layla is a bit different from other memory foam beds. Since it's a flippable bed, both sides have a copper-gel infused memory foam layer. It gives the mattress an antibacterial barrier as well as some pleasant cooling.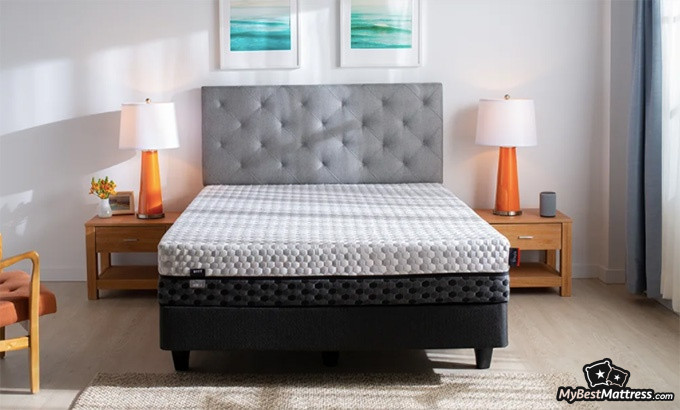 There is also a support foam that makes the bed a little bit bouncy and controls motion transfer. Besides, Layla has top-notch sound and motion isolation that many sleepers are very happy about. To be fair, Zotto is quite good at it as well.
Lastly, there is the convoluted foam - the ultimate tool of cooling. And yes, the bed does feel cool. And looks cool from the outside as well. That's another similarity that Zotto and Layla do share.
Now, a very important part is the price. While the bed has the popularity and quality, the prices aren't as high as you might initially think:
As you can see, the prices of the Layla bed are even lower than the Zotto mattress model. And it's for a reason that Layla has a great reputation and dominance in the mattress industry.
If you want to save a few dollars and have a unique high-quality bed, Layla is the one I would recommend choosing.
Puffy
The next participant in our alternatives contest is Puffy. Puffy is also a high-quality memory foam mattress, known to be very high up on the best beds on the market list.
For the sake of clarity, let me note that I'm referring to Puffy and not Puffy Lux. Puffy Lux is a completely different kind of mattress and if you'd like to know more about it, take a glance at our review.
Getting that out of the way, let's go back to the initial Puffy model. The bed has 5 layers of foam, compared to Zotto which has 4. These layers are all serving a different purpose.
The 6 inches of high-density support foam increases durability. Above this layer, is a few inches of pressure relief foam, and then there is the gel-infused foam that makes sure the bed is cooling.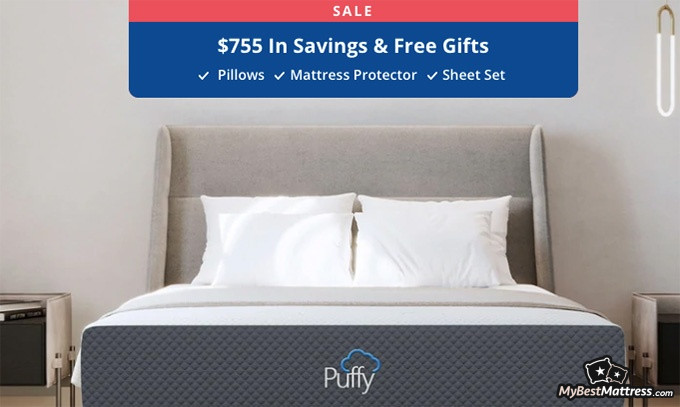 Puffy also has a hypoallergenic top cover that increases the fresh feel. Zotto, on the other hand, has a removable and washable cover that also helps to keep your bed feeling and smelling like a fresh field of blooming flowers.
Moreover, Puffy is very universal. The bed suits every sleeping position as opposed to Zotto being the best for side sleepers and not bad for back sleepers.
Besides the fact that Puffy seems to be like an upgraded version of Zotto, the beds are fairly similar.
Speaking of which, let's look at the prices:
As we've seen previously, the best beds can be even more affordable. And yes, Zotto's price tags are a bit more on the expensive side.
Here is The Best Saatva Offer I Found:
UP TO $500 OFF
Limited-time Saatva Sale
We're sharing a limited-time Saatva mattress discount with our readers! Grab this deal & enjoy your new mattress with huge discounts.
Expiration date: 29/09/2023
4,042 People Used
Only 83 Left
Conclusion
And would you look at that - we're at the end of this Zotto mattress review.
Zotto is a fairly good mattress. This medium-firm bed is temperature neutral, controls motion transfer, making it a fairly good choice for couples. But is it worth it? Probably. Are there any better options?
Yes, without a doubt.
From what I've noticed so far - it depends on your budget and preferences.
If you wish to feel hugged and sleep "in" your bed, and you also have a few hundred spare dollars that you can spend, then sure, Zotto mattress is a reasonable choice. Nonetheless, if you would prefer to save money and be sure you're getting one of the best mattresses in the market - give a chance to Saatva, Layla or Puffy.
Table: Company information of the Saatva, Layla and, Puffy mattresses
Saatva - if you want an exceptionally responsive, eco-friendly innerspring bed.
Layla - if you want a 2-in-1, unique memory foam bed.
Puffy - if you want a memory foam bed, with 5 layers made out of the best materials.
Your final decision is up to you, so make sure to choose wisely.
Scientific References
1. Erik Hoel 'The overfitted brain: Dreams evolved to assist generalization'
2. Juhyun Son, Sungwook Jung, Haseung Song, et al. 'A Survey of Koreans on Sleep Habits and Sleeping Symptoms Relating to Pillow Comfort and Support'
Leave your honest Zotto review
Leave your genuine opinion & help thousands of people to choose the best mattress. All reviews, either positive or negative, are accepted as long as they're honest. We do not publish biased reviews or spam. So if you want to share your experience, opinion or give advice - the scene is yours!