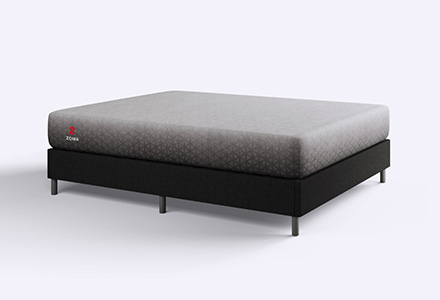 Have you ever dreamed about being an athlete? Or maybe, you already are an athlete and want to make sure your dreams are still pleasant? In this article with Zoma mattress reviews for their foam and hybrid options, you'll find out about why these beds are great for athletes or people with active lifestyles.
If you don't fall into such professional category — don't worry, these mattresses will still have beneficial qualities for you. What impresses me is that Zoma is using several special foam blends of their own.
So, if you're looking for a new mattress, suitable for your active lifestyle or profession — keep reading to see what Zoma has to offer.
Verdict at a Glance
Zoma Sports mattress is a foam mattress of medium firmness, designed for athletes and those with active lifestyles. It has a good cooling system, and due to responsive foam layers, it will suit well for restless sleepers. Its motion isolation is reasonable, but falls a bit below expectations for foam mattresses. Edge support is the reverse — above expectations for foam mattresses, but a bit lacking overall.
Pros
Very affordable
Good for hot sleepers
High-quality pressure relief
Cons
Motion isolation could be better
Edge support still a bit lacking
Zoma Mattress Reviews: Pros
As is probably usual in extensive user Zoma mattress reviews, let's start off with the layer composition. After all, it is the construction of the bed that results in its beneficial (or sometimes not so much) qualities.
Zoma Sports mattress consists of 3 layers and a cover. Starting from the bottom, you have the durability layer that helps to keep your spinal alignment intact, and provides overall support to your whole body. This material also helps to ensure that the mattress lasts the whole 10 years — which is the warranty length.
It offers stable support while still having enough pressure relief, especially for your hips and shoulders. On top of it, we have the responsive layer. This layer prevents you from sinking in too much. It is also responsible for the pressure relief and body contouring.

Next one up is the main comfort layer in Zoma Sports mattress. It is made from gel memory foam that Zoma calls Triangulex™. This material was specially developed by the company — they implemented three-zone support within a gel memory foam.
This way, it provides pressure relief to the main usual pressure points and even includes your legs. This is where I'm impressed by Zoma — mattress reviews is something I've done for a while now, but I've never seen legs being taken care of as a potential pressure point. Well, until now, that is.
And on the very top, we have an especially cooling, breathable cover.
Made for Active Lifestyle
Probably the main USP (unique selling point) of Zoma is that their mattresses are meant for athletes. This brings two questions to me: why would good sleep be especially important to athletes? And why is this mattress beneficial to those professionals? Well, there are numerous customer Zoma mattress reviews, sharing such details, but let me summarize them for you.
Let's start with why would good sleep be important for athletes. Remember the last time you slept poorly and needed to go to work. Or rather, not necessarily go to work, but be properly productive. And yet all you could think of was going back to your bed, to your blanket, and sleeping some more. Or even snoozing at your desk.
So, on those days you can barely focus, you're inattentive, you're missing instructions, and you're just not being a productive version of yourself. If you haven't been in those situations, then let me tell you I have, numerous times. And trust me — it feels far from nice.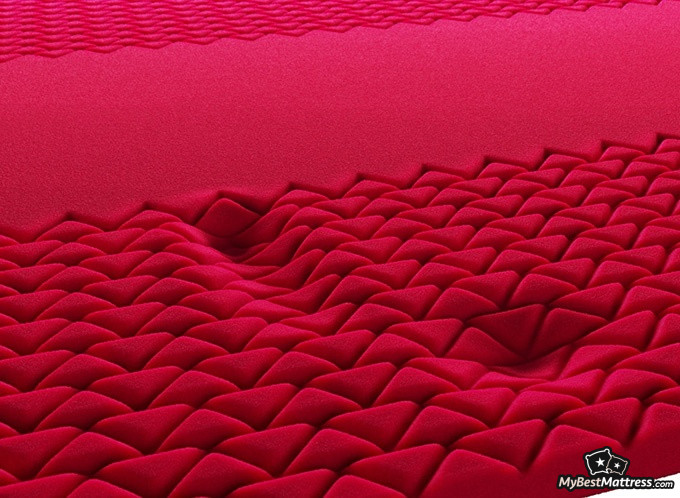 For professional athletes, this is even more important. Crucial, even. For them, every millisecond may count. Every tiniest deviation in a reaction time, every micro distortion of their posture, every tiny muscle deficiency counts. And that means that having a good night's sleep suddenly matters so much more for their job than for the rest of us.
Now, the next question — what makes Zoma Sports mattress so suitable for athletes? Well, according to both their website and user Zoma mattress reviews, these foam beds assist faster muscle recovery and provide deeper sleep.
This way, athletes would improve their performance overall — both due to having better rest — especially their body having a better rest — and rejuvenating faster. On top of that, this mattress is highly conforming to your body and very responsive.
As athletes essentially rely on the state of their body to be good at their profession, not feeling sore after sleep is vital for them. And with the high conformity, Zoma Sports mattress has quite a low chance to make one feel sore.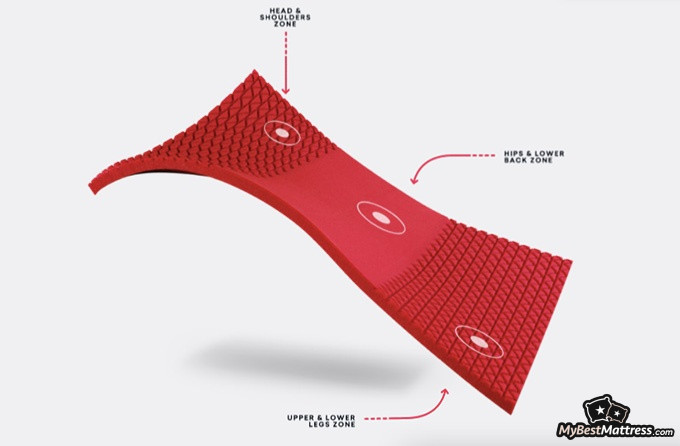 And the sportspeople do seem to genuinely enjoy it. On the Zoma website, you'll see quite a few pictures of various athletes endorsing the product — baseball players, basketball players, American football players, an Olympic runner, etc.
I myself am not too familiar with the sports stars, but some of the ones featured with Zoma mattresses have over 100K (Joc Pederson from Los Angeles Dodgers) or over 158K (Gavin Lux from the same team) followers on Instagram.
And that tells me quite a lot, without having proper sports knowledge. That is something that reassures you about the product, and it does it much quicker than reading any customer Zoma mattress reviews would.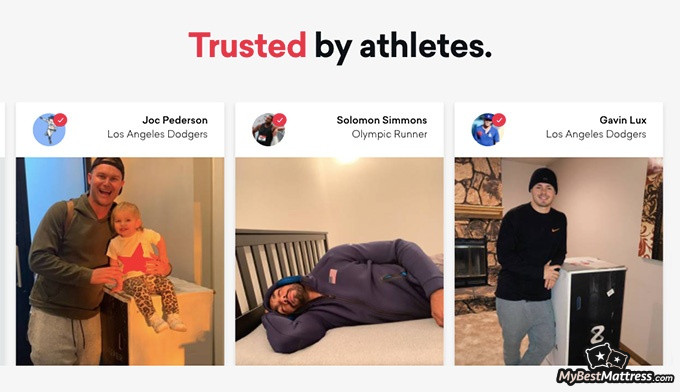 In addition to athletes, this mattress is highly suitable for people with active lifestyles. Makes sense, right? Essentially, if you're frequently indulging in intense physical activity, this mattress will help to feel refreshed and as if your body has been rested.
If you have a more sedated lifestyle — don't worry! Zoma's benefits are perfectly usable by what I would call mere mortals like (possibly) you or me as well, sharing their own experience through Zoma mattress reviews.
Think about it — this mattress is meant to give quality rest to those who rely on the tiniest functions of their body and it recovering during the night. So for the common folk it would make an even bigger difference in comparison!
Latest Saatva Coupon Found:
UP TO $500 OFF
Limited-time Saatva Sale
We're sharing a limited-time Saatva mattress discount with our readers! Grab this deal & enjoy your new mattress with huge discounts.
Expiration date: 05/12/2023
4,042 People Used
Only 83 Left
Good Cooling System
The cover for Zoma Sports mattress is made from a breathable material, called AirCloth. It is made of 97% polyester and the rest is spandex.
This material not only helps to take away some of the heat and moisture, but also to make you feel cool throughout the night. The fabric is ventilated, breathable, has a cooling effect, and is made in ultra-stretchy knit. And having a cool and chill mattress positively affects your sleep quality[1].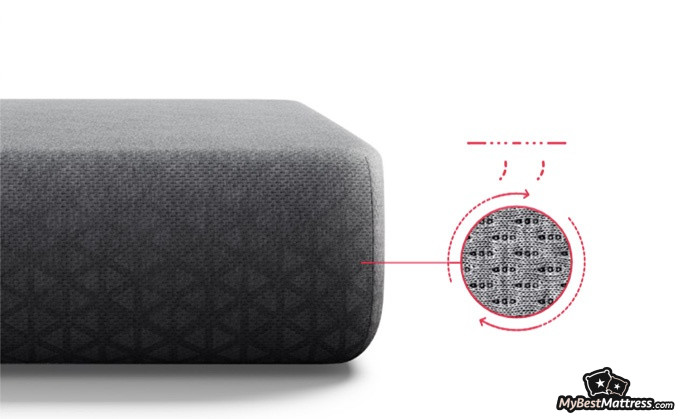 There has even been research where a mattress had a positive effect on players' sleep after a rugby union match[2]. And the most likely conclusion was that it was specifically due to the cooling properties of the tested mattress.
Moreover, its comfort layer of gel memory foam has additional cooling channels and is 6 times more breathable than regular gel memory foam. This allows for an additional cooling effect, so Zoma Sports mattress is a great choice for you if you have issues with heat while sleeping.
Great for Restless or Combination Sleepers
One of the layers for Zoma Sports mattress is the so-called responsive layer. This layer is not only responsive, as you can see from its name, but it also provides maximum contouring for your body. Within the context of mattresses, contouring means the mattress's ability to adjust itself to your body shape and curves.
Responsiveness is how quickly the mattress does that. We could see the latter being especially relevant in those Zoma mattress reviews, where the customers mentioned their tendency to toss and turn during sleep. With frequently changing positions, high conformity and high responsiveness are definitely important in the mattress.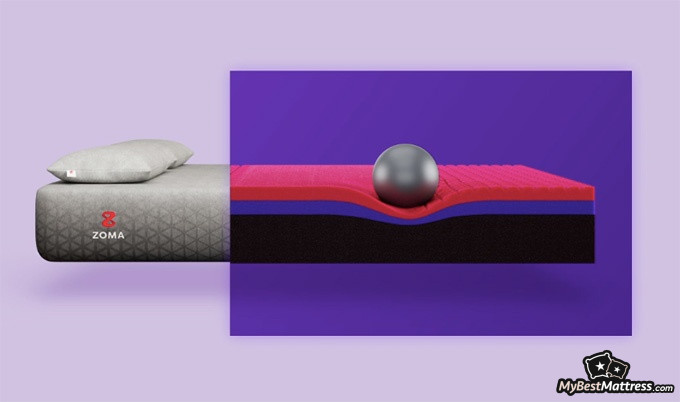 It is also designed to prevent you from sinking in. This only adds up to the benefits if you have trouble sleeping without moving all over the bed. To explain, think of what would happen if you wanted to switch positions— let's say turn from one side to another — and were sunk too much into the mattress.
You would struggle to get your body up and move it around, wouldn't you? This could also wake you up from sleep, even if for a very short while. So, less sink means much easier movement around the bed during the night.
You would be able to change positions quite more easily and with less effort or disturbance. And numerous customer Zoma mattress reviews do confirm that's the case with this bed.
True Medium Firmness
Usually, foam — and especially memory foam — mattresses are quite soft and with a lot of plush feel. For the Zoma Sports mattress, however, it was decided to make it right in the middle between soft and firm. This level is also called the true medium firmness.
As multiple user Zoma mattress reviews will attest, firmer mattresses are usually better for your back — and actually, better overall for the support of your whole body. It also means that such mattress is suitable for all types of sleepers.
Whether you prefer sleeping on your back, side, or stomach — Zoma Sports mattress should give you enough support and comfort in your preferred sleeping position. Or even if you change those positions throughout the night.
As discussed in this or other customer Zoma mattress reviews, the responsive layer is partially what gives the firmness and prevents you from sinking in too much. This means it's easier for you to switch positions during sleep.
It most likely also means that a sleeper of any weight category will have enough support, sleeping on the Zoma Sports mattress. However, if you are of higher BMI, and end up struggling to find a great mattress suited for you, you might be interested in Saatva HD.
This innerspring bed is very cooling and breathable, very much designed for heavy sleepers, and has great edge support. The Saatva brand is very much on top of the mattress game and Saatva HD could be a wonderful choice for such needs.
Eco-Friendly
Now, there aren't many customer Zoma mattress reviews, where people would mention 'eco-friendly' as being important to them. However, I believe it's still significant to mention that Zoma does care about the planet and takes care of it. As can be expected, Zoma Sports mattress is made fully within the USA.
The foams that Zoma uses are also CertiPUR-US certified. This means that the foams are made without certain chemicals, specific heavy metals, or certain harmful materials overall. These foams also have low levels of so-called VOCs — Volatile Organic Compounds.
These compounds essentially are certain chemicals that get released during various manufacturing processes. Most usually they are released in gas form. Therefore, with a Zoma Sports mattress, you're helping not just yourself — you're helping Mother Nature as well.
Zoma Mattress Reviews: Cons
Nobody or nothing is perfect, right? Same with Zoma mattress. While having some great features, there are still areas of improvement. Let's take a look at them, based on user Zoma mattress reviews, shall we?
Motion Isolation Is Below Expectations
Firstly, what is motion isolation? This term is used to describe how well a mattress can disguise your bed partner's movements from you. No, don't worry, no actual hiding or secrecy will be needed — let's leave those for James Bond movies.
Essentially, good motion isolation means that you won't feel — or almost won't feel — your bed partner's movements. And actually, even if you sleep alone, good motion isolation means you feel your own movements to a lesser extent as well.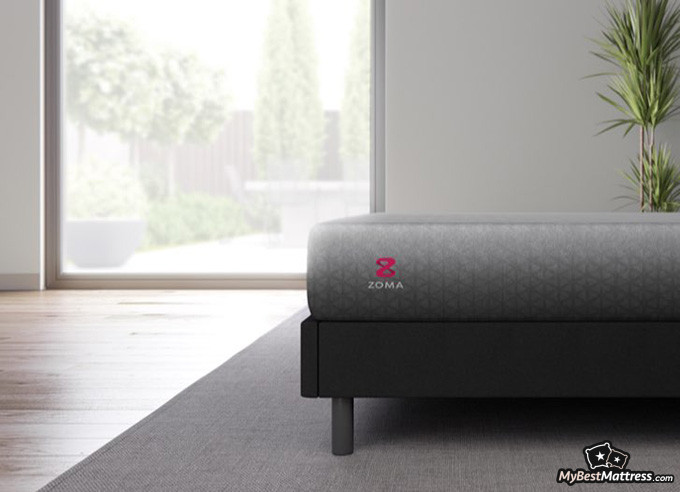 For either scenario, you'd be less disturbed in your sleep, and would be less likely to wake up from someone else's (or even your own) movements. Once again, this is especially relevant if you're a bit of a restless sleeper like I am.
So what's the motion isolation here? Well, customer Zoma mattress reviews are a bit mixed in this case. First and foremost, this is a foam mattress, and foam — especially memory foam — mattresses usually have good, if not great motion isolation.
Zoma Sports does have pretty good motion isolation. The three layers of foam (including memory foam and gel memory foam) do absorb a fair amount of movement effect. However, some customers in their Zoma mattress reviews expressed concern and sometimes even slight disappointment.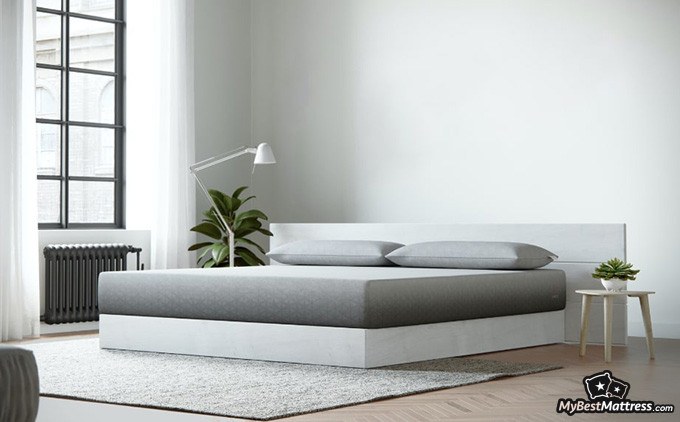 They simply expected more from this mattress in the motion isolation area. There is still a noticeable amount of motion transfer felt (that's the opposite to motion isolation), and usually memory foam mattresses are expected to eliminate most of it.
All in all, Zoma Sports does have reasonably good motion isolation, but not as good as would be expected from a foam mattress.
If motion isolation is highly important for you in a mattress (and from a large number of user Zoma mattress reviews we can see that it is), you might want to look into alternatives. For example, Puffy.
Table: Features of Puffy mattress
Puffy is another foam mattress with superb motion isolation. It also makes barely any noise. Another similarity to Zoma is that Puffy is suitable for all types of sleepers. Puffy mattress prices start at $899 (now only $599).
Another great choice with the focus on motion isolation is Layla. Layla also offers both memory foam and hybrid options. The distinctive feature of both variants is that they are flippable mattresses, having a softer side, and a firmer side. Therefore, it is very adaptable for any type of sleeper.
It's quite a cool mattress (I mean temperature-wise, but it is aesthetically pleasing as well). Due to copper-infused foam, it provides reasonable pain and pressure relief. Layla starts at $749 (now only $599).
Edge Support
Memory foam mattresses are known for their weak edge support. Due to the soft nature of its foam layers, you often end up sinking in towards the edge. Or rather, the mattress sags beneath you. Dealing with it seems relatively easy if just sitting on the edge of your mattress.
However, during sleep it feels a little bit of a different situation, doesn't it. I'd definitely hate to fall off — or even to slip off — the bed at night, where I would need extra time to even comprehend what's happening with the world.
Because the Zoma Sports mattress uses several different types of foam, and not just memory foam, its edge support is better than other memory foam mattresses. However, it is still considerably below the usual desired level.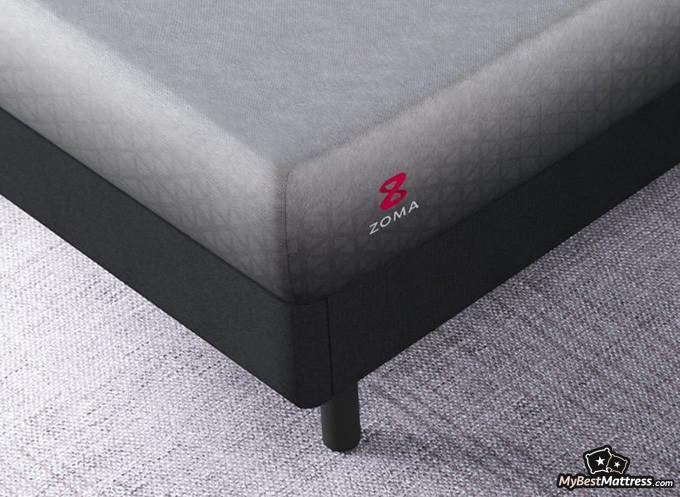 For example, there were Zoma mattress reviews where the customer said it was okay for them to sit on the edge of the bed, but while sleeping, they felt they could be falling off, if they got too close to it.
If you want a mattress to take the edge off the stress of potentially falling out of bed, I'd recommend Saatva. This innerspring mattress has top-tier edge support, excellent temperature neutrality, and works well for any type of sleepers.
Zomma Mattress Price
Prices for different Zoma Sports mattress' sizes are highly affordable and quite below the industry's usual. Is Zoma mattress - best price option? Not sure if I dare go that far, but this indeed is one of the more competitive pricing ranges in the market. See for yourself:
For example, the current industry leader — Saatva — has their prices starting at $887. In addition to that, you can also order a free bedding bundle.
This bundle includes a plush pillow, premium sheets, and a comforter. The usual price of this set, if buying separately, would be $199-$398 (depending on which size you purchase), so it looks like you're getting a quality bargain with all the side-items included.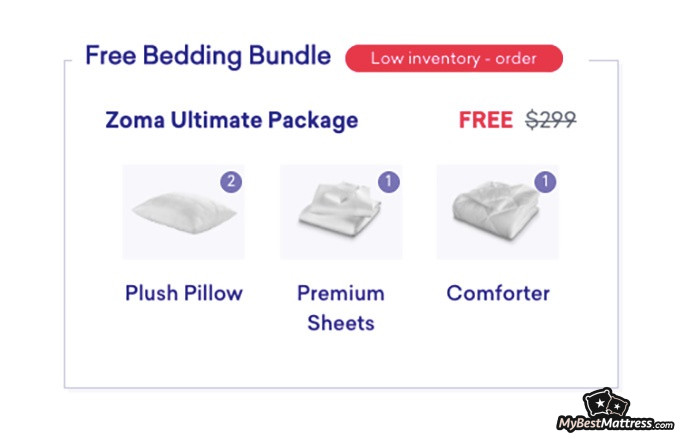 You can buy either the Zoma Sports mattress or the Zoma Hybrid mattress online on the Zoma website. This is the only place where you can buy these products, as well as other sleep accessories — at least at the time of writing.
You can often find various sales on their homepage, too. For example, Zoma King mattress Labor Day sale price was lower than usual, by $150.
Delivery and Returns
The delivery takes anywhere from 4 to 12 business days, depending on the specific product bought, and on your location. Once your mattress is delivered, it comes in a 19x19x42.5 inch box. While it's a sizable box to carry from your door to your bedroom, it still feels manageable at the same time.
Or at least I didn't really find customer Zoma mattress reviews talking about the struggles with carrying it. On the contrary, there were some, mentioning that the setup was reasonably simple and did not cause issues. Something to note though is that if you order several different items, they will be delivered separately as well.
Zoma also offers free shipping and free returns to the continental states within the US. You can still ship to Hawaii or Alaska, but you might incur some fees, depending on the freight transfer services you use. Zoma would still offer free shipping within the US to your chosen freight carrier.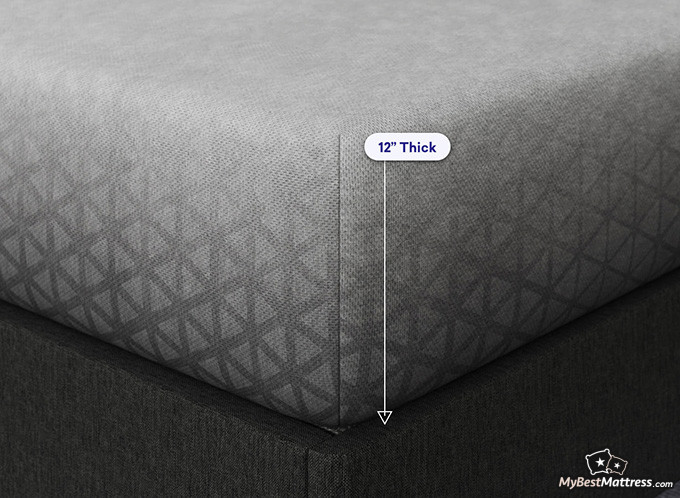 As it's now probably usual, it is recommended to match the mattress with other sleep accessories of the same brand. Same with Zoma. However, the Zoma mattress is designed to be versatile and fit any kind of bed base.
It is suitable for both platform or adjustable beds. You can also use it with slatted bases, just make sure the slats are at most 3 inches apart. So, pretty much you can use it with any base you might already have.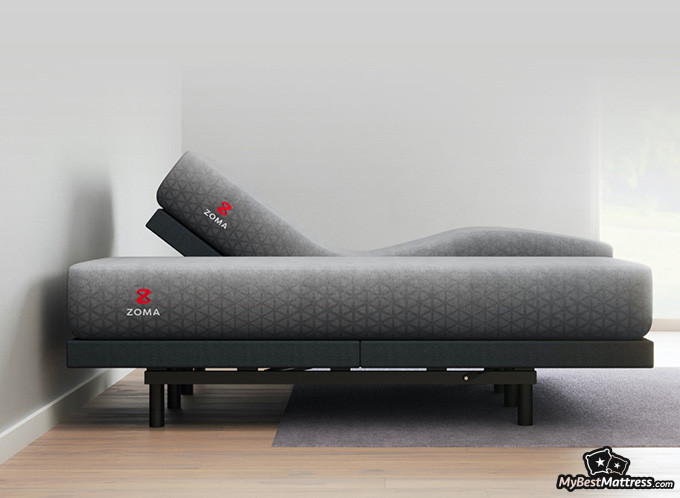 The only potential exception might be box springs — Zoma Sports mattress is not really suitable for them. However, you could place some water-resistant plywood, in order to provide a stable and an even surface to the mattress.
If you do end up unhappy with your Zoma mattress — don't worry, you will receive your money back. Zoma guarantees a 100-night trial. However, there is a 30-day mandatory break-in period. Of course, you're welcome to return it within that 30-day period as well, but in that case, you would incur a $99 fee for the early processing.
Zoma Hybrid Mattress
While the all-foam mattress is their most popular product, Zoma offers a hybrid variant as well. The main difference between these two products is the bottom support layer. In the all-foam variant, this layer was all about durability. There we had the focus on support and pressure relief.
For the Zoma Hybrid mattress, it seems this layer is meant to bring several beneficial points to the table, instead of just focusing on one or two. On top of the high-density base, you have several hundreds of pocketed coils. It means that instead of having a conjoint spring system, each coil is individually wrapped in fabric instead.
Due to such nature of pocketed coils, Zoma Hybrid mattress has an even slightly better cooling system. You see, because each coil is encased separately from the others, there is a good amount of space for the air to travel in between those pockets. And more air movement results in better airflow and cooler sleep.

This also gives the mattress a bouncier feeling. With the Zoma Sports mattress, you already have materials to prevent you sinking into the mattress. With the Hybrid option, you are quite more certain to stay on top of the mattress, rather than sink into it. Such increased bounciness also means better edge support.
Memory foam mattresses are known to get a little bit saggy around the edges over time (including when you're simply sitting on the edge). However, with the hybrid variant, the coils make it feel sturdier and bouncier while sitting on them, and therefore you're less likely to slip off the bed.
And that's for either when you're just sitting on the edge, or actually sleeping on it. This has also been confirmed by some of the customers' Zoma Hybrid mattress reviews. And if you're quite focused and determined to have good bounciness or high-quality edge support, I would recommend Saatva.
SAATVA

Very bouncy and responsive
Cool (temperature AND visual-wise)
Top-tier edge support
Handcrafted in the US from ECO materials

Visit site
Read Review
Table: Pros and cons of Saatva mattress
Saatva is the current market leader overall, and it has a top-notch edge support, with a lot of bounciness, yet is still very responsive as well. Just like the Zoma Sports mattress, Saatva is made from eco materials, all in the US. It offers great temperature neutrality (i.e. cooling effect), too.
There is also a notable difference from the main model in the comfort layer. It is still the same gel memory foam with slits for cooling, still 6 more times breathable than regular gel memory foam. However, the main model had three-zone support, and the hybrid instead has… well, nothing in particular.
On the other hand, you do get a reasonable amount of support from the coil layer, so overall it more or less balances out.
What Is the Zoma Hybrid Mattress Price?
I've mentioned earlier that Zoma Sports mattress has great pricing options. The situation is quite similar for the hybrid model as well. Checking with some competitors, Zoma has a very affordable range to offer you. Of course, the Zoma Hybrid falls under the same delivery and warranty terms.
The prices for Zoma Hybrid mattress are as follows:
It also has the same special offer for the bedding bundle of plush pillow, premium sheets, and comforter included in the purchase.
Here is The Best Saatva Offer I Found:
UP TO $500 OFF
Limited-time Saatva Sale
We're sharing a limited-time Saatva mattress discount with our readers! Grab this deal & enjoy your new mattress with huge discounts.
Expiration date: 05/12/2023
4,042 People Used
Only 83 Left
Conclusions
In these Zoma mattress reviews (one for their foam model, and a smaller one for their hybrid variant), we've discussed the mentioned products. Both mattresses are designed for and endorsed by athletes or people with active lifestyles. However, they fit sleepers with other habits as well.
The foam variant has a high-quality cooling system, and is highly suitable for restless or combination sleepers. This is due to various foam layers, providing good responsiveness and contouring to your body.
The hybrid model has better edge support and is even more breathable. It does provide a bouncier feel as well, as can be expected from a hybrid bed.
All in all, these are quality mattresses, but they are a bit lacking in motion isolation and edge support - especially the foam variant. For mattresses that are superb in these qualities, you will probably want to check out Saatva, Puffy, or Layla.
Scientific References
1. Olga Troynikov, Christopher G Watson, Nazia Nawaz: 'Sleep environments and sleep physiology: A review'
2. Anis Aloulou, Cédric Leduc, François Duforez, et al.: 'Effect of an Innovative Mattress and Cryotherapy on Sleep after an Elite Rugby Match'
Leave your honest Zoma review
Leave your genuine opinion & help thousands of people to choose the best mattress. All reviews, either positive or negative, are accepted as long as they're honest. We do not publish biased reviews or spam. So if you want to share your experience, opinion or give advice - the scene is yours!