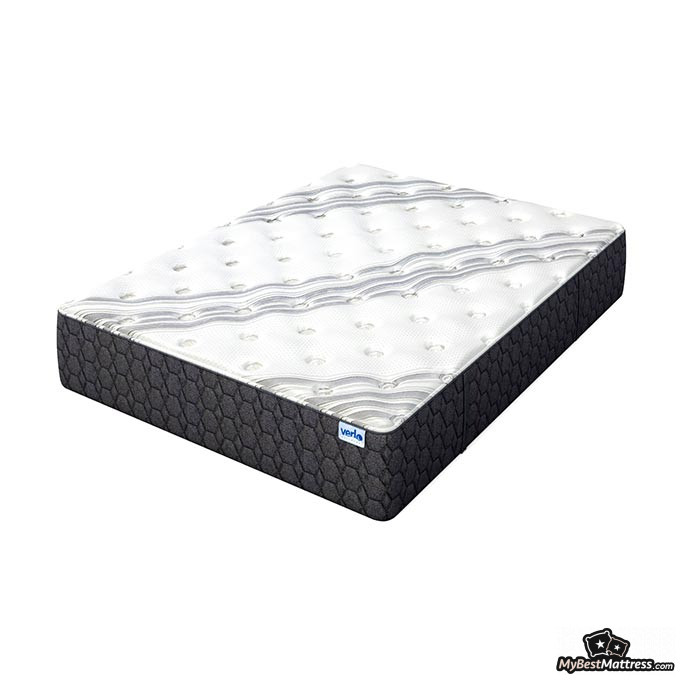 While many people today look for top-tier mattresses, it's not often that you'll come across the possibility to build yourself a custom mattress. Customer Verlo mattress reviews that the brand offers its customers just that - a way to make a bed for yourself. Well, kind of - things aren't as simple as that.
Today, we'll be looking at the V11 model of Verlo - the brand's high-end, luxury mattress. It's the bed that likely offers the least amount of customization out of the entirety of Verlo's selection (and believe me - there are a lot of models to pick from), but is still one of the most popular options.
I can tell you in advance, though - if you're truly looking for the best mattress in the industry, you're better off checking our list of the top providers. Verlo is only going to suit a very specific group of people.
TL;DR: While customer Verlo mattress reviews claim that the V11 model is a luxury mattress with a lot of different benefits (pressure relief, superb support, customizable firmness levels), it's not available to be purchased online, and the perceived price tags of the bed are really up there.
Pros
Customizable mattresses
Good pressure relief
Multiple firmness options
Temperature-neutral
Cons
Only available in physical stores
Questionable durability
Difficult warranty processes for some
Expensive
Verlo Mattress Reviews: PROS
To start off this Verlo mattress reviews, we'll take a look at some of the more positive aspects of the mattress and the brand in question.
Now, before we begin, we should probably address the elephant in the room - Verlo mattresses aren't really like any other beds out there. These products offer a vast amount of customization features to the customer - depending on the model, you'll be able to pick the composition, firmness, pillow-top, the option for it to be double-sided, and so on.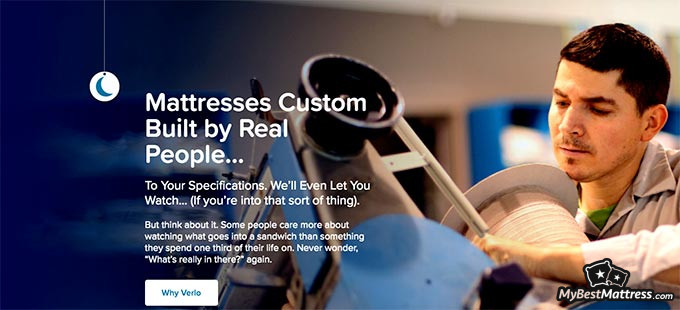 As I've mentioned at the beginning of the article, though, the V11 model is different. It's the least-customizable bed out of the entire selection that the company has. With that said, however, given that the mattress is such an exception to the general rule that Verlo has, this review will be a bit different, too.
While the entirety of this article will focus on the V11 customer Verlo mattress reviews, I might also tell you about some of the more general features of the other models, too. Worry not - I'll still focus on the main bed in question.
Multiple Firmness Options
While research shows that things such as advancing age aren't necessarily associated with sleep duration changes[1], the firmness of your mattress definitely is.
The optimal firmness level for each individual person is going to depend on many different variables. Sleeping position, the composition of the mattress, body weight and even personal preferences play a part in deciding whether you'll enjoy softer or firmer mattress alternatives.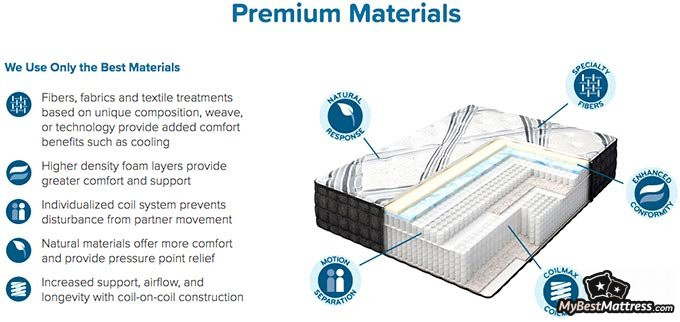 Not many Verlo mattress reviews mention this, but the best firmness level for the average person is considered to be medium-firm[2]. Medium-firm beds are proven to promote proper pressure alleviation and spinal alignment, and they help people alleviate lower back pains.
All of the Verlo mattresses offer customers the possibility to customize the firmness levels - V11 included. As far as mattress customization goes, though, this isn't too big of a surprise - many of the top-tier industry beds come in a few different firmness options.
You should, however, also note that if you're not so sure about what firmness level suits you best, you should always go with the firmer alternative. Soft mattresses have a tendency to break the sleeper's spine alignment, thus manifesting in soreness in the morning.
Latest Saatva Coupon Found:
UP TO $500 OFF
Limited-time Saatva Sale
We're sharing a limited-time Saatva mattress discount with our readers! Grab this deal & enjoy your new mattress with huge discounts.
Expiration date: 05/12/2023
4,042 People Used
Only 83 Left
Very Cool to Sleep On
Temperature neutrality is one of those topics that everyone can mostly agree on - sleeping hot can be incredibly annoying.
Furthermore, it can actually be much more than that - if you're someone who sleeps hot by default, and purchase yourself a mattress that isn't breathable and cool, you're going to find yourself waking up in the middle of the night from constant heatwaves.
This, in turn, can result in sleep deprivation. Research shows that sleep-restricted people face various health concerns, with unnatural weight gain being one of the more common examples[3]. I mean, that snack in the fridge might be rather tempting, especially if you've woken up and can't fall asleep again.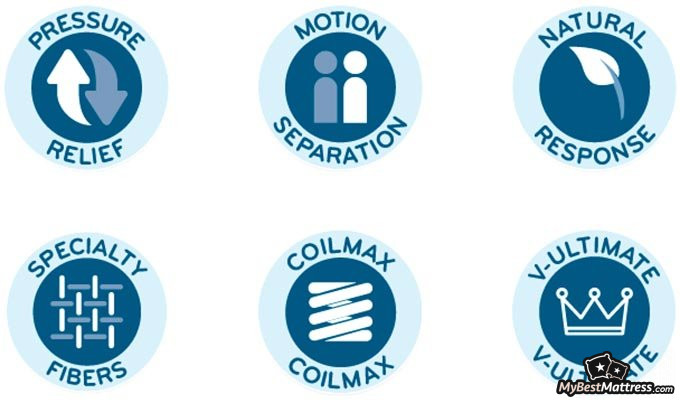 The good news here, however, is that customer Verlo mattress reviews mention that all of the brand's mattresses are known for having proper cooling built into them. While the majority of the beds have cooling gel-infused materials (foam), the V11 is actually made using cashmere.
While it's not a very common thing nowadays, cashmere actually has a natural ability to wick moisture and remain cool and dry while you sleep on it. So, if heat is your primary concern when purchasing a new bed, you can rest assured - there's nothing to worry about with the Verlo mattresses.

Did you know?
Very Supportive
Some customer Verlo mattress reviews will tell you that a supportive bed is one that will contour to the sleeper's body, and thus support it equally all throughout. This way, such mattresses can prevent painful pressure point from forming at some certain areas on your body.
The most common pressure points seem to be the lower back region, shoulders, elbows and hips. A stiff neck or sore legs might also be a sign that it's time to change your mattress!
Multiple customer Verlo mattress reviews note that the beds that the company offers - with V11 being at the top - offer varying levels of pressure relief. That said, most models (V11 included) are going to not only prevent painful spots from forming all around your body, but might also take care of the ones that you might have from your previous mattress.
Verlo Mattress Reviews: CONS
Now that we've covered some of the main and most often-protruded benefits of the Verlo mattresses, let's take a look at some of the more notable negative Verlo mattress reviews.
Online Available in a Physical Store
Undoubtedly, this is the biggest con that you'll encounter while reading through Verlo mattress reviews. The brand does not sell its mattresses online - the only way to get one is to go down to their showroom and deal with the sales assistant.
Now, look - usually, this would be a complete disaster as far as marketing goes. Think about it - why should you bother looking at a mediocre mattress in a store when you can purchase some of the all-time best mattresses online?
The most common response to that would be - but you can't test a mattress online! To that I say - it's a myth! Spending 15 minutes on a mattress in a store, with the sales clerk right beside you, you won't be able to even get a general feel for the bed, not to mention actually learning whether you like it or not.

So, in any way you look at it, purchasing a new mattress online is much more convenient than doing it in a brick and mortar store. Verlo, however, is different. A bit different.
You see, most mattresses are similar in that that they are solid, non-alterable objects. In Verlo's case, you can customize the products, even if it's to a minimal extent. This somewhat justifies the "only available in a specific place" deal.
That being said, however, it's little-to-no condolence to anyone who doesn't live close to a Verlo showroom - that's obvious judging by the customer Verlo mattress reviews found online.
The earlier-made point stands - why should you bother finding the nearest Verlo dealership, getting yourself there and judging on the spot when you can just purchase a top-tier mattress online?
Questionable Durability
Durability is often cited as the most important feature when choosing a new mattress for yourself. I'll admit - I mention this every chance I get, myself.
I firmly believe it's true, though - if your mattress lacks durability, isn't well-built or designed, it's not going to serve you well, no matter its other features.
Now, it's worth stressing that this is somewhat of a contentious topic as far as Verlo mattress reviews go - while some customers question the durability of the V11 model, others seem to have no problems, whatsoever.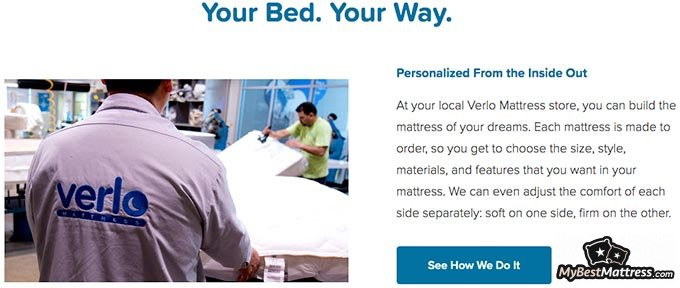 It does seem to depend on the mattress in question, however - while the V11 model might lack in terms of durability and longevity, this does not seem to be the case with most of the other Verlo mattresses.
Either way, it's definitely something that potential customers should keep in mind when choosing Verlo as the go-to mattress for themselves. If you're looking for a mattress that would serve you for a long time to come, and would remain comfortable and retain its supportive features all throughout that time, there are certainly better options out there.
Warranty Issues
While this isn't directly related to the V11 mattress, it's actually something that a lot of customer Verlo mattress reviews do note, so it's worth at least mentioning here, too.
For most, the warranty process seems to be smooth and without any issues - the company offers different warranty periods for its different mattresses, and you can contact the customer support if you have any issues that need fixing.
That said, some customers aren't particularly happy with how they were treated by the support. These people note that the process was very cumbersome and slow, and that the customer support wasn't at all that helpful. The cases seem to be isolated ones, but it's still something worth keeping in mind going forward.
Price
Usually, this is where we would be discussing the actual price tags of the mattress that we've just reviewed. In this case, however, there's very little to discuss - since Verlo isn't available online, the prices of the mattress might differ by quite a bit, depending on the features that you wish to add to or remove from it.
That being said, judging by the customer Verlo mattress reviews, you can expect the bed to cost anywhere from $2000 up to almost $4000. That's actually quite a lot.

Thing is, if the mattress was actually available online, and there would be more information surrounding it, the price might make a bit more sense. Alas, given that this isn't really the case, one can only judge in accordance with some other, high-end beds out there - and by those standards, that's expensive.
One thing that most customer Verlo mattress reviews seem to stress, however, is that Verlo does provide a "lifetime comfort guarantee". What this means is that, if you feel that the mattress has lost its comfort features, you can ask the company to fix it up for you. All things considered, that's a pretty nice touch!
Here is The Best Saatva Offer I Found:
UP TO $500 OFF
Limited-time Saatva Sale
We're sharing a limited-time Saatva mattress discount with our readers! Grab this deal & enjoy your new mattress with huge discounts.
Expiration date: 05/12/2023
4,042 People Used
Only 83 Left
Conclusions
Admittedly, finding a great mattress today can either be a pretty simple task, or a truly daunting one. It all depends on where it is that you look, and what type of a mattress it is that you need, in the first place.
All of that being said, let me tell you - if you're trying to find a mattress that would last you for a long time to come, and that would have all of the top-tier features you might need, your best bet is to look somewhere else.
Yes, Verlo does offer some of the more-interesting mattresses in the industry. Yes, you can customize the beds to your liking, at least more or less. That said, the customization options aren't really going to change the durability of the beds, will it?
Furthermore, all of that doesn't matter one single bit if you can't actually reach the showroom where you'd have to purchase the bed, does it? While it might perfectly well be their business model, Verlo will only be able to attract a very specific group of people.
All in all, while both the V11 and the rest of the brand's mattresses do have their moments in the spotlight, they definitely won't be the best choice for everyone. There are much more reliable and trustworthy brands out there - you can find a list of them here.
Thanks for reading, and I hope that the article was useful to you! Until next time, and good luck in your search for the best mattress out there!
Scientific References
1. Michael A. Grandner, PhD, Jennifer L. Martin, PhD, CBSM, Nirav P. Patel, MD, MPH, et al.: 'Age and Sleep Disturbances Among American Men And Women: Data From the U.S. Behavioral Risk Factor Surveillance System'
2. Kovacs FM, Abraira V, Peña A, et al.: 'Effect of firmness of mattress on chronic non-specific low-back pain: randomised, double-blind, controlled, multicentre trial.'
3. Andrea M. Spaeth, MA, David F. Dinges, PhD, and Namni Goel, PhD: 'Effects of Experimental Sleep Restriction on Weight Gain, Caloric Intake, and Meal Timing in Healthy Adults'
Leave your honest Verlo review
Leave your genuine opinion & help thousands of people to choose the best mattress. All reviews, either positive or negative, are accepted as long as they're honest. We do not publish biased reviews or spam. So if you want to share your experience, opinion or give advice - the scene is yours!