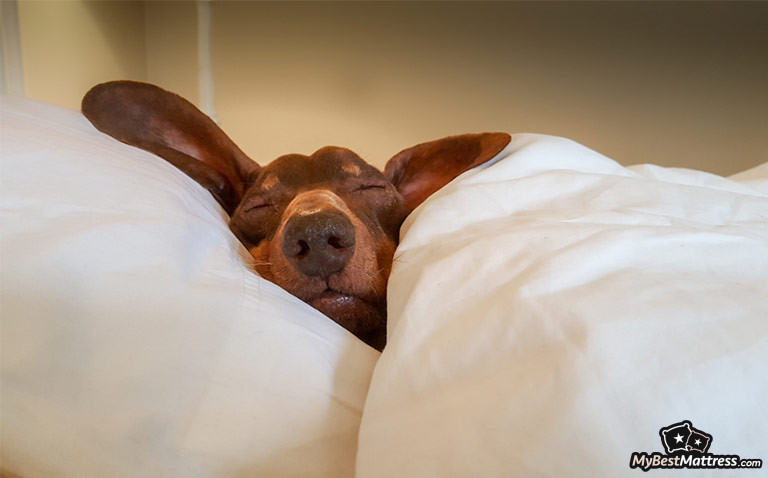 Let me ask you a few questions. Where does your dog sleep? On your couch? In your bed? On the ground? I'm not saying that these are terrible options, but they may not be the best dog beds alternatives.
We're not the only ones who need quality sleep; dogs also require a soft, warm, and comfortable bed that would allow them to have a proper rest. Not sure if you're aware that dogs' sleep cycle is similar to humans[1] - they go through the same stages of sleep, experience NREM (non-rapid eye movement) and REM stage (dreaming).
The only significant difference is that the dog's sleeping cycle is shorter than ours. While people usually go through five sleep cycles per night, dogs can go through up to 20!
If you want your dog to wake up rested, energized, and playful, you should be aware of all the best dog beds in the market and only then pick the perfect option for your pet.
In this article, I will go through the most popular dog bed styles, designs, introduce you to the filling and cover materials, and provide you with the best dog beds in the market (based on the owners' reviews).
The Most Popular Bed Styles and Designs
You will find a variety of different options, starting with budget-friendly options for under $100, moving to high-end models that can cost you hundreds of dollars. The price usually varies depending on the manufacturer and, of course, the materials that the dog mattress is made of.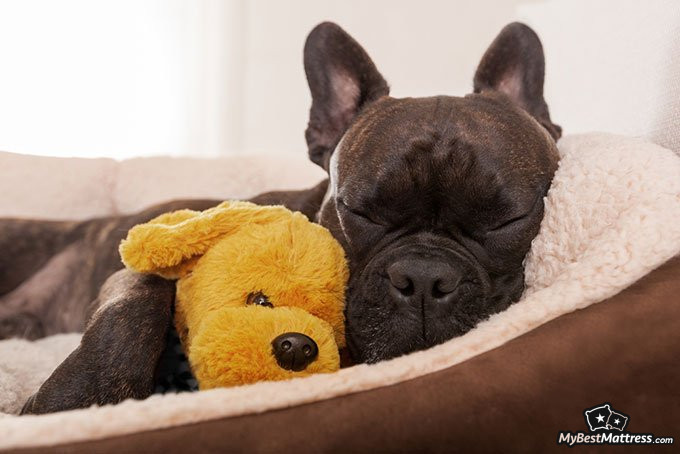 So, first, let me introduce you to the most common filling materials:
Memory Foam: material that adapts to your dog's body shape and tends to soften when affected by the body heat. It's often sold as an "orthopedic foam" due to qualities such as support, pain, and pressure relief. Memory foam mattresses are helpful for dogs with chronic pain.
Support Foam: a little bit similar to memory foam, often used as a cheaper alternative. The main difference is that it doesn't soften when affected by body heat. Due to this reason, it won't work for dogs with orthopedic problems.
Polyfiber: feels like a dog bed full of bean bags. It's quite adaptive to your dog's shape; however since the polyfiber is not very supportive, it may not work for bigger and heavier pets. What is more, qualities such as pressure relief, which are needed for pets with chronic pain, are also missing.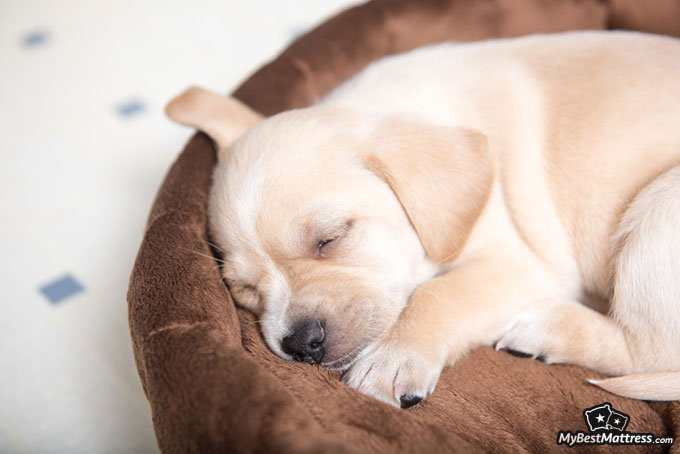 Now, the cover is also super important - you want to keep it clean and pleasantly scented. Needless to say, dog mattress covers tend to be (or at least should be) easily removable and washable in the machine. Thus, it won't require a lot of time and effort to keep your dog's bed clean.
Covers are usually made from:
If you want to be extra safe, you can choose waterproof covers that are usually made of nylon denier or polyester denier. Such covers will protect your dog's bed from soaking through at any cost.
By the way, if you're unaware, denier is a measurement unit that determines the fiber thickness of individual threads.
Tip from me. Don't choose the cheapest alternatives; they're not only made of low-quality materials but also pay very little or no attention at all to the waterproof covers that are a must to the best dog beds.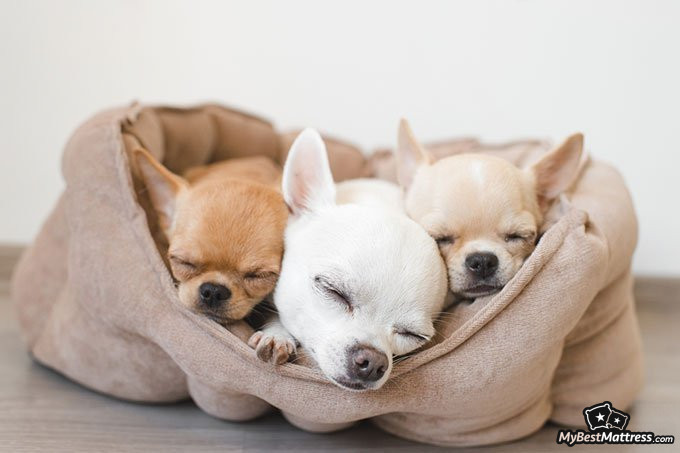 Different dog bed styles, shapes, and sizes are available in the market to benefit dogs with various needs. Here are the most popular designs:
Orthopedic bed - designed specially for dogs who suffer from chronic pain, have arthritis, or similar orthopedic problems. Such pet beds tend to be thicker, to provide your pet with support and extra cushioning. Orthopedic beds come in a variety of shapes, sizes, and colors, they often include waterproof elements and are perfect for elderly dogs.
Pillow bed - similar to pillows, they have flat surfaces that are lowered on the sides. They come in various shapes, colors, and sizes. If you're looking for a comfortable pillow for an elderly dog, then check memory foam pillows that will offer support and pressure relief.
Donut bed - circular pet beds that look like donuts have an elevated rim or edge around the entire perimeter. Such beds are made of very soft materials and are perfect for dogs who like to cuddle and tend to be chilly. It will provide comfort and safety for your pet.
Sofa bed - as the name says, it's a little sofa bed for your dog that will make him/her feel like a king/queen. They have cushioned surfaces and even come with a pillow (if you prefer).
Burrowing bed - designed specially for dogs that like to burrow and hide underneath the sheets. They're all pita-shaped, with an opening on only one side. They will make your dog feel warm and secure, surrounded by plushy surfaces.
Heated bed - have orthopedic qualities and add additional warmth to help dogs with joint pain. They work similar to heating pads and can alleviate pressure points in their body. This bed not only benefits dogs that experience pain but also thin and small dogs that need warmth.
Dog cot - also called "the raised bed" because they're elevated off the ground. Frames of such pet beds are designed out of wood, metal, plastic, or wicker. Since they elevate your dog from the cold ground, they're perfect for outside. The only problem is that the dog cot won't be great for pets with orthopedic problems.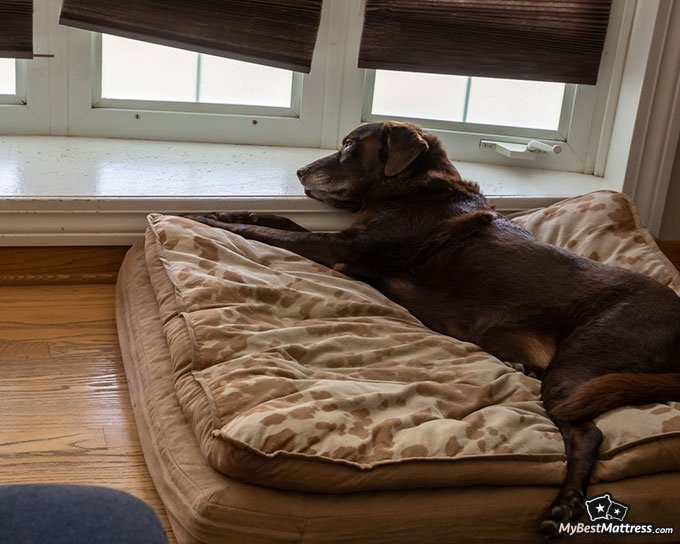 You should pick the bed design based on your pet's traits, habits, size, weight, and so much more. Thus, no one could say which mattress shape is the best for your dog - being the excellent owner as you are, pick the best dog bed for your pet.
Top-Rated Dog Beds
There are so many dog beds to choose from that finding the best dog beds became almost impossible. But I've got you covered. I've analyzed thousands of users' reviews to find out which beds received the best evaluations.
So, let's move to the list.
The Purple Pet Bed
First up - the Purple Pet Bed.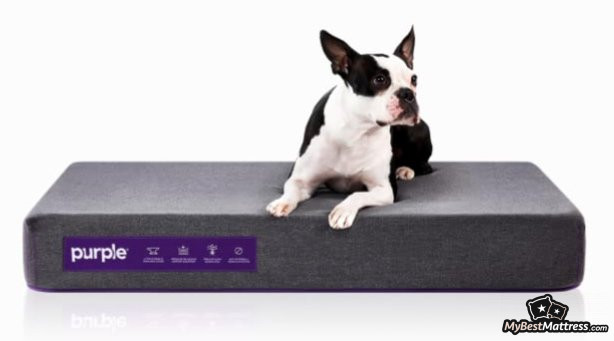 Just recently, Purple has launched the bed for pets that's just as good as their famous Purple mattress that you may have already tried. Needless to say, your dog will have an opportunity to feel the benefits of their 'Smart Grid' technology that's one of a kind.
Purple has designed a super tough cover that's stains, odor, moisture, and accident resistant. On top of that, it's super simple to clean.
The Purple's Smart Comfort Grid will allow your pet to feel all the beneficial sides of their unique technology. It offers deep pain and pressure relief together with a support that's needed for heavier dogs.
It comes in three different sizes:
Small - (for pets 1-30 lbs) 26″ x 5″
Medium - (for pets (31-70 lbs) 38″ x 5″
Large - (for pets 71+ lbs) 50″ x 5″
Purple pricing starts from $149 and comes with a 100-night free trial, 1-year warranty, and free shipping.
All in all, the Purple offers one of the best dog beds because it's moisture and microbes resistant, odor-neutralizing, super easy to clean, and quite good looking.
Latest Saatva Coupon Found:
UP TO $500 OFF
Limited-time Saatva Sale
We're sharing a limited-time Saatva mattress discount with our readers! Grab this deal & enjoy your new mattress with huge discounts.
Expiration date: 29/09/2023
4,042 People Used
Only 83 Left
Casper Dog Bed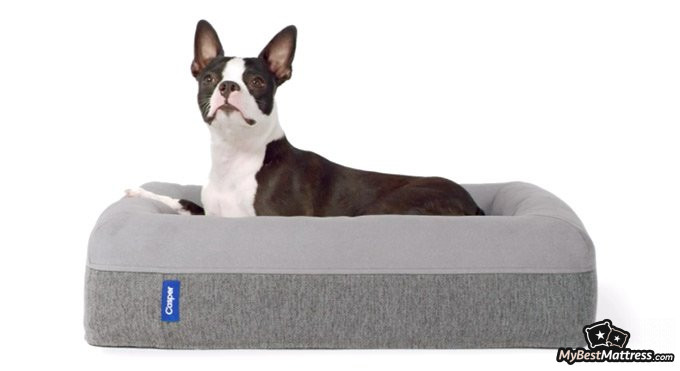 You probably heard of the Casper mattresses; they're on the leading edge of the industry. Casper dog bed is created by the same engineers who design their popular beds.
Considering the fact that Casper is one of the industry giants and have proved their value throughout the time, you can be sure that their beds for dogs will be at least as good as the ones for people.
Casper is designed from 2-layer foam construction, viscoelastic memory foam, polyurethane support foam, and the cover that's made from nylon, polyester, and olefin. The cover is machine washable, uncomplicated to remove and put back on.
The dog owners say that it's one of the best dog beds they've ever tried. Not that they slept on it (or maybe), but noticed actual changes in their pets' behavior - they became more energetic and take fewer naps during the day.
Here are the available size options:
Small - (for dogs up to 30 lbs) 26" x 19" x 6"
Medium - (for dogs up to 60lbs) 33" x 25" x 6"
Large - (for dogs up to 90lbs) 45" x 35" x 7"
Casper pricing begins from $125, comes with free shipping, 1-year warranty, and is considered as one of the best dog beds in the industry.

Did you know?
Nest Bedding Bolstered Dog Bed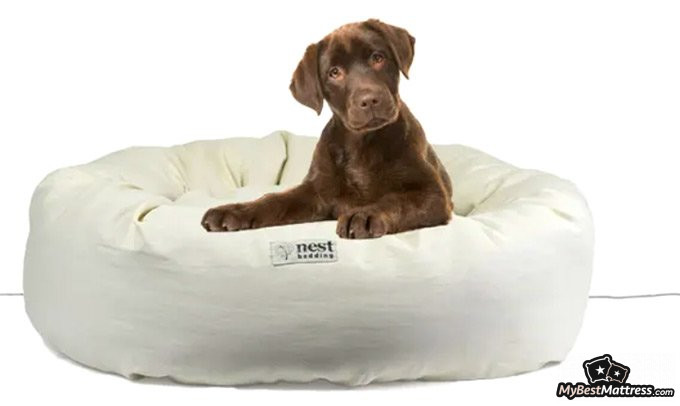 Nest Bedding Bolstered dog bed is not only one of the best dog beds in the market but is also the least expensive high-quality alternative for those who have a low budget.
It's a donut-style eco-friendly bed that will make your pet feel safe and cozy. It's made using 100% green waste recycled plastic fill that offers proper qualities for your pet's bed - it's both breathable and non-absorbent.
Nest Bedding donut also includes breathable and washable cover made out of durable 5 oz breathable canvas cotton fabric. Overall, it's a fantastic alternative for pets who love to cuddle.
It comes in three different size options:
Small - 24" x 7"
Medium - 29" x 8"
Large - 35" x 8"
Also, shipping won't cost you anything - it's completely free, and you get a 2-year warranty that will protect you and your pet from any manufacturing flaws.
I've introduced you with the top 3 best dog beds; however, if you want to have more options, you should take a look into these alternatives as well:
Tips That Will Help to Find the Best Dog Bed
Finding the best bed for your dog can be pretty challenging. But I'm here to help. Here are some tips that will help you to find the most suitable alternative for your pet:
Budget. Determine what's your budget. Best dog beds can vary from about $100 to $400 and even more. However, you can find great options for about $150.
Dog height. Dog height will help you to decide which bed size to choose. Think about how much surface area your pet needs.
Dog weight. If your dog is heavy, he will require much more support and cushioning than short and lightweight doggies.
Fur. If your dog sheds a lot, then the best option would be to pick a bed that would be easy to clean. Such dogs do not require heated beds but rather cooling alternatives. On the contrary, if you have a short fur doggo, you should think about a heated or burrowing bed.
Age. Elderly dogs might experience chronic pain that can be minimized only sleeping on the orthopedic bed. Also, since they sleep longer, make sure to buy a high-quality bed that would serve your pet longer.
Space. Think about the space in your room and only then choose the design and size of your dog's bed.
Sleep inside/outside. If your pet sleeps outside, then one of the best dog beds is the raised cot bed. It will keep your dog above the cold ground that can easily make him sick.
Certified foam. If you care about the quality that your dog's bed is made of, you should make sure it's made with CertiPUR-US(R) certified foam. It ensures that the materials used to design the mattress do not contain any harmful substances or chemicals such as mercury, heavy metals, and toxic fire retardants.
Therefore, I hope you appreciate these tips and take them into account when choosing the best dog mattress or bed for your pet.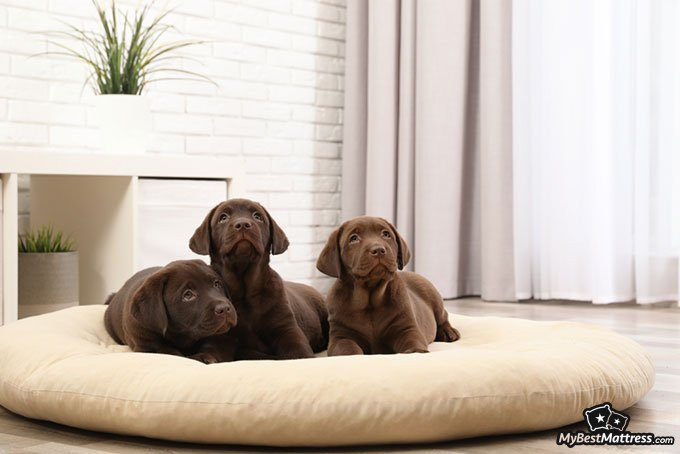 Conclusions
Therefore, considering all the aspects, the best dog beds usually use the memory filling, cotton/organic cotton, polyester and waterproof covers that will make sure the cleaning process is super simple and quick.
There are various dog bed designs that are available in various sizes, colors, shapes, and materials. The most popular of them are the orthopedic, pillow, donut and burrowing beds. However, other designs are also preferred by the dog owners.
If you're looking for the specific alternatives, you should consider the Purple Pet Bed, Casper Dog Bed, and Nest Bedding Bolstered Dog Bed - so far, they're evaluated as the best dog beds in the industry.
Treat your dog right and he will be grateful.
Scientific References
1. Sara C. Owczarczak-Garstecka, and Oliver H. P. Burman: 'Can Sleep and Resting Behaviours Be Used as Indicators of Welfare in Shelter Dogs (Canis lupus familiaris)?'
2. Iannino F, Sulli N, Maitino A: et al.: 'Fleas of dog and cat: species, biology and flea-borne diseases.'
Leave your honest feedback
Leave your genuine opinion & help thousands of people to choose the best mattress. All feedback, either positive or negative, are accepted as long as they're honest. We do not publish biased feedback or spam. So if you want to share your experience, opinion or give advice - the scene is yours!