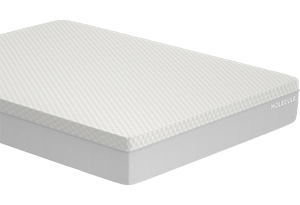 Sleep is the most important part of our day. It strongly influences our health and immune system. If you don't get enough sleep, you might find it difficult to concentrate, feel the lack of energy and notice a decreased life satisfaction.
One of the main reasons why you might experience low-quality sleep is an uncomfortable mattress. If that's the case, you should definitely consider getting a new one. Molecule beds might be suitable options for your needs.
Molecule is still a relatively new online mattress brand. It was founded back in 2018, however, it seems that it already has multiple fans. Molecule mattresses are created to provide you with recover-focused sleep. To do so, they're using advanced materials and scientific research data.
Molecule mattresses are created especially for athletes and people who are living an active lifestyle. In this Molecule mattress review, I will focus on the company's flagship model - Molecule 1, and provide you with all the important information, including structure, pros and cons, prices, and other additional details that you should be interested in.
Without further ado, let's jump straight into Molecule mattress review.
Verdict at a Glance
Molecule 1 is a medium-soft mattress that features memory foam construction. It's amazing for active people and athletes because it conforms closely to your body and alleviates pressure points. On the other hand, even though the company claims that it's durable, customers have concerns about the mattress's thermoregulation properties.
Pros
Close conforming
Completely noiseless
No motion transfer
Good for light- and average-weight sleepers
Cons
Traps some heat
Soft edges
Minimal responsiveness
Molecule Mattress Review: Structure
Before rushing straight into the pros and cons of this Molecule mattress review, I would like to take a look into the mattress structure. After all, comfort and durability depend only on the quality of the materials and layers.
Here's the Molecule 1 mattress structure:
Advanced Cover. The cover regulates the microclimate between the cover and your body. It manages to adjust evaporation and cooling as well as wicks away moisture.
RESTOREFLO™: Open cell memory foam comfort layer (2"). This layer promotes airflow and ensures that you're not sleeping too warm, and also provides you with pressure-relieving properties.
RECOVERYFLO™: 3-zone dynamic response layer. Ir provides targeted support for your body.
CONTOURFLO™: Maximum support (7"). It ensures healthy spine alignment. Also, since the material is breathable, it doesn't trap heat.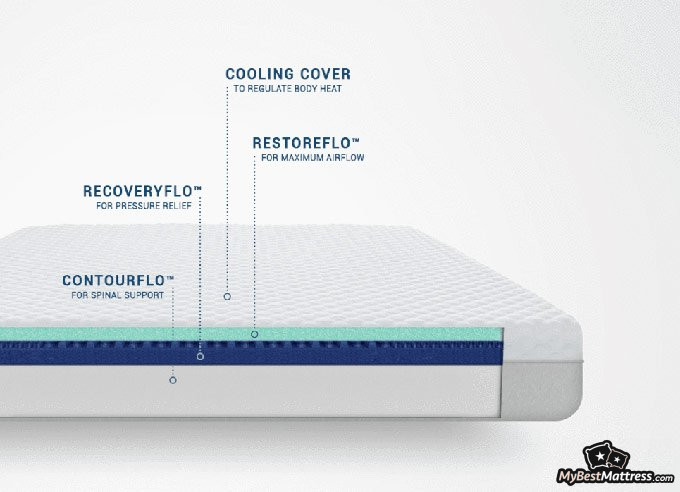 Now that you know all about Molecule bed structure, I bet that it seems that this mattress provides you with all the needed qualities. However, only honest Molecule mattress reviews can say all the truth about Molecule 1 bed.
Therefore, let's jump take a look into the Molecule 1 mattress pros and cons while focusing on the customer reviews.
Molecule Mattress Review: PROS
Just like always, I would like to begin this Molecule mattress review from the positive aspects. Make sure to take all of them into consideration - it will help you to make the right decision.
Conforms Closely and Alleviates Pressure Points
Even though there are multiple studies on sleep[1] and how different factors can affect it, there aren't that many studies on pressure point relieving properties. However, it's one of the most important aspects when it comes to mattresses not only for active people but also for those who work in an office and spend a lot of time sitting by the computer.
If you sleep on an uncomfortable mattress that doesn't have pressure relieving properties, you might wake up feeling aches in your shoulders, lower back and hip region. Needless to say, it might interfere with your life quality.

One of the major benefits that multiple Molecule mattress reviews distinguished is pressure-relieving properties. Since the company created their mattresses especially for athletes and active people, these qualities come first.
Since Molecule 1 has not only a memory foam layer that conforms closely to your body but also self-adjusting support for different parts of your body, it manages to distribute your weight evenly and doesn't create any unwanted pressure.
Latest Saatva Coupon Found:
UP TO $500 OFF
Limited-time Saatva Sale
We're sharing a limited-time Saatva mattress discount with our readers! Grab this deal & enjoy your new mattress with huge discounts.
Expiration date: 29/09/2023
4,042 People Used
Only 83 Left
Completely Noiseless and Good Motion Isolation
You probably know that foam mattresses tend to have some issues (I'll discuss all of them further in this Molecule mattress review), however, motion isolation is definitely not one of them. In most cases, memory foam beds manage to isolate the motion transfer to a significant extent.
Motion isolation works as a preventative tool against making motion. If you're sleeping alone, then it's not so important, however, if you're sleeping with your partner, the absence of this quality might be a real issue, especially if your partner keeps tossing and turning throughout the night.
Now, you're probably wondering how well does Molecule 1 mattress work at isolating motion transfer? According to multiple Molecule mattress reviews, ir provides a way better than above-average motion isolation. That being said, both partners can enjoy uninterrupted sleep.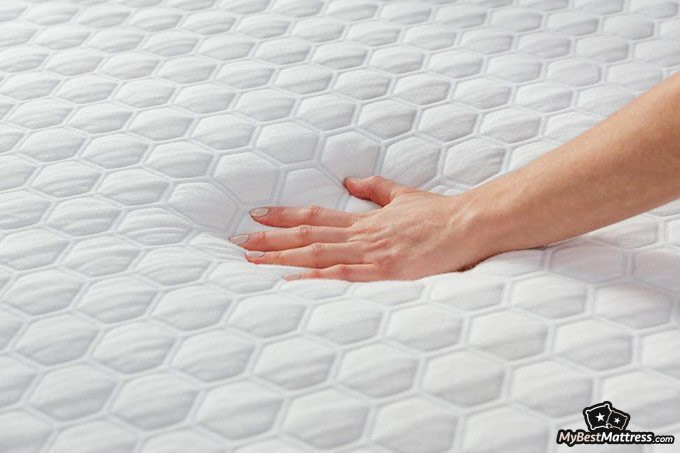 When it comes to noise, there's not much to say about that in this Molecule 1 review, just that there's none! It doesn't matter if you jump or move the mattress around, it produces no sound at all.
Therefore, when it comes to sleep disruptions, Molecule 1 mattress manages to deal with any motion transfer or noise issues.

Did you know?
Great for Light and Average-Weight Sleepers
Choosing a suitable mattress for your personal wants and needs is not as easy as it might seem in the first place. It's important to pay attention to such aspects as your weight, body type and even sleeping position. That being said, one mattress will never be suitable for all sleepers.
Now, Molecule 1 mattress is on the softer side, which is about 4,5 out of 10 on the mattress firmness scale. According to Molecule mattress reviews, it provides amazing pressure point relief and enough support for light- and average-weight sleepers.
When it comes to sleeping positions, it seems that this mattress works best for back and side sleepers. However, stomach sleepers weren't disappointed as well.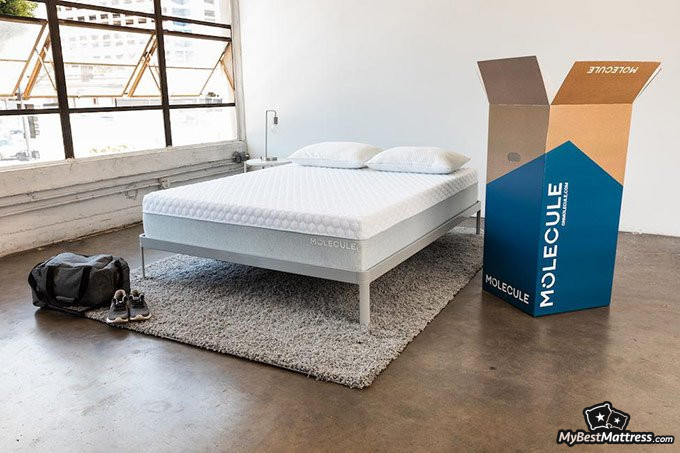 Now, as you probably understood, Molecule 1 is no good for heavier sleepers. Since it's on the softer side, it won't be able to provide you with a needed amount of support. It seems that heavy-weight stomach sleepers were the most disappointed with their experience sleeping on this mattress.
If you think that a firmer version of Molecule 1 mattress would be suitable for you, then you should check out the other company's model - Molecule 2. It has almost the same structure, however, it is on the slightly firmer side.
Molecule Mattress Review: CONS
We're done with the first and more pleasant part of this Molecule mattress review, now it's time to move further and see which aspects customers distinguished as this mattress's flaws.
Traps Some Heat
The quality of sleep and temperature are highly linked together. Multiple studies indicate that thermoregulation properties are needed for a quality rest.[2]That being said, it's something that you should be looking for in a new mattress.
As you already know, Molecule 1 is a memory foam mattress. The majority of such mattresses aren't performing very well when it comes to thermoregulation properties. Somehow, I thought that Molecule could be one of the exceptions as the company focuses on breathable mattresses for athletes.
However, at this point, I have to disappoint you. Multiple Molecule mattress reviews express their concerns about its breathability. That's not only because of the memory foam layer but also due to the fact that it's quite plushy and kind of 'traps' your body, surrounding you with warmth.
Therefore, if you were expecting the Molecule 1 mattress to provide you with cooling properties, you should know that it won't happen.
Weak Edge Support
Even though some of you do not pay attention to the mattress edges, it's more important than you think. Let me explain to you why.
In many cases, mattresses with firm edges are more durable than those with the soft ones. That's because edges help a mattress to maintain its initial shape longer. Innerspring beds tend to have much stronger edge support than foam or latex mattresses due to the coils that are found in their constructions.
What is more, soft edges can make you feel really uncomfortable and even unsafe when sleeping on the side of the mattress as well as make it quite difficult to get out of the bed when you have a lower base.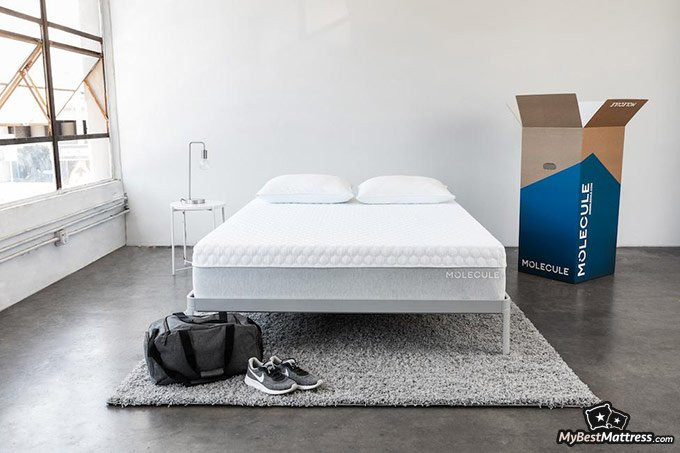 Moving back to the Molecule bed review, you should know that it performs quite poorly when it comes to edge support. Customers claim that there's a noticeable sinkage that makes them feel as if falling out of the bed. This feeling is definitely not the most pleasant one.
Minimal Bounciness
Why does a mattress need bounciness? Well, let's just say that has very little to do with sleep. Mattress bounciness as well as responsiveness are associated with improved sex life.
You see, bouncy and responsive mattresses do not allow you to sink in too deep but instead provide you with an instant bounce-back that doesn't require any effort. The situation is different with a soft and unresponsive mattress that makes the process so much more difficult.
Now, as you know Molecule 1 is a memory foam mattress that's on the softer side. To ensure that it performs as bad as I expected, I went through multiple Molecule mattress reviews. I have to say that customers are pretty disappointed.
Molecule 1 Price and Additional Details
Now that you know all there is about Molecule 1 pros and cons, let's take a look into additional details, such as pricing, warranties, etc.
What are the Prices for Molecule 1 Mattress?
Let's take a look into the list of Molecule 1 mattress prices:
Note that these prices were provided at the time of writing this Molecule mattress review. Thus, they might be slightly different by the time you'll be reading it. To find the most up-to-date information, you should check the company's official website.
As you can see, Molecule is one of those companies that provide customers with really attractive prices - queen-size mattress for less than $1000. What is more, Molecule offers multiple discounts not only for their mattresses but also for other sleep-related products. That being said, you can get it for even less during special occasions.
The pricing is not the only good aspect that should be mentioned in this Molecule mattress review, the company also offers free shipping and returns for their mattress. The Molecule 1 mattress will arrive packed in a box, which is very easy to move around your house.

Now, if you're not sure if Molecule 1 mattress is right for you, you can always take advantage of a 100-night sleep trial. During this time, you'll be able to try it out and decide whether or not it's suitable for you and your partner.
The only drawback that some Molecule mattress reviews distinguished is that you have to sleep on it for at least 30 nights before returning it. The company says that it takes time for a mattress to adapt.
Talking about mattress warranties, the majority of top-tier mattress providers give you 10 or 15 years, however, Molecule offers a limited lifetime warranty, which is the best you can get. The warranty covers manufacturing flaws, visible indention or sag as well as physical flaws.
Therefore, even though some of you are against purchasing mattresses online, it's usually so much safer and more comfortable than buying from retail stores.
Here is The Best Saatva Offer I Found:
UP TO $500 OFF
Limited-time Saatva Sale
We're sharing a limited-time Saatva mattress discount with our readers! Grab this deal & enjoy your new mattress with huge discounts.
Expiration date: 29/09/2023
4,042 People Used
Only 83 Left
Conclusions
Therefore, Molecule 1 mattress can be great for those who prefer memory foam mattresses over innerspring or hybrid beds and don't have issues with sleeping warm sometimes.
The Molecule 1 mattress was created especially for athletes, that's why it provides amazing pressure relieving properties. Multiple Molecule mattress reviews confirmed that this mattress is really comfortable and manages to distribute the body weight evenly.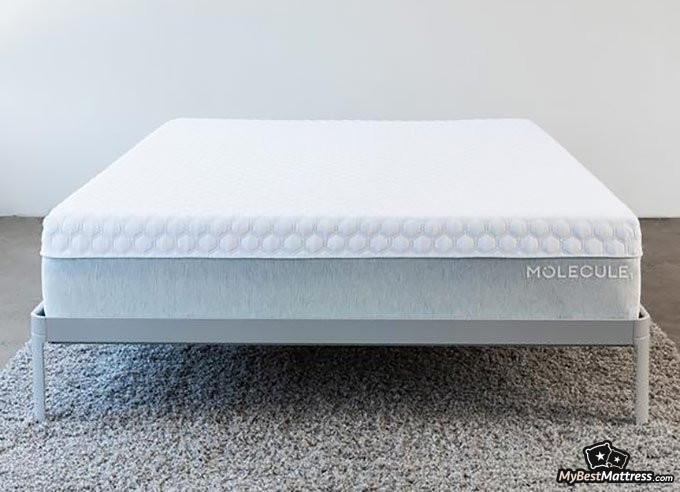 However, Molecule 1 mattress also has some drawbacks that are mostly associated with memory foam beds. The first issue is that it lacks edge support, which makes it quite uncomfortable to sleep on the side of the mattress. What is more, some Molecule mattress reviews claim that it traps heat and also many of them lack support.
If you want to check out better memory foam alternatives, you can take a look at this list. However, if you prefer more responsive and breathable mattresses, check out the list for the most recommended innerspring beds.
Scientific References
1. Hikmet Saçmacı, Nermin Tanık, Seda Sabah Özcan, et al.: 'Evaluation of Sleep-Related Respiratory Disorders in Patients With Multiple Sclerosis'
2. Kazue Okamoto-Mizuno and Koh Mizuno: 'Effects of thermal environment on sleep and circadian rhythm'
Leave your honest Molecule review
Leave your genuine opinion & help thousands of people to choose the best mattress. All reviews, either positive or negative, are accepted as long as they're honest. We do not publish biased reviews or spam. So if you want to share your experience, opinion or give advice - the scene is yours!