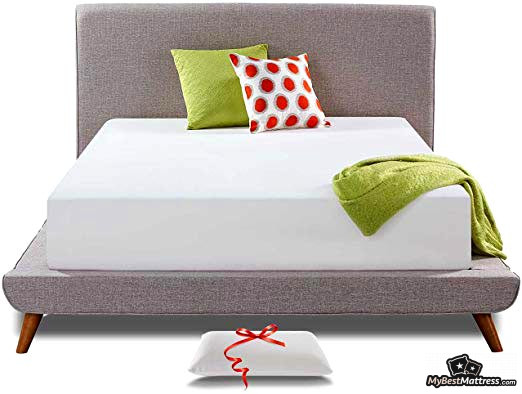 These days, quality, simple and old-school-like all-foam mattresses aren't that easy to find. Sure, there are providers that sell such products - but there aren't many. In this Live and Sleep mattress review, we'll be talking about one such provider.
Today, we'll be analyzing and discussing the Classic Live and Sleep mattress complaints and benefits, and will also see if the price tags that the mattress comes with are in accordance to the quality of the product itself.
TL;DR: While L&S offers customers a few different mattress choices, Live and Sleep mattress reviews note that the Classic model is one of the better options out of the whole lineup, price VS quality-wise. The mattress isolates motion pretty well, is eco-friendly and medium-firm, but might sleep warm for some.
Pros
Very affordable
Decent motion isolation
Eco-friendly and non-toxic
Part of the revenue the company makes goes to charity
Cons
Not very durable
Sleeps warm
Weak edges
Lack of bounciness
Live and Sleep Mattress Review: PROS
As I've mentioned in the introductory part of the Live and Sleep mattress review, we'll focus on one of the brand's mattress models - the Classic one. It's worth noting that while the company claims the Elite and Luxury mattresses to be superior, the (seemingly) most popular option still remains the Classic model.
Good Motion Isolation
It would be difficult to start off this Live and Sleep mattress review without addressing the actual construction of the product, wouldn't it?
As the name of the model likely implies, the L&S Classic is a traditional, all-foam mattress. It's made out of two layers of different foams - memory foam on top, and high-density polyfoam at the bottom.
This "traditional foam mattress" type of a build is very straightforward - this means that all of the features (both the benefits, and the shortcomings) of the bed are going to be rather straightforward, too.
And, sure enough, one of the main features of the Classic model praised by quite a few of the customer Live and Sleep reviews is motion isolation.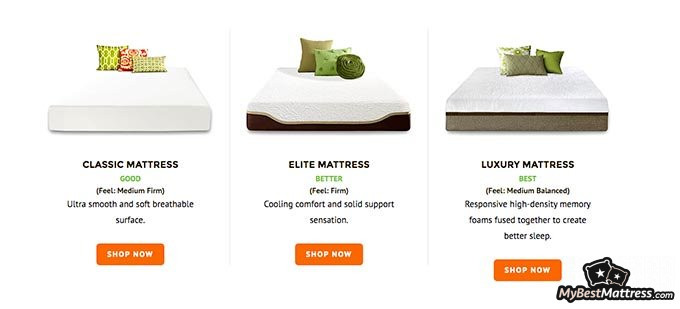 When a mattress is good at isolating motion, it's going to be a great fit for any couples out there who want to sleep together, but are constantly waking each other up by tossing around at night. With motion isolation, this can be mitigated to that particular side of the bed, thus minimizing motion transfer.
As you might have gathered already, foam is one of the best materials when it comes to isolating motion. It's naturally sinky - when you lie down on it, you can expect to sink down the mattress a tiny bit, and feel the foam contour around your body. This is especially true with memory foam.
Disclaimer: Too much sinkage isn't a good thing! Your mattress should sink your body down just enough to keep it in place, but not break proper spine alignment and posture!
While doing research for this Live and Sleep mattress review, I've found that the majority of the customers are actually quite happy with how the Classic model absorbs motion. You should be able to get some proper quality sleep, and minimize the amount you move around the bed yourself, too.
Latest Saatva Coupon Found:
UP TO $500 OFF
Limited-time Saatva Sale
We're sharing a limited-time Saatva mattress discount with our readers! Grab this deal & enjoy your new mattress with huge discounts.
Expiration date: 12/12/2023
4,042 People Used
Only 83 Left
Relieves Pressure Surprisingly Well
One of the bigger reasons why people search for various new mattress reviews (Live and Sleep mattress reviews included) is because they're fed up with sleeping on an old bed that makes them feel sore in the morning.
This soreness usually manifests in what are known as "pressure spots". These spots are certain areas on your body (neck, hips, lower back, extremities) that receive the most pressure when in contact with the surface of your mattress.
Feeling pain in the morning can hinder your energy levels throughout the day. This, in turn, will make you drowsy, and your energy levels might actually affect your sleep-wake cycle[1] (in addition to the mattress making you feel sore, that is).
Live like this for a long enough period of time, and you'll catch yourself completely fed up and reading through customer Live and Sleep mattress reviews left online, with the hopes of finding a new mattress for yourself.
Well, if you're currently in a situation like that, the L&S Classic might actually be a good option for you. Reading through some customer feedback, it would seem that the mattress does a surprisingly good job at alleviating pressure and lifting any existing pains away from your body.
I use the term "surprisingly" intentionally. While foam is known for having pressure relief qualities, it's actually surprising to see a mattress comprised entirely out of foam and not even being very thick (approx. 10") reach good pressure alleviation results.

Did you know?
Silent
Admittedly, noise might not be the main feature that would drive a person to search for a new mattress… Unless it's extreme and you can't fall asleep because of it.
Even though it might be more of a 'nice-to-have' feature than anything else, it's still reassuring to know that, once you unpack your new mattress and lie down on it, there won't be any excessive sounds coming from within. This issue is most-common with spring beds.
As you've probably gathered from different Live and Sleep reviews, however, the company does not deal with innerspring mattresses. Instead, the beds are made out of the before-mentioned types of foam - one of the most silent materials for a mattress composition.
Even as the bed ages, you can rest assured that there shouldn't be any significant noises manifesting within the product - there simply isn't anything inside of it that COULD make noise, in the first place. So, worry not - Live and Sleep is a silent-mattress firm.
Medium-Firm
Depending on where you look and how much you actually weigh, you might find that medium-firm mattresses are usually considered to be the best options as far as sleep health is concerned. Allow me to explain.
You see, for the person of an average-weight, a medium-firm mattress will provide just enough comfort, while also granting all of the essential support features. This way, your body will remain properly-aligned on the bed during the night (especially if combined with a good-quality pillow), and minimize the risk of lower back pain.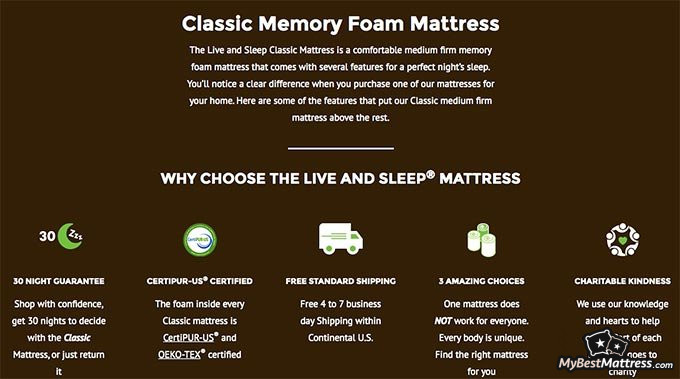 Now, it's important to acknowledge that the situation will be different for people in different weight groups. If you're a heavier person, the thing that you should take away from this Live and Sleep mattress review is that you'll need a firmer bed (and vice-versa).
The Classic mattress, however, is exactly that - medium-firm. Yet again, it's positively-surprising how the brand has managed to achieve "the perfect firmness level" with just two layers of different foams.
Non-Toxic Materials
While this isn't something that many customer Live and Sleep mattress reviews would emphasize, I do believe that it's important to mention, at least very briefly.
At the very top of their official website, the company states that their beds are made from "non-toxic and eco-friendly materials". This is great for one, specific reason - the beds being more hypoallergenic.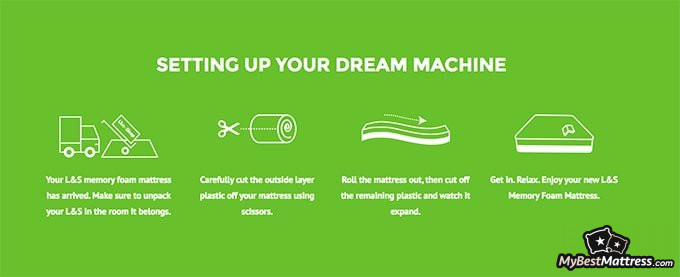 While this mostly applies to latex mattresses, eco-friendly foams do also (sometimes) fall into this category. If you suffer from allergies, there's a pretty good chance that the L&S Classic mattress won't invoke them - not a guarantee, though, since every person is different!
The company itself notes that the "non-toxic" part is important for kids, too. The brand's mattresses (all three of them - not just the Classic model) are CertiPUR-US certified, making them less-toxic than some of its competitors. It would seem that the brand truly does care about the environment AND its customers - a good sign!
Live and Sleep Mattress Review: CONS
Before we go ahead and move on to the pricing part of the article, let's talk a bit about the most prominent Live and Sleep mattress complaints.
Lack of Durability
When you want to get a brand new mattress for yourself, durability is likely at the top of the "essential feature" list - at least it should be.
Well, while searching for information for this Live and Sleep mattress review, I've noticed that there are reports of the Classic mattress not being the most durable product on the market. Truth be told, that's not at all surprising.
You need to remember that the bed is comprised out of two layers of foam - that's it. Keeping this in mind, it's no wonder that the product lack durability - its actually more of a mattress that you would place in a guestroom, instead of sleeping on it for an extended period of time yourself.
Sleeps Warm for Some
Sleeping warm isn't a fun experience - "warmness" can soon turn into "heat", which would completely destroy any and all positive sleeping experience and would ruin your quality of sleep. While research shows that sleep health is associated with age and gender[2], among other things, temperature neutrality would probably be at the top of the list, too.
Now, it's important to mention that foam is usually the primary suspect in heat-related situations. It's a heat-absorbing material by default, and making a foam mattress sleep cool is a true challenge.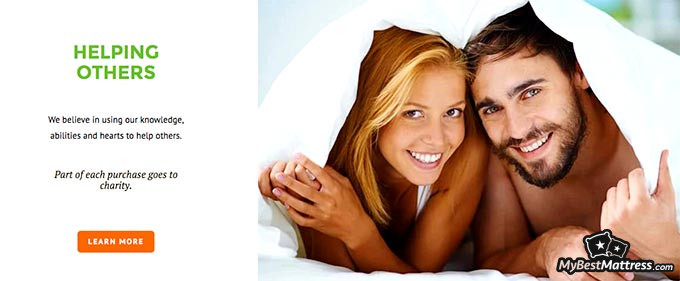 L&S tries to tackle this challenge with a breathable mattress cover - unfortunately, reading through some customer feedback, it's not really successful in doing so. The mattress won't be (quote, unquote) "hot", but will definitely sleep on the warmer side of things.
If heat is you main pet peeve, you should be looking at innerspring and hybrid beds - these types of mattresses sleep the coolest.
Price
With the Live and Sleep mattress complaints out of the way, let's talk money.
The Live and Sleep Classic mattress prices are, as follows:
Please note that the prices are presented as such in the time when this Live and Sleep mattress review is being written - they are subject to change at the company's own discretion, so always make sure to check for the latest ones!
As you can probably see for yourself, the Classic mattress is definitely on the more affordable side of things. In addition to that, you'll also receive a 30-night sleep trial, free shipping, and an impressive 20-year warranty! All things considered, that's definitely a good deal, for sure!

Finally, I do believe that's it's very important to mention the fact that part of the revenue that the company makes is going to charity. The charity of choice is the National Alliance to End Homelessness - an organization aimed at preventing and combating homelessness within the United States.
Here is The Best Saatva Offer I Found:
UP TO $500 OFF
Limited-time Saatva Sale
We're sharing a limited-time Saatva mattress discount with our readers! Grab this deal & enjoy your new mattress with huge discounts.
Expiration date: 12/12/2023
4,042 People Used
Only 83 Left
Conclusions
While there aren't all that many Live and Sleep mattress reviews online, the ones that do exist uphold a generally-positive tone towards the beds that the company offers, the Classic model included. So, would I recommend the mattress myself?
Well, yes and no, actually.
If you're looking for a new bed for a shorter period of time (perhaps for the time you'll spend in your college dorm, or even a guestroom), then Live and Sleep is a good choice. It's very affordable, eco-friendly and non-toxic, and has decent features that are common with all-foam mattresses.
If, however, you need a bed for a longer period in your life (and you plan to sleep on it every single night), you're better off investing a little bit more money and purchasing yourself one of the industry's top-dogs. Some customer Live and Sleep reviews seem to agree.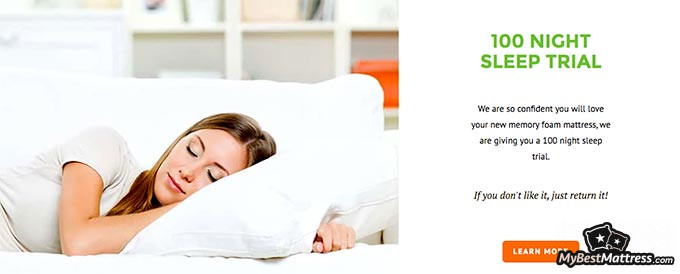 The mattress does sleep a bit warm, and - reportedly - lacks quality. While we've already established that this isn't too big of a surprise given the construction of the bed (nothing but two layers of different types of foam), it's still little condolence to a person wanting to find a long-term, reliable bed.
Well, that's it - that concludes our Live and Sleep mattress review. I do hope that it was useful and informative to you, and that you've learned something new! Also, if you're interested in a foam mattress, but aren't sure about Live and Sleep, you could check out our list of the best foam beds out there.
With that, I thank you for reading, and wish you good luck in finding the right bed for yourself (and your partner). Cheers, and until next time!
Scientific References
1. Tinh-Hai Collet, MD, Agatha A. van der Klaauw, MD, Elana Henning, BSocSc, et al.: 'The Sleep/Wake Cycle is Directly Modulated by Changes in Energy Balance'
2. Mireia Dalmases, Writingm, Ivan D. Benítez, Anna Mas, et al.: 'Assessing sleep health in a European population: Results of the Catalan Health Survey 2015'
Leave your honest Live and Sleep review
Leave your genuine opinion & help thousands of people to choose the best mattress. All reviews, either positive or negative, are accepted as long as they're honest. We do not publish biased reviews or spam. So if you want to share your experience, opinion or give advice - the scene is yours!