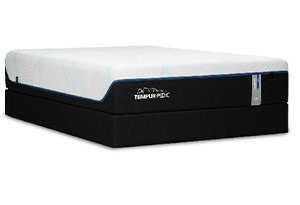 Just like food, sleep is one of the fundamental aspects of human welfare. Sleep deprivation could lead to such health issues as an increased risk of heart disease, kidney disease, high blood pressure, diabetes, and stroke.[1] What is more, it's highly linked to obesity and can be related to multiple other issues.
Even if you're sleeping enough you should know that sleep quantity is not the only thing that matters, you should also pay attention to the quality of rest that you get. In many cases, poor sleep quality is related to uncomfortable mattresses. If that's the case, you should make sure to solve this issue.
In this Forty Winks review, you will find out everything there is to know about the company, its products, major pros and cons, and additional information that matters when choosing a mattress for your personal needs. Thus, if you're experiencing poor sleep quality, you'll probably find a mattress at 40 Winks that will solve this issue.
Verdict at a Glance
Forty Winks provides you with multiple mattress brands and beds to pick from, including Sealy, Serta, Tempur, My Side, Tempur Sleep, and others. All of them are made of high-quality materials and offer some really amazing properties for different sleepers.
Pros
Reliable company
Multiple brands to choose from
The majority of products are very durable
Cons
Not all brands are as good
Some mattresses are very expensive
Forty Winks Review: Introduction to the Company and Brands
Forty Winks has been offering top-tier mattresses for more than 35 years. The company was founded in Melbourne in April 1984 by experienced retailers. They started the journey as a member co-operative with multiple stores located in Victoria.

Now, years later, Forty Winks has more than 1000 operated stores that sell furniture, mattresses, and other sleep-related products, and is also one of the leading bedding retailers in Australia.
The company ensures to offer mattresses for different sleepers. No matter if you're a light- or heavy-weight sleeper, or if you're suffering from such health issues as chronic back pain or sleep apnea, you'll be able to choose a mattress and other sleep-related products that will help you to solve or at least minimize these issues.
At the moment, Forty Winks is offering multiple brands to choose from, here's all of them:
My Side
Active Sleep
King Koil
Sealy
Serta
Silent Partner
Sleep Maker
Tempur
Even though there's quite a long list of mattress manufacturers to choose from, in this Forty Winks review I would like to introduce you to all of them while focusing on the major features of each brand.
Let's get right into Forty Winks reviews.
My Side
My Side is using bedMATCH technology that manages to provide you with the right level of support for different body weights and different sleeping positions. The company's mattresses also come with amazing pressure relieving properties that allow you and your partner to relax after a difficult day at work.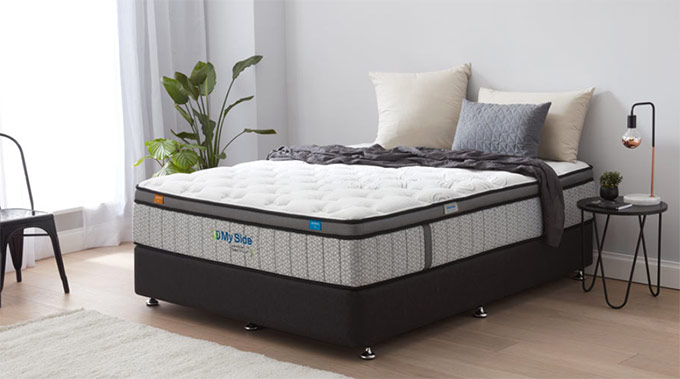 If you're having issues with your back or neck pain, My Side mattresses should be just the right fit. They're crafted to meet the levels that are recommended for postural support. That said, you'll sleep not only comfy but also healthy.
Based on Forty Winks mattress reviews, My Side mattresses are also very breathable and provide you with cooling properties. They're using gel-infused memory foam that promotes cooling as well as cool wave foam that provides not only pressure relief but also air ventilation. Knowing that temperature and sleep quality are highly related, this aspect is crucial.
The pricing of My Side queen-size mattresses varies from $2,299 to $7,499. Needless to say, My Side offers luxurious mattresses that come in amazing properties and are worthy of the price.
Active Sleep
Active Sleep mattresses are an amazing option for everyone who is looking for comfortable mattresses for attractive prices. Their beds are created using the latest sleep technologies and work for different types of sleepers.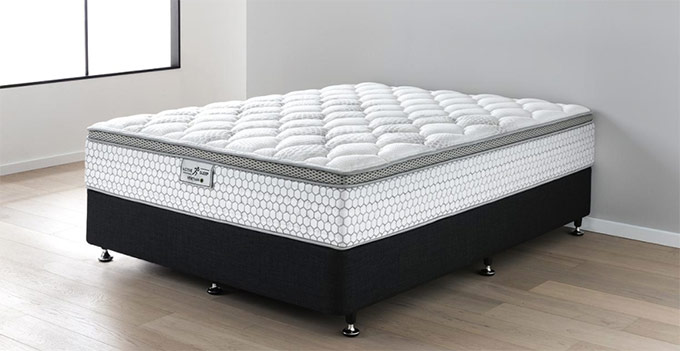 Active sleep beds are designed using gel-infused Visco memory foam that, according to Forty Winks reviews, conforms closely to your body and also provides cooling properties and manages to maintain neutral body temperature throughout the night. What is more, the mattress has breathable gussets around the top of the bed, which also help with temperature regulating properties.
Queen-size Active Sleep mattresses cost from $359 to $1,299. As you can see, Active Sleep offers some of the most customer-friendly prices. Thus, even if you have a very limited budget, you'll be able to find affordable options.
King Coil
King Koil offers premium mattresses that are hand-crafted. The company offers multiple models that each is designed slightly differently. That being said, everyone can find the right mattress based on their personal preferences.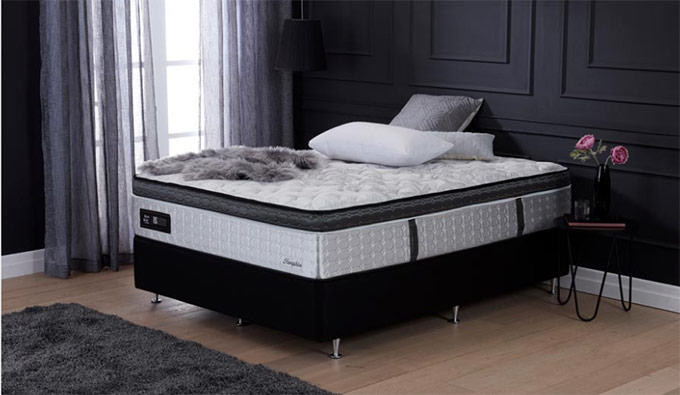 King Coil mattresses are designed using high-quality materials. Based on Forty Winks reviews, they're durable and comfortable. What's best is that the company manufactures mattresses using different materials, including natural latex, memory foam, or gel-infused memory foam. Therefore, you can choose an option that suits your needs best.
What is more, Forty Winks reviews appreciate the fact that King Koil mattresses have firm edges, meaning that even if you'll sleep on the side of your bed, you'll feel safe. Soft edges are usually associated with memory foam mattresses.
The pricing of King Coil mattresses varies from $599 to $4,799 for a queen-size. It means that no matter what your price limit is, you'll be able to pick a bed based on your budget.
Sealy
Sealy is one of the best-known mattress brands in the industry. The company is offering multiple models to choose from. Sealy mattresses are created of high-quality materials and that's why they're so durable. They even have their own NATA accredited testing facility.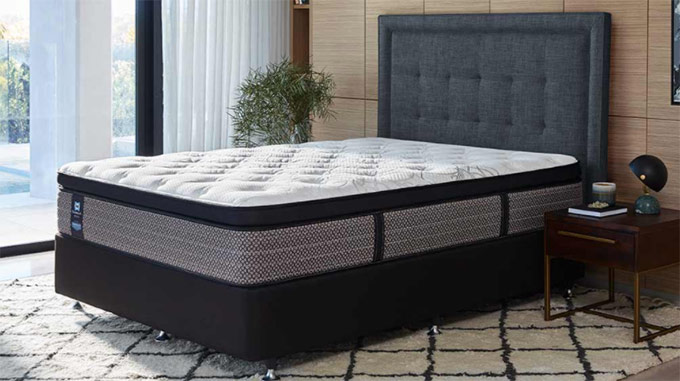 Sealy beds provide you with the orthopedically correct support. They make sure that your body remains in a healthy position while sleeping and ensure that you get the right level of support.
Based on Forty Winks reviews, Sealy mattresses have amazing pressure-relieving properties, they conform closely to your body and alleviate the pressure points.
Forty Winks offers Sealy Posturepedic collection, which is created using the unique ReSTII coil and Responsive Support Technology. Their pricing varies from $350 to $6,799 for a queen size mattress. That said, every sleeper will be able to choose an option based on their budget.
Serta
Serta has been in the market for more than 80 years, the company sells mattresses in over 150 countries all over the world. It seems that Serta is one of the most popular Forty Winks mattress brands due to the variety of different designs, price options, and, of course, amazing properties.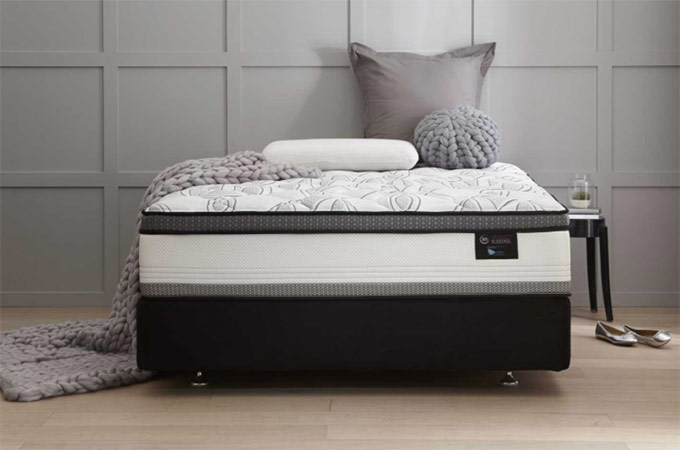 Serta mattresses are created with an intention to solve the most common issues that people experience when sleeping. That said, if you're looking for a mattress that would provide you with an optimal amount of support, breathability, firm edges and could minimize the motion transfer to a significant extent, you should take Serta mattresses into consideration.
Serta mattresses come in different heights and materials, that's why you'll be able to find both budget-friendly and luxurious options. The prices of Serta's queen-size mattresses vary from $799 to $9,999. As I was going through Forty Winks reviews, I noticed that the majority of sleepers are happy with Serta's products, even if some of them are on a rather expensive side.
Silent Partner
Silent Partner mattresses are really popular at Forty Winks. The company offers multiple collections and designs to choose from, including Cosmopolitan, Bellagio, SP Performance Hybrid Mattress, Aria, Versailles, and others.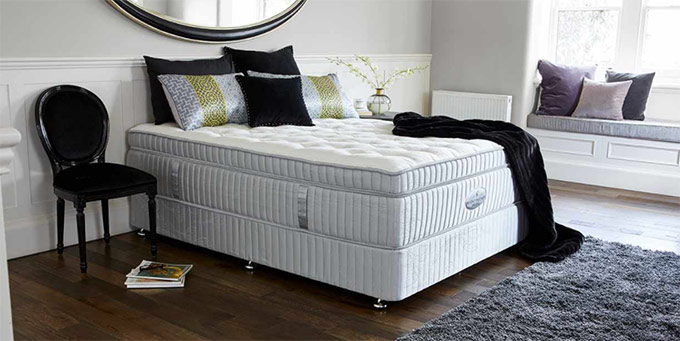 Silent Partner mattresses have two independent sleeping zones, which manage to minimize motion to a significant extent and allow both you and your partner to enjoy the quality rest that you deserve.
The company designs mattresses with the finest upholstery layers, their mattresses are comfortable, durable and provide amazing support. What is more, due to Cool Air Technology and gel-infused Visco elastic memory foam, their beds offer exceptional cooling properties. Visco elastic memory foam ensures that mattresses don't trap heat and maintains neutral body temperature throughout the night.
Some of the Silent Partner mattresses are designed using pure natural latex, which is known to provide pressure-relieving properties as well as ultimate breathability, Based on Forty Winks reviews, such beds are amazing for those who experience excessive sweating during the night.
What is more, some of their models are manufactured with a premium wool blend, which is hypoallergenic and eco-friendly as well as ensures an optimal sleeping temperature.
Queen-size Silent Partner mattresses cost from $1,599 to $7,999. Based on Forty Winks mattress reviews, even their cheapest mattresses can improve the quality of sleep significantly.
Sleep Maker
Sleep Maker mattresses are best-known for their Miracoil 5 Zoned Spring System, which provides five different levels of support for your body. Based on Forty Winks reviews, this system is great because it helps to maintain the correct spinal alignment throughout the night.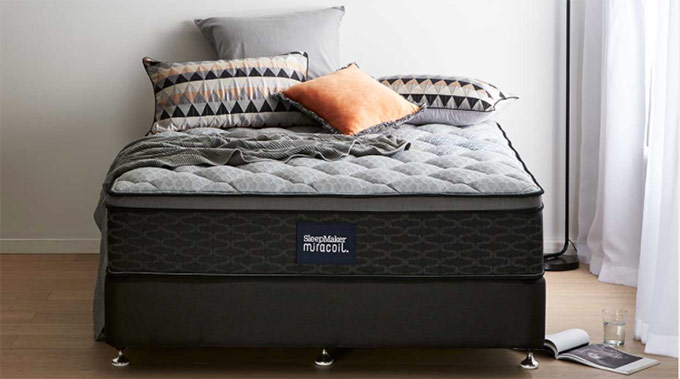 What is more, Sleep Maker mattresses have firm edges, which allows you to sleep safely even on the sides of the bed. Let me just tell you, one of the worst experiences is to lay on the edge of your bed and feel like you're falling all the time. This aspect is crucial to couples as both of the partners tend to sleep on the sides.
Moving further, Sleep Maker mattresses are designed with spring and helical wires that run down the length of the bed and ensure weight distribution. It also helps to reduce motion transfer.
While some people think that motion transfer doesn't interrupt with their sleep, studies show otherwise.[2] It seems that not only noise but also sleep movement transfer can interrupt the quality of your sleep and result in less deep sleep and more stage 1 and 2 sleep.
The company is using Ultra-Fresh® technology that allows you to sleep cooler, promotes freshness, cleanliness and more hygienic sleep. That said, if you have allergies, Sleep Maker mattresses could help you to deal with this issue.
The only issue that some of the Forty Winks reviews distinguished is the lack of comfort. Some of them want closer conforming and better pressure relieving properties.
Sleep Maker mattresses are quite inexpensive. All models provided by Forty Winks will cost you $799.
Tempur
Since you've been looking for high-quality mattresses, I bet that you've heard about Tempur before, it's another amazing brand that you can find at 40 Winks. They're best known for therapeutic support and pressure relieving properties. Tempur mattresses are well-known not only in Australia but all over the world, and they've managed to gain an amazing reputation throughout the years.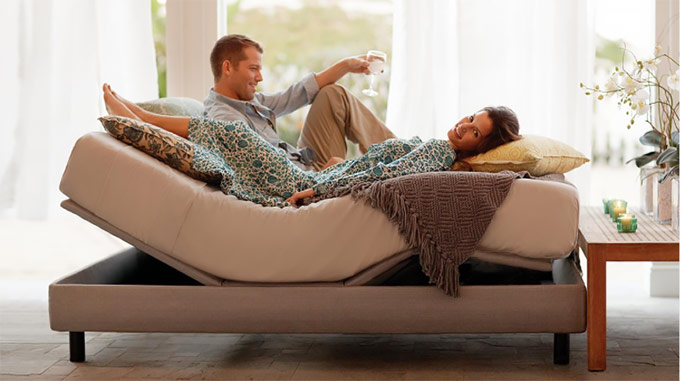 Tempur's unique material ensures that your spine and joints stay in the correct position while you're sleeping. What is more, according to the company, this material can improve blood flow and circulation, and also minimizes the motion transfer to a significant extent. That said, you will be able to enjoy uninterrupted sleep even if your partner is tossing and turning throughout the night.
Tempur mattresses are recognized by more than 75,000 medical professionals, they're designed utilizing NASA Space Technology that was initially created to relieve the pressure that astronauts experience during the liftoff.
No matter if you prefer sleeping on your side, back or stomach, Tempur mattresses are amazing for all sleepers. Also, if you're suffering from such issues as chronic back or neck pain, these beds help you to solve these problems.
The only drawback that 40 Winks reviews distinguish is the fact that the company doesn't offer any cheaper alternatives. The price of their mattresses varies from $2,199 to $6,199.
Here is The Best Saatva Offer I Found:
UP TO $500 OFF
Limited-time Saatva Sale
We're sharing a limited-time Saatva mattress discount with our readers! Grab this deal & enjoy your new mattress with huge discounts.
Expiration date: 12/12/2023
4,042 People Used
Only 83 Left
Conclusions
Therefore, as promised at the beginning of this Forty Winks review, I introduced you to all the mattress brands that this company is offering. Each of the companies offers very different products that have exceptional properties.
I cannot tell you which company is the best because you should pick a mattress completely on your personal wants and needs. You should pay attention to firmness, mattress structure, pressure-relieving properties, motion isolation and other important aspects. Since they all come with money-back guarantees and warranties, there are completely no risks.
When it comes to the most recommended brands, it seems that people usually go for Serta, Sealy and Tempur, however, that's because these brands are well-known all over the world.
Scientific References
1. Sleep Deprivation and Deficiency
2. Kazue Okamoto-Mizuno and Koh Mizuno: 'Effects of thermal environment on sleep and circadian rhythm'
Leave your honest Forty Winks review
Leave your genuine opinion & help thousands of people to choose the best mattress. All reviews, either positive or negative, are accepted as long as they're honest. We do not publish biased reviews or spam. So if you want to share your experience, opinion or give advice - the scene is yours!