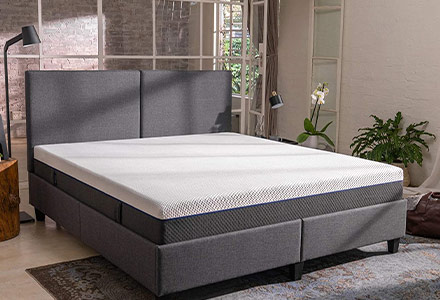 Most of the time, when people think about world-class mattresses, names such as Saatva or Purple tend to immediately pop up into one's head. That said, however, there are other top-tier brands out there, too - ones that you might still have not heard about. In this Emma mattress review, we'll talk about one such brand.
As with any other mattress provider out there, we'll focus on the company's main product - the Emma Original mattress. We'll discuss the pros and cons of the bed, check out the pricing and also see what other customer Emma mattress reviews have to say about it, too.
Let's not waste any time and jump straight into it.
TL:DR: The Emma Original mattress is a high-quality, all-foam product - customer Emma mattress reviews talk about the bed having amazing motion and sound isolation, pressure relief and conforming capabilities. That said, the mattress does also showcase all of the usual foam product cons, too - lack of bounciness, temperature neutrality and edge support.
Pros
Decent pressure relief capabilities
Good motion isolation
Not noisy
Very affordable
Cons
Might sleep warm for some
Weak edges
Not bouncy
Might have initial odours
Emma Mattress Review: PROS
To start things off on a high note, it's important to address the type of the Emma mattresses - these products are all-foam beds. This, in turn, has it's own advantages and disadvantages - some are minor, while others are actually worth mentioning and talking about.
If you're spent any time researching different mattress types prior to this Emma mattress review, you're probably aware that one of the core strengths of an all-foam mattress is it's motion isolation capabilities. Let's tackle this point first.
Great Motion Isolation
Motion isolation is one of those features that you don't appreciate until you sleep with someone who suddenly becomes a Krav Maga expert once they fall asleep. Constant tossing and turning, punching and kicking the pillows, blankets and everything in between can surely become a huge nuisance, real fast.
Unfortunately, this isn't only true for the person suffering from these disturbances, but for their significant other who's trying to sleep nearby, too. If your mattress is bad at absorbing and isolating motion, you're going to feel everything - that's definitely not the ideal scenario when it comes to a good night's sleep.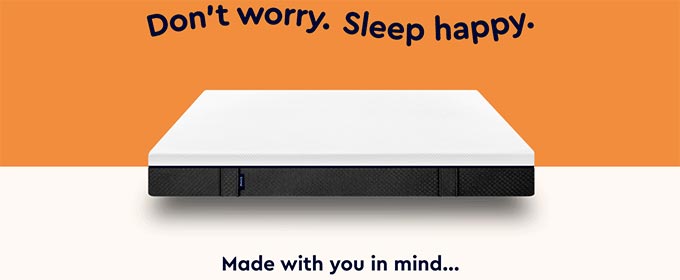 The absolute majority of customer Emma mattress reviews, however, will tell you that this is not an issue that you'd be facing with the Emma Original mattress. This product has some amazing motion isolation capabilities - seeing as it's an all-foam mattress, this isn't really all that surprising, either.
The bed is made up of 3 different layers of polyfoam, all with their own, specific benefits. This type of a design allows the bed to absorb the motion that you or your partner makes, and ensures that your sleep isn't disturbed - pretty neat!
Latest Saatva Coupon Found:
UP TO $500 OFF
Limited-time Saatva Sale
We're sharing a limited-time Saatva mattress discount with our readers! Grab this deal & enjoy your new mattress with huge discounts.
Expiration date: 29/09/2023
4,042 People Used
Only 83 Left
Top-Tier Noise Isolation
Another type of "isolation" that foam mattresses are famous for is one that relates to sound.
Have you ever slept on an old, worn-out spring bed? I have - and believe me, it's not a fun experience. Even the slightest bits of movement are going to make the mattress squeak and sound like there are hundreds of Jack's-in-a-box with rusty springs popping all around you.
Needless to say, this isn't something that you'd want to experience while trying to fall asleep, but there are also other… Issues that this type of a situation brings - issues that you won't really find mentioned on many customer Emma mattress reviews.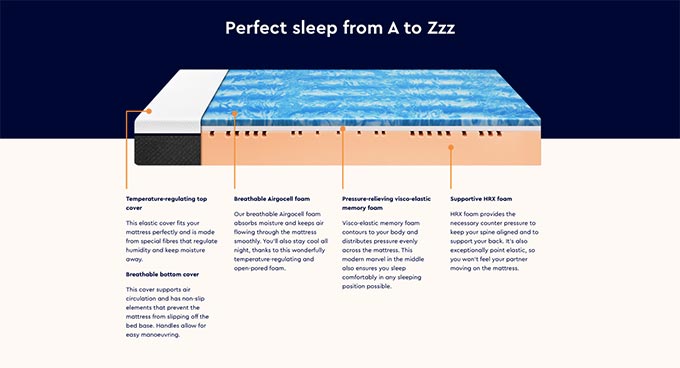 Imagine that you're trying to have some alone time with your partner, and you're in a situation where you wouldn't want anyone hearing you. Well, this is frankly going to be impossible when there's a squeaky mattress involved - any potential secrecy is out of the question.
Yet again, reading through all of the customer Emma mattress reviews, it's quite apparent that the bed in question is one of the more silent products out there. It makes perfect sense, though - being an all-foam product, there's no metal within the bed's construction, which, in turn, means that there's nothing to make all of those horrendous noises, too.

Did you know?
Decent Pressure Relief Capabilities
Whenever you're purchasing a foam mattress, you should always pay extra close attention to the way that it's built, and to the materials used in its construction. This is because foam beds tend to be sinky - what this means is that they will sink down upon bearing weight, i.e. your body.
Some sinking is alright, and even preferable - this way, the mattress will contour to your body, and keep it in place all throughout the night, without breaking your proper spine alignment. That said, however, you must make sure that the bed retains it's shape, nonetheless - if it sinks down too much, you're proper back alignment will break and cause a lot of pain in the morning.
The situation described above is a very common phenomenon when it comes to old mattresses, be it foam ones, or else. It does, however, happen with new beds, too - it all depends on the quality of the product.

In this Emma mattress review, though, I'm glad to be able to state that customers shouldn't experience any excess sinking issues with their Emma Original mattresses. In all actuality, the products are actually reported to possess some high-end pressure relief capabilities!
What this basically means is that the Emma mattresses are going to disperse your body weight all throughout their perimeter, eliminating any possibility of pressure points forming in some areas on your body, i.e. elbows, lower back, shoulders, and so on. In doing so, you'll feel fresh and well-rested in the morning, and not like you've fought a bear for the bigger part of the night.
Emma Mattress Review: CONS
While a brand new mattress isn't going to heal some health problems such as sleep apnea (instead, anyone looking to deal with this issue should research it's correlation with weight loss[1]), it can surely be a huge player in your overall "sleep hygiene". That being said, no bed out there is perfect - that's something that is true with this Emma mattress review, too.
On that note, let's take a closer look at the more negative aspects of the Emma mattresses. I can tell you right now, though - while there are some minor issues that the beds possess, none of them are actual "game-breakers".
Sleeps Warm for Some
Temperature neutrality is usually seen as one of the major factors when choosing the best mattress for yourself. I concur wholeheartedly - there are few things more uncomfortable than sleeping hot, especially when you're someone who's prone to excess night sweats.
Judging from the various customer Emma mattress reviews, it would seem that the Emma Original has fallen to the "foam mattress trap". While there are no reports of the mattresses sleeping (quote, unquote) "hot", some sleepers do report feeling a bit too warm for comfort.

Foam beds sleep really warm, by default - this is a very well-known fact, and it's also an issue that different companies try to tackle in various different ways. Emma, in their own right, have infused the upper polyfoam layer of the mattress with cooling gel.
Has it worked? Well, kind of - the mattress is cooler than many other foam products, but it's still relatively warm when compared to innerspring or even hybrid beds.
Relatively Weak Edges
This is actually one of the more interesting points regarding this Emma mattress review.
You see, same as many other foam mattresses out there, Emma's Original lacks decent edge support. The biggest issue here is that edge support is that one thing that dictates the bed's capability to retain its shape.
Can you spot the issue here? Well, let me tell you - the Emma mattresses are actually quite decent in retaining their shape.
Now, the edges of the mattress aren't all that weak, and combined to some specific construction of the product, this creates a rather durable and shape-retaining bed. Still, this does not mean that you won't notice the lack of proper edge support, especially as time goes on - if you're prone to falling off of your bed, or like to place items on it during the day, this can become a serious issue.
Lacks Bounciness
I'll admit - bounciness is a bit of a niche feature, and is actually only really important for one, single activity - sex.
Think about it - when was the last time you thought "heck, I wish my mattress would be more bouncy?". The only time a thought like this could enter someone's head is when you're having trouble with your limbs sinking into the bed while you're… Busy.
Thankfully, customer Emma mattress reviews do note that the product in question isn't all that prone to excess sinking. Still, you shouldn't expect it to be bouncy - this is exactly the same as you wouldn't expect some other foam bed to be bouncy, either.
Might Have Some Initial Odors
While this is probably one of the biggest non-issues out of them all, it's still worth mentioning, nonetheless, since if you're someone who has a very sensitive nose, chances are that you're going to notice it relatively quick.
Most (if not all) mattresses have an "initial odor" when you first purchase and unpack them - whether it be Emma mattress reviews or any other mattress reviews, you're always going to find this pointed out. Some beds, however, are a bit more smelly than others - once again, this is a topic that foam products exceed in, be it for all the wrong reasons.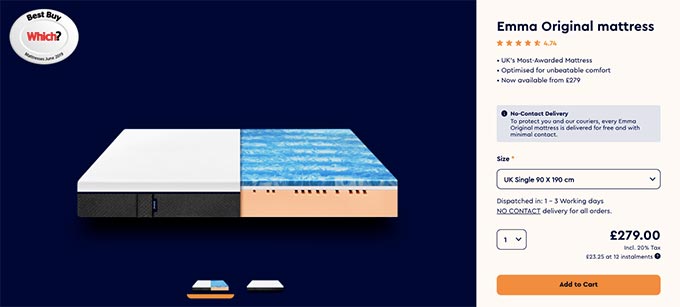 It would seem that the Emma Original mattress does have a lingering scent. While it's something that will inevitably disappear after some time, there are customers who do note that it can get a bit annoying for your nose. If you have the chance, make sure to unpack the mattress and let it "gas out" for a while - this way, you'll nullify this issue completely.
Price
Finally, let's talk about the Emma mattress price. Let's just say, after all that we've talked about up to this point, this might actually come as a pretty nice surprise.
The pricing options for the mattresses are:
Yup, that's right - the Emma mattress prices are actually some of the most affordable you'll come across! For what it's worth, you'd struggle to find a high-end mattress for prices like these - and yet, here it is!
The company also offers free delivery, a 10-year guarantee and a 200-night sleep trial. Those are some great numbers - it shows that Emma does actually trust their products, and are ready to stand behind them.
Here is The Best Saatva Offer I Found:
UP TO $500 OFF
Limited-time Saatva Sale
We're sharing a limited-time Saatva mattress discount with our readers! Grab this deal & enjoy your new mattress with huge discounts.
Expiration date: 29/09/2023
4,042 People Used
Only 83 Left
Conclusions
Different people have different sleep habits[2] - this is pretty self-explanatory. However, no matter what your sleep habits are, there are still some features that are shared among the vast majority of people - that's evident from reading customer Emma mattress reviews, too.
The product in question - the Emma Original mattress - is a somewhat-typical all-foam bed with some rather untypical price tags. The mattress is surely one of the industry leaders in the UK - and that's not at all surprising! The Emma mattress prices are amazing, and the product itself is top-tier in many ways, including pressure relief, motion isolation and lack of noisiness.

Sure, it might sleep a bit warm for some, and does also possess some pretty weak edges, but these are issues that the absolute majority of foam mattresses face. What Emma does better than a lot of their competitors, however, is the pricing - considering the quality of the mattresses, the prices truly are amazing.
If you're still not convinced, and would like to find a better mattress alternative for yourself, do check out our list of the best mattresses in the industry. Most of the companies there are US-based, and sell some very unique and high-quality beds - while the price tags are going to be much higher, too, you shouldn't be disappointed.
All of that being said - thanks for reading! I hope that this Emma mattress review was informative to you, and that it helped you make up your mind on the matter. Best of luck, and until next time!
Scientific References
1. Clarke BM, Vincent AD, Martin S, et al.: 'Obstructive sleep apnea is not an independent determinant of testosterone in men.'
2. Yektaş Ç, Tufan AE, Sarıgedik E: 'Sleep habits of children diagnosed with attention/ deficit/ hyperactivity disorder and effects of treatment on sleep related parameters.'
Leave your honest Emma review
Leave your genuine opinion & help thousands of people to choose the best mattress. All reviews, either positive or negative, are accepted as long as they're honest. We do not publish biased reviews or spam. So if you want to share your experience, opinion or give advice - the scene is yours!