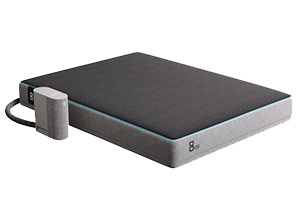 Eight Sleep is an American technology company that was founded in 2014. At first, the company was focusing on selling sleep watches, however, now they focus on developing and manufacturing smart mattresses.
If you're not aware yet, smart mattresses have sensors that monitor your sleep patterns, they usually have a mobile app that you can use to regulate temperature and even adapt firmness.
Even though there aren't that many companies that sell smart mattresses, you can still pick from multiple options, including Casper Sleep, Kingsdown, Nectar Sleep, Responsive Surface Technology, Sleep Number, Leggett & Platt and, of course, Eight Sleep. Needless to say, they're pricier than traditional beds.
Eight Sleep Offers two different models - The Pod and the Pod Pro, however, in this Eight Sleep Pod review, I will focus on the original Pod mattress stricture, its features, the most important advantages and disadvantages as well as pricing, and additional details.
Let's see if smart beds can be better than traditional top-tier mattresses!
Verdict at a Glance
Eight Sleep Pod is a smart mattress that's using the newest technologies to sensor your body warmth and adapt the mattress temperature based on your personal needs. The pod sleeps comfortably and alleviates pressure points, however, it lacks edge support and responsiveness.
Pros
Using innovative technologies
Tracks sleep & adapts temperature
No motion transfer
Almost completely noiseless
Cons
Lacks edge support
Not bouncy or responsive
Eight Sleep Pod Review: The Pod Structure
The most important thing that must be included in this Eight Sleep Pod review is its structure. After all, it's not a regular mattress that we're used to seeing but a smart bed with a unique design.
Without further ado, take a look into the Pod structure:
2" of Luracor - it's a polyfoam that cushions your body and provides you with some responsiveness.
2" of memory foam - conforms closely to your body and alleviates pressure points. People who prefer memory foam mattresses over innerspring beds will like how it sleeps.
2" of firmer polyfoam - it's a transition from comfort to the support layer.
5" of high-density polyfoam - provides support for your body as well as ensures that the mattress lasts longer.
As you can see, the structure is almost the same as any normal memory foam mattress, however, its technological part makes the whole difference. I will take a look at how it works further in this Eight Sleep mattress review.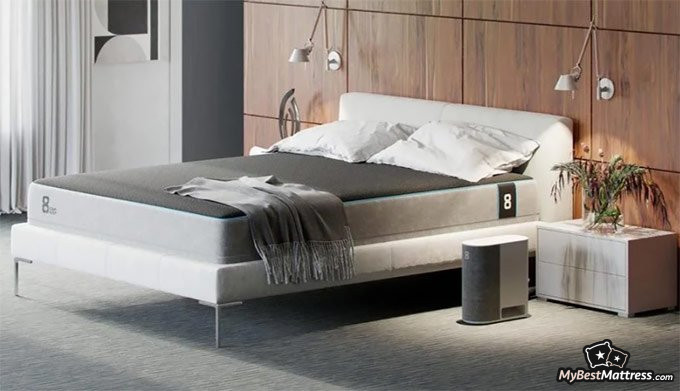 Now, the Pod mattress is 11" thick, which is a standard to many comparable beds. Since the sizes are similar to the measurements of the traditional mattresses, you can use any sheets that you have.
Eight Sleep Pod Review: PROS
Even though I already introduced you to the mattress structure, there are still many aspects that have to be discussed in this Eight Sleep Pod review. I will begin with the positive aspects and only then move to the negatives.
Innovative
Since the Pod is a smart bed, the first thing that Eight Sleep reviews distinguish is innovation. The company is taking advantage of the newest technologies to ensure high-quality sleep.
Now, let me introduce you to all the innovative solutions that are used in the Pod mattress:
Active Grid™ Cooling Technology. Active Grid is flexible, it conforms closely to your body and alleviates pressure points. It creates a cooling surface by using water that facilitates the continuous absorption and removal of the heat. Therefore, you won't be suffering from excessive warmth while sleeping.
Water-Powered Hub. The hub contains 3.2 liters of water that regulates the temperature. The water flows from the hub to each side of the Active Grid and ensures an optimal sleep temperature. The hub is using thermo-electric elements in conjunction with a Heat Sink and two cooling fans that heat or cool the water. The hub is connected to Wi-Fi so that you could remotely control it.
Seamless Sensing Technology. This technology is using multiple sensors that manage to detect breathing patterns and heartbeats, however, since it's so thin, you won't be feeling it at all. The Pod track tracks your sleep and adapts the temperature based on your personal needs.
Intelligent SmartTemp™ AI. This technology manages to automatically adjust an optimal sleeping temperature for your body.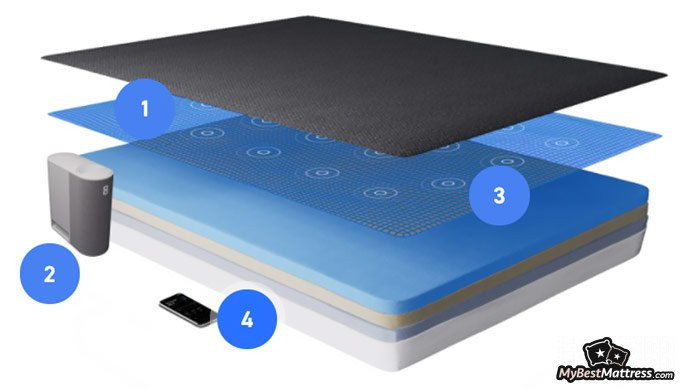 Therefore, as you can see, the Eight Sleep Pod has really innovative features and sleep-tracking abilities. If a smart bed is something that you're looking for, then Eight Sleep Pod might be a good option.
Now that you know all about the structure and technologies of the Eight Sleep Pod, let's move further and see how Eight Sleep reviews evaluated other features.
Latest Saatva Coupon Found:
UP TO $500 OFF
Limited-time Saatva Sale
We're sharing a limited-time Saatva mattress discount with our readers! Grab this deal & enjoy your new mattress with huge discounts.
Expiration date: 08/12/2023
4,042 People Used
Only 83 Left
No Motion Transfer and Almost Completely Noiseless
The studies show that noise causes significant sleep disturbances[1] that could negatively affect both children and adults. What is more, it can provoke biological changes such as stress, sleep architecture and sleep quality. That being said, you should forget old, squeaky mattresses if you want to wake up rested.
Talking about the Pod, I haven't found any Eight Sleep mattress reviews that would have concerns about noise. Since it's made of foam and doesn't have coils in the constructions, there's simply nothing that could produce sound.
What is more, even though the Pod is using the water-powered hub, according to multiple Eight Sleep mattress reviews, it works really silently - you won't even notice it. Therefore, noise is not something that you should be concerned about.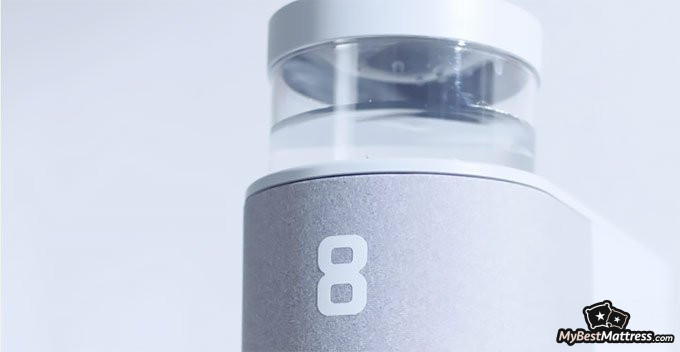 Now, motion transfer. This quality is crucially important to couples, especially if your partner keeps tossing and turning throughout the night. The pod deals with this issue really well, customers claim they don't feel their partners, when sleeping on the other side of the bed, at all.

Did you know?
Amazing Cooling Properties
There's nothing worse than a mattress that traps heat and sleeps too hot. The majority of foam mattresses have this issue. Innerspring mattresses, on the other hand, tend to be very breathable and manage to maintain neutral body temperature throughout the night.
As you've seen previously in this Eight Sleep Pod review, it's a foam mattress. So, the question is, should you be concerned about breathability? The answer is no, the Pod is actually one of the best options when it comes to cooling mattresses.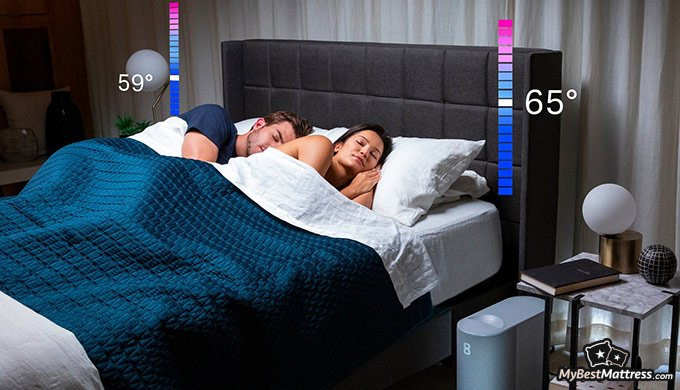 One of the reasons why the majority of people choose the Eight Sleep Pod is thermoregulation properties. Due to the proprietary technology and hydro-powered system, it manages to keep you cool all night long.
Pressure Relief - Check
If you care about sleep comfort, then you should choose mattresses that provide pressure relieving properties, no matter if you're an athlete or spend days sitting by the computer. Old mattresses are not only incapable of providing pressure relief but can also lead to multiple other issues.[2]
Mattresses that are unable to alleviate pressure points can create aches in your body, especially in your shoulders, lower back and hip region. Needless to say, it can significantly affect not only your sleep but also life quality.
You shouldn't be worried about this issue when it comes to the Pod. According to multiple Eight Sleep Pod reviews, it manages to distribute your body weight evenly and avoid pressure in unwanted areas. Therefore, you'll wake up feeling rested and relaxed.
Eight Sleep Pod Review: CONS
Now that we're done with all positive aspects of this Eight Sleep Pod review, it's time to move further and discuss the negative features that the customers distinguished.
Lacks Edge Support
Mattress's edge support is not something that all of you consider when choosing a new mattress, however, I can assure that it's more important than you think. There are a few reasons for that.
First of all, mattresses that provide good edge support are considered to be more durable and reliable. It has to do with the fact that firm edges help a mattress to maintain its initial shape longer.
Furthermore, when a mattress lacks edge support, you might be sleeping really uncomfortable and even feel as if falling out of the bed. This means that you get less sleeping surface.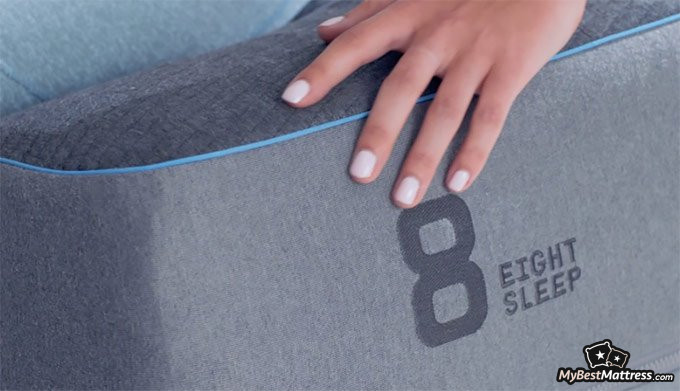 Finally, when there's no edge support, elderly and people that are experiencing lower back pain, might find it difficult to get out of bed, especially if they're using a lower mattress base.
Now, I have to disappoint you, according to multiple Eight Sleep Pod reviews, this mattress lacks edge support. This issue is quite common to foam mattresses, so I cannot say that it was a surprise.
Not Great for Sex
The final issue that Eight Sleep Pod reviews distinguish is that the mattress lacks bounciness and responsiveness. Even though they have nothing to do with the quality of your sleep, couples appreciate these qualities.
Since the Pod is made of foam and is not very firm as well as doesn't have coils in the construction, you might notice that your body is slightly sinking. That being said, it requires more effort than a responsive mattress would.
If you're looking for a bouncy mattress, you should always consider innerspring beds, all of them provide you with this quality.
Eight Sleep Pod Prices and Additional Details
Now that you know all this information about the Eight Sleep smart mattress, you probably know whether or not it's suitable for you. However, the information that you'll find below might slightly affect your decision.
So, let's take a look at the Pod prices, shipping information, warranties, and additional details.
What are the Prices for Eight Sleep Pod?
Since the Pod comes in four different size options, let me provide you with all of them together with the prices:
Remember that the prices are an object of change, so they might be slightly different by the time you'll be reading this Eight Sleep Pod review. If you want to find the most up-to-date information, you should check the company's official website.
I have to say that Eight Sleep offers lower prices than I was expecting. Even though traditional mattresses that cost about $2000-$3000 are considered to be really expensive, the prices of smart beds are evaluated differently.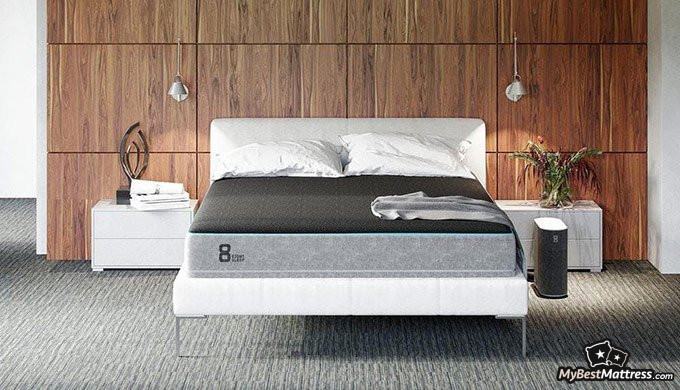 As I was going through multiple Eight Sleep reviews, I noticed that there are many controversial opinions. While some love this bed and claim that it's completely worth it, others are not that happy with the price-quality ratio and would instead choose traditional, comfortable mattresses for very affordable prices.
Now, in case you're interested in finding out the prices of the Pod Pro, you can find them here:
As you can see the Pro version is more expensive, however, I wouldn't say that there's a huge price difference. You should also consider the fact that you might come across special Eight Sleep discounts and get their products for less.
Now, since the Eight Sleep Pod can be quite pricey, it's quite a risk, what if it won't be suitable for you? The company makes sure that this is not an issue by providing you a 100-night sleep trial. That's more than enough time to test the mattress and see whether or not it's suitable for you.
What is more, if you decide that the Pod is not suitable for you, you can return it without any additional charges. Both shipping and returns are completely free!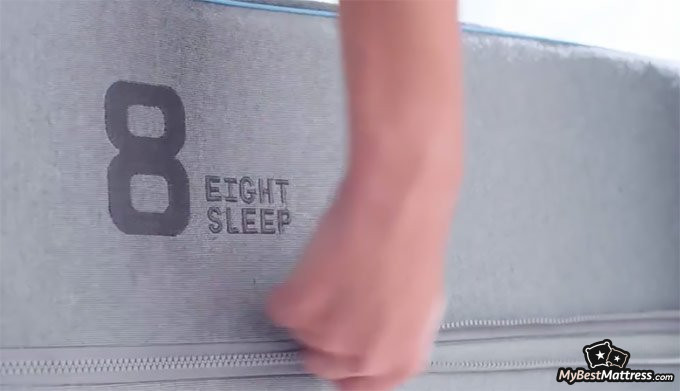 Both Eight Sleep mattresses are covered by a 10-year limited warranty that's valid when any manufacturing flaws appear. However, it does not apply to the technology layer. It's covered by a 1-year warranty. I have to say that I did come across some Eight Sleep Pod reviews that had issues with the technological part. Therefore, you might expect some failures.
Here is The Best Saatva Offer I Found:
UP TO $500 OFF
Limited-time Saatva Sale
We're sharing a limited-time Saatva mattress discount with our readers! Grab this deal & enjoy your new mattress with huge discounts.
Expiration date: 08/12/2023
4,042 People Used
Only 83 Left
Conclusions
Therefore, Eight Sleep Pod is a smart bed that's using innovative technologies to provide you with high-quality sleep. The mattress is made of foam, it manages to conform closely to your body and alleviate pressure points. What is more, it's completely noiseless and manages to isolate motion to a significant extent.
On the other hand, the Pod lacks edges support and responsiveness that can lead to improved sex life. Thus, even though it comes with some flaws, Eight Sleep offers a lower-than-average pricing point compared to other similar alternatives.
If you want to check out more traditional, recommended mattresses, you can find an entire list here.
Scientific References
1. Demian Halperin: 'Environmental noise and sleep disturbances: A threat to health?'
2. Bert H. Jacobson, Ali Boolani, and Doug B. Smith: 'Changes in back pain, sleep quality, and perceived stress after introduction of new bedding systems'
Leave your honest Eight Sleep review
Leave your genuine opinion & help thousands of people to choose the best mattress. All reviews, either positive or negative, are accepted as long as they're honest. We do not publish biased reviews or spam. So if you want to share your experience, opinion or give advice - the scene is yours!