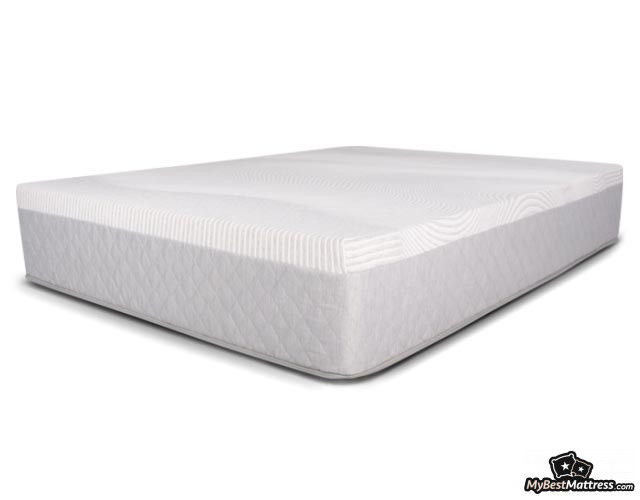 Searching for a brand new mattress tends to involve a lot of different smaller processes and decisions. One of the more important of those decisions is to determine your budget - the amount of money that you can afford to pay for a new bed. If you're on a budget, customer Dreamfoam mattress reviews might be just what you need to take a look at.
Dreamfoam is one of the subsidiary brands of Brooklyn Bedding - a well-known mattress provider from the US. The company in question offers customers some very affordable mattresses. Are they worth actually paying attention to, though?
I'll be looking into the Dreamfoam Sojourn memory foam model. It has been rebranded as the Copper Dreams mattress. It's the exact same product that simply goes by a different name. So, for the sake of clarity, I will be referring to it as Sojourn throughout the review.
So, read on and find out how good the Dreamfoam mattress is.
TL;DR: Customer Dreamfoam mattress reviews, at least those that reference the Sojourn model, talk about the mattress being a very affordable foam product. While the bed is going to lack a lot of high-end features, it still seems to provide the sleepers with decent pressure relief and motion isolation capabilities.
Pros
Very affordable
Decent pressure relief features
Above-average motion isolation
Cons
Lacks cooling capabilities
Weak edge support
Lacks durability
Dreamfoam Mattress Reviews: PROS
We'll start off by looking at some of the main benefits that are mentioned in customer Dreamfoam mattress reviews, and that have to do with the Sojourn mattress that the brand deals in.
That's the other thing, too. Keep in mind that, at least in this specific article, we'll be focusing on the Dreamfoam Bedding reviews that concern that specific mattress model - Sojourn.
While Dreamfoam does, for a fact, have many other beds in stock, most customers online appear to talk (and be interested in) the Sojourn mattress. That is why we'll focus on it in this review, too.
So, now that we've gotten that out of the way, we can start off looking at all of the things that this bed does right.
4 Layers of Foam - Decent Comfort
The mattress model that we're looking at today - the Sojourn - is a foam bed. That's likely going to be one of the first things that you'll see being mentioned by other customer Dreamfoam mattress reviews, too.
The product consists of 4 different layers of foam. At the very top, you have the copper-infused foam layer - the copper is there to prevent the mattress from becoming hot while you sleep on it (although, in all honesty, it doesn't appear to be working wonders for most sleepers).
The two middle layers are made from memory foam and transitional foam, respectively. The memory foam layer is considered to be the comfort one, and it's actually the material from which the mattress gets all of its perks and benefits.

At the very bottom, you'd find the thick high-density foam foundation. It's responsible for keeping the mattress in-check in regards to its shape retention and comfort. While you aren't really going to find many customer Dreamfoam mattress reviews that would praise the mattress for "how well it retains its shape", the comfort aspect does seem to be in place.
Indeed, there are quite a few customers that talk about the bed being a high-comfort product (especially in its price range). It would appear that the memory foam, together with those other types of foam, has truly managed to do a decent job when it comes to the comfort aspect of it all. Pretty good!
Latest Saatva Coupon Found:
UP TO $500 OFF
Limited-time Saatva Sale
We're sharing a limited-time Saatva mattress discount with our readers! Grab this deal & enjoy your new mattress with huge discounts.
Expiration date: 12/12/2023
4,042 People Used
Only 83 Left
Quite Decent Pressure Alleviation Features
Now, this is actually a pretty nice surprise.
Whenever you have a mattress that falls into the more "budget-friendly" group of products, you probably don't really expect the product to possess some high-end features, same as those that we're used to seeing with the industry-leading beds.
Customer Dreamfoam mattress reviews, however, will tell you that this particular mattress truly does have some tricks up its cover. It would appear that the Sojourn bed is quite good at alleviating pressure points, and preventing the formation of new ones.
Pressure points are some painful spots on your body that build up and develop whenever you sleep on a surface that tends to break your spine alignment. In turn, pressure concentrates in some specific areas of your body (shoulders, hips, back), and things can get pretty painful and uncomfortable, quite fast.

All of that will result in some poor sleep hygiene. Ignore it for long enough, and you'll start experiencing sleep-related memory issues[1], sleep deprivation problems, and increased levels of stress.
What's responsible for the development of those pressure points, you may ask? Well, to tell you the truth, while this isn't really something that's often mentioned in other customer Dreamfoam mattress reviews, a lousy-built foam mattress can actually do that.
Foam has the ability to sink the sleeper's body down. If that's done just enough, your spine will align properly to the surface of the mattress, and your quality of sleep will improve. If, however, it sinks down too much, you can expect the above-mentioned results.
While many mattresses that are in this price range tend to struggle in regards to pressure alleviation, customer Dreamfoam Bedding reviews put it quite clear - this isn't an issue that you should have if you choose the Sojourn mattress.

Did you know?
Rather Decent Motion Isolation
Most commonly, motion isolation is seen as one of the household features of foam beds.
It makes sense, though - while this is, yet again, not really something that you'd learn from other customer Dreamfoam mattress reviews, due to the earlier-discussed sinking capabilities that foam has, it's pretty good at keeping the sleeper's body in place all throughout the night.
The Sojourn isn't different in this regard. Being based completely out of different types of foam, the mattress is reported to be quite good at isolating motion to either side of itself.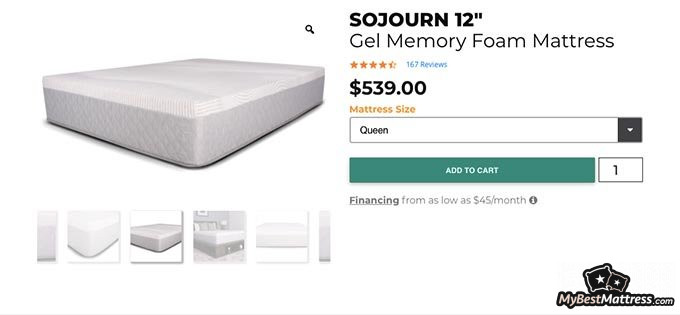 Undoubtedly, this is one of those features that anyone sleeping with a restless partner is going to appreciate quite a bit. If you yourself are a restless sleeper, too, your partner might be happy to hear that their sleep shouldn't be disturbed by your movements if you both rest on the Sojourn model.
Having said that, motion isolation can also be quite beneficial for those who sleep alone, too. Thing is, foam doesn't only isolate motion to one side of the bed - it also works to prevent you from moving around too much, too. Some customer Dreamfoam mattress reviews talk about being able to rest well on this bed - that's one of the reasons!
Dreamfoam Mattress Reviews: CONS
A lack of proper sleep can result in many different issues in your daily life - everything from being more susceptible to getting a cold[2], all the way to becoming a sleep-deprived mess.
Some other customer Dreamfoam mattress reviews will tell you this, but one of the best ways to prevent loss of sleep (quality) is to get yourself the best possible mattress that you can. Naturally, though, no bed is going to be quirk-free - Sojourn is no exception.
On that note, let's move on and discuss the main shortcomings that are usually associated with the mattress in question, and that are commonly mentioned in other Dreamfoam Bedding reviews.
Sleeps Warm
Undoubtedly one of the most well-known foam mattress issues, temperature neutrality is something that's very difficult to accomplish even for some hybrid beds! Simply put, it's not all that easy to make your product sleep cool, when there's a human body trying to warm it up for the entirety of the night.
Foam tends to soak up heat quite well, but the issue is that it cannot disperse it - instead, all of that heat is then thrown back at the sleeper. Needless to say, this isn't ideal.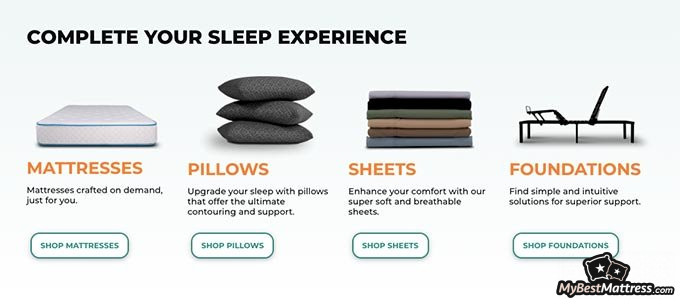 There are quite a few customer Dreamfoam mattress reviews that do talk about the Sojourn mattress sleeping pretty warm. While the top layer is, in fact, infused with copper for the sake of keeping heat away, as pointed out earlier, it doesn't seem to work wonders for most people.
It shouldn't be too surprising, though - granted that the mattress in question is made up of 4 layers of foam and only foam, that was surely something to be expected.
Weak Edges
Yet another issue that's quite well-known in regards to all-foam beds is their edge strength. Well, I should probably say - a lack of edge strength.
One of the most important features of strong edges is the fact that they will help the mattress retain its shape. Needless to say, for anyone who actually cares about purchasing a long-lasting, quality bed, this is an essential feature.
If your mattress isn't going to be good at retaining shape, it will simply break down much easier, or start sinking down in the middle or at one side. Not ideal.
Some customer Dreamfoam mattress reviews do talk about this being an issue with the Sojourn mattress. It would appear that the edges of the bed don't really tend to hold up to the test of time. Frankly, though, this was to be expected - as mentioned above, all-foam beds are usually really poor at having strong edge support, since there's nothing to keep those edges in place.
Lack of Durability
This is probably the most crucial point to consider when reading through customer Dreamfoam mattress reviews and trying to figure out whether the mattress is good for you or not.
There are customers that talk about the bed in question being a less-than-durable choice. If you've ever read any other mattress reviews that I've written here, you're probably aware of the fact that I always stress that durability is the most important aspect of a mattress - if the bed lacks durability, it's really not worth looking into.
Well, in most cases. This might not actually be one of those cases.

You see, the whole point of the Sojourn mattress - and some other Dreamfoam mattresses, too - is the fact that they're very budget-friendly options. If you're on a really strict budget, and can't really afford any of the higher-end options, then Dreamfoam is often considered to be a great alternative.
Thing is, though, that a lack of durability is still usually considered a huge turnoff for many people - most customer Dreamfoam mattress reviews that talk about this point seem to agree.
The choice here is ultimately up to you - depending on your personal preferences and overall situation, this particular issue might sway you either way.
Price
Finally, to finish off talking about all of the customer Dreamfoam mattress reviews, let's take a look at the pricing options of the Sojourn 12" mattress:
Well, here they are - the now almost "legendary" price tags of the Sojourn mattress. As you can probably see for yourself, it sure is one of the most affordable bed options when it comes to budget all-foam products.
The brand also offers a 120-night sleep trial, and also a 10 -year warranty. Those are actually some decent numbers! You can look at it this way - most mattress providers will offer customers a 100-night trial, and around 5 years' worth of warranty.
Here is The Best Saatva Offer I Found:
UP TO $500 OFF
Limited-time Saatva Sale
We're sharing a limited-time Saatva mattress discount with our readers! Grab this deal & enjoy your new mattress with huge discounts.
Expiration date: 12/12/2023
4,042 People Used
Only 83 Left
Conclusions
Now that we've come to the verdict, I think it's good to remind you that the Sojourn and the Copper Dreams mattress is the same memory foam product by Dreamfoam.
So, is the Dreamfoam Sojourn 12" mattress worth it?
Well, if you were to judge the product solemnly based on its price tags, then I don't think the question needs answering - it's obvious that the Sojourn model is surely very affordable.
Now, when looking into the brand, all of the customer Dreamfoam mattress reviews and also the main pros and cons of the product, you should always consider this - is the mattress worth it to YOU.
In my own opinion, it all depends on your budget. If you're currently trying to save up, and buying a new mattress is somewhere there in your priority list, but not at the top, then sure - the Sojourn might be a decent pick.
If, however, you can afford to spare some more money, and are willing to purchase a better-quality mattress, do keep in mind that there are much better options out there for you to pick from. It all depends on your own, personal preferences!
With all of that being said, I thank you for reading this article, and hope that it was useful to you. Best of luck in finding the best mattress option for yourself!
Scientific References
1. James N Cousins, Guillén Fernández: 'The Impact of Sleep Deprivation on Declarative Memory'
2. Edward F Pace-Schott, Rebecca M C Spencer: 'Sleep-dependent Memory Consolidation in Healthy Aging and Mild Cognitive Impairment'
Leave your honest Dreamfoam Bedding review
Leave your genuine opinion & help thousands of people to choose the best mattress. All reviews, either positive or negative, are accepted as long as they're honest. We do not publish biased reviews or spam. So if you want to share your experience, opinion or give advice - the scene is yours!