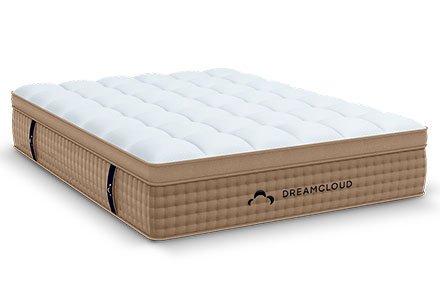 The discussion of whether all-foam mattresses are better than innerspring ones[1] is long and ongoing. As a lot of different and credible DreamCloud mattress reviews will come to show you, however, there's always a third option - a hybrid mattress. DreamCloud aims to become one of the definitive leaders in this area of expertise - customer DreamCloud reviews just further that notion.
Today, we're going to take a look at some of those DreamCloud mattress reviews. We'll discuss the pros and the cons of the product, talk about sleeping positions and coolness levels, noise and motion isolation, and everything in between.
Our goal with doing so? To be able to say whether or not DreamCloud is worth the money. Simple!
TL;DR: DreamCloud is a hybrid mattress that's a good choice for anyone who likes to sleep on their back or side. It's durable and quite bouncy, yet isolates motion pretty well - that's a rare combination, and DreamCloud mattress reviews just further that notion!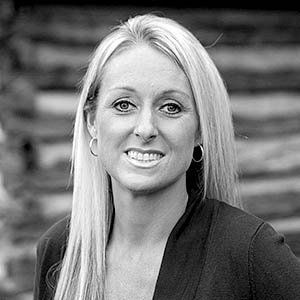 Kelley Thompson
Certified Pediatric Sleep Consultant
How can a mattress that we sleep on affect our health?
The mattress is the main foundation for healthy sleep for our bodies. Our bodies crave and require adequate rest, and the quality of the right mattress is vital to making sure we have a restorative sleep during the night.
Pros
Bouncy
Good motion isolation
No notable noise
Cons
Might be a bit too firm for some people
Weak edge support
DreamCloud Mattress Reviews: PROS
Taking a single look at some of the more popular DreamCloud mattress reviews, you might immediately notice that the product does, indeed, have a lot of positive aspects associated with it. In the table below, you can see most of them presented in a short and concise manner:
Table: DreamCloud mattress pros and cons
Now, to get a little bit more in-depth with some of those features, let's start with the fact that the mattress is as silent as they come.
Little to No Noise Emission
The very first thing that you might notice once you look at some DreamCloud reviews is the fact that the mattress isn't at all noisy.
"Great!", you might think to yourself - "why is that so special, though?".
Actually, it is quite special indeed.
You see, in the mattress industry, there are three main types of mattresses that you can purchase. You have your old-school innerspring products, the modern and trendy all-foam-based ones, and then there are the hybrids - mattresses that have metal coils in their construction, but are also filled with layers of foam.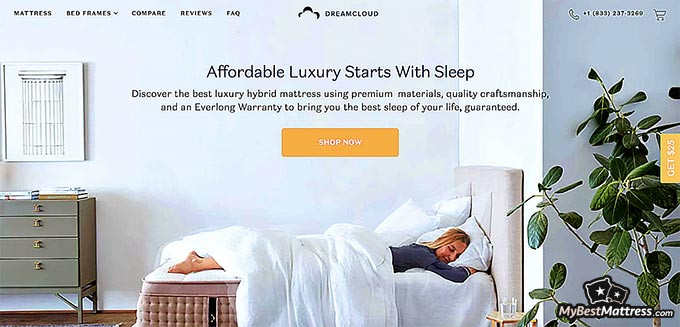 DreamCloud is a hybrid mattress. As with both of the other types, hybrids (in a general sense) have their advantages and disadvantages. You might have figured it by now, but one of those disadvantages doesn't come up in a lot of DreamCloud mattress reviews - noise. On the contrary - users actually report almost complete silence!
When you're a company that specializes in hybrid mattresses, it can get really difficult to nail the perfect combination of foam and coils, especially when it comes to the noisiness. That being said, however, it would seem that DreamCloud has managed to get it right - great start!
Latest Saatva Coupon Found:
UP TO $500 OFF
Limited-time Saatva Sale
We're sharing a limited-time Saatva mattress discount with our readers! Grab this deal & enjoy your new mattress with huge discounts.
Expiration date: 08/12/2023
4,042 People Used
Only 83 Left
Somewhat Cool
What's cooler than being cool?
If you said "ice cold", congratulations - here's a virtual cookie for having some good tastes in music.
On a serious note, though, temperature neutrality is yet another topic that often surfaces in a lot of the online user DreamCloud mattress reviews. Yet again, it's quite surprising!
You see, DreamCloud's comfort layers are made entirely out of different kinds of foam. And as you know, foam isn't exactly the thing that's notable for being cool - it's actually a big problem for a lot of all-foam mattresses. While they're often comfy and soft, you might encounter an occasional heatwave with even the most popular of providers.

This isn't the case with the company in question, though. DreamCloud reviews claim that users are able to sleep soundly with even some warmer temperature swings. Why is that the case? Well, it goes back to DreamCloud having designed their hybrid product very well.
While the mattress is, indeed, stacked with multiple layers of foam, it has two big factors that make it rather cool to sleep on - the base that's made out of coils and a special mattress cover. This combination makes it some that people leave surprised DreamCloud mattress reviews stating that they didn't expect the mattress to be so cool (in more ways than one!).

Did you know?
Bouncy and Very Responsive
While this might resemble a "best of both worlds" type of a scenario (this wasn't intended as a Hannah Montana reference, but hey, let's just roll with it), DreamCloud is also very bouncy.
Do you know what that's good for?
Organizing a super-cool pillow fight, of course. Oh, ya, and I guess sex is also a thing, too.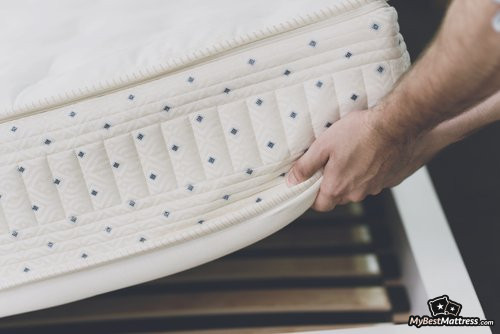 Seriously, though - if you're someone who doesn't only value their sleep but is also trying to constantly improve their sex life (taking a single look at some of the DreamCloud mattress reviews, this isn't an unpopular concept), DreamCloud could be a great option for you!
The metal coil base makes it so that the mattress is responsive, yet does not lack too much in the field of conforming, either. With the winning combination of different types of layers of foam and the before-mentioned coil base, you really do get the best of both worlds - a bouncy mattress that's great for sex, but that also somewhat conforms to your body while you sleep!
Surprisingly Good Motion Isolation
Out of all of the DreamCloud mattress reviews that I've gone through, this factor surprised me the most.
Product owner claim that DreamCloud is really good for sleeping with your significant other since the mattress does a great job in isolating motion.
Can you spot the surprising part?
We had just discussed the fact that the DreamCloud mattress is bouncy and responsive, and now there are DreamCloud mattress reviews saying that it's great at isolating motion.
Strange? Definitely. Impossible? Not by a longshot.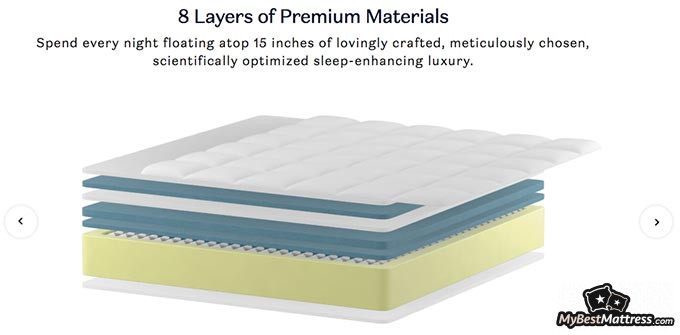 While this combination of features is somewhat unlikely, it's definitely possible that a mattress would be responsive, yet isolate motion at the same time (well, not at the same exact time, but you get the idea). Surely, this would have to be a hybrid mattress - which is indeed the case with DreamCloud.
This unlikely feature relationship should yet again be attributed to the fact that the mattress is made out of 8 different layers of materials. It is only natural that one of the two features is going to be better - in DreamCloud's case, that's responsiveness -, but it's still surprising, nonetheless.
Best for Back and Side Sleepers
Finally, let's talk about sleeping positions.
In the "sleeping industry" (don't quote me on that term, though), there are three main sleeping positions that are distinguished - side, back and stomach. Side and back sleepers are the most common types of people you'll encounter, while I'm starting to doubt if stomach sleepers even exist at all.
Different mattresses suit different types of sleepers. It all depends on a few key things, such as the firmness level of the product, the type, number and filling of layers, and so on.

Analyzing user DreamCloud mattress reviews, you'll notice that the mattress is great for side sleepers, and is perfect for back sleepers, in particular. Stomach sleepers might have a bit of a tougher time trying to settle in with the mattress, though they should also eventually be able to do so.
Table: DreamCloud pressure point relief
Back sleepers are going to enjoy this mattress the most mainly because of the fact that the product is good for people who have back problems. If you suffer from back pain, DreamCloud should be able to alleviate that pain over time while you sleep[2].
DreamCloud Mattress Reviews: CONS
So, we've covered some of the main pros that you'd notice while looking through a lot of the DreamCloud mattress reviews. To keep things transparent, let's take a look at the more notable DreamCloud mattress complaints.
Not the Best Mattress for Lightweight People
While there aren't many negative DreamCloud mattress reviews, one trend that you might notice is the fact that lighter people have a tougher time with the product.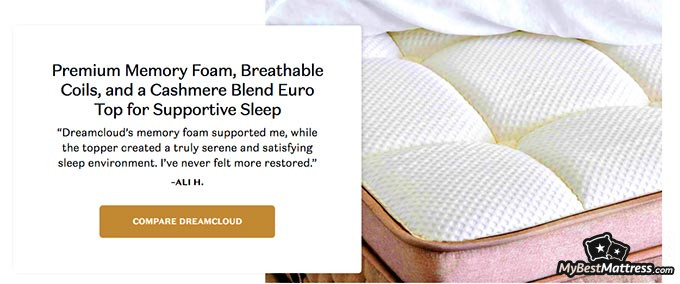 This isn't too surprising, though. While I did mention the fact that the mattress conforms to your body relatively well, I had average-weight people in mind. If you're a lighter person, DreamCloud might not only seem a bit too firm, but will also not conform as well as it would with, let's say, a heavier person.
Relatively Weak Edge Support
One of the more popular DreamCloud mattress complaints has to do with the edge support of the mattress. People claim that, in comparison, it's rather weak.
Since the metal coils of the product are under 7 different layers of foam and other materials, it does make sense that, even though it's a hybrid mattress. The sides of the bed aren't too well designed to hold things on them, either - it's very likely that if you were to put a heavier object on the edge of the mattress, it would fall off.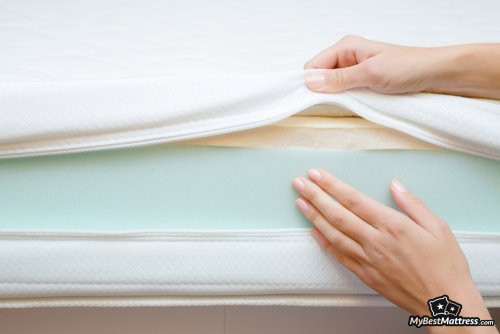 In general, though, that's exactly why you'd need good edge support, in the first place - to put things on your bed and not to roll off of it while you sleep. If neither of these two factors is an issue for you, then some weaker edge support might also not be a deal-breaker.
If you don't think DreamCloud mattress is worthy of your attention, then you should check our best mattress providers, they can offer you quality for money and so much more.
Might be Too Firm for Some
While I've already touched on this subject when we were talking about how lighter people might find this mattress to be a bit too firm, it's still something that does deserve a separate mention.
You see, while the majority of people who don't find the mattress all that comfortable are lightweight, this doesn't mean that heavier people won't experience the same thing, too.
It's kind of preference-related - before you actually make up your mind on whether or not you want to try DreamCloud out, you should consider the fact that the product is, indeed, on the firmer side of things.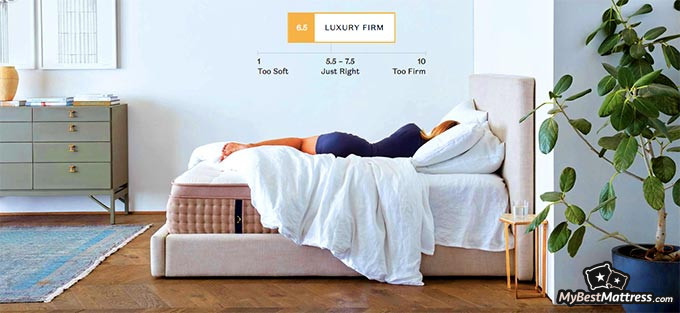 Me personally, I like firm mattresses. So much so, that I despise soft ones - firmer mattresses are better for your back, there's no risk of waking up all drenched in sweat, and I sleep like a baby when I'm on a firm surface.
I do know, however, that this isn't a popular opinion. Some DreamCloud mattress reviews just go to prove that - people tend to lean towards softer surfaces. While DreamCloud is far from being the definition of "firm", it's still on that side of the spectrum.
What is the DreamCloud mattress price?
With the DreamCloud mattress complaints out of the way, there is only one thing left to discuss before we can make up our mind whether the mattress is worth trying out - the price tag.
The pricing and size options for DreamCloud are, as follows:
As of checking out these DreamCloud mattress reviews, the Twin-sized bed is currently sold out. As for the rest of the sizes, well… The mattress certainly isn't the most affordable, but most reviews that I've gone through state that the price does, indeed, match the quality of the product.
Speaking of which, you should also note that these prices might change at any given time - the ones provided here are in place as of writing this article.
If you're looking for a top-notch mattress for the same price or less, check out this list of best mattresses of 2023.
Here is The Best Saatva Offer I Found:
UP TO $500 OFF
Limited-time Saatva Sale
We're sharing a limited-time Saatva mattress discount with our readers! Grab this deal & enjoy your new mattress with huge discounts.
Expiration date: 08/12/2023
4,042 People Used
Only 83 Left
Conclusions
We've covered all of the main aspects of some of the most trustworthy customer DreamCloud mattress reviews - the pros, the complaints, the price tags, and so on. By now, if you've actually taken the time to read through the review, you should have a pretty good idea of whether DreamCloud is worth paying attention to or not.
What's my take on the matter?
I'd say a strong yes. Let me elaborate.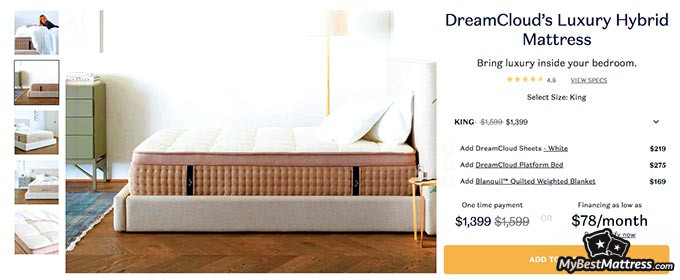 DreamCloud is one of the top hybrid mattress providers in the industry, and that isn't without a solid reason. It's one of the rare mattresses that have managed to get such combinations like "bouncy, yet good motion isolation" figured out. Believe me - that's rare!
Yes, the edge support of the mattress isn't the best. Yes, it's actually relatively firm, and might not suit some lighter-weighing people. Add yes, the price tag might look intimidating at first. But, as a whole lot of DreamCloud mattress reviews have already elaborated, the product is worth the price that you'll pay for it.
A lot of the "luxury" mattress providers charge a limb for their products. DreamCloud is one of those companies that charge you a fraction of the price that you would pay elsewhere, but still provides you with a great product.
Table: DreamCloud mattress review summary
If you do decide to try DreamCloud out, don't forget that there's always a 365-day sleep trial and a lifetime warranty available! You'll be able to safely try DreamCloud out for a whole year - it's not that often that mattress providers would give their customers so much time!
If you want to find something better than this mattress, take a look into the top mattresses of the year. They're not only durable but also give the perfect conforming, motion and sound isolation, and other amazing features.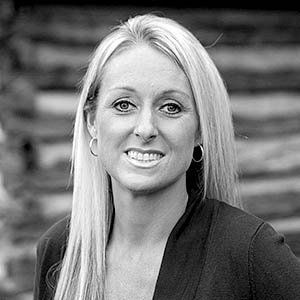 Kelley Thompson
Certified Pediatric Sleep Consultant
Contributed By Kelley Thompson, Certified Pediatric Sleep Consultant
Kelley Thompson, the owner of Serenity Sleepers, is a certified pediatric sleep consultant, who has been helping families all over the world for more than 5 years to safe, healthy, and proper sleep...
Read Full Bio...
Scientific References
Contributed by
Kelley Thompson
, Certified Pediatric Sleep Consultant
1. Canadian Agency for Drugs and Technologies in Health: 'Mattresses for Chronic Back or Neck Pain: A Review of the Clinical Effectiveness and Guidelines [Internet].'
2. Ahmed Radwan, Philip Fess, Darcy James, et al: 'Effect of different mattress designs on promoting sleep quality, pain reduction, and spinal alignment in adults with or without back pain; systematic review of controlled trials'
Leave your honest DreamCloud review
Leave your genuine opinion & help thousands of people to choose the best mattress. All reviews, either positive or negative, are accepted as long as they're honest. We do not publish biased reviews or spam. So if you want to share your experience, opinion or give advice - the scene is yours!