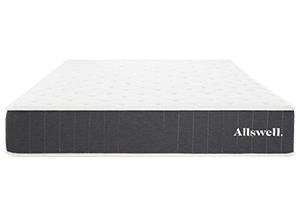 Allswell Home has been in the market only since 2018, however, it seems that the company is doing just fine. They're owned by the American multinational retail corporation Walmart. Chances are one of a million that you haven't heard about this retailer.
Now, you can purchase Allswell mattresses not only online on their official site but also on Walmart's website. At the moment three different mattresses are offered by Allswell, including Allswell - the base model, Luxe and Supreme. They go from the good to the best, and also from the least inexpensive to the most pricey option. All Allswell mattresses are hybrid beds.
In this, Allswell mattress review, I'll take a look at all three models while focusing mostly on their flagship product, pros and cons, pricing, and provide you with additional details that are crucial to know before making a purchase.
Verdict at a glance
Allswell offers three mattresses to pick from, including the base, Luxe, and Supreme models. The company presents models from the good to the best, the more expensive the bed, the better the features. Based on the Allswell mattress reviews, it's clear that the Supreme model is their favorite option, however, the flagship bed is the most popular due to the low price point.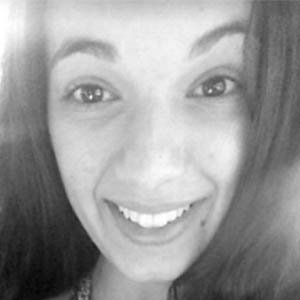 Brittany Ferri
Occupational Therapist, CPRP
What are the top things that contribute to the quality of our sleep?
One of them is an emotional response. Do we view sleep as a luxury, necessity, or burden? Are we overwhelmed when it is time for our head to hit the pillow or are we grateful for the rest and prepared to end our day right? Do we dread waking up in the morning and hit snooze until the very last minute or do we look at the morning as the chance to start our day off on a refreshing and productive note?
Pros
Low pricing point
Good temperature regulation
Three models and three levels of comfort
Cons
Lack pressure-relieving properties
Questionable durability
Pretty noisy
Not the best motion isolation
Allswell Mattress Review: Take a Quick Peek
Let's begin this Allswell mattress review by presenting to you all three available models:
The Allswell - features in individually-wrapped pocketed coils, the memory foam infused with charcoal and copper gel, and quilted top. Many Allswell mattress reviews claim that this model is slightly too firm.
The Luxe - the mattress is very similar to the base model but is better. It has an added high-density foam layer that provides you with additional support. It's a medium-firm bed.
The Supreme - as already mentioned, it's the most improved model. It uses not only individually wrapped pocketed coils but also makes sure you have the best edge support by taking advantage of a reinforced quantum edge. The Supreme mattress is also designed using the Energex foam and Euro-top.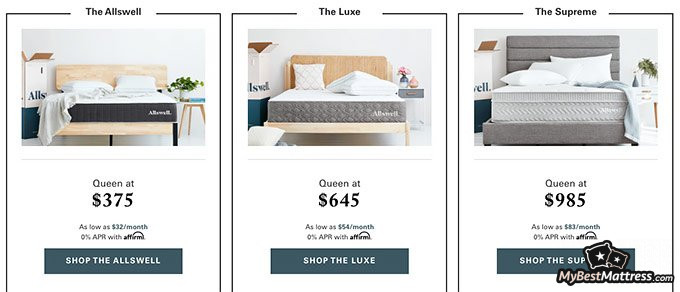 So, you get three different models to pick from. Now let's move further into the Allswell mattress review and see what are their main advantages and disadvantages.
Allswell Base Model
Allswell base model is a medium-firm bed, or about 6.5 out of 10 on the mattress firmness scale. The flagship bed is 10" thick and features in a very simple design. It's constructed of 7" pocketed coils, 2" memory foam infused with copper and graphite, and the cover that's mostly made of polyester and 1" cotton padding.
First, let's discuss the positive aspects of this Allswell mattress review. The base model is a great option for sleepers who weigh more than 130 pounds. Since the bed focuses on strong support but isn't very conforming, light-weight individuals might find it too firm.
Now, the mattress has almost every quality that's common to hybrid beds. You get strong edge support that makes you feel secure even when laying on the side of the bed.
What is more, since the bed is firmer and doesn't make you feel like sleeping "in" the mattress but rather on top of it, you won't be feeling too warm. Coils also promote the airflow that allows your body to cool off faster.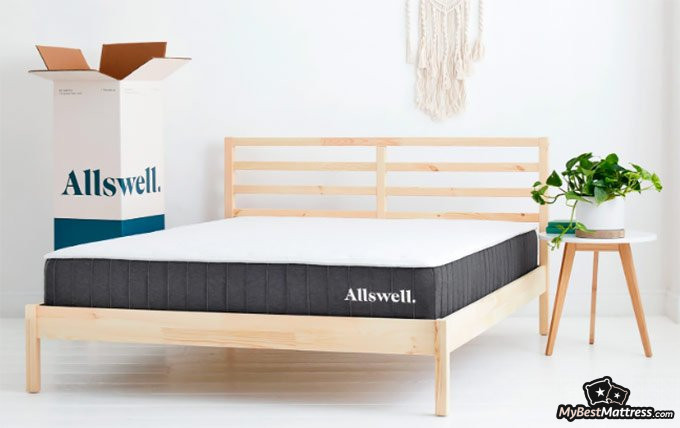 If you're not aware yet, you should know that thermoregulation properties[1] are more than important to the quality of your sleep. The mattress is not the only thing that you should pay attention to. If you want to sleep better, you should make sure that your room temperature is not too high. It's recommended to ventilate your room before getting to bed.
Moving further, the majority of couples prefer bouncy mattresses. Such beds are beneficial for your sex life. Since Allswell mattress has coils in the construction, it's springy enough to spend some quality time with your partner.
Now, let's take a look at the negative Allswell mattress reviews. Owners say that they can feel their partner moving once sleeping on this mattress. Thus, motion isolation is not good enough for sensitive sleepers.
What is more, you might hear occasional squeaks and creeks from this bed. Once again, if you're a sensitive sleeper, and your partner keeps having nightmares, you might find it super annoying.
Also, since the bed is not really conforming, you shouldn't expect it to alleviate pressure points. If you're looking for a bed with springs that offers a close conforming, you should check out Saatva.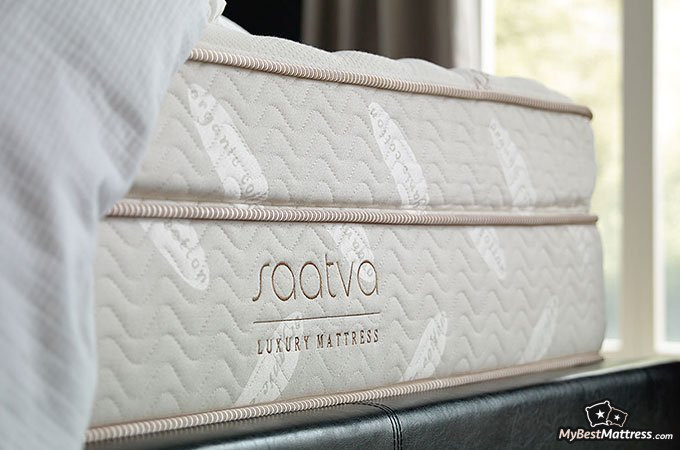 One more aspect that has to be discussed in this Allswell mattress review is the best sleeping position. The bed is not recommended for light-weight side sleepers as it's too firm, however, average- and heavy-weight sleepers revealed pretty good results. Since back sleepers need the most support, they were the most satisfied with the experience.
Now, what is the Allswell base model price?
The base model is the least inexpensive of Allswell mattresses, here's the full pricing:
Twin - $265 USD
Twin XL - $295 USD
Full - $345 USD
Queen - $375 USD
King - $465 USD
Cal King - $465 USD
Note that such prices were provided when writing this Allswell mattress review. Since you might find regular discounts and promotions, the pricing might slightly differ.
As you can see, Allswell's base model is one of the most inexpensive alternatives you can find in the market.
Allswell Luxe
Allswell Luxe mattress is evaluated as a better option than the base model. It's 12" thick and is designed of pocketed coils, high-density foam, copper gel-infused memory foam, and cooling SwirlFoam. The Luxe is softer than the Flagship model, it's about 5 on the mattress firmness scale, and is a good option for light sleepers as well.
Even though the traditional memory foam mattresses tend to sleep warm, when it's copper gel-infused, it shouldn't be an issue.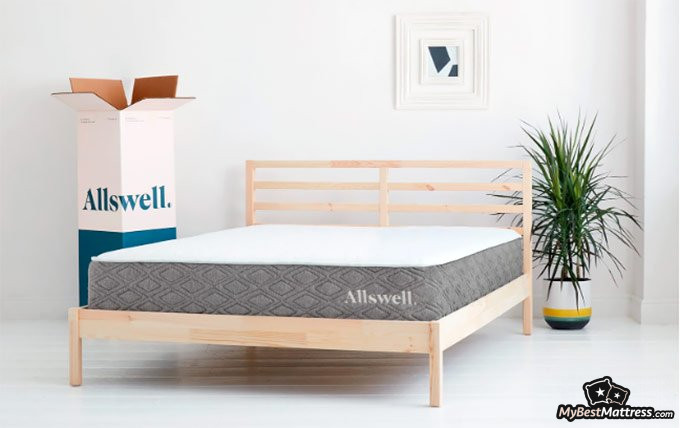 Even though this bed is softer, it's still very supportive due to the pocketed coils, that's why even heavier individuals should sleep comfortably. However, based on the Allswell mattress reviews, it's pretty clear that stomach sleepers and heavy-weight side sleepers shouldn't consider this mattress - there's not enough support in the hip area.
The important question is how much would it cost to get an Allswell Luxe mattress?
The Allswell Luxe mattress is more expensive than the flagship model, however, it still maintains a lower-than-average price point. Here's the list for prices:
Twin - $395 USD
Twin XL - $445 USD
Full - $545 USD
Queen - $645 USD
King - $845 USD
Cal King - $845 USD
As you can see, you can get the mattress of any size for less than $1000. Even though there are better options in the market for such value, it's still a great alternative.
Allswell Supreme
The Supreme is the last model I'll be focusing on in this Allswell mattress review. It's the softest alternative that everyone who prefers sleeping "in" the mattress will love. Even though it's plushy, the coils in the mattress provide a generous amount of support and make it comfortable for back sleepers.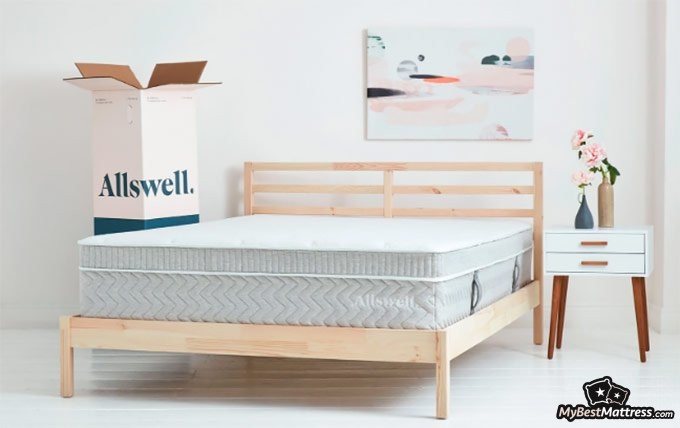 What is more, based on Allswell reviews, light- and medium-weight side sleepers find this bed just the right fit. The Supreme mattress manages to hug your shoulders and also supports your hips, so, you will feel very little to none pressure in these areas. This is more than important since the dominant sleeping position in adults is on the side. [2]
When sleeping on Supreme mattress, there's some sinkage, however, very few Allswell mattress reviews indicated that it sleeps too warm. Due to the coils in the construction, the warmth doesn't stay trapped in the mattress. Also, graphite and coil-infused memory foam layers ensure you're not waking up in a sweat.
However, it's not all good, even though this model is presented as the best, some Allswell mattress reviews would disagree with you. The Supreme bed is not the best option for those who prefer firmer options. Also, if you don't like the way memory foam mattress feels, you might not like this bed as well.
Moreover, if you're a stomach sleeper, this option is not ideal for you. The Supreme model is slightly on the softer side, indicating that your hips might sink too much into the mattress and get too much pressure.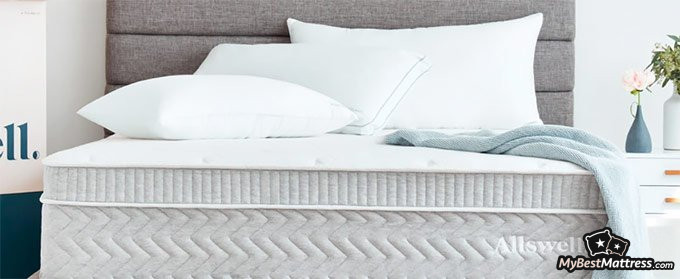 If you prefer sleeping on your stomach, then you should consider the list of the most recommended beds for stomach sleepers. These mattresses will make sure your body stays in a healthy position.
Is Allswell Supreme mattress expensive?
The Supreme model offers the highest prices compared to other Allswell beds. Here are the full details for prices and sizes:
Twin - $725 USD
Twin XL - $775 USD
Full - $885 USD
Queen - $985 USD
King - $1245 USD
Cal King - $1245 USD
Even being the most luxurious Allswell mattress, it still comes with a lower-than-average pricing point - you can get a queen-size bed for less than $1000. If you want to consider other similarly-good and even more comfortable mattresses for similar pricing, you can find the whole list for such products here.
Allswell Shipping, Warranties, and More
Just like every other respectable mattress provider, such as Saatva, Nectar or Puffy, Allswell offers free shipping straight to your doorstep. Needless to say, it makes the process of purchasing the bed more pleasant than ever.
Allswell mattresses come in a box, meaning that it will be super easy to bring your mattress to the intended room and unroll it. Once you do that, you shouldn't rush into trying out your new bed but rather allow it to stay for about 24-48 hours to fully expand. Once the bed feels nice and puffy, you can sleep on it.
Allswell reviews also found it wonderful that you can choose a white glove delivery. It means that your new mattress will not only be delivered straight to your doorstep but the crew will also set it up for you.
Now, the process of getting rid of your old bed can be truly complicated. The mattress might be heavy, you don't know where to put it or what to do with it. If that's the case the Allswell crew can take care of it for an additional charge. Based on Allswell's mattress reviews, everyone who decided to ease this process, haven't had any regrets.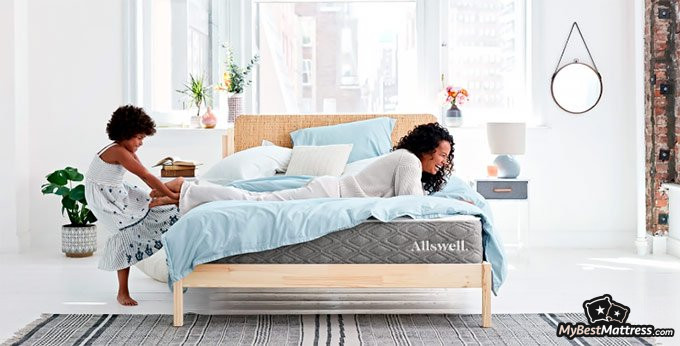 Moving further, no matter which mattress you decide to purchase, you get a 100-night risk-free trial. It means that you get more than three months to decide whether or not Allswell products work for you. If for some reason you decide to return it, you will get a full refund.
What is more, with a mattress purchase you get a 10-year warranty that will protect you against any manufacturing flaws. If you want to find out more about the warranty policy, you should check this information on their official site.
That's all with the Allswell mattress review. You should note that all the details provided above, including free shipping, risk-free in-home trial, and a 10-year warranty are quite common to all the respectable mattress brands, including Saatva, Nectar, Puffy, and others.
Here is The Best Saatva Offer I Found:
UP TO $500 OFF
Limited-time Saatva Sale
We're sharing a limited-time Saatva mattress discount with our readers! Grab this deal & enjoy your new mattress with huge discounts.
Expiration date: 11/06/2023
4,042 People Used
Only 83 Left
Conclusions
Therefore, Allswell provides you with not one but three different mattress models to choose from. Each one of them is better and slightly more expensive than the previous one.
Based on Allswell reviews, it's pretty clear that sleepers choose their mattresses due to the good price-quality ratio. Their base model is one of the least expensive mattresses in the market. Since Allswell is owned by Walmart, you can purchase their products either on Walmart's website, or their official page.
All three Allswell models are hybrid beds that are designed using pocketed coils together with charcoal and copper-infused memory foam for additional coolness, and additional layers. None of the models has issues with sleeping too warm.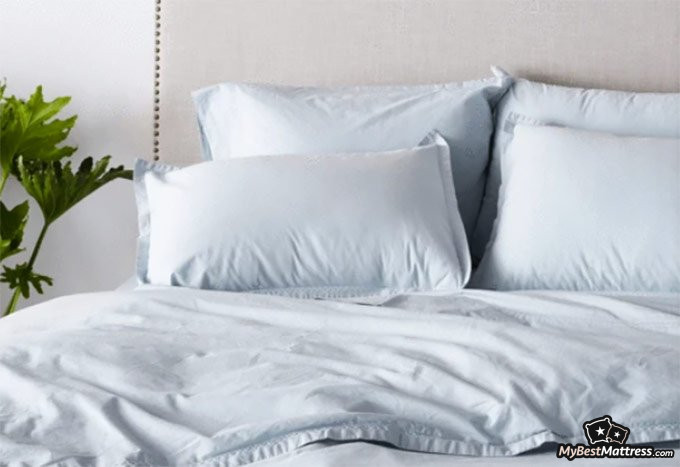 The base model is a medium-firm, the Luxe is medium, and the Supreme bed is slightly on the softer side. While their flagship model provides strong support, yet very little conforming, Luxe and Supreme work better at alleviating pressure points.
All things considered, Allswell mattresses are a great option for those who are looking for a budget alternative. However, if you're interested in beds that offer the best price-quality ratio, then you can find them here.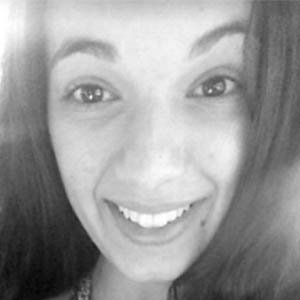 Brittany Ferri
Occupational Therapist, CPRP
Contributed By Brittany Ferri, Occupational Therapist, CPRP
As an occupational therapist, Brittany takes a client-centered approach to look at a person's environment, interactions, habits, and function to determine the best way to improve their health statu...
Read Full Bio...
Scientific References
Contributed by
Brittany Ferri
, Occupational Therapist, CPRP
1. Kazue Okamoto-Mizuno and Koh Mizuno: 'Effects of thermal environment on sleep and circadian rhythm'
2. Eivind Schjelderup Skarpsno, Paul Jarle Mork, Tom Ivar Lund Nilsen, et al.: 'Sleep positions and nocturnal body movements based on free-living accelerometer recordings: association with demographics, lifestyle, and insomnia symptoms'
Leave your honest Allswell review
Leave your genuine opinion & help thousands of people to choose the best mattress. All reviews, either positive or negative, are accepted as long as they're honest. We do not publish biased reviews or spam. So if you want to share your experience, opinion or give advice - the scene is yours!