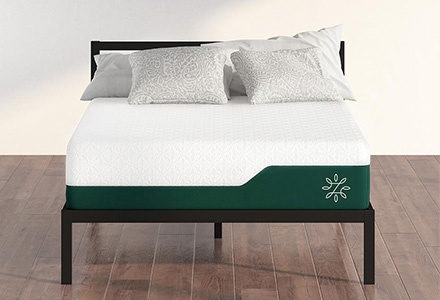 While everyone wants to sleep well and get the best quality rest that they can, sometimes, there's a huge financial hurdle in place. Top-tier mattresses aren't cheap! The product that we'll be looking a today, however, is different - customer Zinus mattress reviews note how the company offers some of the cheapest mattresses around.
But I'm getting ahead of myself - let's take it from the top.
Since Zinus offers potential customers a wide variety of different mattresses, we'll focus on two of the brand's top products - the cooling gel memory foam bed, and the cooling gel hybrid one. We'll talk about both about the pros and the cons of the Zinus mattresses, so you'll be able to create a rather comprehensive view of the products.
TL;DR: Customer Zinus mattress reviews claim that the brand provides decent beds for some difficult-to-believe prices. The foam models excel in motion isolation, while the hybrid ones are quite responsive and cool. That said, there are quite a few customer complaints about the durability of the mattresses.
Pros
Decent motion isolation
Proper cooling features
Very affordable
Cons
Little-to-no edge support
Lacks durability
Off-gassing
Zinus Mattress Reviews: PROS
So, let's start by taking a look at the positive aspects of the Zinus mattress reviews. The way that we'll go about this is by discussing the pros and benefits that both of the Zinus mattresses in question share with one another. If there's something unique about either one of the beds, I'll let you know in advance.
Good at Isolating Motion (Both Models)
Whether you sleep with your significant other or completely alone, motion isolation is going to be one of the more important features of a proper mattress.
Well, OK - admittedly, it might be more important when you're sleeping with someone else. Let me elaborate.
If you sleep with a partner who is rather restless, chances are that they are going to wake you up once or twice throughout the night - there are quite a few Zinus mattress reviews that second this notion. It's not an ideal situation to be in, especially if your mattress is super-sensitive to movement.
If, however, your bed works well at isolating motion, then you're not going to feel the other person twisting and turning around at night. This, in turn, will allow you to get some proper rest.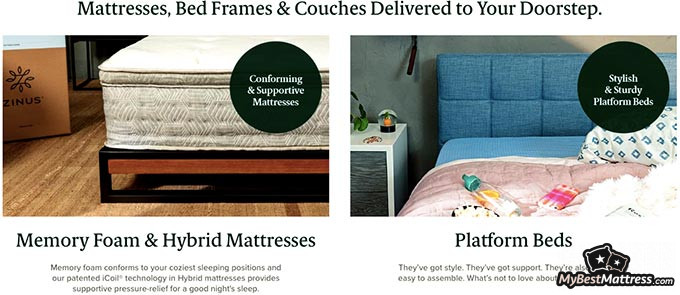 Sleeping alone, motion isolation is also an important feature, albeit not in as obvious of a manner. Since beds that are good at isolating motion tend to be a bit sinky, this means that the motion that you yourself make during the night will be reduced, too.
Reading through the various customer Zinus mattress reviews, it would seem that both of the models in question - the foam and the hybrid ones - are pretty good when it comes to motion isolation.
This isn't at all surprising with the Zinus memory foam mattress - granted that it's based entirely out of foam (namely, memory foam and polyfoam), it would only make sense for it to have motion isolating capabilities.
That said, the (positively) surprising part here is that the Zinus hybrid mattress (one made out of foam and coils) is also pretty good at isolating sleeper motion! This isn't a very common feature with innerspring-based beds, since metal coils tend to make these products somewhat bouncy.
Latest Saatva Coupon Found:
UP TO $500 OFF
Limited-time Saatva Sale
We're sharing a limited-time Saatva mattress discount with our readers! Grab this deal & enjoy your new mattress with huge discounts.
Expiration date: 12/06/2023
4,042 People Used
Only 83 Left
Little-to-No Noise (Foam Model)
Research shows that insomnia, if left untreated, can end up evolving into some serious mental and physical health problems[1] - that's why it should be taken seriously. One thing that can lead to the development of insomnia (and some other sleep issues) is noise.
Noisiness is rarely an "essential" topic when it comes to speaking about the core features of a proper mattress - even while reading through customer Zinus mattress reviews, you're not really going to find many that would reference this issue. The case, however, should be quite different.

A noisy mattress is one of the more prominent reasons for why people might have sleep disturbances during the night. Whether it's you trying to become a ninja in order not to wake someone else up while getting in or out of bed, or the noise that your partner makes while turning around at night waking you up, these things shouldn't be taken lightly.
While Zinus reviews aren't too keen on calling the hybrid model "silent" (it makes sense - metal springs don't tend to be silent), the story is very different with the foam model. It is true that not many customers talk about this aspect of the bed, but the ones that do emphasize the notion of how the bed is completely silent when bearing weight.

Did you know?
Sleeps Pretty Cool (Hybrid Model)
Now, cooling is, without a doubt, one of the truly essential features of a proper mattress.
Some beds sleep rather cool naturally, by design, while others require some special addons (i.e. cooling gel) to help them remain cool throughout the night. Whatever the case might be, if your mattress isn't cool and breathable, you're going to feel it pretty fast - heatwaves tend to make themselves known in the middle of the night.
Customer Zinus mattress reviews note that the hybrid model sleeps exceptionally cool - with a coil base, the bed ventilates and breathes well, and should feel cool even to some of the hotter sleepers out there.
Unfortunately, the same cannot really be said about the foam model - while it does come infused with cooling gel within the foam, it would seem that that's not enough to keep the mattress cool.
Decent Pressure Alleviation (Foam Model)
Researcher L. Matricciani and her colleagues define the term "optimal sleep" as "the amount of sleep required to optimize some desirable outcome, such as academic performance, or aspects of mental or physical health"[2]. One of the key aspects of such desirables outcomes is likely not having to deal with painful spots on your body every single morning.
Whether it be Zinus mattress reviews or any other customer mattress reviews out there, one thing remains for sure - if you want to get some proper quality sleep, pressure point relief is going to be at the top of the list of mattress features that you'd want to look out for.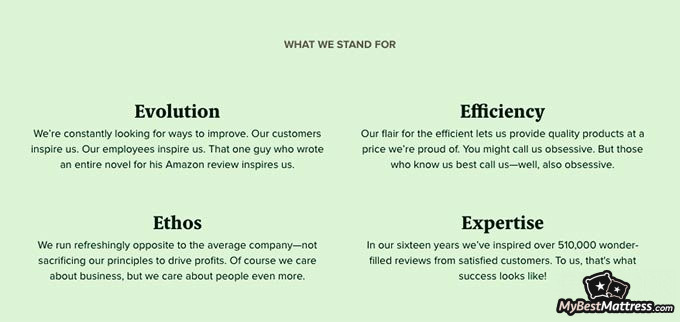 When a mattress is good at alleviating pressure, it spreads it out all throughout its surface. This, in turn, doesn't allow painful spots to form on some certain, specific parts of your body, i.e. hips, knees, shoulders, neck, etc.
Multiple customer Zinus reviews note that the foam model that the company offers is rather successful at alleviating pressure. While it's a feature that isn't associated with the hybrid Zinus mattress, the memory foam model should provide most customers (especially those in the mid-weight category) with decent pressure alleviation.
Zinus Mattress Reviews: CONS
Now that we've discussed the different benefits of the two Zinus mattresses in question, let's take a look at some of the more prominent complaints that customers might have concerning them.
Lack Durability (Both Models)
Zinus customers almost unanimously agree that both of the models in question aren't at the top of the chart as far as durability is concerned.
That's… Not ideal. However, given the price point of both of the beds, it's also to be expected.

Now, if you're looking for a mattress for some sort of a specific period in your life (for example, you've just moved into your college dorm room, and need a new mattress for the time that you'll be in college), durability might not be a "top priority".
That said, however, if you're someone who's struggling with back pain, pressure points, or simply want to find a mattress that would serve you for a long time to come… Well, I have to concede with other customer Zinus mattress reviews - Zinus might not cut it.
Strong Scent (Both Models)
Off-gassing is likely something that most people who have bought a mattress in their lifetimes are familiar with. It refers to the smell that a mattress has upon arriving at your doorstep and being taken out of the box (if it was in the box, in the first place).
While most mattresses out there "off-gass", some are going to produce stronger smells than others. Reading through the different Zinus reviews found online, it would seem that both of the beds in question belong to the latter group of products.

Whether this is a big issue or not depends solemnly on the person purchasing the mattress. If you're sensitive to smells, then ya - you'll likely have a pretty difficult time the first week you sleep on the mattress.
Some customers advise that you actually leave the mattress unpacked for some time, and sleep on a separate bed. If you don't own a separate bed, well… Not an ideal situation to be in.
Very Weak Edges (Both Models)
Edge support refers to how strong the edges of your mattress actually are, and how much weight they can bear before caving in.
Most people are going to need edge support for two big reasons - in order not to fall out of their bed at night, and to place items on the edges without them falling off, either.
Now, concerning the "falling out of bed" part, that's actually quite a real issue to have - believe it or not, but I've fallen out of a bed more than once in my life. Admittedly, the bed I've slept on wasn't particularly known for having strong edges.

Item placement-wise, this is going to be something that's important when you're short on space, and thus have to resort to keeping stuff on your bed when you're not sleeping on it. Granted that you'd probably want your items to stay on the bed and not end up on the ground, weak edges are also going to be somewhat of a problem in this situation.
Customer Zinus mattress reviews note that neither of the beds in question has good edge support. While it may seem like an issue that's a little bit niche, it's still worth keeping in mind, nonetheless.
Price
Now, when it comes to the pricing options of the Zinus mattresses, this is where the two products in question truly shine.
Truth be told, Zinus might just offer some of the most affordable beds in the entire industry!
The price tags listed below refer to the company's 10" mattresses. While there are also 8", 12" and 14" options, the 10" seem to be the most popular ones.
Zinus cooling gel memory foam mattress prices:
As for the Zinus cooling gel memory foam iCoil hybrid mattress, the prices are:
Yup, your eyes aren't deceiving you - the prices really are that low.
Furthermore, customer online Zinus mattress reviews also note that you'll receive a 100-night sleep trial, and a 10-year warranty with your purchase. Both the trial and the warranty periods are in-line with some of the best mattresses in the industry, so it's definitely a notable feature for Zinus.
Here is The Best Saatva Offer I Found:
UP TO $500 OFF
Limited-time Saatva Sale
We're sharing a limited-time Saatva mattress discount with our readers! Grab this deal & enjoy your new mattress with huge discounts.
Expiration date: 12/06/2023
4,042 People Used
Only 83 Left
Conclusions
As you've likely noticed reading this article (and possibly other customer Zinus mattress reviews), the two Zinus mattress models that we've discussed have some notable pros and cons.
If you're looking for motion isolation, and want a mattress that would offer some above-average cooling capabilities, then the Zinus hybrid model should be best for you. If pressure relief is more important than anything else for you, then the foam counterpart will likely suit you best.
That being said, while the price tags of both of the models are difficult to believe (in the best way possible), the mattresses do lack durability, and definitely aren't the best options for anyone looking for a long-term purchase. If you're someone like that, then I would highly advise you to check out our list of the best mattresses of the year - you'll be able to find better alternatives there.
With all of that being said, I thank you for reading this article, hope the Zinus mattress reviews were useful and wish you good luck in finding the right bed for yourself!
Scientific References
1. Jason G. Ellis, PhD, Michael L. Perlis, PhD, Célyne H. Bastien, PhD, et al.: 'The Natural History of Insomnia: Acute Insomnia and First-onset Depression'
2. Lisa Matricciani, BNurs, Sarah Blunden, PhD, Gabrielle Rigney, BA (Hons) Psych, et al.: 'Children's Sleep Needs: Is There Sufficient Evidence to Recommend Optimal Sleep for Children?'
Leave your honest Zinus review
Leave your genuine opinion & help thousands of people to choose the best mattress. All reviews, either positive or negative, are accepted as long as they're honest. We do not publish biased reviews or spam. So if you want to share your experience, opinion or give advice - the scene is yours!