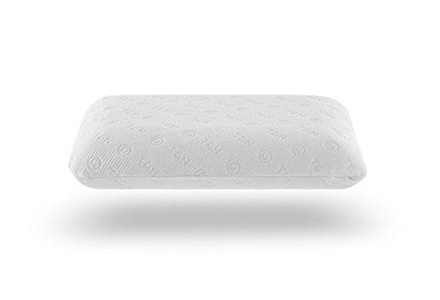 Foam pillows are often subject to controversy - some people love them, others hate 'em. Well, today, in this Tuft and Needle pillow review, we'll talk about a product that's bound to change your mind for the better.
Primarily, Tuft and Needle is a mattress-selling company. However, just like many of its competitors, the brand has delved into the realm of sleep accessories, and one of the products that it offers is specialized Tuft and Needle pillows. Are they any good? Well, judging from the customer Tuft and Needle pillow review, even more than that.
TL;DR: Customer Tuft and Needle pillow review claim that the pillow is extremely good at retaining shape and conforming to the sleeper's body. The product will mostly suit side sleepers, and is relatively cool when compared to other, similar pillows on the market.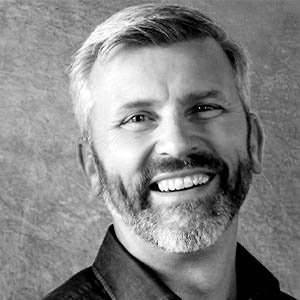 Keith Poorbaugh
Physical Therapist, Owner of Northern Edge Physical Therapy
What importance does the pillow we sleep on have?
Many studies have tried to identify the ideal pillow for sleeping. Unfortunately, there is no perfect pillow that works for everyone. Instead, the main determinant is individual comfort. It's important to test different pillows and determine which is right for you based on comfort and positioning. For instance, if an individual has sleep apnea or tends to snore, then it's best to use a pillow that allows them to lie comfortably on the side. In most cases, a fluffy pillow that recovers its shape after use seems to be the most comfortable. It's important to replace pillows frequently, just as you would a good pair of running shoes.
Pros
Good breathability
Decent pricing options
Very moldable
Retains shape well
Cons
Possible initial odors
Only one firmness options
Tuft and Needle Pillow Review: PROS
One of the first things that you'll notice while browsing through various different customer Tuft and Needle pillow reviews is that there's a seemingly vast array of different pillow features that should be considered as "important".
While that's true to the extent that each individual person is going to prefer a different set of options for their pillow, there are still some things that are going to be more important than others.
For example, a study by Susan J. Gordon and her colleagues shows that latex pillows are some of the better products when it comes to reducing headaches. That's likely more of an important feature than, say, the color of the actual pillow, right?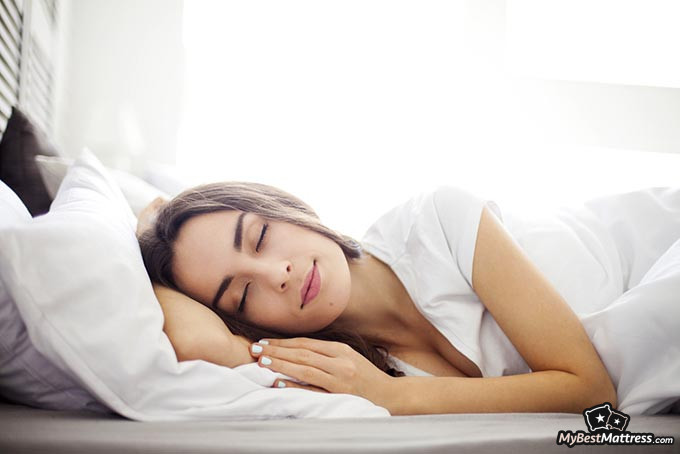 One of the first things that you should be looking for in a pillow is whether or not it has a customizable insert. Most high-end pillow products on the market are going to allow you to alter the amount of stuffing within the pillow - by adding in or taking out some filling material, you can change the firmness level of the pillow.
Loft height is also important, especially when you're searching for a pillow that would suit your specific sleeping position. If the loft's too low, your neck will bend, and if the loft's too high, it will arch up. Both scenarios are less-than-ideal in the grand scheme of things.
Do note, though, that there are exceptions - if a pillow doesn't allow you to customize the amount of insert within it, that does not automatically mean that it's a "bad" product - perhaps it comes in multiple firmness options, by default?
Whatever the case might be, if there's one thing that you won't need to worry about with the Tuft and Needle pillows, it's shape retention.
Great at Retaining Shape
Shape retention is somewhat of an interesting topic as far as customer Tuft and Needle pillow reviews (and overall pillow reviews, in general) are concerned. While it's one of the more important features that a pillow should possess, there doesn't seem to be all that much attention dedicated to the topic, especially when compared to, say, sleeping positions.
So, what is shape retention, and why is it important? Basically, a pillow that retains its shape is one that will come back straight into its original form once you've lifted your head from it.
Pretty simple.
Some customer Tuft and Needle pillow reviews jokingly emphasize that this is great in the morning, when you're in a rush and don't even have the time to fluff your pillow - with a product that's good at retaining shape, you won't have to do that, at all!
Naturally, though, that's not the main reason why shape retention is important.

If your pillow retains shape throughout the night, that means that your head and neck will remain in the same positions as when you've lied down on it. This is crucial for proper spine alignment.
The opposite of this would be when a pillow sinks - meaning, the materials inside of it tend to disperse during the night, and your head and neck tilt downwards. In this scenario, with a bent neck, your spine will have to withstand a pretty significant load, which can cause some back and shoulder pains in the morning.
Customer Tuft and Needle pillow reviews are unanimous, though - the T&N pillow is great at retaining shape, and you shouldn't face any problems with it sinking over time. That's mostly due to the product's filling - adaptive foam - being as sturdy and supportive as it is.
Latest Saatva Coupon Found:
UP TO $500 OFF
Limited-time Saatva Sale
We're sharing a limited-time Saatva mattress discount with our readers! Grab this deal & enjoy your new mattress with huge discounts.
Expiration date: 12/12/2023
4,042 People Used
Only 83 Left
Best for Side Sleepers
One of the more popular questions that people have reading through Tuft and Needle pillow reviews is whether or not the pillow is suitable for their sleeping position.
Seeping positions are certain specific postures in which you sleep during the night - duh. Everyone has their own, preferred sleeping position - while you may toss and turn during one of the more restless nights, you're still going to end up lying in your dominating positon.
In total, there are three main sleeping positions - side, back and stomach. Most pillow specifications revolve around these positions - companies know what's going to suit each of the different types of sleepers best, and try to contour their products accordingly.
That being said, there are some pretty cool exceptions. And I'm not even talking about pillow types! Concerning these, one study that was performed by Jeon MY (and colleagues) and that researched how you can improve your sleep quality found that orthopedic pillows are the best option for optimal shape and temperature.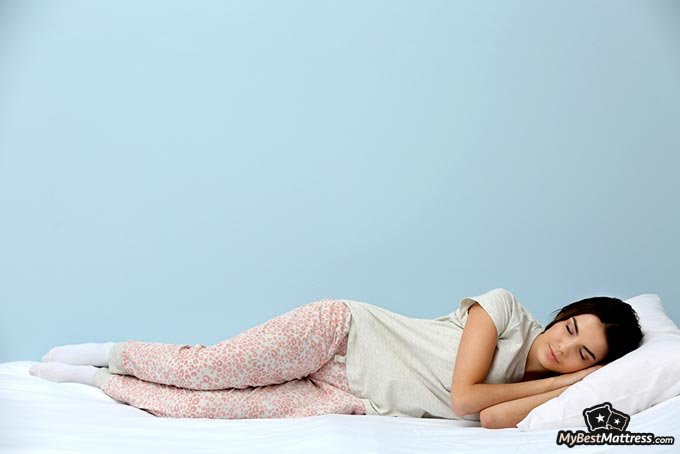 That doesn't mean that you have to drop everything and go and buy yourself an orthopedic pillow, however - as I've said, there are exceptions. Some pillows might have special materials or design intricacies that make them more suitable for the different kinds of sleepers out there.
Customer Tuft and Needle pillow reviews are likely going to tell you that the T&N product is one of them.
You see, most of the company's customers agree that the pillow is going to be best for side sleepers. This is because it's amazing at retaining shape and molding to your body, and it has a relatively high loft that side sleepers are going to appreciate.
All of that being said, though, it's important to note that there are quite a few back and even stomach sleepers that claim to have enjoyed their sleeping experience with the Tuft and Needle pillows! That's very surprising, especially when it comes to stomach sleepers - these people usually need thin and firm pillows, which isn't the case with Tuft and Needle.
Sleeps Relatively Cool
Foam pillows are not all that well-known for their breathability and cooling features - that's a fact. Many foam pillow providers seem to struggle with coming up with different ideas of how they can make their products cool to sleep on (yes, I'm still talking about the temperature).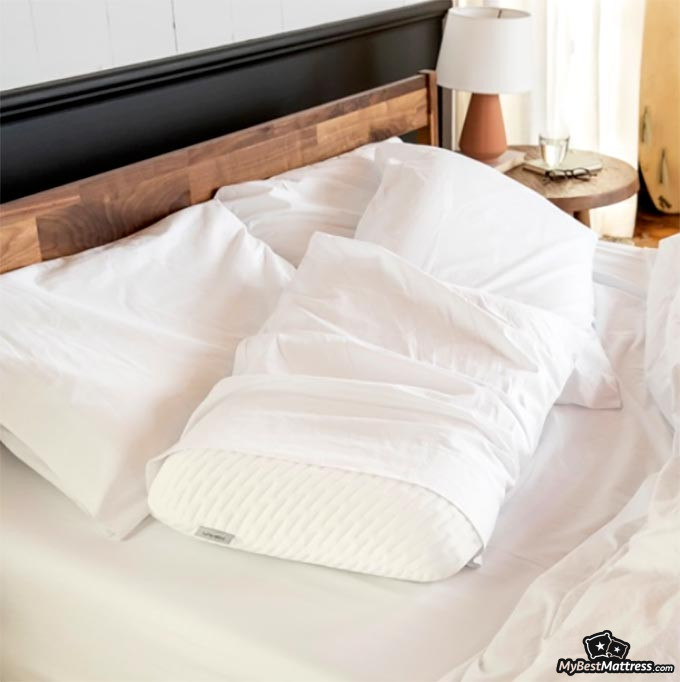 As some customer Tuft and Needle pillow reviews note, though, this isn't an issue regarding T&N.
Tuft and Needle's pillow is made from adaptive foam - we've referenced that already. However, what I didn't mention is the fact that the foam is infused with cooling gel and graphite. These two materials provide the product with some upper-tier cooling effects, especially when you compare the pillow with some other foam counterparts.
Lightweight Pillow
You won't find many Tuft and Needle pillow reviews mentioning this, but I do believe it's something that's worth discussing, at least briefly.
Compared to some other top-tier pillows in the industry, the Tuft and Needle pillow is quite a bit lighter. It might seem like a random fact at first, but I urge you to think about it.
Imagine you're sleeping at night, and you wake up just to adjust your pillow and go back to sleep again. Well, it's going to be pretty simple with a light pillow, but it may prove to be a more daunting task with a heavier one. The entire ordeal might end with you having to wake up and sit up completely, which will ruin any and all coziness that you might have had.
Tuft and Needle Pillow Review: CONS
Reading through the customer Tuft and Needle pillow reviews, you're likely going to notice that things aren't all sunshine and rainbows - the product does have a few notable complaints garnered around it. While some customers aren't all that fond of the Tuft and Needle pillow price, others claim the lack of customization to be the main issue.
Let's tackle the latter first.
No Adjustable Loft / Firmness
I've mentioned this at the very beginning of the Tuft and Needle pillow review, but most of the top pillow providers today try to make sure that their products would have adjustable firmness settings. More often than not, that's the ability to take out or put in extra stuffing.

That's not really possible with the Tuft and Needle pillow. The product comes with a single firmness option - medium firm. It's likely going to suit most of the different sleepers out there (especially side sleepers who don't mind a firmer pillow), but the lack of adjustability is still noticeable.
Another thing - loft height. While adding or removing insert, you can play around with the height of the loft of a pillow. This, in turn, makes it more suitable for different sleeper types. Yet again, that's something that's not possible with the T&N product.
New Pillow Smell
New item smells are nothing new - everyone knows that new products tend to have a lingering odor that dissipates over time.
So… What's the problem? Well, multiple customer Tuft and Needle pillow reviews have pointed out the fact that this pillow might take a bit more time to completely off-gass.
Is that really an issue? Most probably not. Will it be annoying if you have a sensitive sense of smell? Yup, it likely will.
Price
When it comes to pillow prices, you could look at it this way - the average price of a top-level pillow will range around $100. Nowadays, it might even be less, but that's a pretty good general baseline to keep in mind.
I've mentioned earlier that there are some people who aren't all that fond of the Tuft and Needle pillow price. Is it really that bad?
Well… No, not really:
T&N has priced their pillow at average (and even below-average!) price tags. I'll admit, there are definitely cheaper products available. That said, though, the Tuft and Needle pillow price is far from being outrageous, especially given the quality of the product in question.
In addition to rather decent prices, if you were to purchase the Tuft and Needle pillow, you'd receive a 100-night free trial, 3-year limited warranty, and even free returns. Not a bad deal indeed!
Here is The Best Saatva Offer I Found:
UP TO $500 OFF
Limited-time Saatva Sale
We're sharing a limited-time Saatva mattress discount with our readers! Grab this deal & enjoy your new mattress with huge discounts.
Expiration date: 12/12/2023
4,042 People Used
Only 83 Left
Conclusions
Today, the sleep accessory market is literally overflowed with a vast amount of different pillows, mattresses, blankets, sheets, and so on, and so forth. For your average, everyday sleeper, it can get really confusing - if all that you want to do is purchase a new pillow and be done with it, you might find yourself in a bigger struggle than you originally intended.
It doesn't have to be that way, however. Customer product reviews (read: Tuft and Needle pillow reviews) are there to lend you a helping hand and provide you with some quick, yet informative facts about the products that interest you.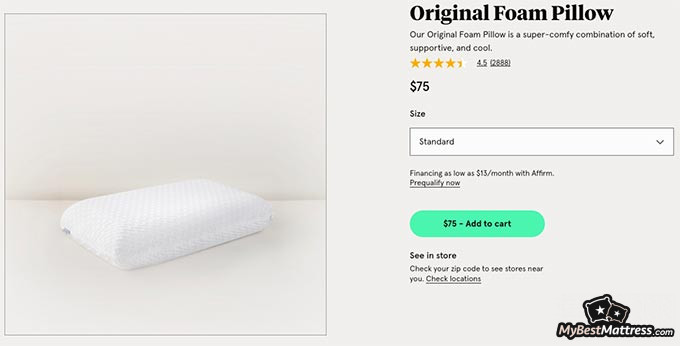 The Tuft and Needle pillow is a breathable, foam-based product that's going to be best for side sleepers, although it might suit all of the other types of sleepers, as well.
While the pricing options of the pillow aren't all that bad, customers should note that there might be some off-gassing during the first few nights of sleep, and that you can't adjust the loft or firmness of the pillow.
All in all, the T&N pillow is a decent product that surely deserves a spot on the list of the top pillow products of the year. If you do decide to try the pillow out for yourself, you'll also receive a 100-night sleep trial and a 3-year warranty.
Thanks for reading, and good luck in finding the best pillow for yourself!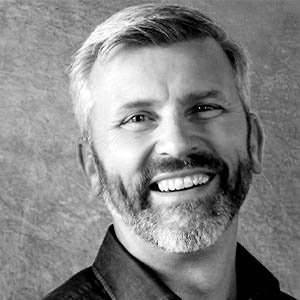 Keith Poorbaugh
Physical Therapist, Owner of Northern Edge Physical Therapy
Leave your honest Tuft and Needle Pillow review
Leave your genuine opinion & help thousands of people to choose the best mattress. All reviews, either positive or negative, are accepted as long as they're honest. We do not publish biased reviews or spam. So if you want to share your experience, opinion or give advice - the scene is yours!