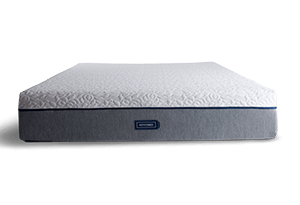 Novaform offers a variety of memory foam mattresses that you'll be able to find in the stores such as Costco where you get a non-prorated 20-year warranty and risk-free returns. Some of their models are available only online.
The company belongs to Innocor - a mattress developer and manufacturer. There's not much information about the Novaform history on their site, only that the foam they're using is manufactured in the US.
In this article, you'll find Novaform mattress reviews that will cover all of their beds while mostly focusing on the Serafina Pearl collection that customers evaluated as the best. In the end, I will introduce you to different types of mattresses and help you to make the right decision.
Verdict at a glance
Novaform sells a variety of memory foam mattresses that are sold through retailers and online. The beds come in different firmness and height options. Based on Novaform mattress reviews, they conform closely and alleviate pressure points, however, the durability is questionable.
Pros
The variety of models to pick from
Good motion isolation
Close conforming
Cons
The lack of size options
Questionable durability
Poor edge support
Novaform Mattress Reviews: What are Your Options?
On the official Novaform mattress site you'll find 6 models to pick from. Each of them has a slightly different structure, size and firmness options. You'll find that some collections lack size options.

Here are the options that are currently offered by Novaform:
ComfortGrande - gel-memory foam mattress that comes in medium level of support. It's 14" high and is made of three different layers, including gel memory foam, support foam, and premium base foam. This bed works well at alleviating pressure points and reducing motion isolation. Also, since it uses gel memory foam, it sleeps cooler than the traditional version.
Serafina Pearl - 14" gel memory foam mattress that comes in three firmness options - soft, medium, and firm, offers exceptional comfort and sleeps cool due to advanced cooling technology - ComfortLuxe Gel-Pearls. This collection is sold online only.
Gel Memory Foam Mattress - 8" mattress that's made of 2" gel memory foam and 6" premium base foam. On their official site, you'll find only two size options - twin and full. Of course, some Novaform mattress reviews reacted negatively to the lack of options.
SoFresh Responsive Foam Mattress - 10" mattresses that are made using copper-infused foam. It comes with an anti-microbial, easily-removable, machine-washable cover. This bed manages to alleviate the pressure points, however, some Novaform mattress reviews claimed that it sleeps too warm.
Overnight Recovery Gel Memory Foam Mattress - 12" gel-infused memory foam mattress that's designed of three different layers and a cover with Celliant technology to help you recharge during sleep. The mattress offers a medium feel that makes it great for average-weight sleepers.
Advanced Back Support Specialized Foam Mattress - this 12" foam mattress is designed specially for individuals who are suffering from back pain. Triple-layer design provides you with enough support and breathability. The mattress offers a firm feel that's recommended for back sleepers. This model is available online only.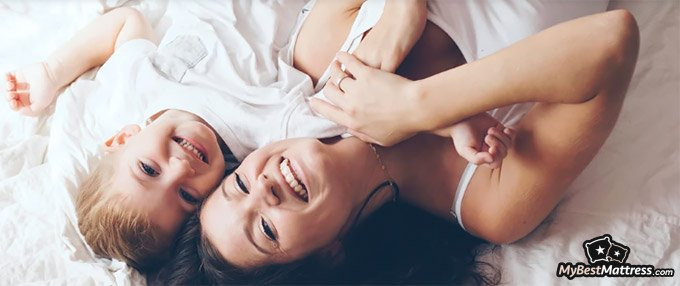 Therefore, each of the Novaform beds offers unique qualities, however, since Novaform mattress reviews evaluated Serafina mattress as the best option, further Novaform reviews will be focused on this bed.
Serafina Pearl Mattress - How Good is it?
Serafina Pearl mattress is available in soft, medium, and firm level of comfort. All of them are 14" tall and feature in three-layer design:
The layer of ComfortLuxe® Gel Pearl technology - makes sure that you're not sleeping too warm. Based on Novaform mattress reviews, it sleeps cooler than traditional memory foam mattresses.
The layer of LURAcor™ foam/CustomWave™ foam/LURAcor™ Air Channel foam - the second layer differs depending on the level of firmness you choose.
Support foam - provides stability to the mattress.
Since you can choose from different firmness options, you should consider your weight and sleeping position. If you find it difficult to make the right decision, this article might be helpful.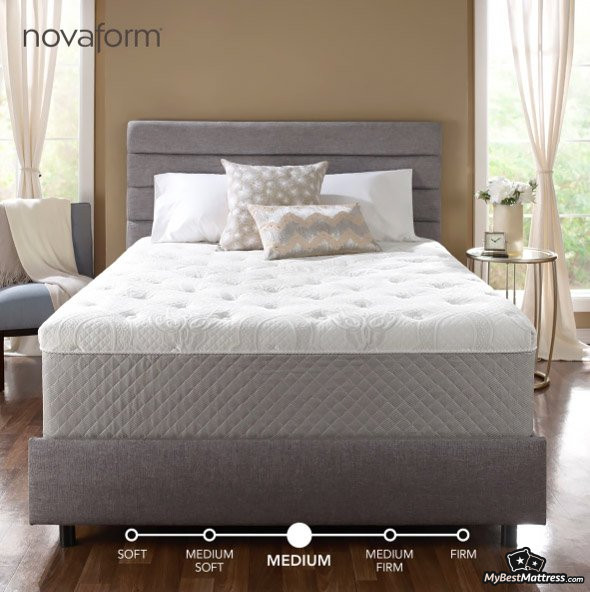 Now, moving to Novaform reviews, one of the major benefits that sleepers named was the close conforming and pressure point relief. These measures are needed for everyone who values a good night time rest.
What is more, couples will appreciate the fact that Serafina Pearl mattress manages to reduce the motion transfer significantly and is completely silent. After all, hearing and feeling your partner moving throughout the night can interrupt your sleep.
Based on the study[1] that focused on movement throughout the night, sleepers who were interrupted frequently experienced less stage 3 and 4 and more stage 1 sleep. It might result in difficulty concentrating, bad mood, and a lack of energy during the day.
Those were the major benefits that were distinguished by Novaform reviews. Now, let's take a look at the Serafina Pearl mattress flaws.
Just like the majority of memory foam mattresses, Serafina Pearl bed lacks edge support. This might be an issue for couples because when sleeping on the side of the bed you will feel as if falling out of it.
Also, soft edges mean minimal support for when you get out of the bed. Young people may not feel the difference, however, the elderly can struggle.
What is more, Novaform mattress reviews named the absence of bounciness as one of the major drawbacks. While this issue is linked to the majority of memory foam mattresses, it doesn't make it any better.
The final aspect that's vital to mention is that the Serafina Pearl mattress sleeps warm for some bed owners. Even though this bed is distinguished due to the first layer that's created using Gel Pearl technology that supposed to cool your body off, it seems that it doesn't work as intended.
The too cold or too hot temperature might disrupt the efficiency of sleep[2] and even interrupt your sleep cycle. That's why mattress thermoregulating properties are crucial.

The final question is, how much does Serafina Pearl mattress cost and what are the size options?
You can choose Serafina from only three size options. Here are the details:
Queen - $799 USD
King - $949 USD
Cal King - $949 USD
Note that the prices were provided at the time of writing this Novaform mattress review. Thus, they can be slightly different by the time you'll be reading it.
As you can see, Serafina mattress offers a lower-than-average pricing point. Even though it's very affordable, you've seen that it lacks some major features that might negatively impact your sleep. What is more, three size options are simply not enough… such sizes are recommended for couples only.
That's why you should check out the list of the most recommended beds in the market - the price and the variety of options will surprise you in a good way.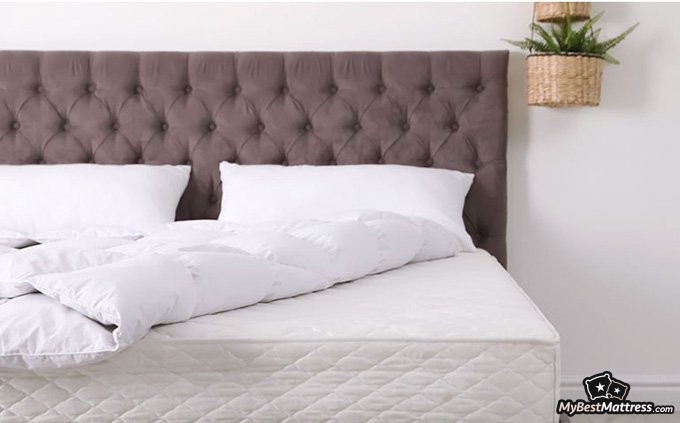 Each Novaform mattress is designed using USA-made foam and should be delivered within 3 days. You also get a non-prorated warranty and risk-free returns.
Now that all the details about the Serafina mattress are discussed, I want to make sure you make the right decision. That being said, in the further section, you'll find the most common mattress types together with their main pros and cons.
How to Decide Which Bed to Pick?
The majority of sleepers pick beds based on their personal preferences, however, there are other aspects that shouldn't be left behind, including weight, sleeping position, and even health issues.
For this reason, you should be aware of different mattress types, including their pros and cons, to make the right decision.
Here are the most popular mattress types in the market:
If you've been searching for a new mattress, then I believe that you came across each of these bed types. However, if you're not familiar with them yet, then I'm happy to introduce you to each of the bed types in this Novaform mattress review.
Memory Foam
Memory foam beds seem to be the best option for side sleepers. When you choose firmness based on your weight, they will keep your spine in a healthy position. Remember that the majority of Novaform mattresses are made of memory foam layers.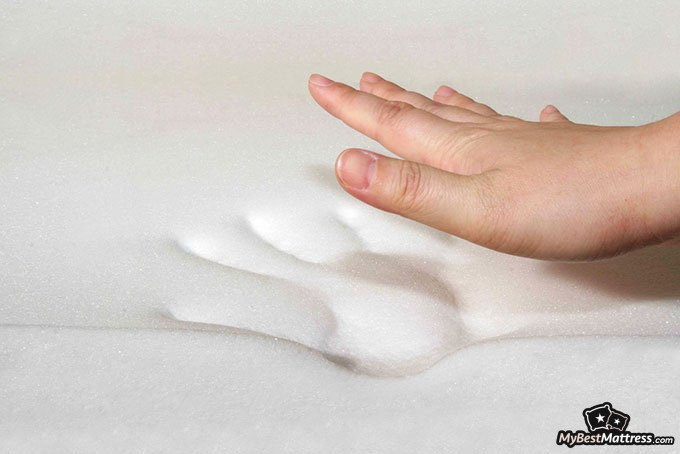 When sleeping on your side, you will feel that your shoulders are cushioned, your hips are supported, and there's no pressure in crucial areas of your body. That's why such sleep can improve your health. Knowing that about 70% of people are experiencing sleep issues[3] and one of the possible reasons is the inappropriate bed, you should pay close attention to it.
Now, Novaform mattress reviews and all the other sleepers out there claim that a high-quality memory foam mattress can alleviate pressure points better than any other bed. So, if you're experiencing issues such as neck pain, a memory foam bed might be exactly what you need.
On the other hand, when sleeping on the memory foam mattress you will feel as if being hugged. This can easily make your sleep too warm. Since sleep and thermoregulation are highly linked, you should make sure that it's not an issue.
Nowadays, you can also find gel-infused memory foam beds that are supposed to sleep cooler and have better support than the traditional option. The majority of Novaform mattresses are created using gel-infused memory foam.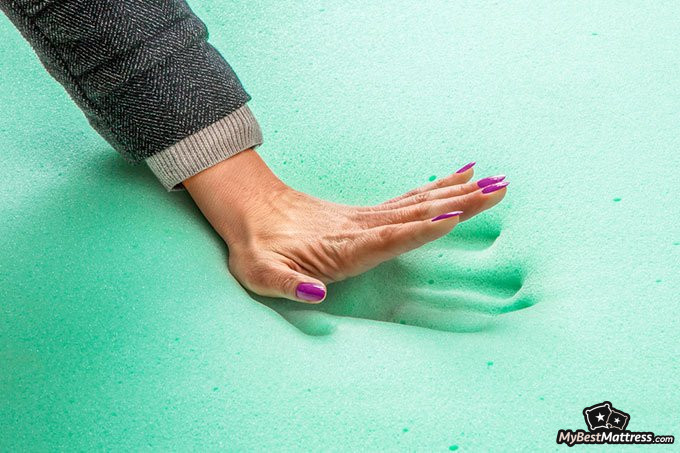 If you like the way memory foam beds feel, you should check out the list of beds that were recommended by the majority of sleepers.
Innerspring
Most of the innerspring mattresses nowadays have pocketed coils in their construction together with additional comfort layers, usually memory foam or latex.
Even though some innerspring mattresses produce squeaks and creeks, when choosing a high-quality bed, you'll notice that they provide very good noise isolation and there's only minimal noise.
What is more, such beds tend to be very supportive which makes them great for backs sleepers, especially those who are suffering from back pain. It's known that about 38.3% of people[4] are experiencing this issue.
Another aspect that's great about innerspring beds is that they tend to have strong edge support. While this measurement may not sound as important, it really matters when laying on the side of your bed or getting out of it.
Sadly, there are no innerspring Novaform mattresses, however, if the qualities that I've named above sound attractive to you, then you should take a look at the recommended options here.
Hybrid
Many sleepers prefer hybrid mattresses. There's a good reason for that. Such beds were designed with the main intention to connect the best qualities of innerspring and memory foam or latex mattresses.
So, hybrid mattresses have coils in their construction together with additional layers of memory foam or latex. That's why they tend to be springy and supportive, have firm edges, and, at the same time promote comfort and provide pressure relieving properties.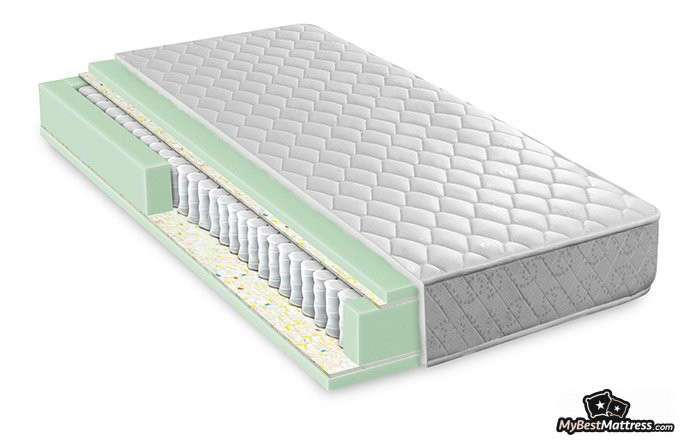 The only drawback is that such beds tend to be more expensive than memory foam mattresses. If you're interested in checking them out, take a look at the list of the hybrid beds that so far are evaluated as the best ones.
Conclusions
Therefore, as promised in the very beginning, I've introduced you to Novaform mattresses. The company offers six memory foam models, each of them provides you with different firmness, thickness, and size options.
Even though all Novaform beds are worthy of attention, Novaform mattress reviews showed that customers mostly appreciate the Serafina Pearl model. It manages to conform closely and alleviate pressure points. Also, the bed reduces motion transfer to a significant extent and produces zero noise.
On the other hand, some Novaform mattress reviews claim that Serafina sleeps too warm, lacks edge support, and bounciness. What is more, this bed offers only three size options - queen, king and cal king.

Even though the price of Serafina mattresses is lower than the average, there are better options to consider for a similar value. You can check out the list of the most recommended beds in the market here. Also, if you're looking for the best mattresses that cost less than $1000 USD, we have prepared the whole list here.
Scientific References
1. Wellman JJ, Bohannon M, Vogel GW: 'Influence of lateral motion transfer on sleep.'
2. Bach V, Telliez F, Libert JP: 'The interaction between sleep and thermoregulation in adults and neonates.'
3. Bert H. Jacobson, Ali Boolani, and Doug B. Smith: 'Changes in back pain, sleep quality, and perceived stress after introduction of new bedding systems'
4. Mathilde M. Husky, Farina Ferdous Farin, et al.: 'Chronic back pain and its association with quality of life in a large French population survey'
Leave your honest Novaform review
Leave your genuine opinion & help thousands of people to choose the best mattress. All reviews, either positive or negative, are accepted as long as they're honest. We do not publish biased reviews or spam. So if you want to share your experience, opinion or give advice - the scene is yours!