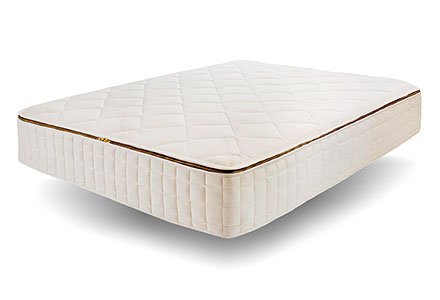 Reliable NaturePedic mattress reviews are difficult to find - however, that's exactly what you'll find on this article.
In total, NaturePedic offer customers 5 different mattresses and mattress types (from the Adult section of the website). We'll be taking a look at all 5 of them, covering each of their pros, cons and prices.
Once we're finished talking about the NaturePedic mattresses, I'll tell you whether or not I think that the company is worth paying attention to.
TL;DR: NaturePedic offers customers very durable and reliable organic mattresses. The company's current lineup consists out of hybrid and latex beds, each with its own benefits, quirks and price tags.
Pros
Organic materials
Money-back guarantees
Great motion isolation (hybrids)
Cons
Very pricey
Some off-gassing
Some noise
NaturePedic: Chorus
First up, we have the Chorus - a hybrid mattress made out of PLA material, wool and pocketed coils.
Before we continue with the review, let me just tell you in advance - there are better mattresses available. You can find them in our list of the best mattresses in the market. If NaturePedic doesn't quite suit you, don't hesitate to check 'em out!
Chorus Pros
Chorus is one of the best hybrid mattresses that NaturePedic reviews seem to address, at least as far as the company is concerned. According to the majority of these before-mentioned NaturePedic reviews, Chorus has some exceptional bounciness built into it - this is something that couples will appreciate very much!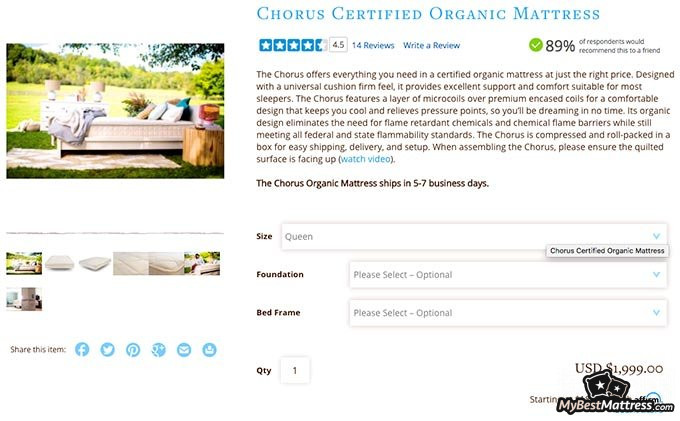 The bounciness (responsiveness) of a mattress is mainly responsible for a good experience whilst having sex. Since it's an "active" activity, you probably wouldn't want to literally sink into the mattress.
Latest Saatva Coupon Found:
UP TO $500 OFF
Limited-time Saatva Sale
We're sharing a limited-time Saatva mattress discount with our readers! Grab this deal & enjoy your new mattress with huge discounts.
Expiration date: 08/12/2023
4,042 People Used
Only 83 Left
Chorus Cons
One of the more notable complaints that NaturePedic mattress reviews address is noise - and this isn't only related to Chorus, but to all of the hybrid NaturePedic mattresses.
Customers report that the Chorus bed might be rather noisy, although it doesn't always seem to be the case. This is closely related to the fact that it's a hybrid mattress - the metal coils are responsible for any and all squeaks and creeks coming out of the bed.

Did you know?
What is the NaturePedic Chorus mattress price?
Here are the pricing options for the Chorus mattress:
Admittedly, what you see before your eyes is something that the majority of the NaturePedic mattress reviews never fail to emphasize - the NaturePedic mattresses are really expensive. Just to give you an example, Chorus is actually the cheapest of them all - yup, THAT expensive!
NaturePedic: Serenade
The Serenade model is yet another hybrid mattress that the company offers. Let's take a look at what the NaturePedic mattress reviews have to say about it.
Serenade Pros
The two big things that Serenade seems to have figured out would be durability and motion isolation. The mattress's pocketed coil technology mixed together with organic latex makes it a very durable bed, bound to hold up for quite a long time.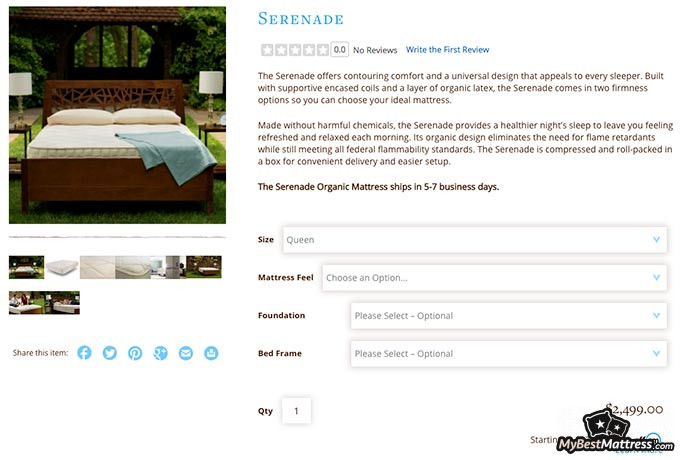 Motion isolation is yet another point to cover - while coil-based beds aren't really that well-known for their motion isolation, NaturePedic mattresses seemingly aim to change that stereotype. Serenade isolates motion rather well, especially keeping in mind that it's a hybrid mattress.
Serenade Cons
Funnily enough, there are a few NaturePedic mattress reviews that claim that Serenade isn't all that good in the bounciness department, especially when compared to Chorus.
This fact alone is rather weird, yet understandable - since the mattress wins some points in the field of motion isolation, it's bound to lose some, too, when it comes to being responsive. These two features rarely go together.
What is the NaturePedic Serenade mattress price?
Here is the full list of the NaturePedic Serenade mattress price:
Ya… The prices just keep on getting better and better. And yes, that is blatant sarcasm indeed.
NaturePedic: EOS Trilux
Now, we're going to talk about two mattresses out of the "EOS Series" - the Trilux and the Classic. Since these are the most sought-after models of the three beds in the series, they likely deserve the most coverage.
Trilux Pros
As the name might imply, Trilux is made out of three distinct layers of latex. The very first thing that you'll find emphasized by a lot of the NaturePedic mattress reviews is the longevity of the bed - it's probably the sturdiest, longest lifespan expectancy-having mattress in the whole of the company's selection.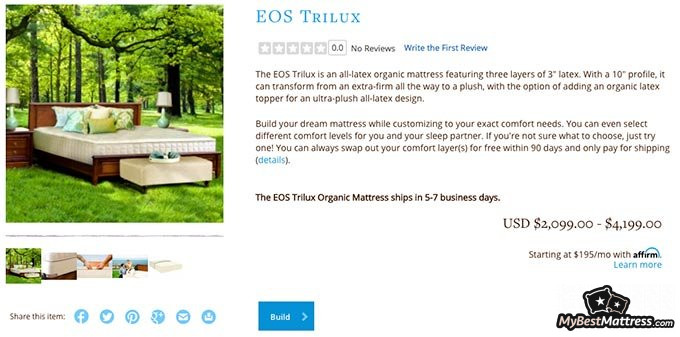 Also, motion isolation. The way that Trilux is built offers unparallel motion isolation - according to NaturePedic reviews, even if you're a "twist-and-turner" in your sleep, your partner shouldn't feel anything lying right next to you.
Trilux Cons
As far as Trilux complaints go, the mattress seems to be rather noisy and have some off-gassing attached to it. The "noise" part is very surprising - you would expect the hybrid models to be much noisier than Trilux, but a single look at the NaturePedic reviews will show you otherwise.
As far as off-gassing is concerned, that's pretty normal with any latex-based mattresses - Trilux is no exception. If you're not aware, off-gassing happens when a brand new mattress comes packed with some of that "new mattress smell" - while it is common for latex mattresses, the smell shouldn't at all be intrusive, and will most likely dissipate over a few days.
What is the NaturePedic Trilux mattress price?
Trilux pricing options are:
Reading through the various NaturePedic mattress reviews, it's obvious that Trilux is a great bed - however, the prices just keep increasing onto bigger and harder-to-comprehend tags.
NaturePedic: Classic
The Classic model of the EOS series comes equipped with the company-standard pocketed coil and latex mix.
Classic Pros
The NaturePedic Classic, according to quite a few of the NaturePedic mattress reviews, does seem to be the favorite for a lot of people as far as the series is concerned.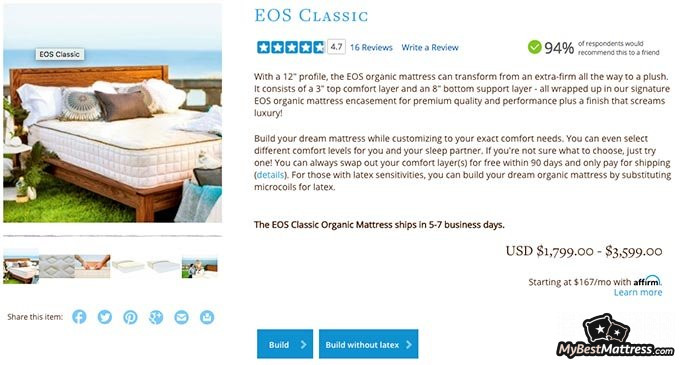 The mattress is available in a few different firmness options, has some pretty good responsiveness to it, and offers customers some of the best edge support out of the entire company's selection of beds.
Classic Cons
The (quote, unquote) "cons" of the Classic mattress are similar to those of all of the hybrid beds of NaturePedic - the mattress might make some noises, and will come with some specific odors. While the noise seems to differ from client to client, the smells should be gone in a few day's time.
What is the NaturePedic Classic mattress price?
The pricing options for the Classic mattress:
Twin - $1799
Twin XL - $1999
Full - $2799
Queen - $2999
King - $3599
Cal King - $3599
The Classic model does seem to be cheaper than the Trilux one, but it will still come out to cost a pretty penny, nonetheless.
NaturePedic: Halcyon
In a bit of a different twist, let's take a look at a whole series of mattresses combined into one, single chapter - the NaturePedic Halcyon. We'll cover all of the three mattresses at once mainly because they are all aimed at a single topic - luxury, as opposed to the EOS series, where the beds differed quite a bit.
Halcyon Pros
The main pros of the Halcyon mattresses are pretty straightforward - the beds are made out of organic latex and coils that are encased in cotton pockets, there are a few different firmness options, isolate motion pretty well and sleep rather cool (which is important for anyone who wants to get a good night's sleep[1]).
Halcyon Cons
As far as the cons are concerned, all of the mattresses might give off some off-gassing when they're initially unpacked.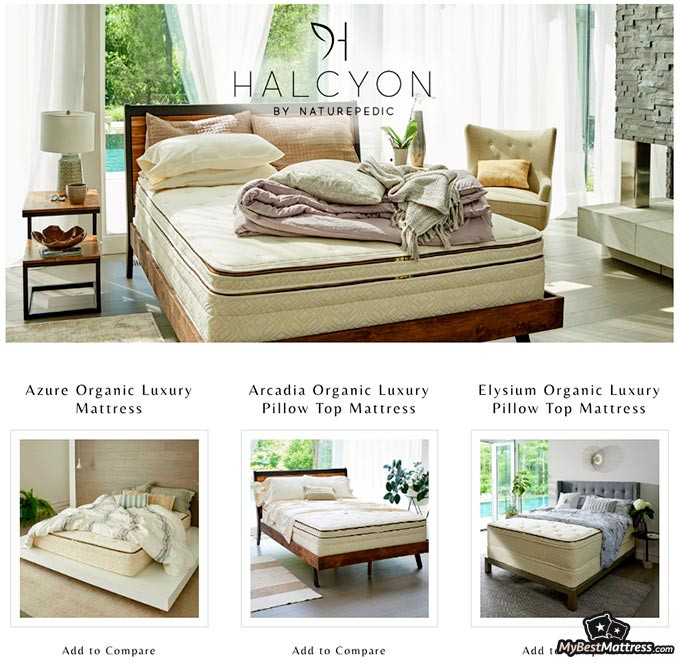 Yet again, this is somewhat similar to the situation with Trilux - since the mattresses are based out of organic latex, the smell might be noticeable, but shouldn't cause any discomfort and should be gone in a couple of days.
Halcyon Price
When it comes to the topic of pricing, Halcyon is a bit of a difficult series to examine. This is mostly because of the fact that there are no official price-lists for the mattresses available online - the actual price for either one of the three models is going to depend on the retailer that you choose.
Reading through the NaturePedic reviews, however, it's quite obvious that the Halcyon series is going to be the most costly out of all the mattresses that we've covered here. Just something worth keeping in mind.
Here is The Best Saatva Offer I Found:
UP TO $500 OFF
Limited-time Saatva Sale
We're sharing a limited-time Saatva mattress discount with our readers! Grab this deal & enjoy your new mattress with huge discounts.
Expiration date: 08/12/2023
4,042 People Used
Only 83 Left
NaturePedic Mattress Reviews: Conclusions
So, these were the 5 different mattresses (in Halcyon's case - mattress types) of NaturePedic.
Out of all of the NaturePedic mattress reviews, you might have noticed a pattern - all of the mattresses have something in common (apart from the price tags, that is). The beds that the company sells are all sturdy, comes with sleeping trials and money-back guarantees, and are all made out of organic materials.
While it is obvious that NaturePedic mattresses do have some minor cons and quirks associated with them, the one major problem that most people reference are the prices. It all depends on how much you're ready to spend on a bed - if the prices don't scare you at all, then NaturePedic might as well be an interesting and worthy investment.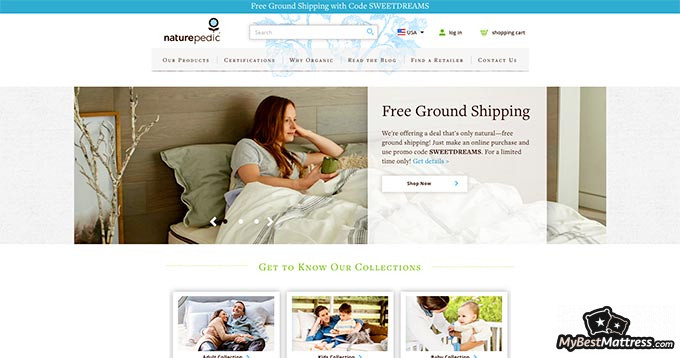 That being said, there are much cheaper and more affordable mattresses in the market. Sure, they might not be "100% organic", but if that's not a mandatory requirement for you, then you might want to check them out.
All in all, I hope that these NaturePedic mattress reviews were helpful to you, and that you now have a better idea of just what kind of a mattress would suit you best. Remember - there are many different things[2] that add up to improve your sleep quality, and a proper mattress is just one of them. Take care!
Scientific References
1. CDC: 'How Much Sleep Do I Need?'
2. Marishka K. Brown, PhD, Ewa Strus, MS, and Nirinjini Naidoo, PhD: 'Reduced Sleep During Social Isolation Leads to Cellular Stress and Induction of the Unfolded Protein Response'
Leave your honest NaturePedic review
Leave your genuine opinion & help thousands of people to choose the best mattress. All reviews, either positive or negative, are accepted as long as they're honest. We do not publish biased reviews or spam. So if you want to share your experience, opinion or give advice - the scene is yours!