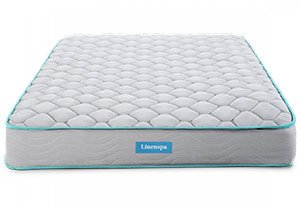 We tend to think that only expensive mattresses have the best qualities, however, the value does not always come with a price. Sometimes you can find inexpensive beds that that are just as good as the ones that cost thousands.
You'll find that Linenspa mattresses are some of the cheapest beds you're able to find in the market. In this Linenspa mattress review, we'll find out if they're at least slightly as good as the most recommended beds.
I'll go through each of the Linenspa mattresses while focusing on their two beds that sleepers choose most often - 10-inch memory foam hybrid mattress and 12-inch gel memory foam hybrid mattress. Each of them will be evaluated based on Linenspa mattress reviews.
Verdict at a Glance
Linenspa offers six mattress designs to pick from, including innerspring, hybrid, gel memory foam and others. The beds they're offering are some of the least inexpensive products that are available in the market.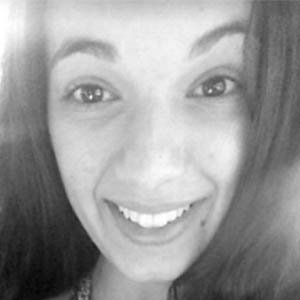 Brittany Ferri
Occupational Therapist, CPRP
What are the top things that contribute to the quality of our sleep?
One of them is routine. This includes what we do 2-3 hours before bed and immediately before falling asleep, how we approach waking up overnight, what time we wake up in the morning and the first things we do in the morning.
Pros
Inexpensive
Six options to pick from
Hybrid beds sleep cool
Cons
Not the greatest quality
Lack firmness options
Some mattresses lack height
Linenspa Mattress Review: Introduction
Linenspa was founded in 2003 with the main intention to provide customers with high-quality, yet inexpensive mattresses. To find out if they manage to reach this goal, I'll go through Linenspa mattress reviews and see what they have to say about this brand.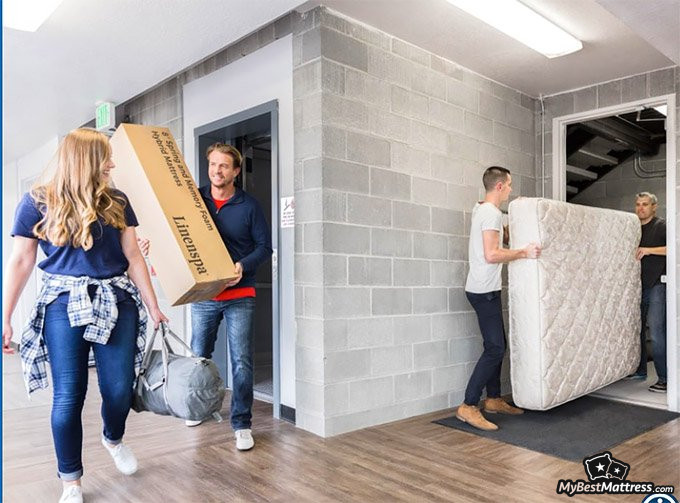 At the moment, Linenspa offers 6 different mattresses that you can pick from. Here they are:
8-inch memory foam hybrid mattress
10-inch memory foam hybrid mattress
12-inch gel memory foam hybrid mattress
10-inch latex hybrid mattress
6-inch innerspring mattress
5-inch gel memory foam mattress
As you can see, four out of six models are hybrid beds, meaning that they have coils in their construction and additional comfort layers of memory foam, gel memory foam, and latex.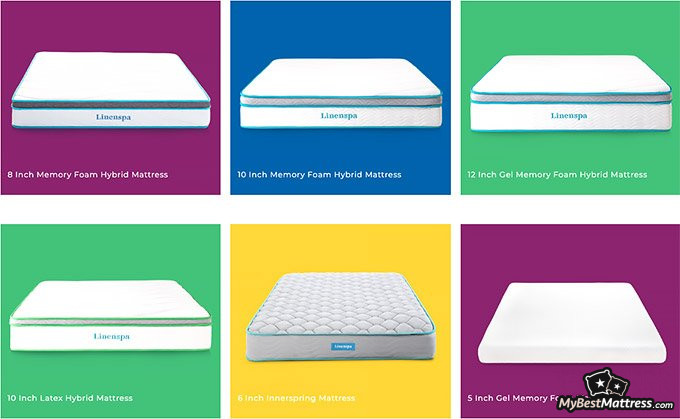 As I was researching for the best Linenspa mattresses, it became clear which two mattresses sleepers appreciate the most. These are 10-inch memory foam hybrid and 12-inch gel memory foam hybrid mattresses. In a further section, you'll find more details about each of these beds.
Gel Memory Foam Hybrid and Memory Foam Hybrid Mattresses: Which One is Better?
I'll start with the memory foam hybrid mattress. It's made of 1.5" quilted memory foam cover, 2.5" foam in the comfort layer, and the base of 6" tempered steel springs and support foam. The bed has a medium feel, meaning that it will be great for the majority of sleepers.

Some Linenspa mattress reviews say that the cover looks cheap. Also, since it's not removable, you will find it more difficult to wash. So, if you have any spills, you should simply use warm water and a mild detergent to remove the stain.
Now, since the bed has coils in the construction, it's responsive and bouncy that will allow couples to spend some quality time. Also, you won't be stuck in the mattress which is the feeling associated with memory foam beds but will rather sleep on top of it.
What is more, some Linenspa mattress reviews revealed that they were able to feel coils. However, this issue was mostly associated with beds that are 6" or 8" thick. That's why you should pick either 10" or 12" inch mattress to get more comfort.
Linenspa mattress reviews also revealed that 10-inch memory foam hybrid mattress was great for average-weight side sleepers, however, light and heavy-weight individuals should consider other alternatives.
Now let's move to 12-inch gel memory foam hybrid mattress. It's 2" taller and is made of gel-infused memory foam rather than the traditional alternative. This is the softest option of all Linenspa mattresses. That's why heavy sleepers shouldn't consider it.

The mattress comes with 1" quilted memory foam cover, 2" of gel memory foam and 1" of transitional foam in the comfort layer, and also 8" of individually-encased coils together with foam in the support layer.
Even though this bed is soft, it also has strong support. For this reason, you won't have to be worried about sinking too deep into the mattress and feel hot. Also, due to coils that provide airflow, you won't be sleeping hot.
One of the major reasons why I think this mattress is better than the previous option is that it uses gel memory foam instead of the traditional memory foam. Based on the majority of Linenspa mattress reviews, sleepers prefer it better.
The major reason for that is probably the fact that it sleeps cooler, provides more support and responsiveness. Needless to say, those are some of the qualities that most of us are looking for in a bed.
Therefore, both of these mattresses are quite good and could be considered as a perfect option for those who cannot afford an inexpensive bed, yet need a new mattress.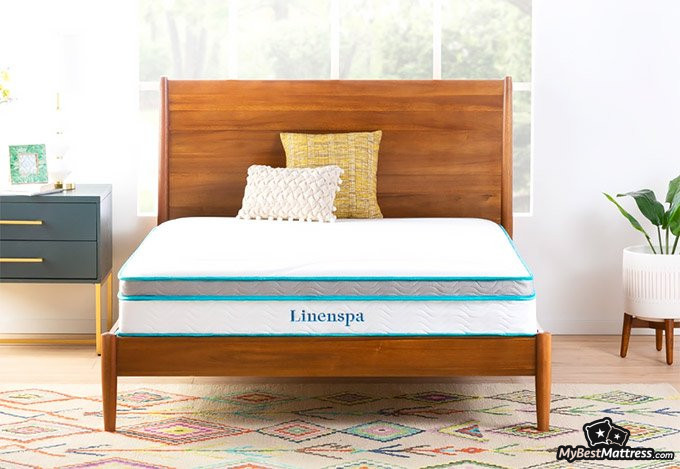 When choosing between these two hybrid beds, it's pretty obvious that 12" gel memory foam hybrid is a better option. It's plush, comfortable, and supportive.
Almost all the aspects in this Linenspa review are covered, however, you're still not aware of the full pricing and other details such as warranty and returns. You will find it all in the further section.
Linenspa Pricing and Additional Details
As mentioned at the beginning of this Linenspa mattress review, they offer beds that are some of the most inexpensive options you can find in the market. Here's the pricing for each Linenspa mattress:
8-inch memory foam hybrid mattress - starting at $99.99 USD
10-inch memory foam hybrid mattress - starting at $159.99 USD
12-inch gel memory foam hybrid mattress - starting at $249.99 USD
10-inch latex hybrid mattress - starting at $199.99 USD
6-inch innerspring mattress - starting at $79.99 USD
5-inch gel memory foam mattress - starting at $94.99 USD
As you can see, you can easily get a mattress for less than $100 USD, that's way lower than the average price range.
You also get a 10-year limited warranty that will cover manufacturing flaws. Also, if you decide to return the Linenspa mattress within 30 days, you will get all of your money back.
Now that I've covered all the major details in this Linenspa mattress review, it's time to help you to pick the right bed.
How to Choose the Right Bed?
Picking the right mattress is not as easy as it might seem at first. You have to consider not only your personal preferences but also your sleeping position, weight, and other crucial aspects such as health issues.
You should know that about 70% of people are suffering from sleep issues.[1] One of the possible causes is the unsuitable mattress. That's why choosing the bed based on your personal needs is crucial.
For this reason, in this Linenspa mattress review, I'll help you to make the right desition by presenting the most popular types of mattresses together with the main pros and cons that come with them.
Here are the most popular bed types that you should be aware of:
Let's go through each of them separately.
Memory Foam
Memory foam beds are perfect for everyone who appreciates comfort. Such mattresses adapt to your body curves closely and alleviate pressure points. The material was invented by NASA-funded researchers who had an intention to create the perfect material that would pillow pilots during the flight.
What is more, everyone who prefers sleeping "in" the mattress rather than on top of it, should consider Linenspa mattresses made of memory foam. They will provide you with this feeling as if being hugged.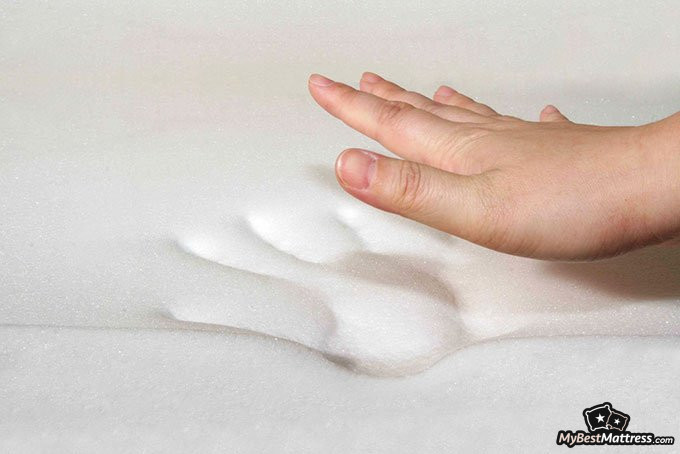 It's also important to mention in this Linenspa mattress review that memory foam mattresses tend to work great for side sleepers. Imagine sleeping on your side, your shoulders are hugged, your hips are supported, and, this way, your spine stays in a healthy position.
However, to make sure that you're sleeping healthy, you should also pay attention to the firmness of a mattress. If you're a light sleeper, then you should consider softer options, if average-weight, then medium-firm bed, and if you're a heavy-weight individual, then a firmer mattress is what you need. The denser the foam, the firmer the memory foam mattress is.
Based on Linenspa mattress reviews, and many other sleepers out there, it's recommended to pick gel-infused memory foam beds that sleep cooler, and are more supportive. If you want to check out the list for the most recommended options, then you can easily find them here.
Innerspring
Innerspring mattresses nowadays are different than they're used to be decades ago. The majority of them are designed using individually-wrapped coils that are not only relatively quiet but also add additional durability and support to your mattress.
Sleeping on an innerspring mattress feels completely different than on memory foam. You will no longer feel as if sleeping "in" the mattress but will rather sleep on top of it. Even though such beds tend to be less conforming than memory foam, they sleep way cooler. Since temperature and sleep are highly related,[2] you might notice the increase in the quality of your sleep.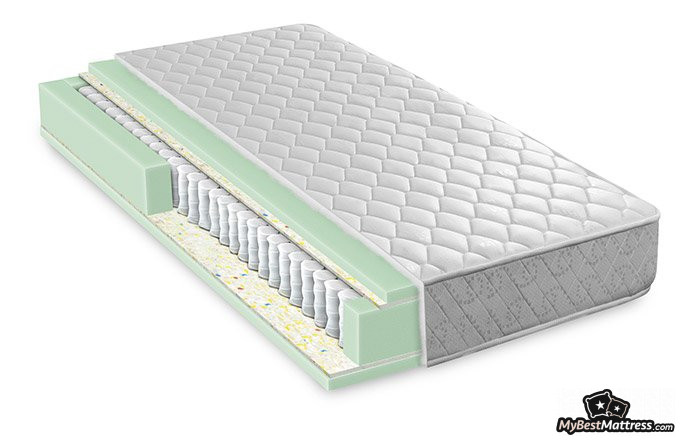 What's also great about innerspring mattresses is that they tend to have firm edges. So, once getting out of the bed you will feel completely secure. What's more, they tend to be springy, meaning that couples should appreciate it.
The only issue that's often noticeable is that you might hear occasional squeaks and creeks, however, if you pick a high-quality mattress that shouldn't be an issue.
Hybrid
Hybrid mattresses are a mixture of memory foam/latex and innerspring beds. They tend to have pocketed coil springs and the comfort layer of memory foam or latex.
Even though many people prefer latex over memory foam, such an option might be rather expensive. That's why memory foam hybrid mattresses are more popular. Since both beds that I'm focusing on this Linenspa mattress review are hybrids, you should pay crucial attention to this.
Hybrid mattresses were created for the main purpose to provide you with the best features of both memory foam (if we're talking about memory foam hybrid) and innerspring mattresses.
That being said, you get a close conforming and pressure point relief together with bounciness and support. Even though not every hybrid bed in the market is like that, you can expect these features from the high-end products.
Latex
Some latex mattresses are made from plant-derived latex, others are synthetic. You should always look for a natural alternative.
Talking about the benefits of latex mattresses, you should know that such beds have hypoallergenic properties, provide you with comfort and pressure point relief. What is more, they tend to sleep cooler than memory foam beds.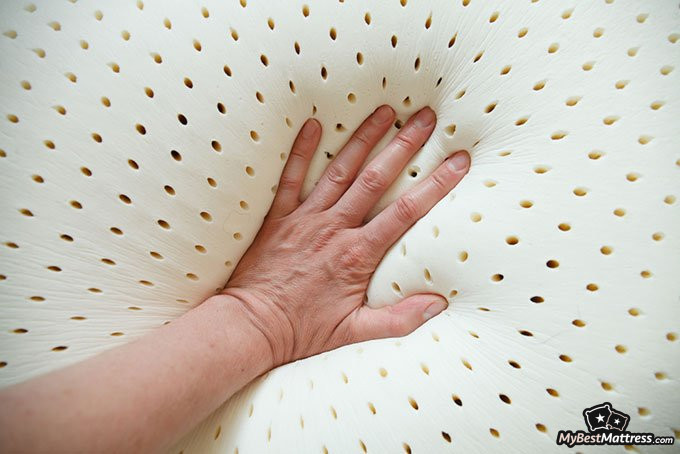 A high-quality latex bed should serve you way longer than the average mattress. So, you should make sure to choose wisely. The only issue with such beds is that they can be quite pricey.
If you're not sure where to start looking for a high-quality latex bed, here's the full list of options for you to consider.
Now that you know your options, it should be easier for you to decide if Linenspa mattresses are what you should go for.
Conclusions
Therefore, it's clear that Linenspa mattresses are great for those who are looking for inexpensive mattresses that would offer mediocre comfort. Even though I wouldn't recommend choosing beds that are slimmer than 8" for couples as you might feel coils, they can be great for guest rooms, kids, and even in the dorm rooms.
Linenspa reviews revealed that customers appreciate their hybrid beds the most, especially 10-inch memory foam hybrid and 12-inch gel memory foam hybrid beds. Both of them sleep relatively comfortable, offer temperature regulating qualities, and are supportive.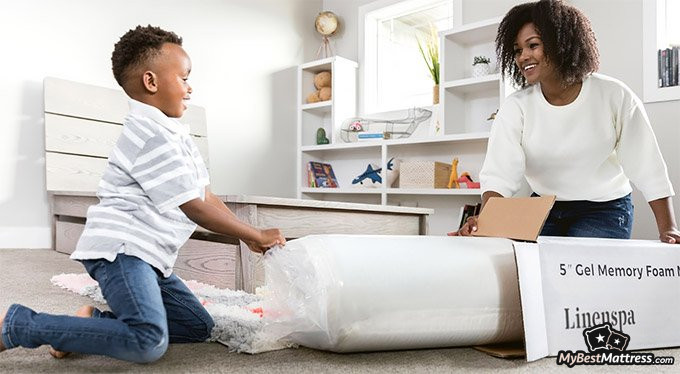 On the other hand, since each bed comes in only one firmness option, not all sleepers will find the right comfort level. That's the major drawback to consider in this Linenspa mattress review.
For this reason, I recommend checking out the alternative beds that sleepers appreciate. They are more expensive than Linenspa mattresses but are worth the whole price.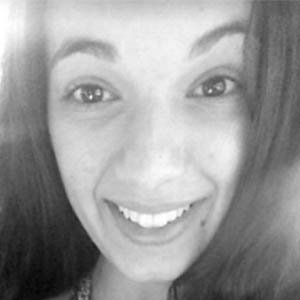 Brittany Ferri
Occupational Therapist, CPRP
Contributed By Brittany Ferri, Occupational Therapist, CPRP
As an occupational therapist, Brittany takes a client-centered approach to look at a person's environment, interactions, habits, and function to determine the best way to improve their health statu...
Read Full Bio...
Scientific References
Contributed by
Brittany Ferri
, Occupational Therapist, CPRP
1. Bert H. Jacobson, Ali Boolani, and Doug B. Smith: 'Changes in back pain, sleep quality, and perceived stress after introduction of new bedding systems'
2. Kazue Okamoto-Mizuno and Koh Mizuno: 'Effects of thermal environment on sleep and circadian rhythm'
Leave your honest Linenspa review
Leave your genuine opinion & help thousands of people to choose the best mattress. All reviews, either positive or negative, are accepted as long as they're honest. We do not publish biased reviews or spam. So if you want to share your experience, opinion or give advice - the scene is yours!