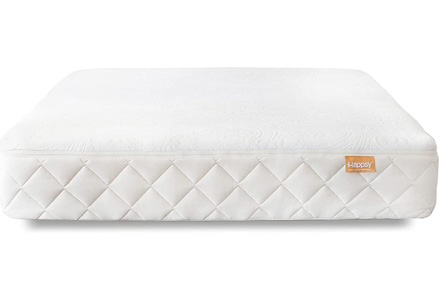 Happsy, yes Happsy not Happy is a company that makes organic, bed-in-a-box mattresses. Organic beds aren't uncommon these days, but they aren't all worth the investment. In this Happsy mattress review, I'll take an in-depth look to see if this particular one is worth your attention. Additionally, we'll see if Happsy vs My Green Mattress has more to offer.
The company started their journey in 2017, with the mission to make organic mattresses more affordable. They believe that everyone should be able to purchase an eco-friendly bed. If you care about the planet and the environment, money shouldn't be the factor stopping you from making better decisions.
Nonetheless, if you are searching for a different type of bed, take a look at some of the best ones on the market - Saatva, Layla and, Puffy. Besides, you can always stop by the best mattresses on the market list.
TL;DR: Happsy is an organic bed that is ideal for back sleepers, has great temperature control and responsiveness. However, the mattresses aren't as suitable for side sleepers. Furthermore, couples should also think twice before buying this bed, since it doesn't have the best motion isolation.
Pros
Eco-friendly
Ideal for back sleepers
Temperature neutrality
Responsive
Cons
Not ideal for side sleepers
Lacks motion isolation
Happsy mattress review: PROS
You might have a feeling already that this bed has a lot of benefits. I've looked at sleeper Happsy mattress reviews to see what the people enjoyed about this bed.
Take all of these aspects into consideration and see whether or not this bed will earn your sympathies.
Eco-Friendly
The world is constantly changing and turning to unexpected paths. Moreover, we are holding the wheel. We can either turn to the good or to the bad side. Simple steps like purchasing an eco-friendly bed can really be a big change. Besides, studies show that the concepts of green purchase and green marketing have gradually become popular[1].
Customers are turning for the finest organic items and deals as the popularity of green products grows by the day. And it's no secret that they're always a little more expensive. Well, to make environmentally friendly mattresses available for everyone - was one of the brand's main purposes.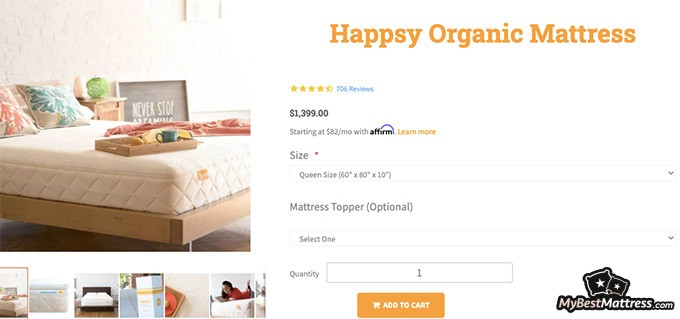 Now that that's out of the way, let's look at what makes this specific bed so organic. To be fair, the bed's structure is quite modest. And the layers are entirely made of environmentally safe materials.
To start off, at the very bottom of the bed is the organic cotton filling which acts as a base and a support layer.
Next, as usual to hybrid mattresses there is the pocketed coil layer. This part of the mattress is the main support core. It helps to shape the bed, create bounciness and enough firmness so the sleeper's spine is aligned correctly. Let's not forget the airflow between the coils.
Individually wrapped coils also move independently, which means that the bed should shape the sleeper's body and be fairly responsive to every movement.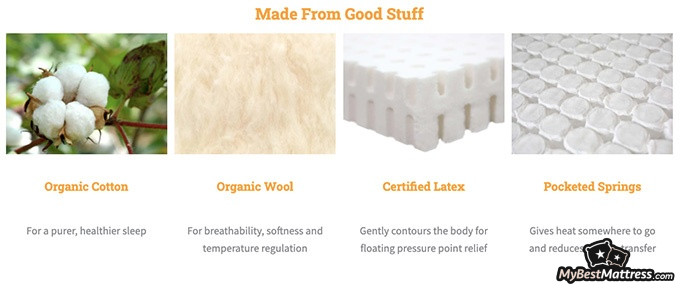 On top of the pocketed coil layer is the certified latex brought from India or Sri Lanka. This natural component is breathable, adaptive, a little bit bouncy, and has a pressure relief feature. To be honest, a lot of sleeper Happsy mattress reviews talk about this part of the bed.
So, let's sum up all of the eco-friendly materials that we've found in this mattress:
Organic cotton - grown without harmful chemicals, very environmentally friendly as opposed to conventionally produced cotton.
Organic wool - non-allergenic, naturally soft, and breathable.
Certified latex - natural, provides orthopedic support, and remains supportive for decades. When it comes to durability, this is fantastic news.
Additionally, the mattress is created without flame retardants, glue, and adhesives. That's something, not every green mattress manufacturer can brag about.

As you can see, organic, natural materials are very beneficial not only for the environment but even for the sleeper.
Moreover, if you would like to research more sustainable brands, make sure to take a look at Saatva, one of the best mattresses on the market, and additionally, it's 100% eco-friendly. All of the bed's foams are certified as eco-friendly and organic, besides, breathable cotton is included as well.
By the way, this mattress has the best reviews and is widely appreciated by a lot of sleepers.
Latest Saatva Coupon Found:
UP TO $500 OFF
Limited-time Saatva Sale
We're sharing a limited-time Saatva mattress discount with our readers! Grab this deal & enjoy your new mattress with huge discounts.
Expiration date: 29/09/2023
4,042 People Used
Only 83 Left
Ideal for Back Sleepers
It's no surprise that everyone has a preferred sleeping position. In the mattress industry as a whole, the subject is quite popular. More and more companies are emphasizing the suitability of their beds for specific types of sleepers, or even for everyone in general.
Personally, I would call myself a combination sleeper since I don't sleep on my back like Dracula, the entire night. But if you are, even better!
In this case, sleeper Happsy mattress reviews indicate that this bed is ideal for back sleepers and good for stomach sleepers.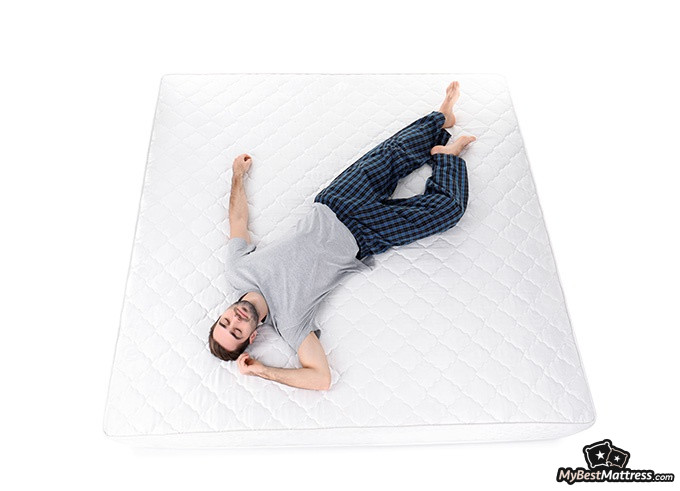 As always, let's take a look at it ourselves and see why this might be the case.
Back sleepers can face two main problems - too much sinkage or not enough body contouring (especially in the hip area). These factors can lead to the formation of pressure points or an unnatural spine alignment. Both of these aspects have the potential to cause long-term impact.
I'm happy to report that you shouldn't face these problems with this bed.
To begin with, latex is known for its ability to contour the body in all the right areas. Furthermore, no unnecessary sinkage will occur, and you'll still feel supported. Your hips will also drop in a little, as they should, preventing lower back discomfort.
By the way, the coil layer adds stability and support to the mattress, which is important for back sleepers. Another feature that these sleepers really need is proper firmness. To be precise, this particular bed is classified as medium-firm. If you didn't know, stomach sleepers have a lot in common with back sleepers. So, keep in mind that for these people, this bed is very suitable too.

Nevertheless, light-weight people under 130lbs might require a topper which makes the mattress feel a little bit softer.
All in all, great news for all of you Draculas out there.
As the original Dracula said himself "How blessed are some people, whose lives have no fears, no dreads; to whom sleep is a blessing that comes nightly, and brings nothing but sweet dreams."
Controls Temperature
Do you know how unpleasant it is to wake up drenched in sweat every morning, despite your best efforts to avoid it? You leave your windows open and only use one blanket instead of two, yet nothing changes.
Well, that's the power of your mattress. And I believe we share a mutual disgust of sleeping too warm.
Having that said, I was so relieved to read the owner Happsy mattress reviews indicating that this mattress has great temperature neutrality. Well, knowing how well this bed is built, it shouldn't be shocking.

Moreover, hybrid mattresses, as opposed to all-foam ones, are always one step ahead when it comes to temperature control. The individually wrapped coils create more space for air circulation. Memory foam, on the other hand, is recognized for absorbing heat, but latex is the total opposite.
Not to forget to mention the cover is made out of organic, breathable cotton which really adds to the experience.
To be fair, cooling is one of the bed's greatest strengths. So, if you despise overheating, this particular bed might be the solution.
By the way, did you know that different types of insomnia symptoms have been associated with abnormalities of the body temperature rhythm[2]? Keeping that in mind, if you experience any symptoms of insomnia, a cooler sleeping environment can be very helpful.
Responsive
Responsiveness is important when it comes to ease of movement and engaging in couples night (or day) activities. Well, we all need some quality time with our partners, don't we? Besides, studies have shown that even our heart rates synchronize while co-sleeping[3]. How cute is that?
As a result, I was pleasantly surprised to see that the sleeper Happsy mattress reviews claim that this bed is really responsive. This is due to the pocketed coil layer as well. In fact, if you've ever read one of my reviews, you'll know that the coils are individually wrapped and move independently.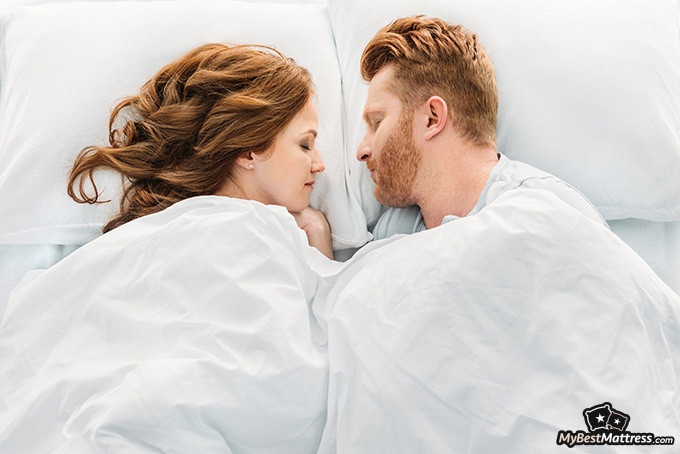 By moving independently, the mattress is quick to respond to your movements and adjust to the initial state. Overall, makes it easy to move around, change sleeping positions, or any other positions (if you know what I mean).
It's worth noting that couples report there's a significant difference between a mattress that's soft and lacks bounce and one that's very responsive and firm. So, when it comes to sex, you already know which one is the best.
Just take a look at Saatva, a hybrid bed that is recognized for being an excellent choice for couples, thanks to its responsiveness.
Fairly Strong Edges
I can feel your confusion, so let me explain what strong edges have to do with your mattress.
Imagine a chair, with sagging edges. The object is made for you to sit on it, however, it's not the easiest thing to do since you always feel like holding onto your dear life. But suddenly, you find that one firm spot that if you place your body weight correctly, you won't slide off. That's the only spot you can use on the entire surface.
Well, as much as you won't sit on your bed as often, it's completely the same when lying on it. You just unconsciously turn to your side and appear too close to the edge. Then BOOM. You're out on the ground.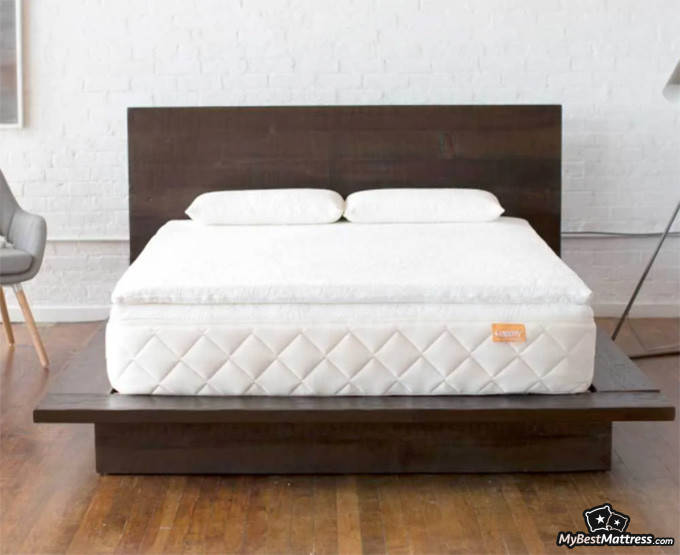 Yes, that happens, and quite often if you ask me. And yes, that happened to me. More than once.
So, if you wish to sit, lie, sleep on the edge of your bed without any fear, sleeper Happsy mattress reviews would tell you that this bed is a life-saver. If you tend to toss and turn constantly on the entire surface of your bed, you NEED strong edges. There isn't any debate about that.
Also, let's not forget durability. There is a chain of actions: lack of edge support - sagging edges - the mattress becomes unusable after a while. You would need to buy a new bed very soon. So, more money, stress, and time.
Happily, you are safe, as the owner Happsy mattress reviews indicate.
Happsy Mattress Review: CONS
We've talked about what's great about this Happsy organic mattress. And we have the positive sleeper Happsy mattress reviews as proof. Now, it's time to see what customers didn't like about the bed.
You can always find something that can be improved.
Not Ideal for Side Sleepers
As we saw, the Happsy organic mattress is great for back and stomach sleepers. Sadly, for side sleepers, it isn't the same. The sleeper Happsy mattress reviews would tell you that as well.
Why is that? Let's investigate.
Side sleepers need a plusher surface. That's because the side sleeper's hip and shoulder areas put a lot of pressure on the bed and if the mattress is resistant, all of the pressure comes back to these areas of the body.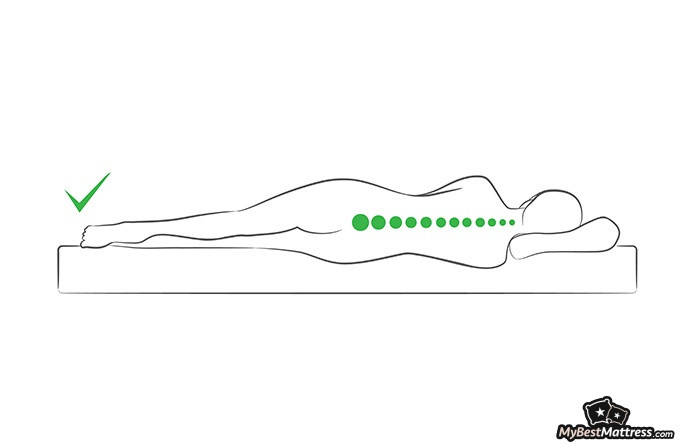 Pressure points emerge as a result of the mattress's resistance, and aches and pains follow. With that in mind, you probably already know that side sleepers require remarkable body contouring to avoid future pains.
To be fair, according to the sleeper Happsy mattress reviews, people that weigh over 130lbs might feel okay, nonetheless, I don't think you should take your chances. Furthermore, it's best for the side sleepers over 230lbs since they would feel more sinkage.
If you really like this mattress, but you are a side sleeper, don't feel blue. There is something out there for everyone.
Perhaps that something is Saatva. Yes, this mattress once again. Nonetheless, it fits here very well. Besides, Saatva is fairly similar to the Happsy organic mattress.
Table: Pressure points of the Saatva mattress
As I've mentioned before, Saatva is a 100% sustainable mattress, handcrafted from ECO materials. So, if you are searching for an environmentally friendly product, this is the one.
If we were to look at the whole construction of the Saatva bed, we would see that it's made out of two coil systems, one being pocketed coils. So extra responsiveness and firmness it is.
There are also several layers of memory foam and polyfoam (organic, of course).
Moreover, this bed is suitable for all sleeping positions, so side, stomach, and back sleepers, you're all safe and will get that sweet snooze in no time. The mattress isn't too firm for side sleepers, it has great body contouring and, pressure alleviation features.
Additionally, there isn't any sinkage, so back and belly sleepers should feel very comfortable and at peace knowing that there isn't any unnatural bending in their spine and neck areas.
Saatva is truly something universal.
You'll Feel Some Motion
We've talked about couples, their heart rate sync, and bedtime activities. Now, let's talk about what makes you feel annoyed with your partner. In this case - bad motion isolation.
If you are easily startled, motion isolation is essential. I'm so sensitive that even the tiniest crack wakes me up at night. Anything minor, especially motion transfer would prevent me from having a peaceful night. So, if you're like me, you should understand how I feel.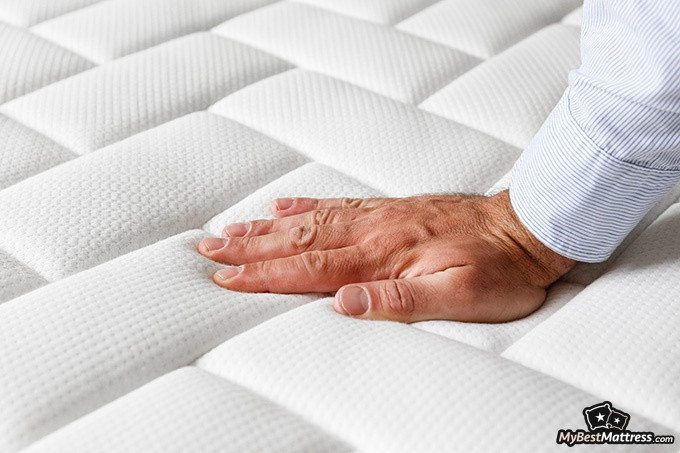 My friends say that I don't sleep at all, I'm always aware of my surroundings.
Unfortunately, owner Happsy mattress reviews indicate that while this bed isn't the worst at motion isolation, it's certainly not the best. If you are a sensitive sleeper, you would have a harder time falling and maintaining asleep, especially if your partner tends to move a lot.
Bad motion isolation is very common in hybrid beds, so, if you are a person seeking zero motion transfer, an all-foam mattress would be the way to go. Speaking of that, I present you with the Layla mattress.
Table: Features of the Layla mattress
Layla is an all-foam, flippable mattress that's considered one of the best mattresses on the market overall. It's an amazing alternative for sensitive sleepers since it has top-tier isolation, not only motion but sounds as well.
It's very different from Happsy organic mattress, but a great choice nevertheless. To be fair, if you were to look at the reviews, you would see that Layla meets the expectations of a lot of people.
Even if you don't have a sleeping companion at this time, this mattress is worth checking out.
Besides Layla, I would like to mention Puffy. Puffy isolates motion to the fullest extent. It's also a very well-known mattress brand that creates high-quality sleep products. Both of the models - Puffy and Puffy Lux are amazing for couples.
Table: Features of the Puffy mattress
Aside from that, there isn't any sinking. Puffy gives a stable base of support for the body. Not to mention additional characteristics such as temperature neutrality and adaptability for various types of sleepers. So, regardless of whether you sleep with a partner or without, or what your preferred sleeping position is, this bed can be ideal for you.
What's the Happsy Mattress Price?
I think we learned a lot about this bed, the positives, the negatives, and what did sleeper Happsy mattress reviews had to say about their experience. And I believe you already have some sort of opinion about this mattress.
To help you formulate your thoughts a little bit better, let's take a look at the prices:
As you can see, the Happsy mattress is definitely on the affordable side when it comes to eco-friendly beds. Moreover, make sure to always check out after Christmas, Thanksgiving, Memorial day sales. Who knows, you might find a Happsy mattress discount there.
Speaking of mattress sizes, couples might want to choose Queen or King-size beds, moreover, single folks should be okay with a Full-size one. However, if I was single, I would still purchase a Queen-size mattress, it's a way to save money and time in the future. Perhaps your one and only will appear at any moment!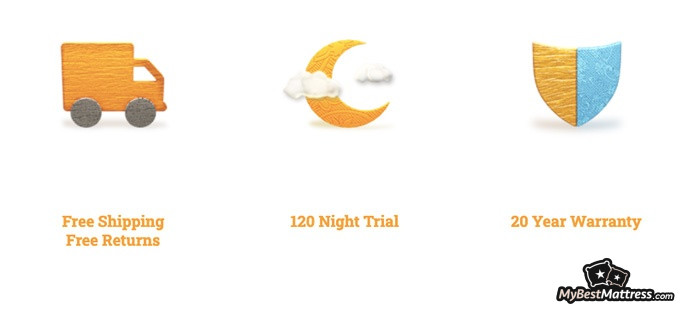 Additionally, make sure to have a good bed frame. If you don't have a bed frame at this time, or it's for a Full-size mattress and you want to buy the Queen one - no worries. You can sleep without a bed frame until you save up money or just decide to get one in general.
Getting that out of the way, I want to mention a few other things about this Happsy organic mattress. I've seen sleeper Happsy mattress reviews talk about it once, so I would like to point out that the company suggests testing out the mattress for at least a 30-night period. Nevertheless, you can return your product at any point within the 120-night trial period and receive a full refund.
Table: Pricing of the Saatva and Layla mattresses
So, you'll be getting a 120-night trial and a 20-year warranty. That's amazing news if you were to ask me. Almost similar to the other, more well-known brands we talked about. For instance, Saatva has a 15-year warranty and a 180-night trial. Layla has a lifetime warranty and a 120-night trial. It's fun to compare these things sometimes, would you agree?
Happsy VS My Green Mattress
Now that we know basically everything about the Happsy organic mattress, I would like to compare it to another, very similar option - My Green Mattress. My Green Mattress is also a sustainable brand, creating beds from eco-friendly materials.
The layers and construction of the mattresses are also very similar, the My Green Mattress also has a pocketed coil layer, a thick latex layer, and a breathable, organic cotton cover. As we've seen in the sleeper Happsy vs My Green Mattress reviews the beds are both great at temperature control.

The natural materials make the beds very breathable.
My Green Mattress vs Happsy is a bit ahead on the responsiveness and bounciness. Sleeper reviews have stated that this particular bed is amazing for sex since it's super easy to move around. However, it might be too rigid for some people that require deeper body contouring.
So if you prefer a little bit of a softer feel, by looking at the sleeper Happsy mattress reviews, I think this bed is a bit more suitable. Nonetheless, neither one of them are on the soft side, so keep that in mind.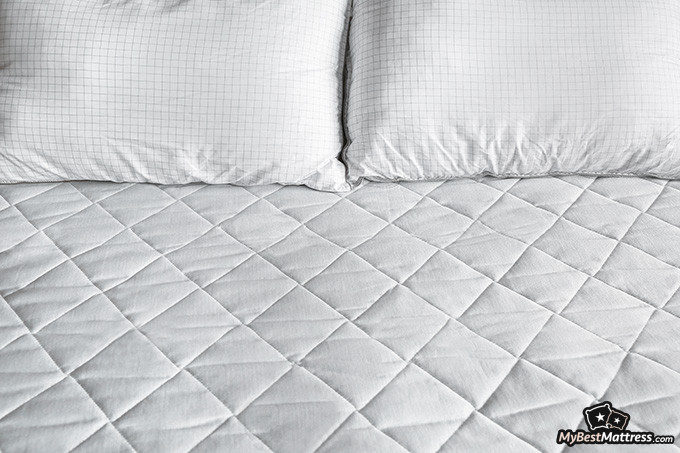 In addition, My Green Mattress is great for back sleepers, and sleeper Happsy mattress reviews say that it's great for back and stomach sleepers. So, this one is a bit more universal. Both of the beds are not as suitable for side sleepers.
Just a quick note, if you are a side sleeper make sure to check out Saatva. This bed is suitable for all sleeping positions.
Table: Features of the Saatva mattress
All in all, both of the beds are chemical-free, sustainable, high-quality, and beneficial. But when it comes to pricing, Happsy organic mattress is a bit more affordable. To be exact, it's a $100-200 difference. So, make sure to evaluate all of the things mentioned above before making your final decision.
Here is The Best Saatva Offer I Found:
UP TO $500 OFF
Limited-time Saatva Sale
We're sharing a limited-time Saatva mattress discount with our readers! Grab this deal & enjoy your new mattress with huge discounts.
Expiration date: 29/09/2023
4,042 People Used
Only 83 Left
Conclusion
So with everything we've discussed today, the question still remains - is the Happsy organic mattress worth it?
By looking at the sleeper Happsy mattress reviews I can say yes, it is. It does have a lot of great qualities, from being eco-friendly to amazing temperature neutrality. This mattress is even on the affordable side. But don't let that be the main reason. If you are on a budget, it doesn't mean you have to buy an item even if it's not 100% suitable for you.
Having that said, make sure to check out our best affordable mattresses list.
Also, we saw that Happsy compared VS My Green Mattress is a bit more universal.
Nevertheless, the main issue I would be concerned about is that it's only ideal for back sleepers and I can't name one person that sleeps on their back all night. Well, don't get me wrong, you might find this bed comfortable in other positions, but the concern is still there.
Keeping that in mind, if you want a universal, luxurious, sustainable bed Saatva is the way to go, besides that it's one of the best beds on the market. What more could you ask for?
Table: Company info of the Saatva mattress
At the end of the day, your sleep quality is one of the most important factors that impact your overall well-being. Make sure to choose wisely.
See you next time!
Scientific References
1. Xiaoyun Zhang , Feng Dong 'Why Do Consumers Make Green Purchase Decisions? Insights from a Systematic Review'
2. Leon C Lack, Michael Gradisar, Eus J W Van Someren et al 'The relationship between insomnia and body temperatures'
3. Heenam Yoon, Sang Ho Choi, Sang Kyong Kim et al 'Human Heart Rhythms Synchronize While Co-sleeping'
Leave your honest Happsy review
Leave your genuine opinion & help thousands of people to choose the best mattress. All reviews, either positive or negative, are accepted as long as they're honest. We do not publish biased reviews or spam. So if you want to share your experience, opinion or give advice - the scene is yours!