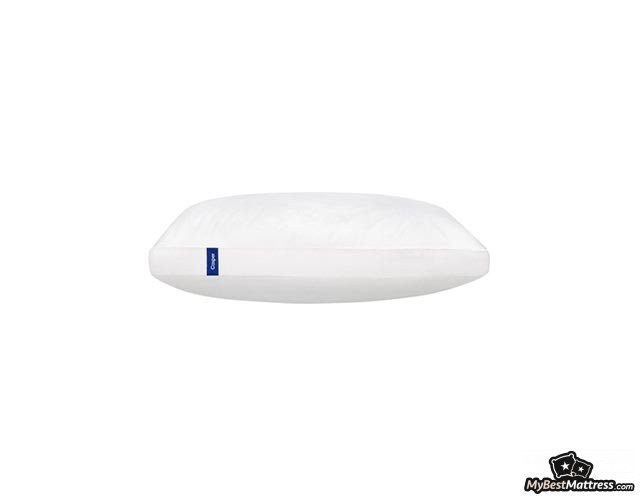 If you've ever frequented the sleep product world, you've definitely heard of Casper. Many of the company's customers would tell you that it's perhaps the most famous name in the industry! And while that might be an overstatement, customer Casper pillow reviews really do seem to love the product.
Casper mostly deals in mattresses - the company sells some high-end beds, and has managed to build quite a name and reputation for itself over the years (hence the above-mentioned comment about their popularity). However, many would also tell you that the company's pillows are of the highest quality, also.
TL;DR: Customer Casper pillow reviews are very satisfied with the product in question - the pillow is made out of two distinct layers, both filled with differing amounts of polyester microfiber. The pillow sleeps cool, and because of its design, is suitable for all types of sleepers.
Pros
Good temperature neutrality and breathability
Suits most types of sleepers out there
Great neck and head support
Cons
Some initial odors might be present
Single firmness option
Casper Pillow Reviews: PROS
If you sleep around 8 hours per night, that means that you spend at least one-third of your life sleeping. That's a long time to be spent in bed! Naturally, you'd probably want that time to actually count - for it to be spent in as comfortable of a manner as possible. Customer Casper pillow reviews know this pretty well.
Well, your sleep accessories are going to play a big part in this. Mattresses, blankets and - of course - pillows are going to be some of the key components that'll determine the quality of your sleep. And there are a few specific features that every pillow should possess in order for it to be viewed as a top-tier product in the sleep industry.
One of the more notable of these features has to do with spine alignment and support. A high-end pillow is going to be supportive for your neck and head - what this basically means is that it will keep your head in a stable, neutral position. In doing that, the pillow prevents any and all arching or bending of the neck, and, in turn, keeps the spine aligned.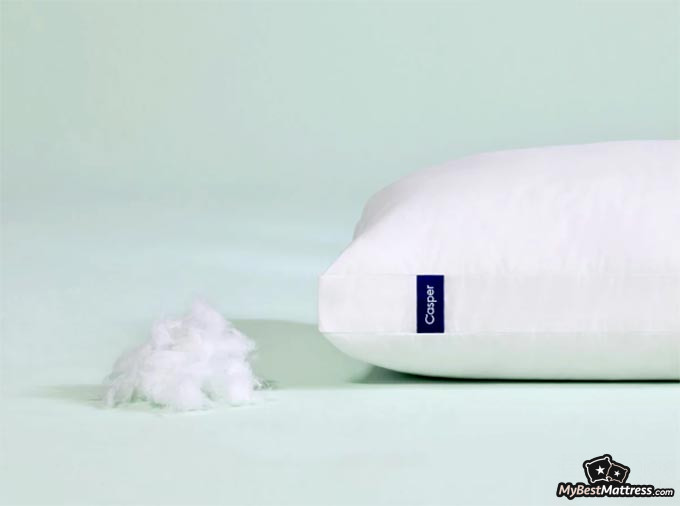 Another important feature of any of the better pillows out there is for it to be suitable for multiple types of sleepers. You might say - how should that be possible, given that different sleeping positions are going to require different types of pillows? Well, a good example of this would be a pillow that allows you to adjust the amount of stuffing inside of it.
As you tinker with the pillow insert, the product itself is going to either get bigger (puffier) or smaller (flatter) - this will automatically be better for the corresponding sleeper positions.
All of that said, though, let's focus on the features that are most notable from the customer Casper pillow reviews. And, quite frankly, the pillow's unique design is at the top of the list.
A Pillow-Within-a-Pillow
In many of the customer Casper pillow reviews, the fact the company sells a "pillow-within-a-pillow" or a "pillow-on-pillow" product is often referenced and emphasized. But what does that mean, exactly?
Basically, Casper pillows are "double" products - they are comprised of two main layers instead of one.
Both of the layers are made out of different types of polyester microfibers. The outer layer is softer - it's the "comfort layer", if you will. The inner layer, however, is built in a way that makes it more stuffy - this is the part of the pillow that's responsible for the actual support that the product provides to your neck and head.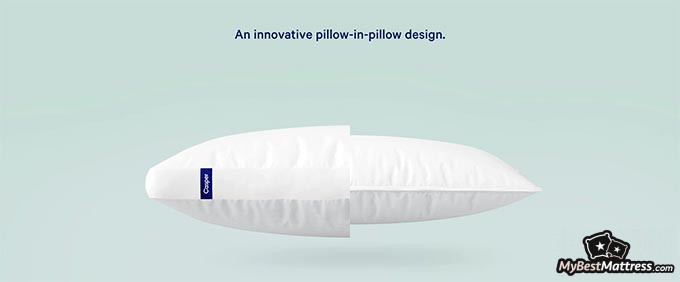 This combination, together with the cotton pillow cover on top, makes the product out to be a "medium-soft" pillow. It's actually one of the rarer types of softness (firmness?) you're likely to come across.
Judging from the customer Casper pillow reviews, this level of softness is suitable to the bigger portion of sleepers out there. There are some people who claim that the pillow might even be too soft, but most agree that it's "just right".
The unique design of the pillow has some other benefits, too, with the most notable one being the fact that it is likely to suit most of the main types of sleepers.
Suitable for Most Types of Sleepers
While there are quite a few different sleeping positions out there (some of which you've likely never even heard of - I mean, seriously, who sleeps in a "starfish" positions?), we'll focus on the main ones.
What are the main sleeping positions? Well, there are three - side, back and stomach sleepers. These positions basically encompass every other, smaller or more specific sleeping position.
Side sleepers are the most common group of people you'll encounter, with back sleepers as follow-ups. People who would sleep on their stomach all the time are pretty rare - more often than not, you would do so when you're super-tired (stomach "log" sleeping position, anybody?) or when there's something like a fresh tattoo healing on your back.
Side sleepers prefer puffier, bigger pillows. They are both more comfortable, and more moldable - this is especially important if you like to place a hand under your pillow while you sleep.

While back sleepers are somewhat similar to side ones, these people are going to want to look for a firmer pillow. Also, customer Casper pillow reviews note that it would be ideal if that pillow was on the thinner side of the spectrum - you'd avoid a lot of back-straining problems.
Finally, stomach sleepers should look for the firmest and thinnest pillows. Whenever you sleep on your stomach, you risk arching your back by quite a bit!
Why is all of this information important when it comes to Casper pillow reviews? Well, there's an almost unanimous consensus that Casper pillows are going to be suitable for all three of the different kinds of sleepers mentioned above.
The reasoning is pretty easy when it comes to side and back sleepers - the pillow is comfy, medium-soft and offers good support for your neck and head. However, what might not be so obvious is that because of the way that the product is made, and the way that the pillow's loft is positioned, it's actually a decent fit for many stomach sleepers out there!
Many customer Casper pillow reviews even emphasize the fact that it's pretty rare for a single pillow product to be (more or less) suitable for the three rather different types of sleeping positions. That's a huge win as far as Casper pillows are concerned!
Breathable and Cool
Breathability is one of the more important features of a proper pillow. It makes sure that you don't develop heat waves throughout the night, and that you won't be waking up on a soaking wet pillow in the morning.
Most of the top-tier pillows in today's market are breathable, and tend to sleep cool - by now, that's common knowledge. That said, each individual pillow has its own way of how this is reached - a specific mix of materials, unique design, and so on.

Customer Casper pillow reviews note that there are basically two big things that make these pillows as cool to sleep on as they are. First of all, obviously - the cover of the pillow. It's made out of cotton, which is one of the better-cooling materials out there. Cotton also ensure that your pillow is going to be at least somewhat resistant to moisture.
However, the "double-pillow" design of the Casper pillow is also something that contributes to it being breathable by quite a bit. You see, the polyester microfibers on the innermost part of the pillow promote airflow very well - this is true all throughout the pillow. As a result, you have a cool and breathable product that should keep you comfortable during the night.
Casper Pillow Reviews: CONS
A single look at customer Casper pillow reviews will likely reveal that there aren't all that many "cons" or complaints that people might have with this product. Nonetheless, though, there are still a few specific things we should talk about.
Too Soft for Some?
One of the more common points made by multiple Casper pillow reviews references the fact that there is only a single firmness option available with the pillow - the 'medium-soft' one.
The vast majority of the best pillow providers try to make sure that their product would either be fully customizable as far as firmness is concerned, or that it would at least come in a few different firmness settings. That's not the case with Casper, however.
Now, notably, this isn't necessarily an issue in of itself. I've mentioned this earlier, but the majority of the company's customers find the medium-soft level to be acceptable.
That being said, some people might still view this pillow as being too soft - this is especially true when we're talking about stomach sleepers. Unfortunately, though, there's no indication that Casper would offer different firmness settings in the near future.
Odor Potential
Because of the materials that they are made from, new and just-out-of-the-box sleep products (mattresses, pillows, blankets, covers, etc.) tend to have some lingering odors. Most of these odors dissipate in a matter of hours (with mattresses, it might take a few days).
There are quite a few customer Casper pillow reviews, however, that talk about the pillow having some more intense and longer-lasting odors than usual.

Now, I've said it a million times, I'll say it again - this is something that can be called a "non-issue". Basically, while it might perfectly well be annoying, it's not something that you'll have to deal with for an extended period of time - once it's gone, it's gone.
I do acknowledge, however, that some people have a very sensitive sense of smell - in these situations, it can truly become a nuisance, even though (by the looks of things) Casper pillows definitely aren't the "smelliest" products in the industry.
Price
Right, so - let's talk pricing.
When it comes to mattresses, Casper is known to be one of the cheaper bed alternatives out there. That's actually one of the reasons for the brand's popularity - they supply affordable, yet top-quality mattresses to their customers.
The story isn't all that much different when it comes to pillows, either.
The Casper pillow comes in two separate pricing and size options:
Note that the prices are converted from GBP to USD, with the current ratio being 1:1,25.
While not the cheapest pillow alternative around, Casper is definitely on the more affordable side of the spectrum. On top of that, you'll receive free shipping with every order, and a 30-day money-back guarantee. Truth be told, that's a pretty short refund duration - most other companies offer at least 100-night sleep trials.
Conclusions
While Casper is truly (and rightfully so) loved by the majority of its customer because of the great quality, yet affordable mattresses that the brand provides, it would seem that their pillow products are also "up there".
Customer Casper pillow reviews talk about the pillow being built with a unique "pillow-in-pillow" design in mind, which allows it to be suitable for most (if not all) of the main, different types of sleepers. The pillow sleeps cool, is very breathable, durable and retains its shape all throughout the night.
The only real downside of the product is that it comes with but a single firmness option - "medium-soft". Judging from Casper pillow reviews, this doesn't seem to be an issue for most people, but some stomach sleepers that prefer (require) flatter and firmer pillows might be disappointed.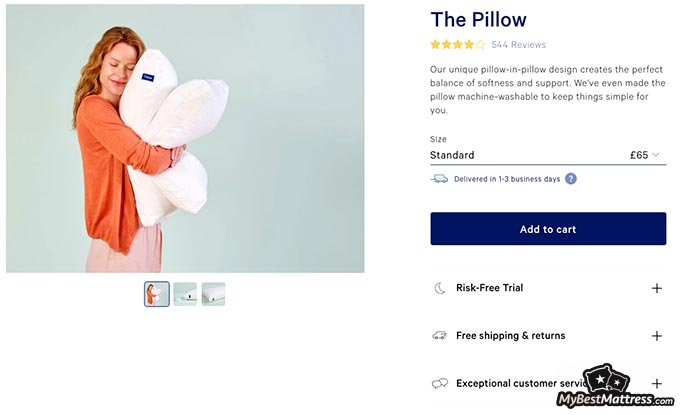 The Casper pillow is also very affordable - it's on the lower end of the top-tier pillow price sector, which makes most of the product's quirks quite forgivable. Purchasing the pillow from Casper, you'll also receive free shipping and a 30-day money-back guarantee.
All in all, the Casper pillow is definitely a solid product that should suit most people who decide to try it out. Its unique design makes sure that you should improve the quality of your sleep over the next few weeks after you've bought and unpacked the product.
I hope this Casper pillow review was useful to you, and I wish you the best of luck finding the most suitable pillow for yourself! Cheers, and until next time!
Leave your honest Casper Pillows review
Leave your genuine opinion & help thousands of people to choose the best mattress. All reviews, either positive or negative, are accepted as long as they're honest. We do not publish biased reviews or spam. So if you want to share your experience, opinion or give advice - the scene is yours!