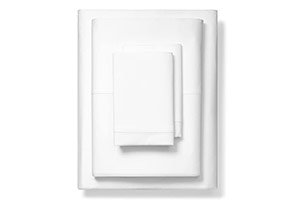 There are many different ways to improve the quality of your sleep. First of all, it's crucial to choose a mattress based on your personal needs. Then, choose a suitable pillow. People often forget that pillows can solve issues with neck pain.
If you already have both of them, you're probably interested in soft and comfortable, or maybe even luxurious bedding? If so, I believe that Boll and Branch review might be exactly what you need.
People often underrated sleep accessories, such as bedsheets, however, they can also solve multiple problems, such as excessive sweating and allergies. High-quality bedding is not only comfortable but also durable and breathable.
In this article, I'll provide you with Boll and branch reviews. I will focus on all three collections, their pros and cons, price tags, and so on.
Verdict at a glance
Boll and Branch provides you with 3 different sheets collections: Signature, Percale and Chambray fabric sheets. All of them are ethically-produced and are made of 100% organic cotton, which is very soft and breathable. Even though the pricing point is higher than average, Boll and Branch reviews claim that the sheets are completely worth it.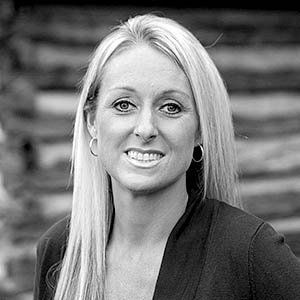 Kelley Thompson
Certified Pediatric Sleep Consultant
How can various sleep accessories help us sleep better?
It is important that you have the right tool kit to help make your sleep the best it can be. Making sure the sleep environment is set up correctly and meeting all your sleep needs will help for a better night's sleep.
Pros
Luxurious bedding
A variety of colors and styles
Soft and breathable
Cons
Might be a little bit too expensive for some
Boll and Branch Reviews: About the Company
Boll and Branch was founded in 2013 by a former third-grade teacher and her husband. The company sells luxurious bedding online, most of them are manufactured in Kolkata, India.
In 2018, the company launched its new "luxury mattress", which is created without memory foam. Instead, they're using wool, coils and organic cotton. These materials are known for amazing breathability and cooling properties.

At the moment, the company is offering the "luxury mattress", mattress protector and topper. Also bedding and towels. However, it seems that Boll and Branch is best known when it comes to their luxury bedding that customers really appreciate.
Without further ado, let's get into Boll and Branch reviews and see what their luxurious bedding is all about.
Signature Fabric Sheets
Let's begin Boll and Branch reviews with Signature Fabric sheets that are the company's bestsellers. They're made of 100% organic cotton and are completely ethically produced. Each detail is thought out carefully to provide you with the most pleasant sleep. These sheets provide you with a sateen and silky feel.
Signature Fabric sheets come in 23 different colors and styles, including plain, floral, striped, embroidered and others. That being said, you'll be able to find sheets that will complement the environment of your bedroom.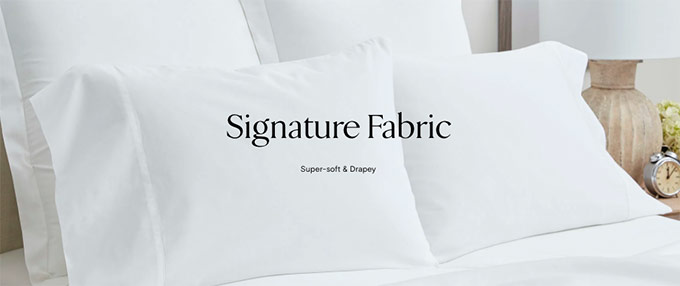 Signature Fabric sheets have very deep pockets and can fit a mattress that's up to 17" tall. Needless to say, if you have issues with finding suitable sheets for your deep mattress, it might be a perfect option.
Boll and Branch sheets reviews revealed that customers really enjoy Signature Fabric sheets because they're super soft and breathable, and the more you wash them, the softer they become. What is more, you can expect these sheets to serve you for years as they're very durable
What is the Pricing for the Signature Fabric Sheets?
Now let's move to the Signature Fabric sheets pricing. Here's the list for prices and size options:
As you can see, prices are higher than average. However, organic cotton is always on the pricier side so that's something to be expected. Since I wanted to find out if that's an issue for customers, I went through Boll and Branch reviews. The majority of the customers agree that the quality and comfort they get is completely worthy of the price.
Percale Fabric Sheets
Percale Fabric sheets are also made of 100% organic cotton. Different from sateen weave, percale sheets are very firm, yet smooth and breathable. Some Boll and Branch reviews claimed that percale sheets helped them to solve an issue of excessive sweating.
The Percale Tailored sheet set provides you with four different designs and color options, so you can choose the one that matches your bedroom best. Each of them will perfectly fit any mattress that's up to 17" tall.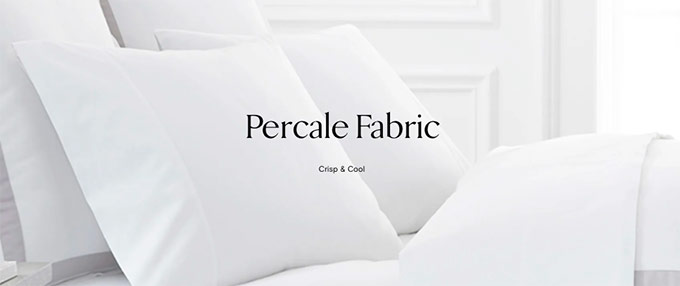 The cool and crisp fabric is very durable and will serve you for years. Since Boll and Branch pay attention to every detail, you will love how luxurious the fabric look and feels. What is more, these sheets will add stylishness and chicness to your bedroom.
What is the Pricing for the Percale Fabric Sheets?
Let's take a look at the prices of Boll and branch Percale fabric sheets:
The pricing is similar to their classic sheets. While it might be more expensive than you expected, there's a reason why Boll and Branch is called a luxurious brand.
Chambray Fabric Sheets
Chambray Fabric sheets provide you with 3 different color options, they're made of stonewashed 100% organic cotton. The fabric might feel different from what you're used to, it's structured, yet soft and very breathable. It's known that temperature highly affects the quality of your sleep,[2] so bedding breathability is crucial.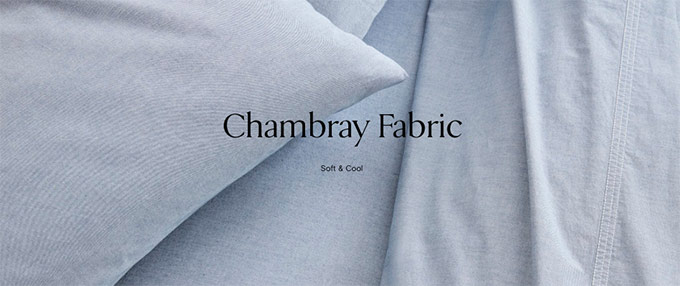 Chambray Fabric sheets have three rows of contrast fabric stitching that add visual interest and will complement any bedroom. The finish of these sheets is completely matte and looks super stylish.
The sheets are super easy to clean, they're very durable and will maintain their primary appearance for years. However, it's important not to use bleach and wash them in warm or cold water if they're colorful.
What is the Pricing for the Chambray Fabric Sheets?
Chambray Fabric sheets pricing looks like this:
Chambray Fabric sheets are slightly more expensive than the previous two collections. This collection is not for everyone, you must love that structured, stonewashed material to choose them. The majority of Boll and Branch reviews claim that Chambray Fabric is something to get used to but they would choose it again.
Additional Details
Now that we're done with Boll and Branch sheets reviews, there are few more aspects that you should be aware of.
First of all, shipping. Boll and Branch provides you with complimentary domestic US ground shipping to all orders. It means that there's no difference whether you're ordering a mattress or smaller sleep-related products, they will be all delivered straight to your doorstep. The shipping should take about 6-10 days and it's completely free. However, you can also pay additionally and get your products within 1-2 days.
When it comes to the returns, Boll and Branch gives you 30 days to decide whether or not their products, sheets, in particular, are suitable for you. If you decide to return products within 30 days, you will get a full refund, however, if you're late, Boll & Branch will not accept it.

The final aspect that should be mentioned in Boll and Branch reviews is that sheets come together with a 1-year warranty. That said, if you notice any manufacturing flaws, or if the product was damaged during shipping, you will get your money back.
Alternatives to Boll and Branch Bedding
As Boll and Branch reviews showed you, the company offers truly wonderful sheets for everyone's needs. However, if you decide to look for other options or simply find the company's luxurious sheets too expensive, then I would like to provide you with alternative options. I believe that you'll find what you're looking for.
Brooklinen Classic Sheets
If you were looking for the best sheets, I bet you came across Brooklinen Classic sheets multiple times. The majority of customers that own these sheets claim that they're the best they ever had. That's the reason why I'm talking about them in Boll and Branch reviews.
Brooklinen offers 100% cotton sheet sets. Cotton is widely used in the textile industry[1] due to its amazing properties. It's soft, biodegradable, comfortable and breathable. What is more, cotton sheets tend to be very durable.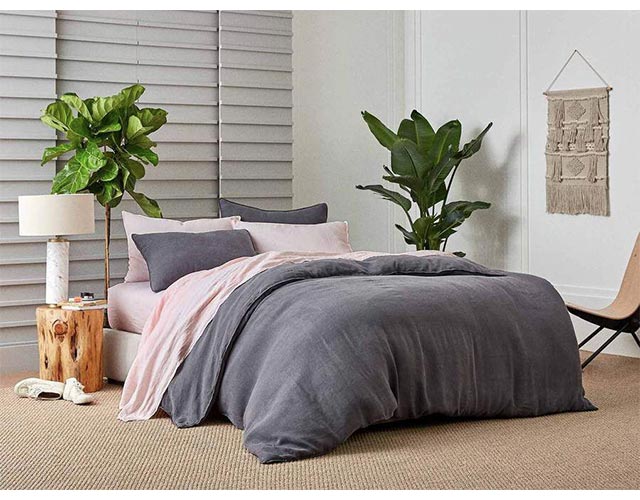 If you're suffering from excessive sweating during the night, you should definitely consider the Brooklinen Classic sheet set. Sleepers say that it' very soft and breathable. However, you should always remember that sheets won't solve all the issues you're having, maybe you need to think about getting a new mattress?
Brooklinen Classic sheet set comes in multiple sizes and colors, both sheets and pillow covers are made of 270-thread count and will cost you from $129 up to $169. By the way, you also get a 365-night sleep trial.
Saatva Lofton Organic Sheets
You probably know about Saatva due to the amazing mattresses that the company is offering. Even though you're here for Boil and Branch reviews, I still have to say that Saatva is one of the most recommended options when it comes to mattresses and other sleep products.
When it comes to bedding, Saatva's Lofton sheet set is among the industry leaders. It's made out of organic cotton and is completely ethically-produced. Even though organic-cotton sheets tend to be on a more expensive side, they're totally worth it, especially if you're having an allergic reaction to other than organic materials.
Saatva Lofton sheets are made from the 300-thread count. They're very soft and breathable. The pricing of the Saatva's organic sheets varies from $125 to $225 and you also get a 1-year warranty.
Casper Linen Sheets
Casper is one of the best-known mattress brands in the market. However, people often forget that they're manufacturing other sleep products as well. Casper Linen sheet set is one of their most recommended sleep products.
Even though many customers are concerned about the linen roughness, there's no need to worry about it. Casper Linen sheets are created in a way to be super soft, just like cotton. What is more, linen is known for exceptional breathability and can wick away moisture.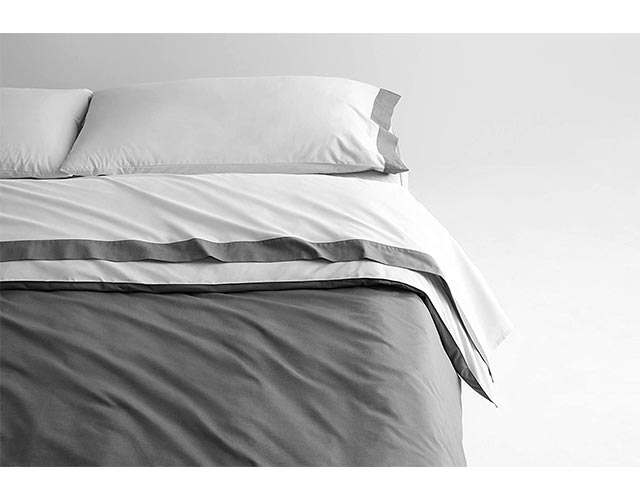 Moving to the pricing, you should know that linen products tend to be more expensive than, for example, polyester and cotton, that's why Casper Linen sheets come with a price. It will cost you about $250 for a queen-size sheet set. However, as I said in Boll and Branch reviews, the quality is completely worth the price.
Amerisleep Cotton Sheets
Amerisleep offers not only top-tier mattresses but also highly recommended 100% cotton sheets that are made of 310-thread count that's rather impressive! Such a thread count means that the sheets are very sturdy, promote airflow and coolness.
What's exceptional about these cotton sheets is that they have very deep pockets, meaning that it will fit very tall mattresses - up to 18" tall. Finding such sheets might be an issue sometimes, so if you have a taller-than-regular mattress, you should definitely consider Amerisleep.
The pricing of this sheet set is very attractive. It will cost you from $110 to $180. Together with a purchase, you will get a 5-year warranty, which is so much more than the majority of companies can offer.
Brooklyn Bedding Sheets
The last alternative to Boll and Branch is Brooklyn Bedding microfiber sheets that are made of polyester. This option is perfect for everyone who has a limited budget.
The sheets are lightweight and very soft, they provide you with a luxurious feel. However, they are not as breathable as, for example, cotton or linen, yet customers are still very pleased with Brooklyn Bedding sheets.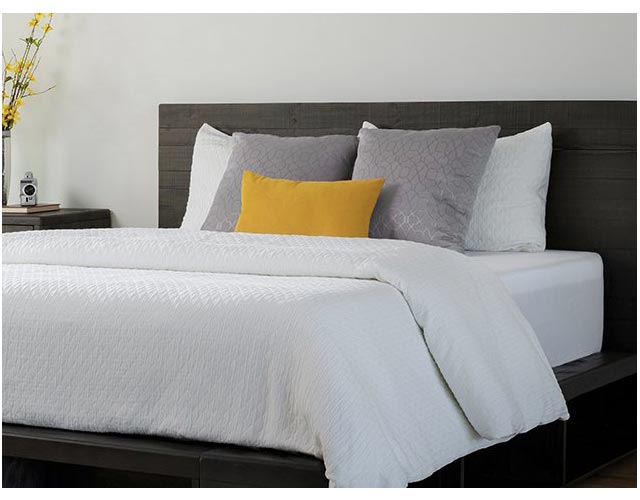 I already mentioned that they're super affordable. The pricing varies from $30 to $59 and you also get a 120-night sleep trial.
Therefore, even though you came here looking for Boll and Branch reviews, I strongly believe that some of you found these alternatives very attractive. Now, let's jump to conclusions.
Conclusions
Therefore, Boll and Branch offer luxurious sheet sets that come in higher-than-average pricing points, yet are very soft, durable and easy to maintain. You can choose from 3 different collections based on your needs: Signature, Percale and Chambray fabric sheets.
The company's sheet sets come in different colors and styles. That being said, they can complement any bedroom. Even though the price is higher than expected, organic cotton is completely worth it. It's very comfortable, doesn't trap heat and suits perfectly if you hate sleeping too warm.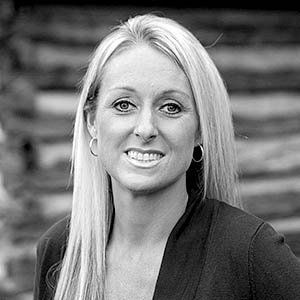 Kelley Thompson
Certified Pediatric Sleep Consultant
Contributed By Kelley Thompson, Certified Pediatric Sleep Consultant
Kelley Thompson, the owner of Serenity Sleepers, is a certified pediatric sleep consultant, who has been helping families all over the world for more than 5 years to safe, healthy, and proper sleep...
Read Full Bio...
Scientific References

Contributed by
Kelley Thompson
, Certified Pediatric Sleep Consultant
1. Xue Dong, Tieling Xing, and Guoqiang Chen: 'Durable Antipilling Modification of Cotton Fabric with Chloropyrimidine Compounds'
2. Kazue Okamoto-Mizuno and Koh Mizuno: 'Effects of thermal environment on sleep and circadian rhythm'
Leave your honest Boll and Branch review
Leave your genuine opinion & help thousands of people to choose the best mattress. All reviews, either positive or negative, are accepted as long as they're honest. We do not publish biased reviews or spam. So if you want to share your experience, opinion or give advice - the scene is yours!