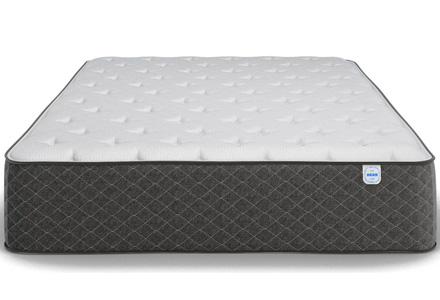 Have you ever felt tired after a full night of sleep? Perhaps you wake up in the morning with shoulder aches and back pain? When reading this Bear Hybrid mattress review, you might realize that your bed is one of the factors influencing your sleep quality.
There are a lot of mattresses in the market nowadays. For instance, Saatva — one of the best mattresses brands on the market today. On the other hand, Layla is a great memory foam mattress. Which one would you choose?
Perhaps the Bear Hybrid bed would be your initial choice?
Today, I'll go through all of the Bear Hybrid bed's key features, the most important pros and cons. Additionally, I will conclude the user's feedback on the product and see what are the main things that people like. Not to forget to mention, the things that they didn't enjoy. You'll get nothing but honesty in this Bear Hybrid mattress review.
So, let's get straight to it, shall we?
TL;DR: Bear Hybrid is a medium-firm, gel foam mattress, best for side and back sleepers. Not as suitable for stomach sleepers. The bed has solid edge support, good motion isolation, and temperature neutrality. However, may cause pressure point formation.
Pros
Good motion isolation
Cooling
Responsive
Solid edge support
Cons
May cause pressure point formation
Not as suitable for heavier sleepers
Bear Hybrid Mattress Review: PROS
You might be wondering, what does this mattress have to offer? So, without further ado, I present you the pros in this Bear Hybrid mattress review.
Layers and Motion Isolation
I don't know about you, but I sleep with my dog. Moreover, he is a medium-sized golden retriever and tends to toss and turn while sleeping (he has very interesting dreams, I guess). Let me add that I'm a REALLY light sleeper. In regards to that, I need to feel as minimal movement as possible.
If you are like me, you would appreciate this Bear Hybrid bed. The mattress has decent motion isolation as a result of the layer structure. Furthermore, the thing I want to mention in this Bear Hybrid review is the 5 essential layers.

Besides, studies show that sharing a bed with a partner or a pet results in better sleep quality[1]. Great news for all the clingy folks out there, right?
Additionally, this mattress is considered the best model of the company, so, the standards should be quite high in regards to that.
But what's so special about these layers?
To be fair, if the layers are constructed by using logic, the results should always be pleasant. That's what happened here. To be exact, the mattress is made of comfort layers and pocketed coils.
In regards to that, users' Bear Hybrid mattress reviews state that it's perfect for couples. You may wonder, why do couples need motion isolation? And no, I'm talking about peaceful sleep, you dirty-minded people. Well, that doesn't mean that the other couple's bed activities are less important. If you know what I mean.
Couples need motion isolation so they don't get irritated by each other movements. As much as you may love one another, sleeping together can be a challenging task. So, invest in your rest, and your relationship will also be smoother.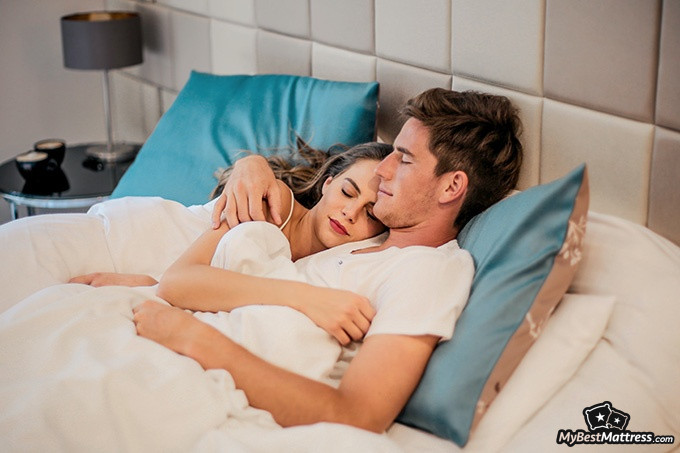 Jumping back to layers, let's take our virtual snorkels and dive deeper.
Looking from the bottom up, first, we have a high-density support foam. It creates a steady foundation and frames the pocketed coils. All in all, coils need good support from both sides so that they don't move as much.
Next there come the pocketed coils. This part is the highlight of any hybrid bed. Furthermore, some people don't see the difference between innerspring and pocketed coil mattresses. However, it's a completely different kind of bed. While innerspring beds are usually more affordable, they are known to be not as durable.
Moreover, there are mattresses that break apart these stereotypes. For instance, Saatva is an innerspring mattress and also one of the best mattresses out there, when it comes to a lot of key features. One of them is motion isolation as well.
Table: Saatva mattress features
So, remember that there are always two sides to a story. Well, stereotypes aren't always true as well. Getting that out of the way, let me continue with the pocketed coils in this Bear Hybrid mattress review.
Each spring moves independently to contour the shape of your body. In response to that, the tension also varies between specific areas. For example, softer in the shoulder or feet area and firmer in the back. So, it could be helpful for releasing any tension or pain you might have been experiencing previously.
In the context of your moves, the mattress is also relatively customizable. That's one of the reasons you'll nearly completely miss your partner's movements. You will also be aware of how the mattress supports your body. Furthermore, this feature prevents incoming arguments with your companion concerning nighttime disturbance.
Above the pocketed coils goes the transition layer, and it means exactly that — a transition to the top, gel foam layer. This part of the mattress offers great airflow and is known to relieve pressure by being on top of the coils.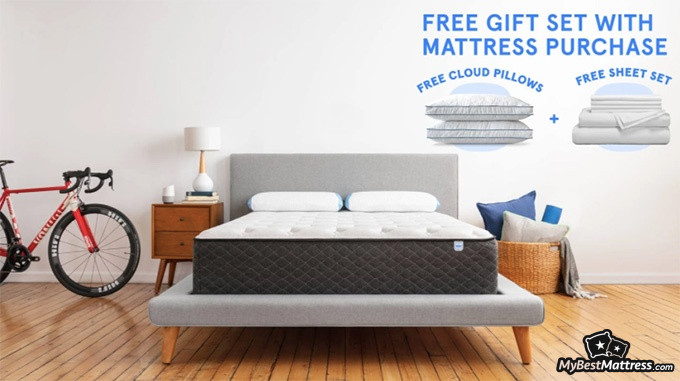 Alright, the cherry on top is the hypersoft cooling gel foam. Foam is known to help with spine alignment[2], which is an amazing feature for back sleepers. Moreover, studies show, that, with time, the quality of the mattresses is increasing, thus, that also prevents back pain and discomfort.
Also, let me add that the gel foam is naturally hypoallergenic.
Well, for you to see the whole picture, let me add the cover of this Bear Hybrid bed. The cover is made from Celliant fiber and combined with the gel foam, it creates a soothing, cooling feeling. A great addition overall, as well as to ease any kind of soreness.
All in all, when looking at the layers, the focus on motion isolation makes way more sense. Nevertheless, this feature is always talked about in the context of mattresses, and is desired by a lot of sleepers.
Latest Saatva Coupon Found:
UP TO $500 OFF
Limited-time Saatva Sale
We're sharing a limited-time Saatva mattress discount with our readers! Grab this deal & enjoy your new mattress with huge discounts.
Expiration date: 29/09/2023
4,042 People Used
Only 83 Left
No Overheating Throughout the Entire Night
As you've probably noticed, cooling is a feature mentioned a lot, when looking at the structure of Hybrid mattresses. Furthermore, it's great that the problem of overheating and feeling like a hot mess is acknowledged, finally.
Can you sleep without covers? I sure can't. It just doesn't feel right, would you agree? Keeping that in mind, have you ever been in a situation when you felt insanely hot and still kept the covers on? Not even your own sweat can change your mind. Well, I was, numerous times. Let's be honest, the feeling is far from pleasant.

Overheating can happen even in the cold season, and while having your windows wide open. In this scenario, you are also likely to get sick, so don't attempt this "extreme action" at home. Moreover, that's how much impact the mattress has.
So, there is no doubt that temperature neutrality is very important. The temperature shouldn't prevent you from getting your high-quality beauty sleep. This is the reason I'm mentioning cooling in this Bear Hybrid mattress review.
This particular mattress prevents heat waves by having a responsive transition foam layer that encourages airflow. Also, the hypersoft cooling gel foam, the main reason why this mattress has great temperature control. The foam is called cooling for a reason — it does exactly that.
So, the air is always flowing from the individually wrapped coils, to the Celliant fiber top.
Furthermore, sleep without heat, and cuddle up with your partner even in the summer!
Good Edge Support
For those who are researching mattresses more deeply for the first time, this feature might seem weird. But hear me out.
Not all of us are blessed by being calm sleepers who just lie on one side of the bed, and wake up in the exact same spot the next morning.
I'm not one of them, for sure. And for a moment of truth — I have fallen out of my bed. More than a few times. As an adult. I'll give you two seconds to mock me.
That's enough!
Now, let me redeem myself.
My mattress had poor, if not non-existent, edge support. As a result, the bed's edges appear just like the playground slide you used to slide on as a kid. When you're sitting on a slide with nothing to grasp onto, there's no turning back — you're tumbling down.

And I'm not exaggerating when I say this. Furthermore, I dare you to place anything on the bed's edge, it will fall off instantly. My reality consisted of shattered mugs and dishes (yes, I have a feast in my bed from time to time).
So, that's why edge support is that important. Moreover, this is one of the factors that enhances the bed's overall durability, and how long it will take for it to sag.
Besides, if this is a major factor for you — you'll appreciate this Bear Hybrid bed. To specify, the great edge support is a result of the edge coil alignment. In regards to that, you'll be safe from falling anytime soon.
Also, your partner would have a harder time kicking you out of the bed. On accident, of course.
Good Responsiveness and Comfortable for Sex
Okay, we all know that your bed can be used for a variety of purposes other than sleeping. Yes, I'm referring to "dirty dancing" this time. For a moment here, let's be honest, most adults appreciate this factor.
Keeping that in mind, in this Bear Hybrid mattress review, I want to bring up responsiveness. As I've mentioned above, the mattress is made of pocketed coils and a comfort layer. And by combining these layers great responsiveness is assured.

Responsiveness is also suitable for someone who likes bounciness and quick adjustment to their movements.
Additionally, moving around with your partner will be easy. Keeping that in mind, there will be no interruptions while doing your freaky business.
So, without a doubt, couples will enjoy this feature.
Almost Zero Off-Gassing
The process through which volatile organic compounds are emitted from a product into the air in your house is known as off-gassing. It can become irritating if it's particularly intense and lasts for a long period of time. Moreover, it's very common that a new mattress has some sort of smell.
If you're very sensitive to odors, always verify the level of off-gassing before buying a new bed. Some mattress manufacturers claim that the odor fades away in a few hours, while others claim that it takes a few days.
Fortunately, customers' Bear Hybrid reviews claim that there is little to no odor, so that shouldn't be an issue. Even if the minimal scent appears, it should go away in a few days.
Great Durability
Raise your hand if you enjoy buying a new mattress every few years. That's what I thought. Me neither. That's the exact reason this mattress pleasantly shocked me with its 20-year warranty. Moreover, the Bear Hybrid bed has good durability so it means that the bed won't sag after a few years and will last way longer than that. Approximately 8 to 10 years, to be exact.
Keeping that in mind, you'll save money as well as additional stress when choosing, buying, and getting used to your new bed.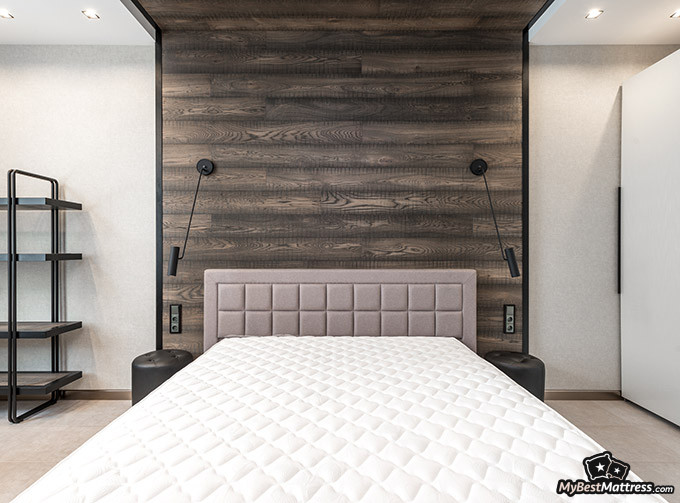 If this is something that determines if you'll purchase the item or not, I would like to mention the Puffy mattress which has a lifetime warranty. Yes, you've read that right.
So, if any defect occurs at any given time, the company has you covered, no worries at all. That's what I call loyalty, right?
Bear Hybrid mattress review: CONS
While there is no question that the mattress was made with the best intentions, there are points that could be upgraded. Keeping that in mind, I'm sure that the company will take into consideration these features I'm about to mention.
Moreover, I took a look at the negative user reviews and came to the conclusion in this Bear Hybrid mattress review, of what this bed is lacking the most.
So, as always, let's get right to it.
May Cause Pressure Point Formation
When you constantly feel pressure on a specific point of your body — it may result in pain later on. To be honest, that's a frequent occurrence among people, who experience particular soreness in the mornings.
Some sleeper reviews state that after sleeping on the Bear Hybrid bed for a while, their back pain got more severe. That could be a result of pressure point formation. The pressure might form in the wrong places of the body, like shoulders or lower back, since the mattress doesn't possess the same level of firmness all through its radius.
So, as much as it has great motion isolation and cooling, nevertheless, customers' reviews about pressure point formation are something you should keep in mind. Moreover, if you've experienced some pain in the past, this mattress might not be the best for you.
If that's the case, there are alternatives you could look into. For instance, Saatva is one of the best choices on the market nowadays. To start, the mattress is compatible with all types of sleepers. Not even the stomach sleepers are left out. That's quite a difference already.
Table: Saatva mattress pressure points
Furthermore, Saatva is so universal that it's even suitable for any body weight. In regards to that, this Hybrid mattress is made of the highest quality materials. Starting from the comfort layer with fiber fill, pocketed coils along with a support system of hourglass coils.
Moreover, there are three firmness options — Plush soft, Luxury firm, and firm.
So, truly, a very universal option. Also, if we would acknowledge the great user reviews, I am sure that you would be free from any discomfort.
Not as Good for Heavier Sleepers
Another thing worth mentioning in this Bear Hybrid mattress review is firmness. While the light weight sleepers (under 130lb) should feel comfortable, others may have a harder time with that.
Nevertheless, back sleepers are the safest kind. It should be enjoyable for all regardless of body weight. However, when it comes to side and belly sleeping positions, that's where things get tricky.
Needless to say, it depends on the person, however, the mattress can somehow be too firm on the shoulder area, so side sleepers could feel too much pressure. Take this into consideration, since it could lead to pain after a while.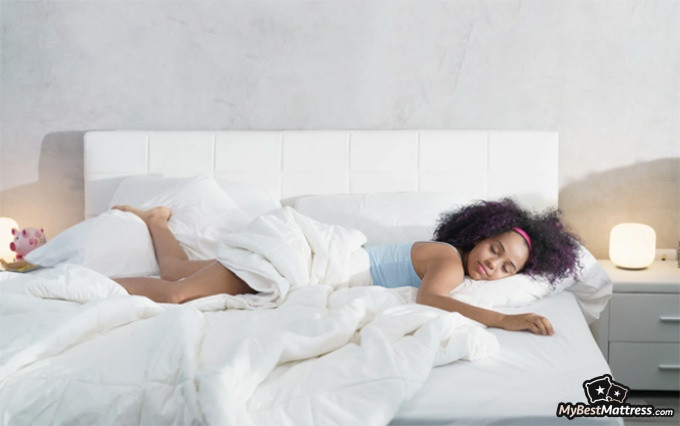 Also, unfortunately, it's less compatible with stomach sleepers. For some people, the Bear Hybrid bed can be way too firm creating a bend in the spine, which is super unhealthy. Let me add that too much sinkage is always a bad idea for spine alignment.
Nevertheless, there are alternatives for you, side and belly sleepers out there! And, I'm a generous person, so, I will lend you my knowledge about Puffy, once again. Cute name, however, it's a strongly beneficial mattress.
Yes, the Puffy mattress is also suitable for all types of sleepers. But it doesn't stop there. Some sleepers say, that they felt as if the pressure in their spine was eliminated. Which is one of the features that the Bear Hybrid mattress lacks.
Table: Puffy mattress features
Additionally, Puffy might alleviate pressure for particular pressure points, and even help with back pain. Thus, you can sleep on your side and your stomach without any concerns.
So, finally, belly sleepers are acknowledged when creating a mattress!
Puffy is made of two memory foam layers, which isolates motion to the highest extend. Also, to be clear, there is no sinkage involved.
All in all, a great alternative for many people out there. By looking at the customer reviews, I could say that Puffy is the mattress that is most likely to provide you with peaceful sleep, regardless of how picky you are.
You are Able to Return The Mattress Only After 30-Days
If you purchase the Bear Hybrid bed and immediately realize that you don't feel as comfortable as you thought you would, you may only return the product after 30 days. So, even if you find the mattress incredibly unfitting for you (in the worst-case scenario), you'll still need to sleep on it for a month.
Why?

Worth mentioning in this Bear Hybrid mattress review that the company believes that it takes approximately 30 days for your body to adjust to your new mattress. Moreover, users state that those 30 days changed their feelings towards the Bear Hybrid bed. Is the concept true or not, it's up to you to decide.
Nevertheless, if it comes to the conclusion that your body is simply not going to get used to the new bedding, the 30 days might be slightly annoying.
What's the price of the Bear Hybrid Mattress?
One of the factors that determine a buyer's final decision is the price. As much as I've seen, mattresses are priced considering their layers, materials, and even the technologƒy that's used.
So, you can be at ease that the price you pay reflects the overall features and quality of the mattress.
The original Bear mattress prices:
As you can see the initial model of the Bear mattress is quite affordable. Also, while the price usually depends on the size, in this particular case it doesn't vary as much.
The twin and twin XL beds are usually very similar sized and suitable for a single person. As I've mentioned above that the prices don't vary as much, here, as we can see the price doesn't change at all.
Queen is the most popular mattress size for couples, and the price is only $100 bigger than the twin ones. A great deal if you ask me.
As well as the, as I call them "family size", Bear Hybrid king mattresses as well as call king ones also cost the same.
Furthermore, let's look at their Luxury Bear Hybrid mattress prices:
As usual, it's a bit pricier than the initial mattress line. However, as I've mentioned above, that's for a reason. As we see in this Bear Hybrid mattress review, the newer line is quite upgraded. Also, they call this mattress luxurious, so the concept speaks for itself.
Bear Hybrid has better edge support and cooling, while the original mattress is a little firmer. However, what kind of firmness you prefer is up to your sleeping habits. You might enjoy a softer feel.

Another thing I would like to mention in this Bear Hybrid mattress review is delivery. The company provides free shipping in the US. Furthermore, the mattress will be delivered right to your door. Also, you'll get a 100-night trial. So, if you change your mind in those 100 nights you'll be able to return the Bear Hybrid bed for free.
Where to Buy a Bear Mattress?
If you are wondering where to buy bear mattresses, I have an easy answer for you. While some people believe that going to the mattress store is the best option, I would dare to disagree.
Mattress stores are a waste of time. Now, I know these are big words but hear me out.
I know you may think that you need to touch, feel or lie on the mattress, so that you could get an idea if it's comfortable for you. However, you won't get an idea. You would need to sleep on it at least a few times for that. So, if you lie on the mattress in the store and think that it's super comfortable, it doesn't mean it will be the same after a week.
In addition, most employees are there to sell you anything they can. As a result, their recommendations are unlikely to be legitimate.

Keeping that in mind, these days, online shopping gets more and more popular. It's easy and not as time-consuming. Also, you are able to find every bit of information about the product online. That's where this Bear Hybrid review comes in handy as well.
So my suggestion for any of the best mattresses you decide to welcome into your bedroom, is to purchase the bed directly from the brand's website, and get it delivered right to your doorstep. Can't get easier than that, can it?
Here is The Best Saatva Offer I Found:
UP TO $500 OFF
Limited-time Saatva Sale
We're sharing a limited-time Saatva mattress discount with our readers! Grab this deal & enjoy your new mattress with huge discounts.
Expiration date: 29/09/2023
4,042 People Used
Only 83 Left
Conclusion
Considering all the major factors I can confidently say while it's not as widely known as Saatva or Puffy mattresses, the Bear bed is a good choice.
One thing I would like to mention in this Bear Hybrid mattress review is that this business is run by a family, and has been here for 25 years. So, you could say that the company has been evolving for a while. Nevertheless, as we've seen in this Bear Hybrid mattress review, there are still a few factors they should improve.
For instance one of the best mattresses brand Saatva, which creates the highest-quality innerspring mattresses has been around since 2010. The complete opposite, but still, an amazing mattresses brand Puffy, which creates memory foam mattresses that are great for most type of sleepers, was founded in 2017. So, you can come to the conclusion that the time spent isn't relevant, when it comes to the highest quality product.
Table: Saatva and Puffy mattresses company info
However, this medium-firm, gel foam mattress made out of 5 different layers has pleasant sleeper reviews. Not to forget to mention, good edge support and motion isolation. So, for those people who tend to move around and disturb their partners, this mattress is a great choice.
Moreover, the Bear Hybrid bed is made focusing on cooling, so if you despise getting hot while sleeping, this mattress might be your savior.
But you can't quite know for sure before you try it yourself. That's where the 100-night trial provided by the company comes in handy. Try the mattress out, and return if not satisfied.
Scientific References
1. Chloe J.AndreBS, VictoriaLovalloBS, Rebecca M.C.SpencerPhD 'The effects of bed sharing on sleep: From partners to pets'
2. Bert H.JacobsonEd, AliBoolaniMS, Doug B.SmithPhD 'Changes in back pain, sleep quality, and perceived stress after introduction of new bedding systems'
Leave your honest Bear Hybrid mattress review
Leave your genuine opinion & help thousands of people to choose the best mattress. All reviews, either positive or negative, are accepted as long as they're honest. We do not publish biased reviews or spam. So if you want to share your experience, opinion or give advice - the scene is yours!