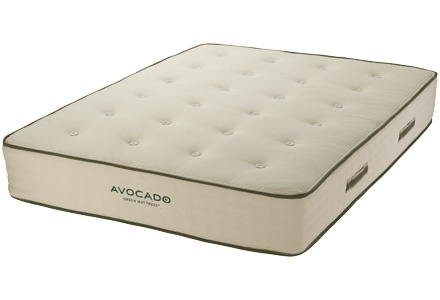 Nowadays, people begin to notice how their behaviors have an impact on the world as it continues to change for the better. Pollution, waste, and plastic problems are finally something that the majority of us are aware of. For that exact reason, in this Avocado Latex mattress review, I'll be talking about a totally organic bed.
Avocado is one of the world's most sustainable brands. The company was founded back in 2016 with the goal to create a green mattress. And they succeeded, to say the least. Handcrafted from non-toxic materials, being exceptionally comfortable and one of the best latex mattresses out there, is quite an achievement already.
Keeping that in mind, I'll talk about the pros and cons of the mattress and discuss what the sleepers have to say about their experience.
However, if you are looking for a different kind of mattress, I would recommend checking out Saatva, Puffy, or Layla since these are the best mattresses overall, in the market.
TL;DR: Avocado Latex is a sustainable and natural mattress. The bed is made out of organic materials, is bouncy, responsive, and quite firm. Moreover, the mattress is ideal for belly and back sleepers and doesn't tolerate overheating, so the temperature control is very good.
Pros
Great temperature control
Organic
Great edge support
Ideal for stomach and back sleepers
Cons
Mediocre motion isolation
Not ideal for side sleepers
Avocado Latex Mattress Review: PROS
Alright, I've liked this mattress brand from the first time I've heard about it. Furthermore, I've always been researching amazing brands like Saatva, Layla, or Puffy. It's for a reason that these beds are so well-known, and appreciated by a lot of sleepers.
However, as a romcom would say "maybe it was here all along?", meaning, maybe you've always wanted something else? Something simple, but with a bigger purpose? In regards to that, let's start with the pros in this Avocado Latex mattress review.
100% Organic Materials
I'm going to be honest, all the lights are shinning for sustainability. It's really understandable, if you would ask me. While you might be the one person that doesn't think as much about zero waste, organic products, or the future of our planet, this Avocado Green mattress could be the stepping stone to your new views.
Or perhaps you've experienced allergies before, and maybe you are sensitive to chemicals? Traditional mattresses can have dust mites, allergens, or mold more often than organic ones. Doesn't sound fun, does it?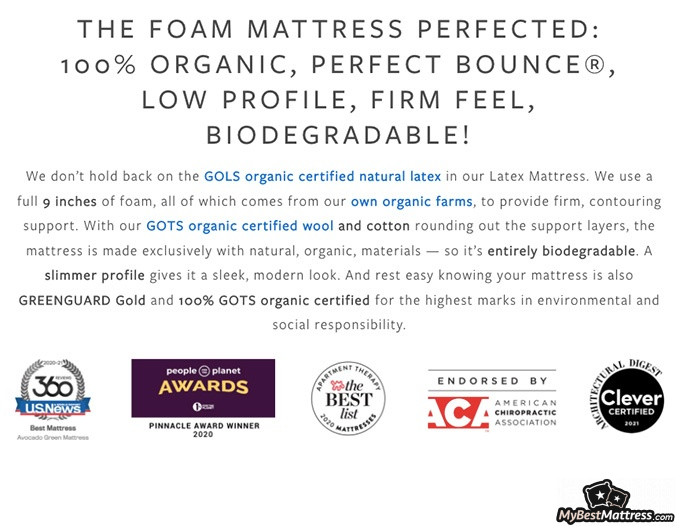 Furthermore, maybe you want to impress your friends or your significant other by having an organic mattress? Well, at least a new topic to talk about is a guarantee.
Also, I can promise you that owning something that isn't damaging to the environment is a really pleasant experience. You feel different, you feel like a better person in general.
Yes, I own a toothbrush made out of bamboo, use metal straws and have reusable shopping bags. However, nowadays, it's not something out of the ordinary, and I'm quite ashamed of myself for not doing that sooner. Don't be like me, choose the Avocado Latex mattress!
Just kidding, this isn't a cheesy commercial, so, don't worry.
So, let's answer the question in this Avocado Latex mattress review — what are these organic materials?
There is no doubt that the most important material is the organic, certified latex. All of the brand's latex mattresses have this component, including the Avocado Vegan Latex mattress and the Avocado Green Latex mattress. Furthermore, it's 100% GOLS organic certified Dunlop latex.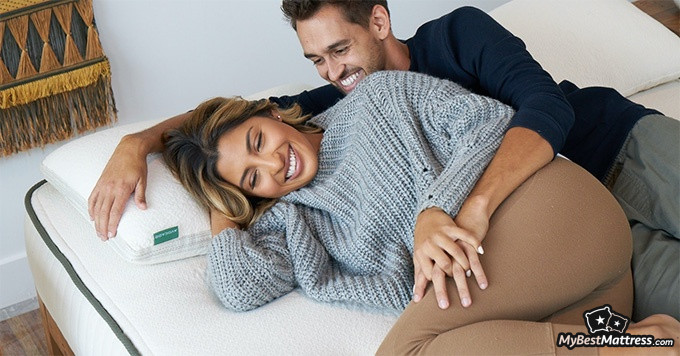 To be exact, the latex is eco-INSTITUT® certified for purity and lab-tested annually for STANDARD 100 by OEKO-TEX® certification.
Also, let's not forget cotton and wool. Which makes the mattress even more different from the synthetic ones. It's said that wool is the component that delivers luxury and durability.
Additionally, wool is known for its thermoregulating properties. Besides, it has a natural flame resistance. Rather than burning, it chars and self-extinguishes. So in their (non-vegan) mattresses, they use pure 100 percent GOTS organic wool to fully eliminate the requirement for flame retardants and synthetic fire barriers.
These materials are one of the reasons why the Avocado Green Latex mattress is one of the highest-rated mattresses in America, across every category and price range. Well, that's not something you can see very often.
Getting back to the materials, we know what they are, but how does the company make these materials in the first place? That's a story by itself.
First of all, they raise their own sheep. Yes, you've read that right. They raise happy and free sheep in Indian Himalayas. They collect their wool twice a year.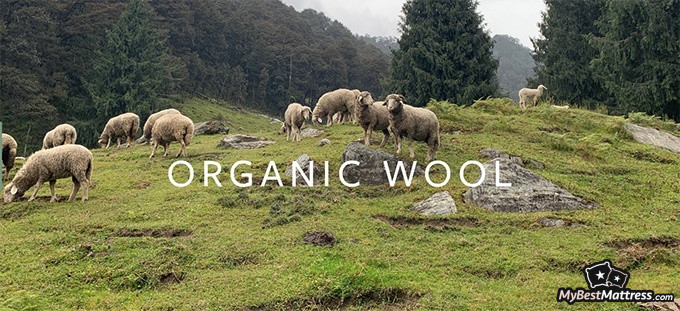 Next, they handcraft each mattress in a GOTS-certified factory. Also, they test and certify everything to be sustainable, organic, and safe. So, they take into account every bit of detail when making every one of their products.
Just knowing that you'll be sleeping on a bed that was created with such care, should feel very comforting.
Organic cotton is farmed without the use of toxic chemicals, leaving the soil, air, and water clean. Organic cotton plays a big role in climate change mitigation by releasing 46% less carbon dioxide into the atmosphere than conventional cotton. Additionally, the growers use rainwater for irrigation, which results in 90% less water usage.
All in all, as much as organic food is known to be beneficial for your health[1], organic products can also do wonders. Not only for you, but for the future of our planet, new generations, and animals. Call me naive, but I believe, everyone cares about these things more or less.

Also, if you seek more cheesy sayings, I've got your back with the quote "Be the change you wish to see in the world". To be fair, it has a point.
Alright, let me quickly mention the layer composition in this Avocado Latex mattress review. There are 9 inches of latex I've talked about above, and 3 layers of cotton and wool. Additionally, the foam core is cut into zig zags, which helps to properly contour the sleeper's body.
That's all, simple and effective.
Latest Saatva Coupon Found:
UP TO $500 OFF
Limited-time Saatva Sale
We're sharing a limited-time Saatva mattress discount with our readers! Grab this deal & enjoy your new mattress with huge discounts.
Expiration date: 13/06/2023
4,042 People Used
Only 83 Left
Great Firmness
So, we know that the mattress is super sustainable and organic. But what does it feel to lie on this kind of bed? Let's find out.
Let me tell you a short story. When I was a child, let's say maybe 9 years old, I've got my first, very own bed. Well, I was scared to death to sleep alone, so I've always had my sister's company, but that's beside the point.
At that time, as a child, I truly believed that your bed should be as soft as possible, like jelly, so you could just sink in. Maybe cartoons had an influence on that, who knows. And yes, my first bed was very much like jelly. I have no idea where my parents even found this kind of bed, but for me it was magical.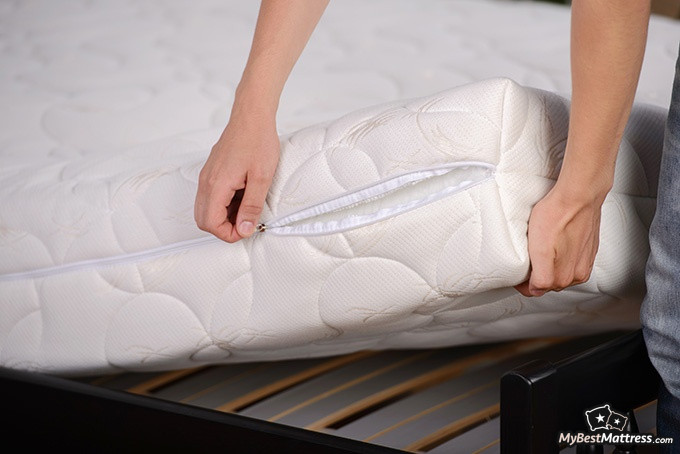 Furthermore, even my friends and relatives were amazed by how overly soft the mattress was. Every night we would feel like we're sinking more and more to the back of the frame. Well, these memories make me cringe now, knowing that it wasn't the best option for my spine alignment, nor my neck and my overall health.
Thankfully, now I do know what the mattress should be like. Besides, I had the opportunity to lie on Saatva and Layla mattresses, one of the best beds out there, and to me, it was eye-opening.
Table: The comparison of Saatva and Layla mattresses features
For that exact reason, I was really happy to read the sleeper Avocado Latex mattress reviews, and see that the mattress is a bit over the medium-firm side. Well, this happens to be the firmest model of the Avocado mattresses overall.
As the company said themselves "float not sink". And no, it's not a quote by Pennywise.
All in all, firmness is great for spine alignment, pressure elimination, and reducing unnecessary sinkage. While it's thought that a bit of sinkage is needed to contour the sleeper's body, the Avocado Latex does it the opposite way — it contours the body while pushing it back a bit. Sounds weird, but you would need to see for yourself.
Ideal for Stomach and Back Sleepers
Studies show that sleeping positions impact sleep quality[2].
How's that? As an example, let's say you are a fellow stomach sleeper. If so, softer mattresses tend to have sinkage, which could result in neck pain from overly binding, as well as unnatural spine position by lying this way.
The same goes if you like to sleep on your back, it's important that the bed has the right amount of firmness that I've mentioned above, and body contouring. Trust me, you wouldn't like to have severe back pain when you're older.
All things considered, sleepers Avocado Latex mattress reviews say that this bed is ideal for stomach and back sleepers. Great news for all of you, belly and back sleepers out there!
Yes, I'm a stomach sleeper myself so I know the feeling of facing a wall when searching for a bed that won't give me neck and back pain. Thankfully, this is the one.
While there are other mattresses, very well-known and appreciated that are suitable for these types of sleepers like Saatva and Puffy, you can see by the sleeper Avocado Latex mattress reviews, that the Avocado bed is quite as good in this category.
Table: The Saatva and Puffy mattresses main features
The mattress keeps the lower back from arching and sinking while gently contouring the hips.
Let me add that the Avocado Latex mattress is suitable for larger and even heavier-weight sleepers. Holding up to 230lbs. So, more people can find this mattress comfortable. That's something to keep in mind.
Great Edge Support
As I've mentioned earlier, I used to sleep in one bed with my sister. Yes, I was scared of the dark, the monsters, and all that jazz, so my sister had no choice but to keep me company. Unfortunately to her, at that age, I had really bad nightmares and used to toss and turn constantly.
Well, you can guess where this story is going. The mattress we slept on (yes that super soft one), had zero edge support. So, my sister, by trying to escape from my movements used to roll off the bed and fall to the floor. Sadly, at that time, we didn't know how to deal with this issue apart from putting some pillows on the floor, so she wouldn't hurt herself.
Thankfully, nowadays this issue is known to all. That's why I want to mention edge support in this Avocado Latex mattress review. And without further ado, let me immediately say that this bed has great edge support.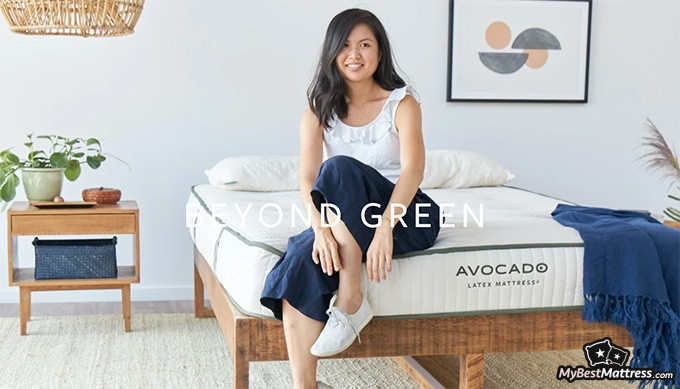 Edge support is not only there so you won't fall off the bed while moving, but it also makes the surface to sleep on larger. Furthermore, it's easier to get in and out of the bed because the edges won't sink in as much.
Furthermore, because of the latex layers, the edge support of this bed is excellent, implying that the bed is more durable and will last you a long time before sagging. As a result, you won't have to empty your wallet anytime soon.
Bouncy and Responsive
Although this mattress doesn't have any springs, latex provides great responsiveness and bounciness. It's also a result of cotton, put in between every layer of latex, that creates the perfect amount of bounciness. Not an overly annoying bounce, just the good amount in the middle.
Differently from memory foam mattresses that tend to have sinkage while moving, the customer Avocado Latex mattress reviews say that that's not the case and in fact, it's very easy to move on this mattress.
That brings me to another thing — sex. A responsive bed is really comfortable to engage in nighttime (or daytime) activities. So, if you're a couple, you can be calm about one factor, for sure.
Great Temperature Control
Moving on from responsiveness, what is the thing that latex mattresses are known for the most? Whatever your answer might be, I would say the temperature control.
Moreover, natural mattresses tend to have the best cooling effect. The materials of this mattress play a big role in making the bed cool.
Overheating is one of the major things that affect your sleeping quality and duration. Keeping that in mind, have you ever woken up in the morning, it's winter, your room is reasonably chilly, but you are still drenched in your own sweat? I have, and I probably don't need to tell you how much of a bad feeling it is.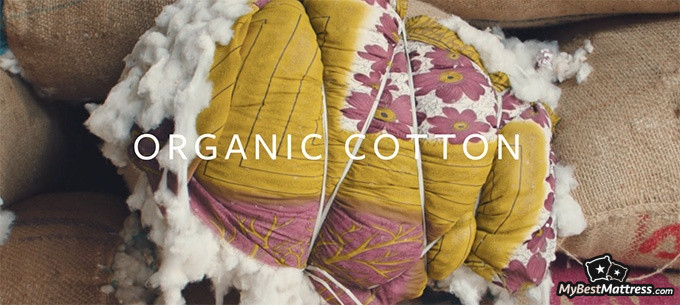 While there might be other factors of why this happens, one of them, without a doubt, is your bed. That's why I want to mention temperature control in this Avocado Latex mattress review.
Latex, which makes up the majority of this mattress, is naturally aerated and doesn't retain body heat. That is, it will not warm up as you sleep. Additionally, the top comfort layer adds breathability. Besides, let's not forget that latex, wool, and cotton are the three main materials used in this mattress.
Also, let me mention that the Avocado Green Latex mattress has even better temperature control since it's a hybrid mattress, and has a coil layer, that even makes it easier for the air to flow. So, this bed could be the ultimate choice, if you have a really bad problem with being hot (well, not on the outside).
Avocado Latex Mattress Review: CONS
To gain something, you have to give up something, I've heard once. Well, maybe it's the case with every object out there, since, I never found anything that doesn't have at least a few cons.
It's only natural, I think. There is balance in everything, even in this Avocado Latex mattress review.
Not as Good for Side Sleepers
Yes, this mattress is really comfortable for back and belly sleepers. This is amazing by itself, nevertheless, the customer Avocado Latex mattress reviews say that it's not as good for side sleepers.
While it might be okay for sleepers on the heavier side, because there is more sinkage which is needed when sleeping on your side, for lighter sleepers, this bed can be way too firm.
By being too firm while sleeping on the side, it's possible that some pressure points can form on the hip and shoulder area. That can lead to pain after a while, so it's not something that can be overlooked.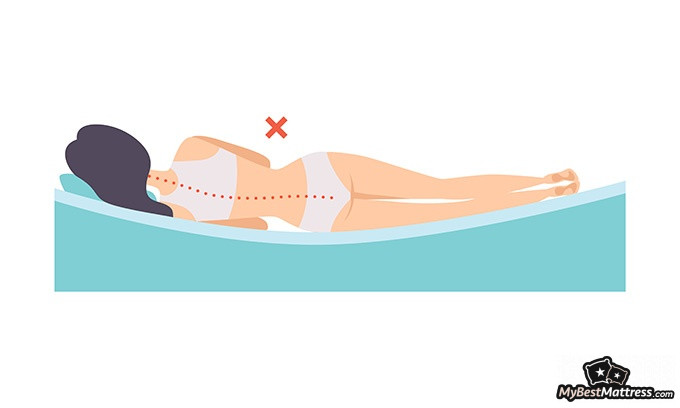 So, if you are a side sleeper this might not be the best mattress for you.
But don't be sad! I've got some alternatives that I would like to share with you. You can say it's a little tip, from a friend.
Some of you might have a feeling some of you might not, but the mattress I'm referring to is Saatva. It's an innerspring bed that is known to be one of the best ones in the market, covering lots of categories.
But the main reason I'm mentioning this great mattress is that it's suitable for all types of sleeping positions. Including the side one.
Table: The Saatva mattress pressure points
The company knows that different types of sleepers require different types of bedding qualities. Side sleepers need more body contouring and softness, while back sleepers need more firmness, well, you already know the drill.
So, it's amazing to think about how universal the Saatva mattress is. Moreover, you can choose firmness from Firm to Luxury firm if needed. However, it's really rare that a negative review comes to light about the initial Saatva model.
All in all, I would be quite happy and calm by sleeping on Saatva. I believe, so would you.
Transfers Motion a Little Bit
There are a few sleeper Avocado Latex mattress reviews that state the motion isolation game is weaker than they expected. While it might be true that some motion passes through, it isn't the worst for sure.
Additionally, the motion you could feel is very minimal, so if you are, in fact, a deep sleeper, this shouldn't be an issue at all.
To be fair, it's not a memory foam mattress that is known to absorb motion very well. Furthermore, if you are a very sensitive sleeper, this bed could bother you a little.
In this scenario, the best alternative would be the Puffy mattress. A Puffy mattress contains a few levels of memory foam. In regards to that, the mattress absorbs motion to the fullest extent.
Table: The Puffy mattress features
As the Puffy sleepers reviews say, this is an amazing choice for couples and those who hate feeling any motion at all. Moreover, there is no sinkage involved.
Some People Might be Allergic to Latex
Avocado mattress latex allergy is a thing, unfortunately.
A small percentage of people have allergies to natural latex. Their reactions can be depending, however, the experience won't be pleasant either way.
To specify, natural latex is made out of rubber tree sap, and some individuals might be allergic to the proteins that are present in the material.
So, make sure you're not allergic to latex or if you experience any itchiness, irritation of the skin, runny nose and eyes, sore throat, and other symptoms after sleeping on the mattress, consult with your doctor and find out whether or not this is the right mattress for you.
Saatva Latex Hybrid Mattress VS Avocado Latex Mattress
Now that we've covered all the pros and cons in this Avocado Latex mattress review, let's compare to the Saatva Latex Hybrid mattress.
Saatva is one of the best mattresses on the market overall, to start with. I'm sure you've heard about this bed at some point. However, we'll talk specifically about the Saatva Latex Hybrid mattress.
The first thing that comes to mind, as I've mentioned in this Avocado Latex mattress review, is that the Saatva bed is also organic. All of the components are certified and handcrafted, from cotton and wool to latex.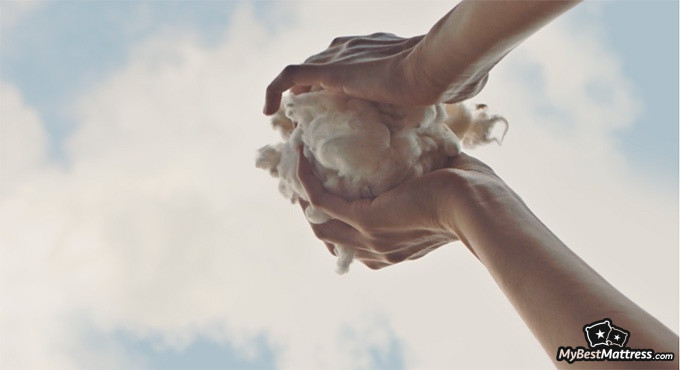 Furthermore, although Saatva is not known to be an organic mattress brand, the Saatva Latex Hybrid mattresses components wool and cotton have been certified as organic by the Global Organic Textile Standard (GOTS), one of the leading authorities on these types of mattress materials.
So that's one thing these two mattresses have in common.
Besides, the biggest difference between the Avocado and Saatva latex beds is that the Saatva Latex Hybrid has pocketed coils that provide more body support and make the bed suitable even for sleepers who weigh over 230lbs.
So the Saatva bed provides a little bit more support, than the Avocado one.
However, the Saatva Latex Hybrid is a medium-firm bed, and the Avocado Latex mattress is a bit above medium. Which could be more suitable for belly and back sleepers and not ideal for side sleepers.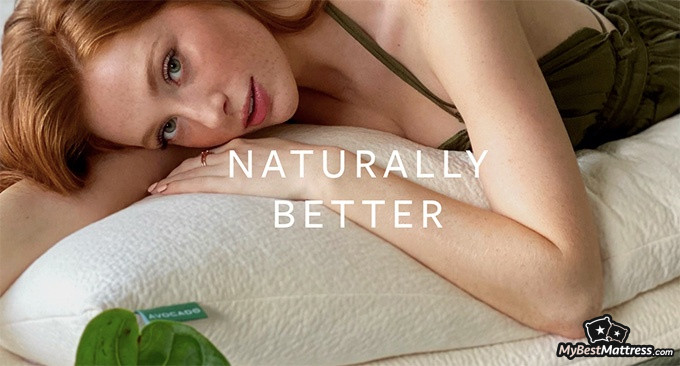 Nevertheless, the Saatva mattress is more universal and can be compatible with all types of sleepers. Furthermore, both beds are bouncy, but I'd say the Saatva Latex Hybrid mattress is a little more so.
Thus, it should be even easier to move.
Both Saatva and Avocado don't have the best motion isolation, however, it could only be an issue for very sensitive sleepers, since the motion transfer is very little.
Also, both of them have great edge support, nevertheless, the Saatva Latex Hybrid is also a bit ahead on this one due to the bed's coil system, which is divided into different zones based on thickness or coil gauge.
All in all, the Avocado Latex and Saatva Latex Hybrid are very similar mattresses, both having great temperature control, edge support, and high-quality, organic materials. But keep in mind that the Avocado mattress is a bit pricier, so if you are looking for a more affordable choice – Saatva is the way to go.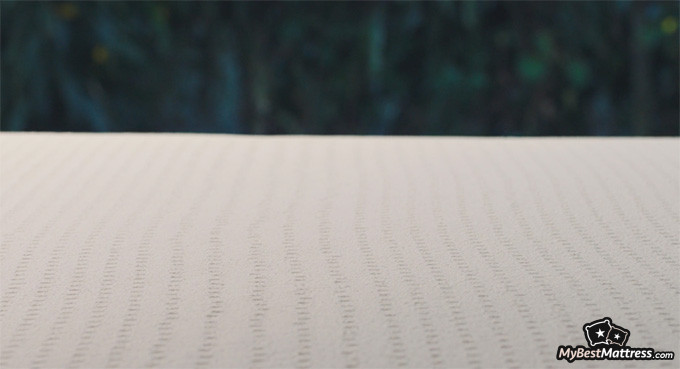 Nonetheless, either one you choose, you won't lose for sure.
Additionally, which one would you prefer to sleep on, the Avocado Latex mattress vs the Avocado Green mattress?
To be fair, the Avocado Green mattress is a Hybrid mattress, which makes it even more similar to Saatva Latex Hybrid. The main difference between the Hybrid and the Latex is the coil layer, which makes the bed bouncy and increases edge support.
What's the Price?
We've come to the point where all it's left is the price. Keep in mind that the prices can change at any given time. So, make sure to check them out yourself, it's only one click away!
As you see yourself, the mattress isn't the most affordable mattress out there, and the prices vary from size to size. However, since we've talked about all of the processes of making the mattress, how every detail is taken into consideration, and how all of the materials are organic, tested, and safe, the price shouldn't be as shocking.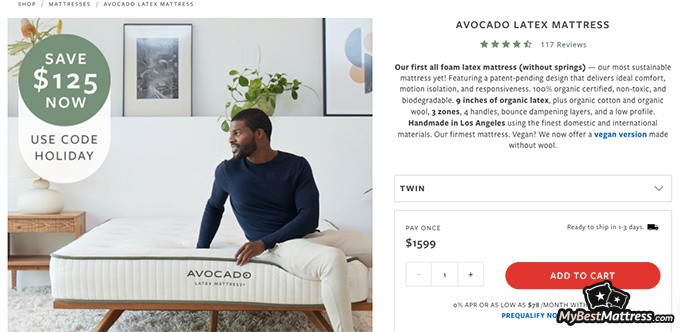 Moreover, the company provides a 25-year warranty, which isn't very common, to say the least. So, if something happens within those 25 years, you can be calm that it will be taken care of. Also, it has a 1-year sleep trial. I don't know about you, but this is the longest trial provided for a mattress I've ever seen.
So, if you realize in one year that the mattress isn't right for you, you can return it and get your money back.
Thus, you can't get wrong with this.
However, if by reading this Avocado Latex mattress review you've come to the conclusion that the bed is too pricey for you, there are similar, more affordable options like Saatva, Layla, or Puffy that you can check out any time!
Here is The Best Saatva Offer I Found:
UP TO $500 OFF
Limited-time Saatva Sale
We're sharing a limited-time Saatva mattress discount with our readers! Grab this deal & enjoy your new mattress with huge discounts.
Expiration date: 13/06/2023
4,042 People Used
Only 83 Left
Conclusion
We've talked about all of what the customer Avocado Latex mattress reviews have to say. The negative and the positive. Also, we've covered the prices.
If you would ask me — is this mattress worth it? I would say yes. To be honest, this is the mattress I would buy myself.
Because the company is concentrating on sustainability and providing customers with organic, green products, it's immediately a mattress that piques my interest. However, that doesn't cloud my judgment, the bed is really good overall!
The mattress is created from latex layers, wool collected from their own sheep, and cotton. Moreover, it has a lot of great benefits such as cooling, edge support, firmness, responsiveness, and is suitable for the majority of people.
Alright, it's not as ideal for side sleepers, but there are alternatives such as the Saatva Latex Hybrid that I've mentioned already as a great choice for all types of sleepers. Also, you can check out Puffy, a memory foam mattress that's also suitable for all sleeping positions.
Furthermore, you may check out our best latex mattress list as well as the best mattress for side sleepers list! There is something for everyone out there!
Including you, dear reader.
All of that being said, I hope this Avocado Latex mattress review was useful, and good luck choosing what's best for you!
Scientific References
1. Faidon Magkos, Fotini Arvaniti, Antonis Zampelas 'Organic food: nutritious food or food for thought? A review of the evidence'
2. Ignasi Ferrer-Lluis, Yolanda Castillo-Escario, Josep Maria Montserrat 'SleepPos App: An Automated Smartphone Application for Angle Based High Resolution Sleep Position Monitoring and Treatment'
Leave your honest Avocado Latex review
Leave your genuine opinion & help thousands of people to choose the best mattress. All reviews, either positive or negative, are accepted as long as they're honest. We do not publish biased reviews or spam. So if you want to share your experience, opinion or give advice - the scene is yours!