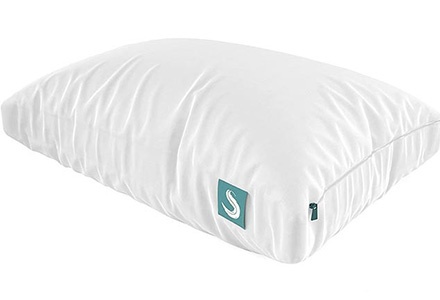 Most people aren't too fond of change - that is why we often look at industry newcomers (whatever that industry might be) somewhat cautiously. However, as many customer Sleepgram pillow reviews are going to tell you, this industry newcomer has managed to sway people's opinions in a very positive way.
Sleepgram pillows are very unique in their design. The whole point of the pillow was to completely change the way the sleep product industry is perceived by bringing in a pillow with a fresh, original design. Was the company successful in doing that? Well, read on and find out.
TL;DR: The Sleepgram pillow features two different inserts - mixing and switching them around, you'll be able to create a perfect pillow for yourself. The filling is made out of down-like microfibers, with a hypoallergenic cover. Since it's super-customizable, the pillow should fit most types of sleepers.
Pros
Double-insert design
Adjustable firmness and loft height
Great moldability and shape retention
Very affordable
Cons
Sleeps warm for some
Not ideal for stomach sleepers
Sleepgram Pillow Reviews: PROS
Reading through various Sleepgram pillow reviews, you'll notice that different customers emphasize different features of the pillow. That's because everyone is going to like and prefer different things about the product. That being said, there are a few key, essential things that all good pillow should have in common.
First of all, the insert. If you have some experience of looking through customer Sleepgram reviews or any other pillow reviews out there, you might have noticed that most of the top-tier product providers are going to try and make sure that their pillows have adjustable inserts.
Why? Well, mainly because of all of the varying types of sleepers that there are.
No two people are going to sleep exactly the same. Some prefer sleeping on their backs, others - sideways. Some tuck their arms under the pillow, others sleep on the very corner of it. With an adjustable and interchangeable insert, you'd be able to customize the pillow to your liking.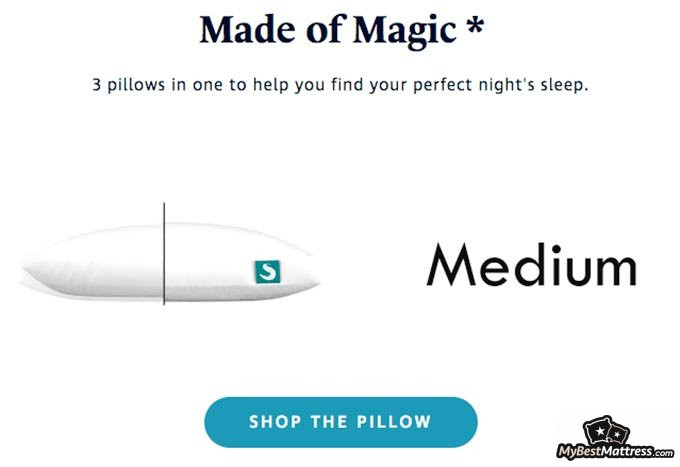 Also, materials. This might be a no-brainer, but you should always pay close attention to the materials from which the pillow is made out of. And I'm not even talking about allergies or some specific "wants and needs" - rather, you should keep in mind that all materials are going to sleep differently.
For example, memory foam is usually really comfy and cozy, but it tends to get pretty hot. As opposed to that, latex combined with a cotton pillow cover is going to sleep exceptionally cool, but it's also going to probably be pretty heavy, as far as pillows go.
We'll dive deeper into other, various important pillow features as we progress through the customer Sleepgram pillow reviews. That said, let's start with the best parts of this pillow.
Completely Adjustable Loft Height and Pillow Firmness
As far as sleeping comfort goes, the height of your pillow's loft is going to be one of the main, deciding factors of whether or not the product suits you. Customer Sleepgram pillow reviews do talk about this a lot - and that's not without a specific reason.
You see, as I've mentioned at the beginning of this article, the Sleepgram pillow has a fully-customizable loft height. You'd be able to change it - and thus, the firmness options of the pillow itself - by removing or mixing around the two inserts that come with the pillow.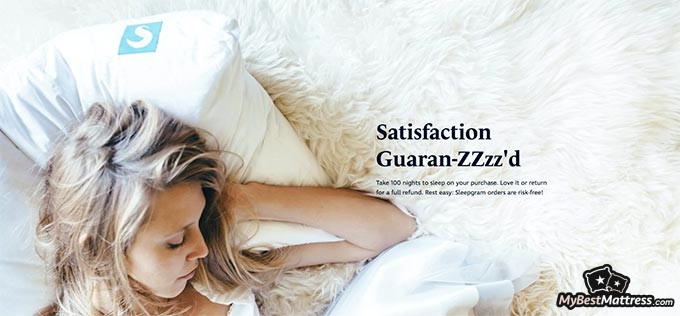 Both of the Sleepgram pillow inserts are made from specific microfibers that act as alternatives to down. Also, the inserts differ from each other quite a bit - one is soft and pretty low, the other is firm and has a higher loft. This combination opens up a lot of doors for the sleeper to experiment and play around with.
This is quite apparent from multiple customer Sleepgram pillow reviews. People claim that, no matter how much they are willing to toss and turn around and change their sleeping positions, they are almost always able to find a comfortable combination of the inserts of the Sleepgram pillow.
Speaking of different sleeping positions…
Latest Saatva Coupon Found:
UP TO $500 OFF
Limited-time Saatva Sale
We're sharing a limited-time Saatva mattress discount with our readers! Grab this deal & enjoy your new mattress with huge discounts.
Expiration date: 07/06/2023
4,042 People Used
Only 83 Left
Suitable for Most Types of Sleepers
In total, there are three common, main sleeping positions that most people fall into - side, back and stomach. You can get a pretty good idea of your own, default sleeping position by laying down on the bed and observing what's the most comfortable position for your body, and in what position do you usually wake up laying.
Having proper sleep accessories - mattresses, pillows and everything in between - is a crucial part of you staying comfortable throughout the night and getting a good night's sleep. According to research done by Centers for Disease Control and Prevention back in 2014, there are huge numbers of people in California alone struggling to sleep a healthy amount.
While there are many reasons that add up to this, one of the big ones is not picking the right products for their preferred sleeping positions.

It makes sense when you think about it, though - no matter if you're reading Sleepgram pillow reviews or any other customer pillow reviews out there, this is something that's gonna come up time and time again. If you're a stomach sleeper, you'll need a pillow with a very low loft - a chubby down pillow would give you the worst neck pain of your life.
Well, the really cool thing about the Sleepgram pillow is that it should suit most types of sleepers out there. How is that possible, you may ask? Simple - it all goes back to the whole "multiple insert" deal.
Since both of the inserts are different, you should be able to find a combination that'll suit your preferred sleeping position best. Customer Sleepgram pillow reviews second this - most of the brand's customers claim that they are able to fully adjust the pillow to their own, personal needs.
Easy to Take Care Of
While this might not be directly related to your sleeping experience, it's an important point, nonetheless - the Sleepgram pillows are very easy to take care of and clean.
As we've already established, the pillow is made out of two inserts filled with hypoallergenic microfibers and a cotton pillow cover. Because of this unique design (the two insert part), the sleep accessory is machine-washable. Most Sleepgram pillow reviews will tell you that this is great news!
To this day, there are many pillows that require you to wash them by hand. While most covers can be thrown into the washing machine, the pillow inserts themselves are often more tricky - they are either prone to ripping, or might even have to be spot-cleaned, in general.
Super-Moldable
You know the satisfying feeling when you tuck your pillow in a certain specific way, and it stays like that, instead of flipping back into place or simply melting down into a formless blob? This is called moldability - one of the more important features of a good pillow.
While moldability is going to be important to all types of sleeping positions, side sleepers are going to be people who'll appreciate it the most. This group of sleepers is most prone to tucking their pillows in a certain, specific manner throughout the night.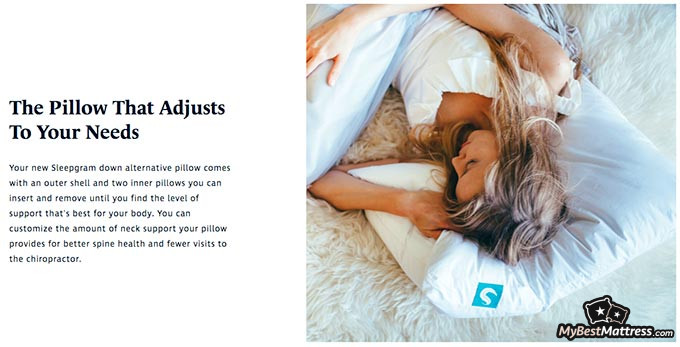 What's the point of doing this? Well, multiple customer Sleepgram reviews will tell you that it isn't only a point of comfort - it has to do with the quality of your sleep, too.
You see, when you're able to mold the pillow in any way that you want, you can then position it according to your wants and needs. The pillow will retain its shape - you don't need to worry about it giving out on you and sinking down as soon as you place your head on it.
Sleepgram Pillow Reviews: CONS
Most customer Sleepgram pillow reviews found online are positive - that's rather obvious. However, that does not mean that the product is perfect - there are a few quirks that you should know about it before deciding whether or not you want to try the Sleepgram pillows out.
Somewhat Unreliable Choice for Stomach Sleepers
Earlier on in the article, we had established the notion that the pillow is going to suit most types of sleepers out there, more or less. Well, this is where the "less" part comes in - according to a few Sleepgram pillow reviews left behind by stomach sleepers, this product might not be ideal for this sleeping position.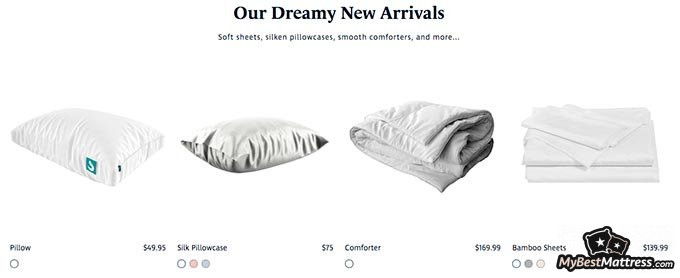 Now, don't get me wrong - I'm not saying that if you're a stomach sleeper, you should automatically discard this product as an option and move on in search of something else. Rather, you should just know that you might have a bit of a more difficult time with the Sleepgram pillow than you would with a different one.
Sleepgram reviews point out that this is mostly because the firmness options are a bit difficult to manage for this type of sleepers. While it's definitely not impossible (there are plenty of positive stomach sleeper Sleepgram pillow reviews), it can still become a hassle for some.
Might Sleep Warm
While the design of the Sleepgram pillow allows it to be a very flexible option for many different people out there, there is an issue that it doesn't manage to solve - sleeping warm.
The keyword in that sentence is "warm" - the pillow sleeps warm, not hot. That's an important fact to distinguish! You see, the cotton pillow cover helps a lot here - cotton is one of the best materials when it comes to pillow covers, if you want them to provide a cooling, temperature neutral effect.
Even so, though, the cover isn't able to provide enough cooling features that would mitigate the warmth of the pillow when you lay on it, completely. That's something worth keeping in mind!
Price
Now that we've got all of the most notable benefits and shortcomings that you'd find in customer Sleepgram pillow reviews out of the way, let's talk numbers.
The Sleepgram pillow comes in two different sizes:
Truth be told, that's quite a decent price for a product that's as hyped up as it is. On top of that, the company offers customers a 100-night sleep trial and a lifetime warranty. The sleep trial is great in itself, but a lifetime warranty is almost unheard of within the sleep accessory industry! In all honesty, it makes it an even better deal.
And that goes to show - out of all of the customer Sleepgram pillow reviews that you'd find online, there aren't any notable ones that would point out the price as being "too expensive" or "not fitting the quality of the product". If anything, Sleepgram has definitely managed to nail the price tags quite well - the sleep trial and warranty complement that.
Here is The Best Saatva Offer I Found:
UP TO $500 OFF
Limited-time Saatva Sale
We're sharing a limited-time Saatva mattress discount with our readers! Grab this deal & enjoy your new mattress with huge discounts.
Expiration date: 07/06/2023
4,042 People Used
Only 83 Left
Conclusions
It's no secret that the pillow industry is jampacked with dozens of different products. For your average customer, it can get pretty tricky and confusing, having to pick out the single, best product out there. There are many criteria that you have to tackle - sleeping position, firmness and comfort, moldability, temperature neutrality, and so on.
That said, however, Sleepgram is seemingly one of the better pillow alternatives that you can go for. Its universality is one of the product's main strengths - the fact that it's suitable for most types of sleepers opens the pillow up for a huge crowd of people.
Customer Sleepgram pillow reviews also note that the pillow is very moldable, and that it does retain its shape quite well. The unique "two insert" design allows you to customize the pillow to the fullest extent as far as firmness and comfort are concerned.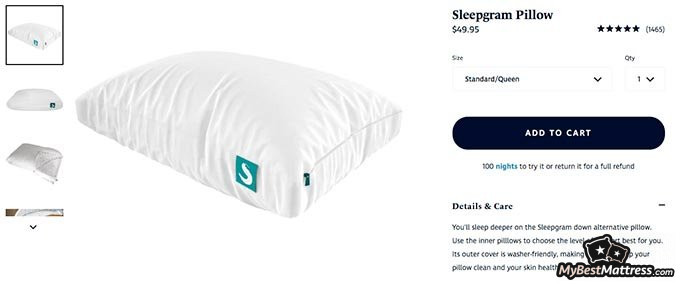 As for the notable issues, there aren't many, but some people do claim that Sleepgram pillows might sleep warm, despite their cotton covers. Also, if you're a stomach sleeper, you should consider the fact that Sleepgram isn't seen as the "best" option for this group of sleepers.
All in all, with some very affordable price tags, a 100-night sleep trial and a lifetime warranty, Sleepgram is definitely making waves within the sleep product industry. If you're interested in the pillow, do check it out!
Also, don't forget - a proper pillow is just one part of the equation. If you want to truly improve the quality of your sleep and avoid developing insomnia or any other sleep-related disorder, you should also take a look at the best mattresses within the industry.
Leave your honest Sleepgram review
Leave your genuine opinion & help thousands of people to choose the best mattress. All reviews, either positive or negative, are accepted as long as they're honest. We do not publish biased reviews or spam. So if you want to share your experience, opinion or give advice - the scene is yours!