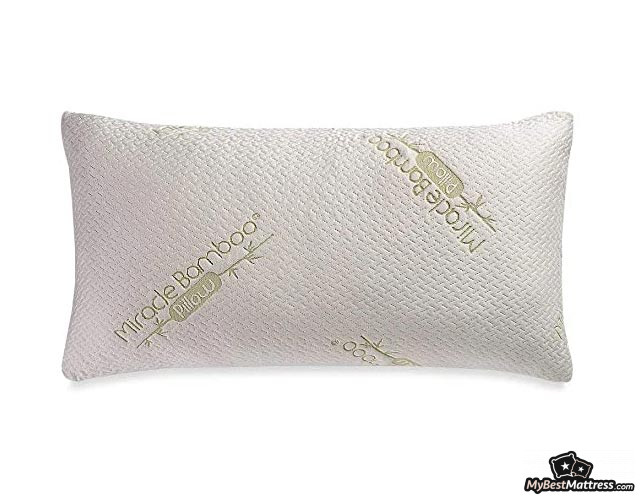 When choosing a pillow, different people look for different things. Some value moldability, others - temperature neutrality or comfort, or something else. Well, if sleeping cool is important to you, then customer Miracle Bamboo Pillow reviews are going to put a smile on your face.
While bamboo cover-encased pillows aren't a frequent sight, by no means, it's quite refreshing to find one that is also considered to be a rather decent choice for sleep accessory product, overall. But let's not get ahead of ourselves and take this from the top.
TL;DR: Customer Miracle Bamboo Pillow reviews will tell you that "keeping it cool" isn't the only trick that the product has up its sleeve. The pillow is easy to take care of, is rather moldable and light. Also, it's likely to best suit side sleepers.
Pros
Superb cooling
Easy to clean and take care of
Best for side sleepers
Cons
A single firmness and loft height option
Might be unsuitable for stomach sleepers
Miracle Bamboo Pillow Reviews: PROS
Customer Miracle Bamboo Pillow reviews note that the product has quite a few different benefits associated with it. That said, have you ever thought about the features that make up a good pillow?
Truth be told, many people don't even think about this while choosing a brand new pillow for themselves. That shouldn't be the case!
Take sleeping positions, for example. In the same way how different types of mattresses are going to suit different types of sleepers, pillows do also vary by quite a bit. A lack of research might lead to you purchasing a pillow only to then learn that it doesn't at all suit your preferred sleeping position.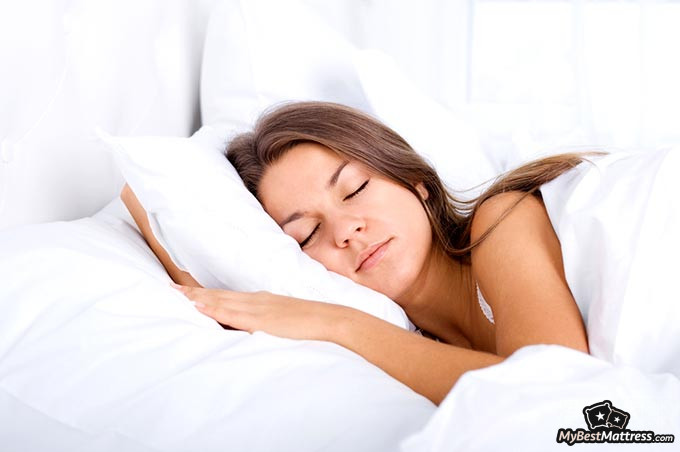 Firmness and loft height are also some things you should pay careful attention to. When it comes to mattresses, A. Radwan and colleagues have found that sleepers report better sleep quality with medium-firm beds. Again, pillows are no different - while people's preferred settings might differ, there are certain things that should be paid more attention to than others.
Last but certainly not least, customer Miracle Bamboo Pillow reviews emphasize the pricing points of pillow products. Since everyone has an estimated budget of just how much they are willing to spend on a pillow, a certain portion of higher-priced products are going to cut off, immediately.
A pretty good rule of thumb is to assume that the $90-$100 mark is right around the middle as far as average top-tier pillow prices go. Anything lower is cool, and anything higher is quite expensive.
With all of that said, though, let's move on to the actual pros of the Miracle Bamboo Pillow.
Very Cool to Sleep On
This will most likely come as no surprise to you, but one of the most notable benefits that customer Miracle Bamboo Pillow reviews exclaim has to do with the product being super-cool to sleep on.
Temperature neutrality is an interesting topic, in of itself. Many people tend to not give it much thought, right up until they purchase a pillow that's exceptionally warm when being lied on. While it may seem like a secondary thing to worry about, no one wants to wake up in a puddle of sweat in the middle of the night, all because their pillow almost gave them a heatstroke.
That being said, the cooling features of the Miracle Bamboo Pillow come from its cover. The cover is made out of bamboo rayon - a specific type of fiber that provides unmatched breathability and cooling. So much so, in fact, that people actually purchase bamboo-covered pillows just for the cooling feature alone!
Latest Saatva Coupon Found:
UP TO $500 OFF
Limited-time Saatva Sale
We're sharing a limited-time Saatva mattress discount with our readers! Grab this deal & enjoy your new mattress with huge discounts.
Expiration date: 08/12/2023
4,042 People Used
Only 83 Left
Best for Side Sleepers
Throughout the world, people sleep in very different positions. However, while the are literally hundreds of ways of how you could place your body on the bed, sleep experts generally focus on three main ones - side, back and stomach.
Needless to say, depending on your preferred position, you're going to need different sleep products. Pillows aren't an exception.
Customer Miracle Bamboo Pillow reviews will tell you that the product is going to be best for side sleepers. Why so? Well, there are a few reasons.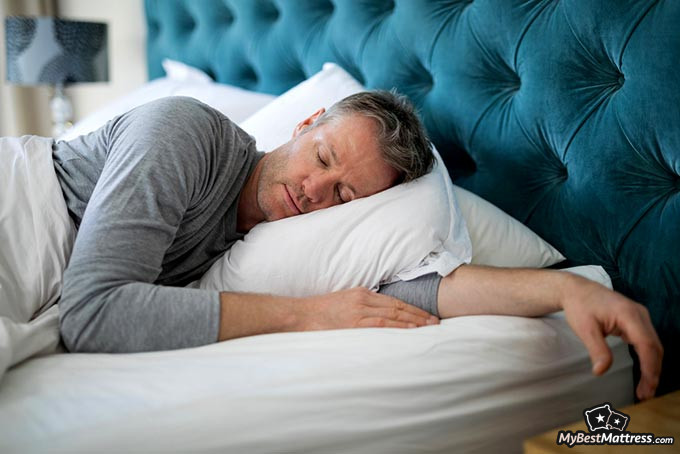 First of all, the pillow's loft. The product does not have an adjustable loft (we'll get to that), and so there's only one option. Most customers describe it as being "of medium height" - while this might cause some issues for certain types of sleepers, it's basically perfect for most who preferrer sleeping on their sides.
Furthermore, Miracle Bamboo Pillow reviews will let you know that the product is made out of a specific blend of microfibers and shredded memory foam. This combination allows the pillow to be super-moldable, which is something that side sleepers can truly appreciate, given that a lot of them love to tuck their pillows around at night.
Very Easy to Clean
One of the most underrated features of a good pillow is it being easy to clean and take care of.
This is pretty obvious from the frustration seen with many customer Miracle Bamboo Pillow reviews. It would seem that many people tend to purchase pillows that are difficult to maintain, and often require special treatments and even spot cleaning.
Well, you'll be happy to hear that this is not the case with the Miracle Bamboo product. It is fully machine-washable, both when it comes to the cover, and the pillow itself.
Is it really a big issue? No, quite honestly, not at all. That being said, though, it can get really annoying, and might eat up a lot of time, having to clean the pillow by hand.
Lightweight
Because of the way that it's designed (shredded memory foam and other microfibers), the Miracle Bamboo Pillow is very lightweight, weighing in around 3,5lbs (which roughly translates into 1,5kg). This has one major advantage - the pillow becomes very easy to move around during the night.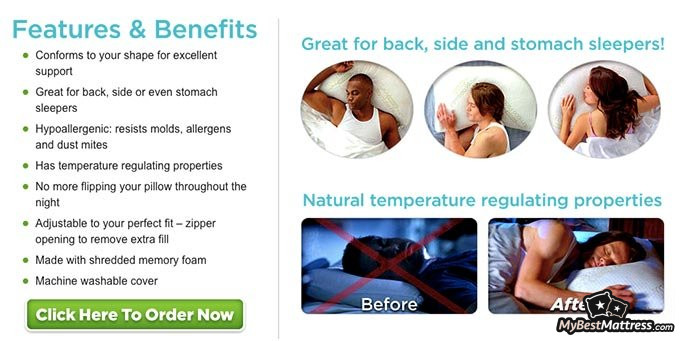 We've all been there - you wake up at 3 AM, only to adjust your pillow and go back to the blissful sleep. If your pillow is heavy, the "adjusting" part might not be as easy as you'd expect. Having to move that behemoth of a pillow around, you just end up waking up, completely.
Not fun.
With a lightweight pillow, however, you can avoid this issue rather easily. Yet again - while this isn't a "top-tier" feature, it's definitely a "nice to have" one.
Miracle Bamboo Pillow Reviews: CONS
Now that we've covered some of the essential and most well-known benefits of the pillow, let's transition and take a look at a few notable Miracle Bamboo Pillow reviews that aren't as positive.
Single Loft Height / Firmness Option - Bad for Stomach Sleepers
Without a doubt, one of the worst things about this pillow is the fact that it comes in a single loft height and firmness option. This is, indeed, odd - if you were to take a look at the top-tier pillows of the industry, you'd see that the overwhelming majority of them come with an adjustable loft.
That's kind of a given, isn't it?
Well, apparently, no - that isn't really the case with Miracle Bamboo.
The fact that this can be uncomfortable is a major understatement. That said, back and stomach sleepers are going to have the most difficult time enjoying their sleeping experience with this pillow.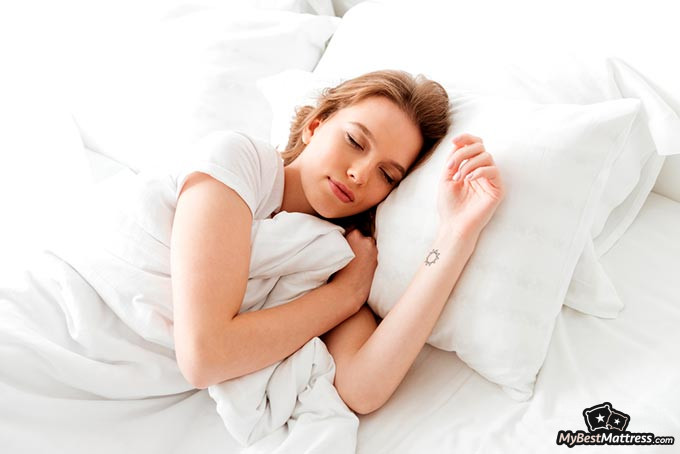 Customer Miracle Bamboo Pillow reviews note that, if you're a back sleeper, you're going to want a pillow that has a medium-height loft, but isn't too firm. The Miracle Bamboo is quite close, but it might actually be a bit too firm for people who tend to sleep on their backs.
However, if you're a stomach sleeper, you're likely to have the worst time with this product.
With the loft being of a medium height, and no ability to adjust and lower it down, it would only take you a few nights to start having neck pains. This might lead to insomnia or other sleep-related issues - not ideal.
Poor Shape Retention
Shape retention refers to the pillow's ability to flip back into its original shape once you remove weight from it, i.e. your head. There are quite a few Miracle Bamboo Pillow reviews that note how the pillow isn't at all good at retaining its original shape.
But what sorts of problems does this cause, exactly?

Well, for starters, a pillow that doesn't have good shape retention is usually quite sinky. What this means is that, upon bearing weight, the pillow will sink down, thus breaking the proper shape of your spine alignment and increasing the risks of shoulder, neck and back pain after sleeping on the product.
Furthermore, while this is likely far from being as big of an issue as the previous one, a pillow that does not retain its shape will require a lot of fluffing. It isn't anything more than a minor inconvenience, but it can still get pretty annoying.
Price
Now, with all of that covered, let's talk money.
Truth be told, though, Miracle Bamboo Pillow reviews will tell you that even this topic isn't all that easy with this company.
You see, only residents of the US and Canada can access Ontel's (the company behind Miracle Bamboo) official website. If you try to do so from anywhere else in the world, you'll just be redirected to Google's homepage.
So… How do you purchase the pillow from a place other than US or Canada?
Well, the brand works with a lot of retailers, too. The easiest way for you to get a pillow from the company is to purchase one from Amazon. As of writing this article, the prices there are, as follows:
These prices are provided without shipping, so depending on where you reside, you should keep that in mind, too. Furthermore, since prices on Amazon are constantly subject to change, that's also something you should note.
As for the actual price tags themselves, well… They're pretty odd. The difference in prices is rather significant, but that might just be because it's Amazon.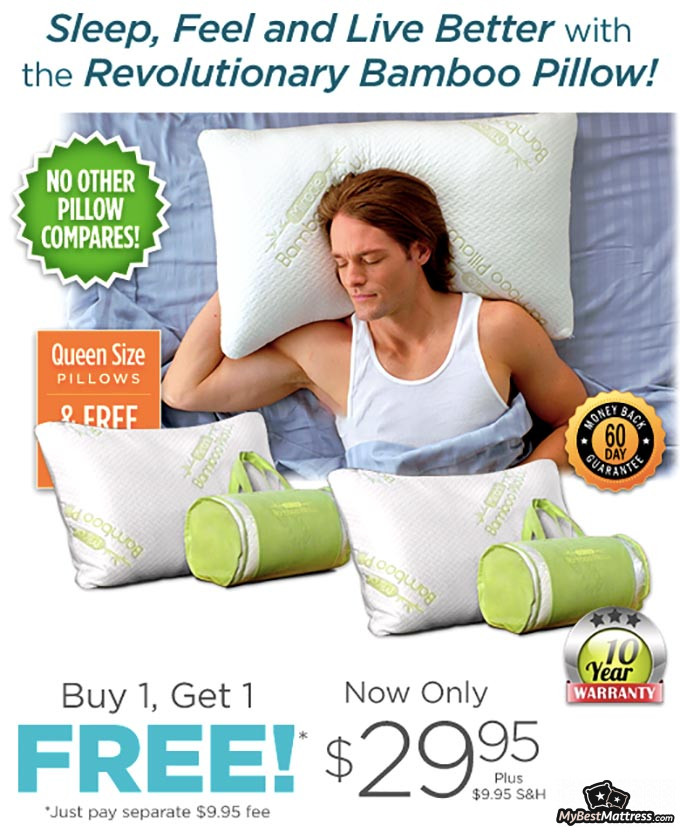 That being said, though, the pillow isn't very pricey, even if you choose to go with the King-sized option. That's quite refreshing! On top of that, the company offers a 60-night sleep trial, and a 10-year warranty. It used to have no warranty in place, though! To be completely honest, that was one of the most worrying parts out of all of the pricing and related technicalities.
Think about it - if you don't have a warranty with your pillow, even if something happens to it in the first few days of you sleeping on it, you won't really have what to fall back to. Given that warranties are a completely normal occurrence within the pillow industry, it makes it all the more alarming. That said, the brand does offer the above-mentioned 10-year warranty now, as of writing the article.
Here is The Best Saatva Offer I Found:
UP TO $500 OFF
Limited-time Saatva Sale
We're sharing a limited-time Saatva mattress discount with our readers! Grab this deal & enjoy your new mattress with huge discounts.
Expiration date: 08/12/2023
4,042 People Used
Only 83 Left
Conclusions
Pillows with a bamboo cover are too far in between - that's quite obvious from taking a look at the lists of the top products out there. That's why it's rather refreshing to come across one that is actually rated quite well, at least by popular opinion.
Customer Miracle Bamboo Pillow reviews will tell you that the product is absolutely amazing when it comes to providing a cool sleeping experience all throughout the night. Also, side sleepers are going to be the group of people that are likely to enjoy this product the most. Furthermore, the pillow is easy to clean and take care of.
On the flip side, though, if you're a stomach sleeper, you might find the loft of the Miracle Bamboo pillow to be too high. The main problem here is that you can't really choose loft height or firmness upon purchasing the product - there's only one option, which limits the pool of possible customers by quite a bit.
As far as the actual price, if you manage to grab the pillow from Amazon, you shouldn't be too worried - the price tags are pretty decent. You'll receive a 60-night sleep trial, and a 10-year warranty.
All in all, if temperature neutrality is your top priority, do check the Miracle Bamboo Pillow out. If you're still not sure, however, you can always take a glimpse at our list of the best pillows of the year - maybe you'll find something that would immediately suit you?
Thanks for reading, and best of luck!
Leave your honest Miracle Bamboo Pillow review
Leave your genuine opinion & help thousands of people to choose the best mattress. All reviews, either positive or negative, are accepted as long as they're honest. We do not publish biased reviews or spam. So if you want to share your experience, opinion or give advice - the scene is yours!