The anticipated Puffy mattress giveaway is finally here. MyBestMattress.com team is happy to help hundreds improve their sleep by not only crafting in-depth reviews, but also by gifting the lucky winners with the best mattresses in the game!
Don't miss the chance to enter the free Puffy mattress giveaway. Complete a few simple steps & take the best Puffy mattress home - get the deepest sleep with no effort!
Puffy Deal Active Right Now:
UP TO $1,350 OFF
Puffy Mattresses & Other Products
Take advantage of Puffy season sale & explore discounts up to $1,350 off for Puffy mattresses and other products. Hurry up to get this limited deal!
Expiration date: 29/09/2023
1,985 People Used
Only 15 Left
How does it work?
Enter the Puffy mattress giveaway by following the easy steps presented above in the giveaway entry form.
Have in mind - the more actions you complete, the more chances you have to win! From experience, participants with all completed actions win 95% of the time.
In order to gather maximum points, you have to complete all the required actions as requested. Action completion is tracked.
The winner will be selected randomly & fairly, but the bigger chances to win is in your hands. The winner will be contacted via email and announced on Facebook.
Winner will be announced 10 days after the giveaway ends. Winner will have 48 hours to claim the prize before a new winner is chosen.
The winner will receive 1 prize - a free Puffy mattress.
The Puffy mattress giveaway is eligible for U.S citizens only, with the age of 18+.
The Puffy mattress giveaway is held for 30 days. If you didn't catch it in time, don't worry - check Free Mattress Giveaways constantly for new rewarding giveaway!

Why the Puffy mattress?
Puffy is a well-designed all-foam mattress provider that comes equipped with all of the main pros that you would expect out of a memory foam mattress. According to the Puffy mattress reviews, it has great motion isolation and is suitable for most types of sleepers.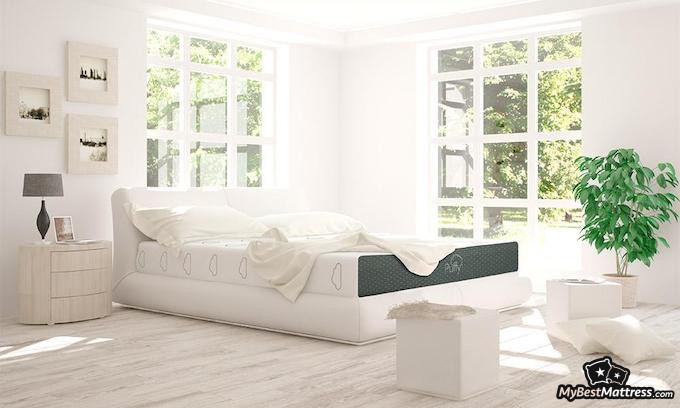 If you're sleeping with your partner, motion and sound isolation can be considered the most crucial factors. Puffy offers both of these qualities, so you and your significant other will enjoy the quality sleep - no more restless nights!
Puffy mattress design is medium firm, so it should be an excellent fit for almost every sleeper. It's comfortable for light sleepers, especially for those who sleep on their side.
Even if memory foam mattresses tend to sleep hot, reviews showed that Puffy mattress owners were more than pleased with the temperature neutrality during the night.
The Puffy mattress is not among the pricey beds & has great price vs value ratio, but if you want to take advantge of Puffy's exclusive discounts, head here and choose the best deal.
Read the full Puffy review here
Winners of previous Puffy giveaways
1. Winner of the November Giveaway: Giasone Gigliotti. Grand prize - Puffy Lux Mattress