We are excited to announce that now you can win one of the best mattresses on the market - Nectar! This Black Friday free Nectar mattress giveaway will show one lucky winner what good sleep really means. We've analyzed the pros & cons of this top-rated mattress in our in-depth review.
All you need to do is complete as many entry steps as you can. This way, you'll earn more entry points & improve your chances of winning the Nectar mattress giveaway. You can take a free Nectar mattress home without much effort!
Nectar Deal Active Right Now:
33% OFF
Nectar Special Offer
With the current Nectar mattress sale you can save up to 33%. Get one of the biggest discounts on mattresses when using this special Nectar mattress coupon.
Expiration date: 12/12/2023
3,101 People Used
Only 99 Left
How does it work?
Enter the Nectar mattress giveaway by completing the actions presented above in the giveaway entry form.
Don't forget - you can increase your chances to win a mattress by completing more actions! Based on experience, participants with all completed actions win the mattress giveaway 95% of the time.
There are no limit for maximum points - you can complete all the actions & keep referring friends, so your entries are unlimited! Action completion is tracked.
The Nectar mattress giveaway winner will be chosen randomly & fairly, but the chance to win is in your hands. The winner will be contacted via email and announced on Facebook or Twitter.
The winner will have 48 hours to claim the prize before a new winner is chosen.
The winner will receive 1 prize - a free Nectar mattress.
Only U.S citizens with aged 18+ can participate in the Nectar giveaway & win a mattress.
The Nectar mattress giveaway is held for 30 days. If you didn't win a Nectar mattress for free, don't worry - check the Free Mattress Giveaways constantly for new rewarding offers!


Why the Nectar mattress?
Nectar is suitable for all types of sleepers. While it may be relatively firm for some, the mattress offers great motion and noise isolation. The 4-layered mattress design surely makes it stand out of the crowd.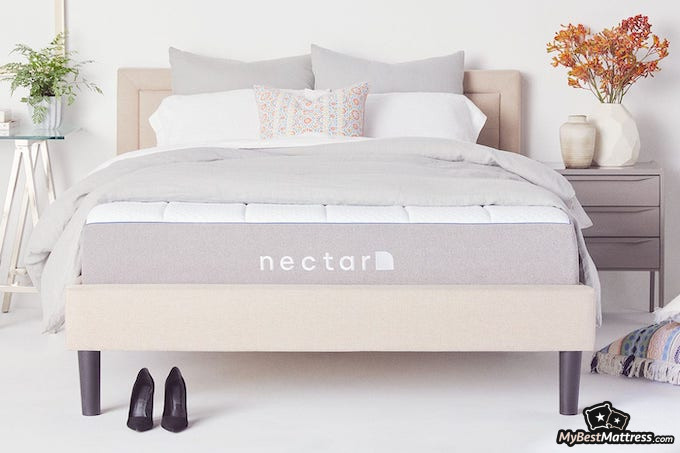 People report that when they've started using the Nectar mattress, they have noticed a considerably lower amount of nighttime twisting and turning.
Another huge pro can be seen in the responsiveness department. The memory foam "feature" within the Nectar mattress is responsible for the distribution of your body weight while you're lying on the mattress. However, it also serves the purpose of adjusting to your body and eliminating the need to turn aimlessly while you sleep.
Talking about edge support, Nectar has some great results with this feature, too. While you're sitting on the edge of the bed, you can comfortably place items near you - the surface remains flat and undisturbed. The same applies when you're lying on the edge, too.
Nectar also offers great pricing for the different mattress dimensions. But if you don't want to save on buying a mattress, you can take advantge of our biggest Nectar discounts & coupon codes!