As far as major products of the sleeping industry go, firm pillows aren't a really popular concept. Truth be told, most people would choose a soft down or foam pillow over a firmer alternative in a heartbeat. However, the best firm pillows actually have a lot of advantages that shouldn't be dismissed.
To put it very shortly, you should consider a firm pillow alternative if you're a constant back and neck pain sufferer. Because of the way they are designed, this type of pillows helps alleviate these issues.
Our list of the best firm pillows of 2020 looks something like this:
Best Firm Pillows - The Benefits
So - we've established that even the best extra firm pillows aren't among the most popular of products. I don't think that anyone is going to question why that's the case - it shouldn't be surprising that the majority of the population prefers sleeping on a soft surface.
That being said, though, to this day, many people underestimate the benefits of the best firm pillows out there.
All of the benefits of these firmer sleep products revolve around one, single topic - proper neck and head support. Firm pillows don't tend to "sink" while you sleep on them - that's a vice that's most commonly associated with memory foam products.
Since there's no sinking involved, these firm products are going to keep your head and neck in a proper, optimal position (assuming that you've bought a pillow in accordance with your dominant sleeping position, that is). This, in turn, leads to your spine remaining aligned all throughout the night.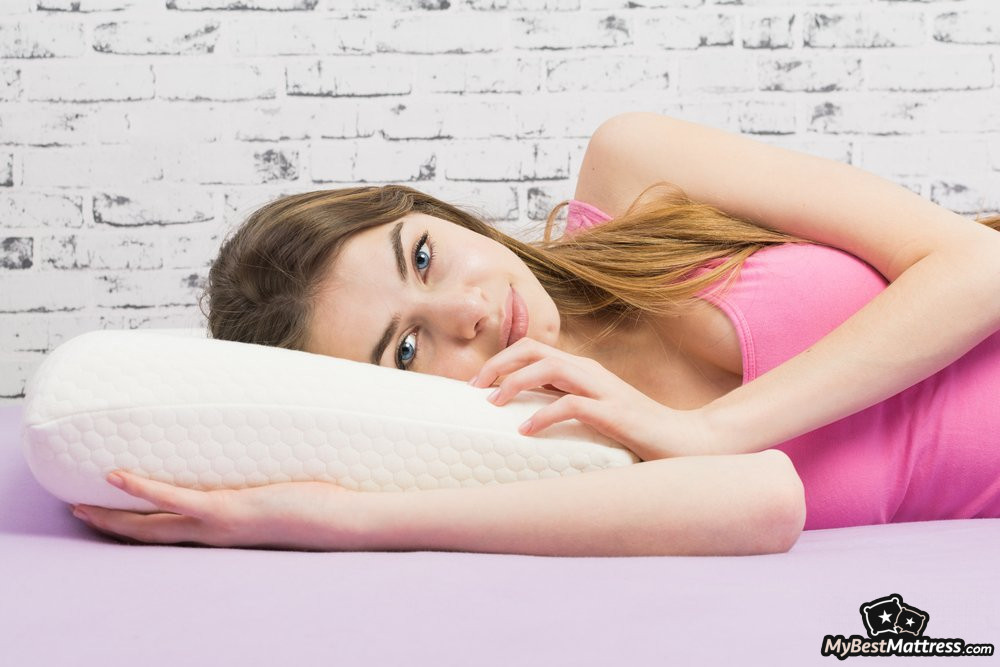 It's no secret that back pains are some of the most common reasons why people can't get enough rest while they sleep. If the pain is severe enough, you might find yourself constantly waking up and adjusting your pillow - even if that's not the case, morning back pains can ruin your entire day, ahead of time.
The best firm pillows, however, can help you not only avoid the formation of such issues, but also deal with pains and aches that are already there. While it can be really tempting to just go ahead and purchase the softest pillow you can find, that's not going to be beneficial in the long run.
Now, with all of that said, let's move on and talk about the best firm pillows out there.
Ranks #1 out of 5 Mattresses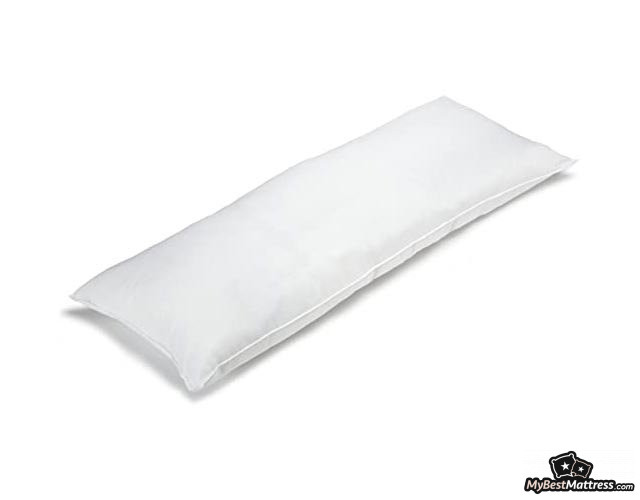 Things we liked:
+ Best for side sleepers
+ Good cooling functionality
+ Good firmness VS comfort ratio
Things we didn't like:
- Some customers report durability issues
BioPEDIC is one of the more common names that will appear if you try to search for the best firm pillows online. The company's customers are actually pretty vocal about how much they enjoy the pillow, and how "truly firm" it actually is.
That being said, firmness level isn't exactly the main reason why this pillow is as popular as it is. The reason behind that is actually related to sleep positions.
Now, you probably know that different people sleep in many different positions throughout the night. While niche, pop-culture-related terms such as "starfish" or "log" are fun to throw around and joke about with friends, it's actually enough to know that there are three main sleeping positions, in general - side, stomach and back. And, well, I guess you can count in combination sleepers, too.
Whatever the case might be, stomach sleepers are usually seen as the type of sleepers that require the firmest pillow products. This group of people would commonly go out and find the best extra firm pillows on the market. That is mostly because of the intricacies of their sleeping position.
If you sleep on your stomach, there's a whole lot of pressure being applied onto your neck and shoulders. A firm pillow with a low loft would help you decrease that pressure, and thus avoid possible back issues. Some stomach sleepers go as far as to sleep without a pillow, in general - this should tell you how serious the situation actually is.
Coming back to the BioPEDIC pillow, one of its best features (at least according to customer best firm pillow reviews) is that it's very suitable for stomach sleepers. The product has a pretty low loft, and it combines optimal firmness levels with some decent comfort features.
What is the Price of the BioPEDIC Firm Pillow?
BioPEDIC seems to deal with all of their business ventures via Amazon - if you were to visit their official website, you'd notice that all of the product pages link back to the online marketplace.
That said, purchasing the BioPEDIC pillow via Amazon, the prices will look something like this:
Note that all of these prices are for packs of two pillows each. Yup, you've read that right - for each of these prices, you'll receive a pack that contains two pillows. While that is somewhat difficult to believe, BioPEDIC's customers don't seem to point at any noteworthy issues.
Ranks #2 out of 5 Mattresses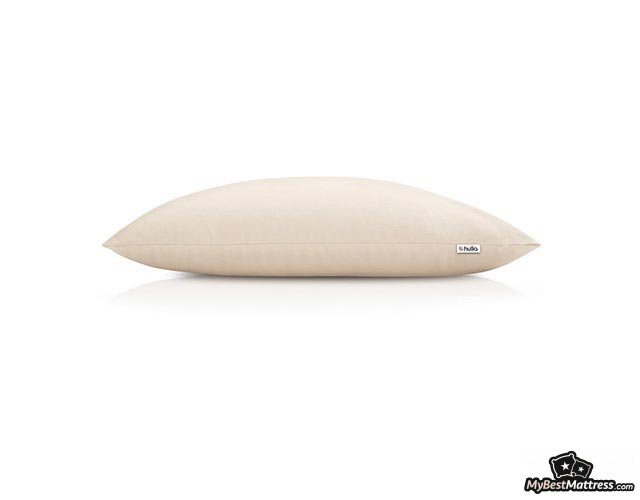 Things we liked:
+ Great support
+ Breathable
+ Conforms to sleeper head and neck
Things we didn't like:
- Somewhat high price
- Not the best option for stomach sleepers
Hullo is one of the most well-known names in the world of buckwheat pillows. The product that we're talking about today (the Hullo buckwheat pillow) is often regarded as one of the best firm pillows within the industry.
What makes Hullo so special is that it's a very well-equipped pillow, no matter which side you choose to view it from. Buckwheat products, in general, tend to be some of the most supportive and firm pillows you'll come across - Hullo aims to further that notion.
While some customer reviews note that the pillow might not be very suitable for stomach sleepers, that's still a pretty contentious point, since the Hullo product has a fully-adjustable loft. That's not too big of a surprise, though - most, if not all buckwheat pillows are going to be super-easy to customize, loft height-wise.
Aside from that, what makes Hullo one of the best firm pillows out there is that it provides amazing head and neck support for side and back sleepers. The pillow retains its shape all throughout the night, and isn't prone to flattening (at least no more than intended by the sleepers).
What is the Prie of the Hullo Buckwheat Pillow?
If you're looking for the best extra firm pillows on the market, Hullo is truly one of the better-rated alternatives. That said, it's worth pointing out that one of the worst qualities of this pillow doesn't even relate to the pillow itself, but rather to its pricing.
The Hullo pillow is quite expensive. Take a look:
These are truly some of the highest prices that you'll see while searching for the best firm pillows - that's for sure. That said, if you have some spare money, and are willing to invest in an amazing buckwheat pillow, you should give Hullo a chance.
Ranks #3 out of 5 Mattresses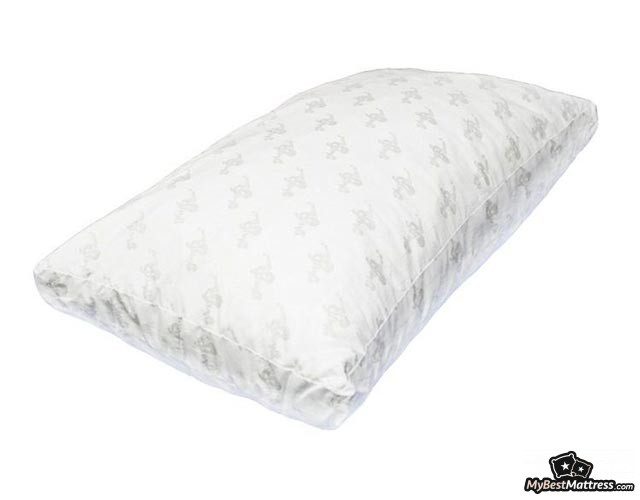 Things we liked:
+ Affordable pricing
+ Suits different types of sleepers
+ Sleeps rather cool
Things we didn't like:
- False advertising lawsuit history
- Poor shape retention
- Some initial odors
My Pillow Premium is a foam product that comes in 4 different firmness variations. Naturally, since we're looking at some of the best firm pillows of the industry, you're probably want to go with the brand's blue pillow - the one they claim to be the firmest.
One of the better features of the My Pillow Premium product is that it sleeps rather cool. This is something that is often overlooked while searching for the best firm pillows, but is actually even more important than in any other case - a heated firmer pillow can truly be annoying.
Furthermore, the 4 different firmness levels make My Pillow Premium a very accessible option for all of the different types of sleepers put there. Even if you choose to go with the firmest version of the pillow, it seems to suit most stomach, side and back sleepers, nonetheless.
The only bigger issue with the product itself is that it's not a shape-retaining "best firm pillow". If this is a factor that's important to you, My Pillo Premium might be the best option for a new pillow, then.
What is the Price of the My Pillow Premium Pillow?
Customer My Pilow reviews note that the Premium product that the company sells is actually quite affordable. I concur:
In addition to some decent prices, the brand also includes a 60-day money-back guarantee and a 100-night sleep trial with your purchase. If you're still trying to find the best firm pillows, My Pillow Premium is definitely one of the better options!
Ranks #4 out of 5 Mattresses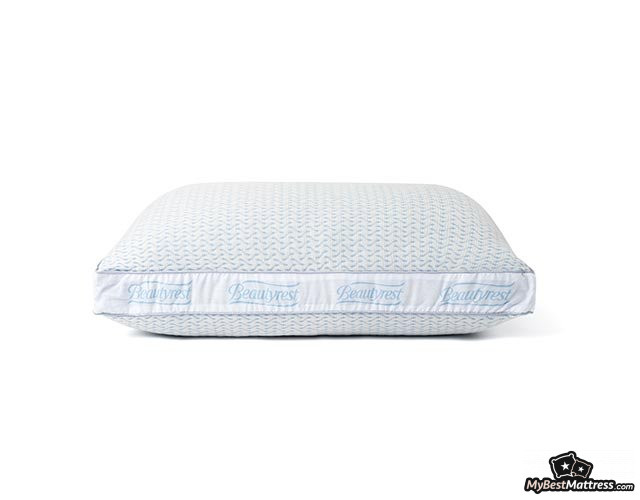 Things we liked:
+ Best for stomach sleepers
+ Great support
+ Very affordable
Things we didn't like:
- Only available for purchase via Amazon
- Not very durable
Beautyrest is one of the oldest companies on this list. The brand has established a very solid name within the industry, and is respected as a company that puts a lot of effort and attention to what they do.
This does show with their "Extra Firm" pillow, too.
Now, to tell you the truth, many Beautyrest's customers looking for the best extra firm pillows note that the product isn't actually as firm as some claim it to be. Nonetheless, if you're interested in a simple, firm pillow, Beautyrest has got you covered.
The pillow is very breathable, and that's thanks to its Pima cotton cover. Cotton, in general, is seen as one of the better pillow cover materials for cooling - Beautyrest knows this quite well.
Furthermore, many Beautyrest customer reviews will tell you that the pillow is actually amazing at maintaining the perfect balance between comfort and firmness. The product does a great job supporting the sleeper's head and neck, while at the same time being very cozy and comfortable to sleep on.
What is the Price of the Beautyrest Extra Firm Pillow?
While you might struggle to find a place where the Beautyrest Extra Firm pillow wouldn't be sold out, the general price for a Queen-sized Beautyrest 2-pack is $31,92.
In all honesty, the price is so low that it even begs a whole lot of questions. That said, judging from customer reviews, people really do seem to love the Beautyrest Extra Firm Pillow.
Ranks #5 out of 5 Mattresses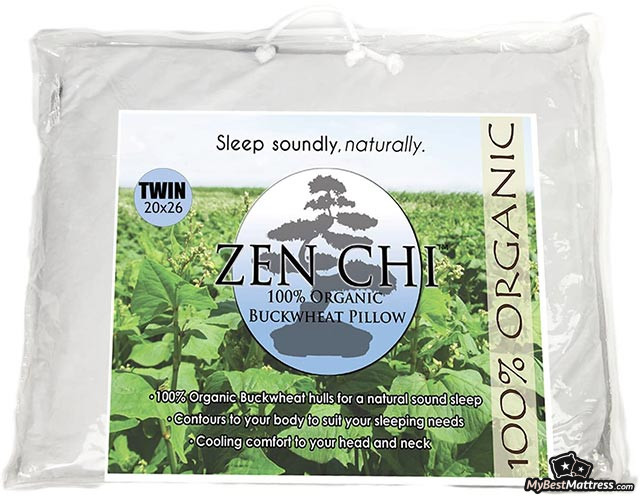 Things we liked:
+ Suits all types of sleepers
+ Affordable
+ Good breathability
Things we didn't like:
- Might sleep too firm for some customers
Zen Chi is a buckwheat pillow provider. Right off the bat, knowing the reputation of buckwheat pillows (them being some of the best firm pillows out there), that's a good sign.
The Zen Chi buckwheat pillow is one that should suit most types of sleepers out there. The product is completely eco-friendly, and, according to most Zen Chi's customer reviews, sleeps really cool, thanks to an organic cotton cover.
Funnily enough, some customers have actually labeled the pillow to be "too firm" for their comfort. While that might be the case for some, if you're truly looking for the best firm pillows out there, this is going to be a huge benefit!
What is the Price of the Zen Chi Buckwheat Pillow?
The Zen Chi buckwheat pillow comes in a few different pricing and sizing options. They are:
As you can probably see for yourself, the product is definitely on the affordable side of things. If you decide to purchase the Zen Chi pillow, you'll also receive a 30-day money-back guarantee - a decent deal, indeed!
Conclusions
So - if there's one thing to take away from this article about the best firm pillows within the current industry, it's that a firm pillow might not always be the most comfortable option, but it will do wonders for your back, neck and shoulder health in the long run.
If, after reading through the list, you've decided that you'd actually still rather go with some softer pillow alternatives, you can take a look at our list of the best pillows in the industry, in general. Perhaps you'll find a product that will suit you there?
In any case, if you've reached this point, I would like to thank you for reading and wish you all the best of luck in finding the optimal pillow for yourself, whether a firm one, or else. Cheers, and good luck!
Leave your honest Best Firm Pillow review
Leave your genuine opinion & help thousands of people to choose the best mattress. All reviews, either positive or negative, are accepted as long as they're honest. We do not publish biased reviews or spam. So if you want to share your experience, opinion or give advice - the scene is yours!